Full Color RGB Fill Light Pocket Light Built-in 12w Rechargeable Battery LED Camera Light 360° 12 Lighting Effects Aluminum Alloy Panel Video Light
Buy 99C$-15C$,199C$-35C$, 299C$-55C$, 599C$-130C$ (Prime Day)
New customer gift package
&FREE Shipping to Canada
Brand:

K&F Concept

Free Shipping. 30 Day No Reason Return. K&F RGB fill light features Hue, saturation, brightness, color temperature adjustable, 3200mAh rechargeable battery, 360-degree revolving arm with cold shoe, 12 different RGB color-changing light effects, 36,000

GW51.0062

SKU:

GW51.0062

92.99

https://www.kentfaith.ca/GW01.0205_full-color-rgb-fill-light-pocket-light-built-in-12w-rechargeable-battery-led-camera-light-360°-full-color-12-common-lighting-effects-cri≥972500-8500k-led-aluminum-alloy-panel-video-light
Buy 99C$-15C$,199C$-35C$, 299C$-55C$, 599C$-130C$ (Prime Day)
Features
* [Hue, saturation, brightness, color temperature adjustable] Hue can be adjusted within the range of 0 degrees -359 degrees; color saturation can be adjusted between 0%-100%; brightness can be adjusted from 0%-100%; color temperature Dimmable from 2500K (warm color) to 8500K (cool color), the built-in LCD display can provide accurate readings, allowing you to work more effectively
* [Product Features] CRI≥97, TLCI≥97, built-in 7.4V 3200mAh rechargeable battery, USB Type-C charging port, can be fully charged within 2.5 hours, and provide 150 minutes of working time under 100% brightness, working time When the brightness is below 100%, it should exceed 150 minutes.
* [Revolving arm with cold shoe] Our LED panel light is equipped with a 360-degree revolving arm with cold shoe, which allows you to install any device with a hot shoe adapter at the same time, such as a camera microphone, which is very suitable for recording.
* 12 different RGB color-changing light effects, 36,000 color changes
Shipping
&FREE Shipping to Canada
Sale
Buy 99C$-15C$,199C$-35C$, 299C$-55C$, 599C$-130C$ (Prime Day)
Frequently Bought Together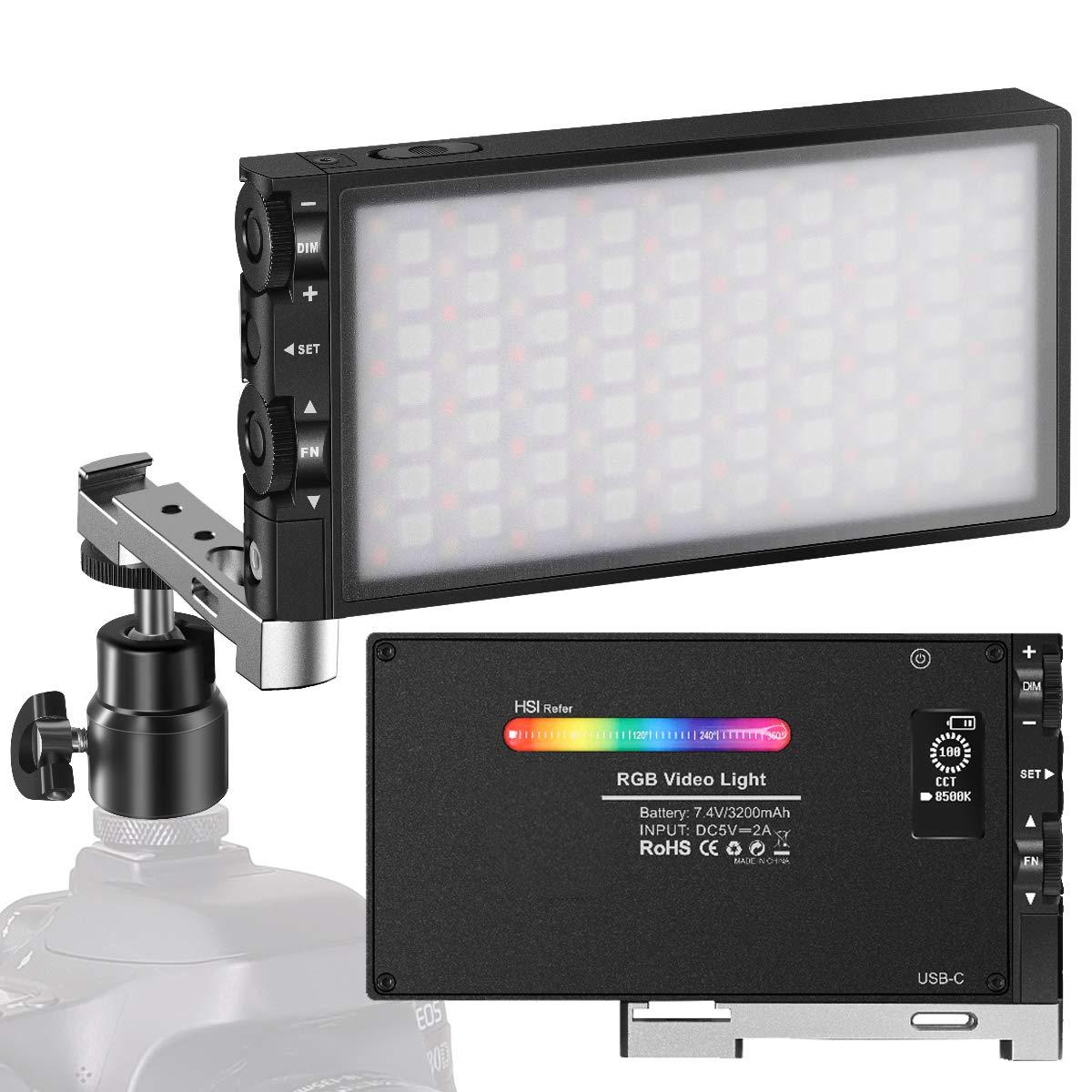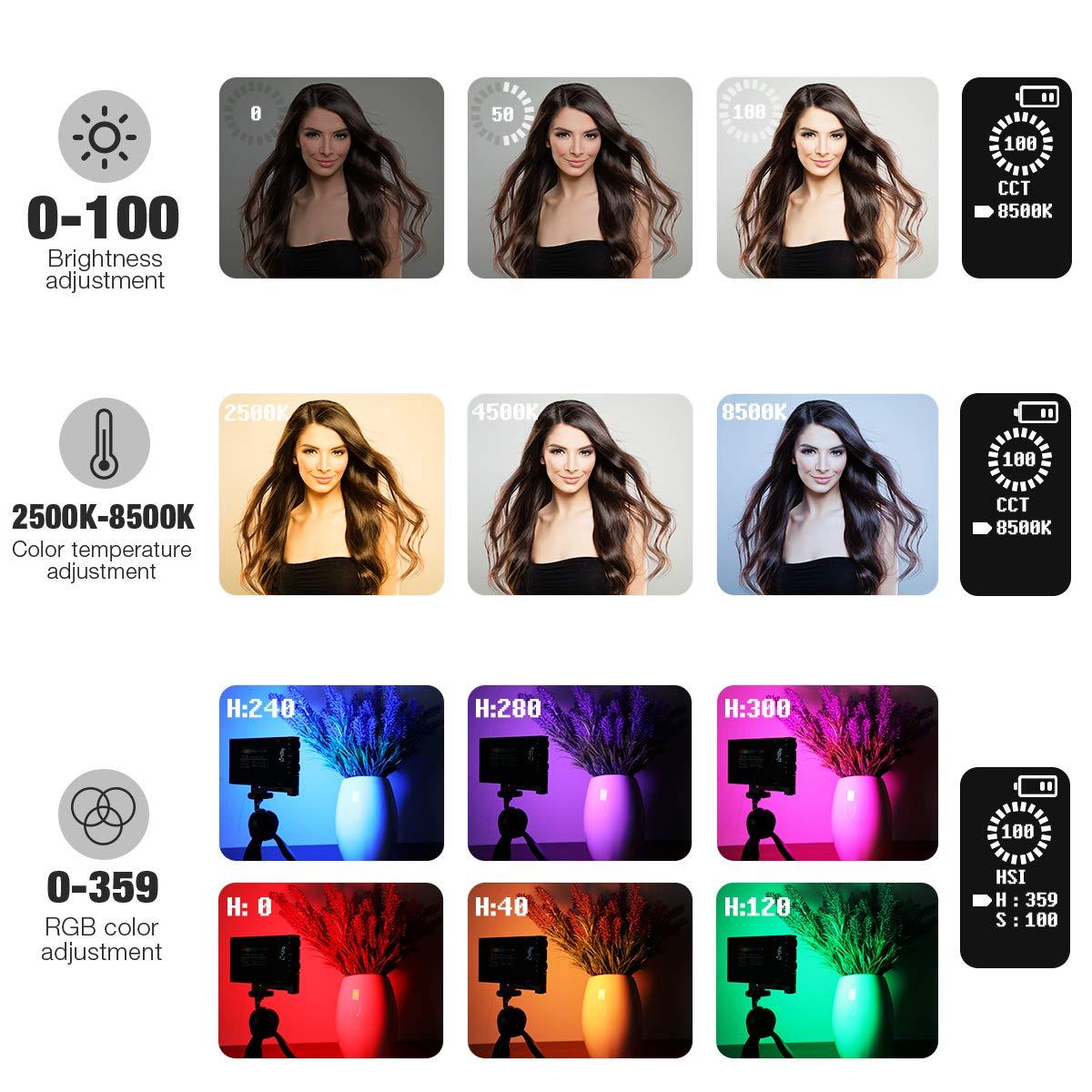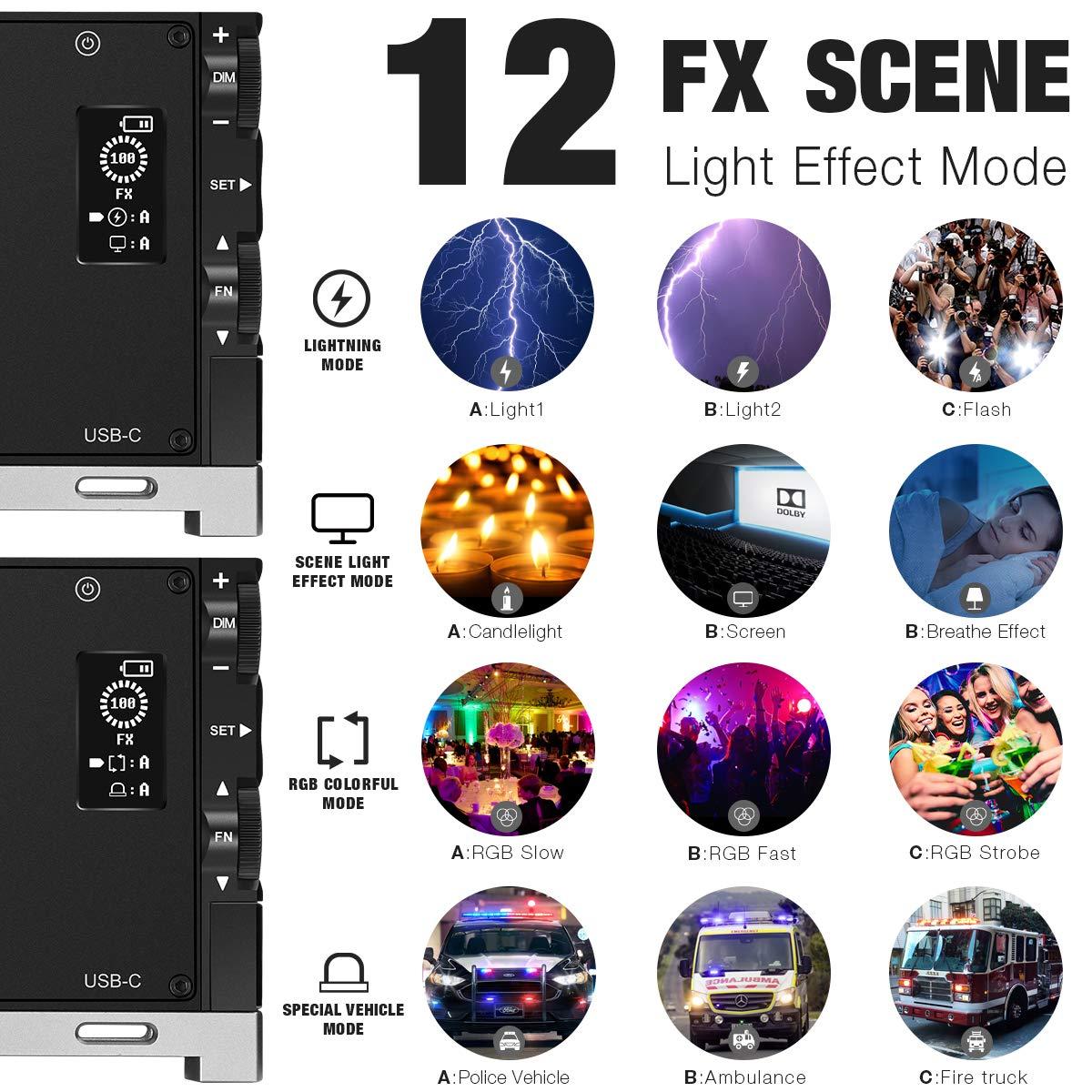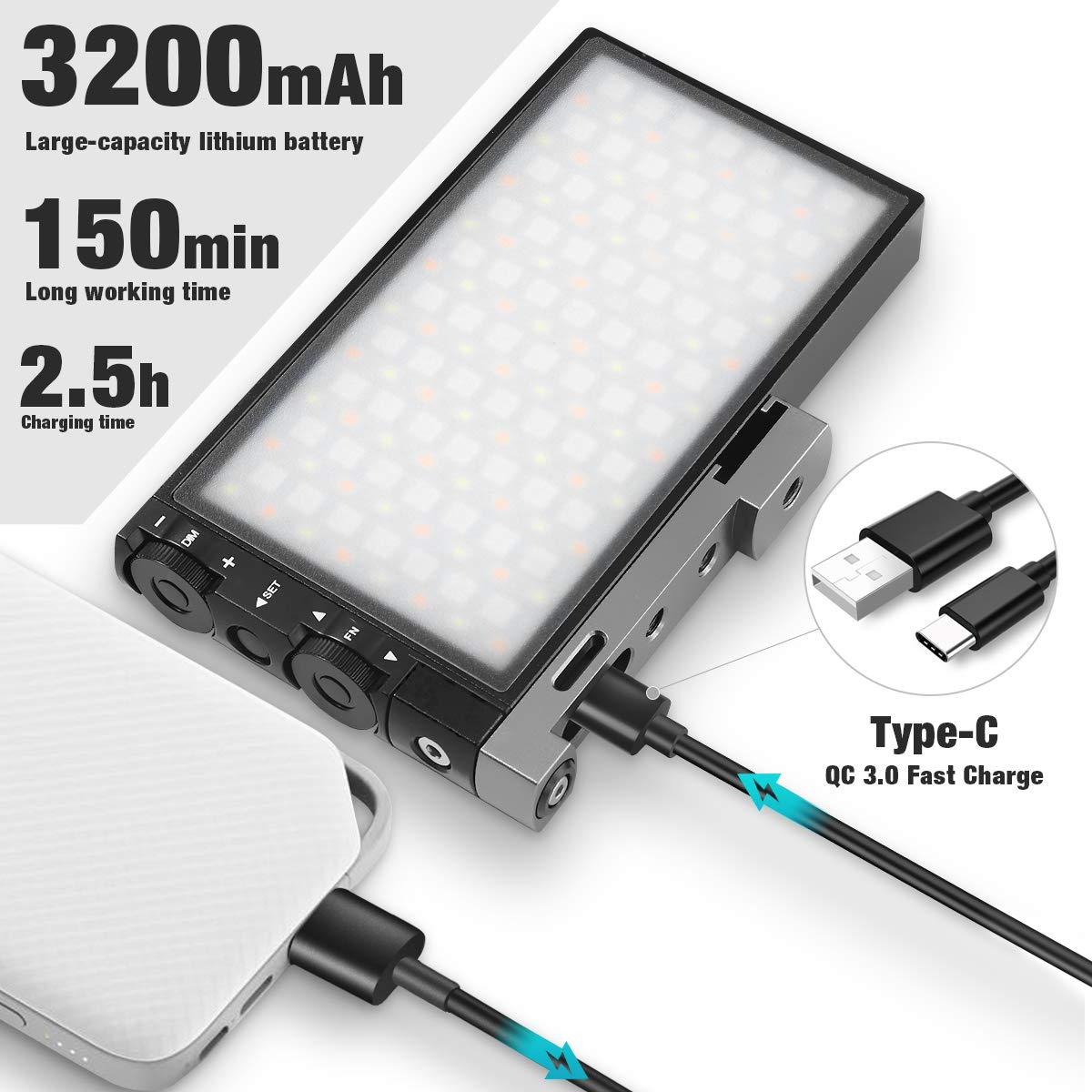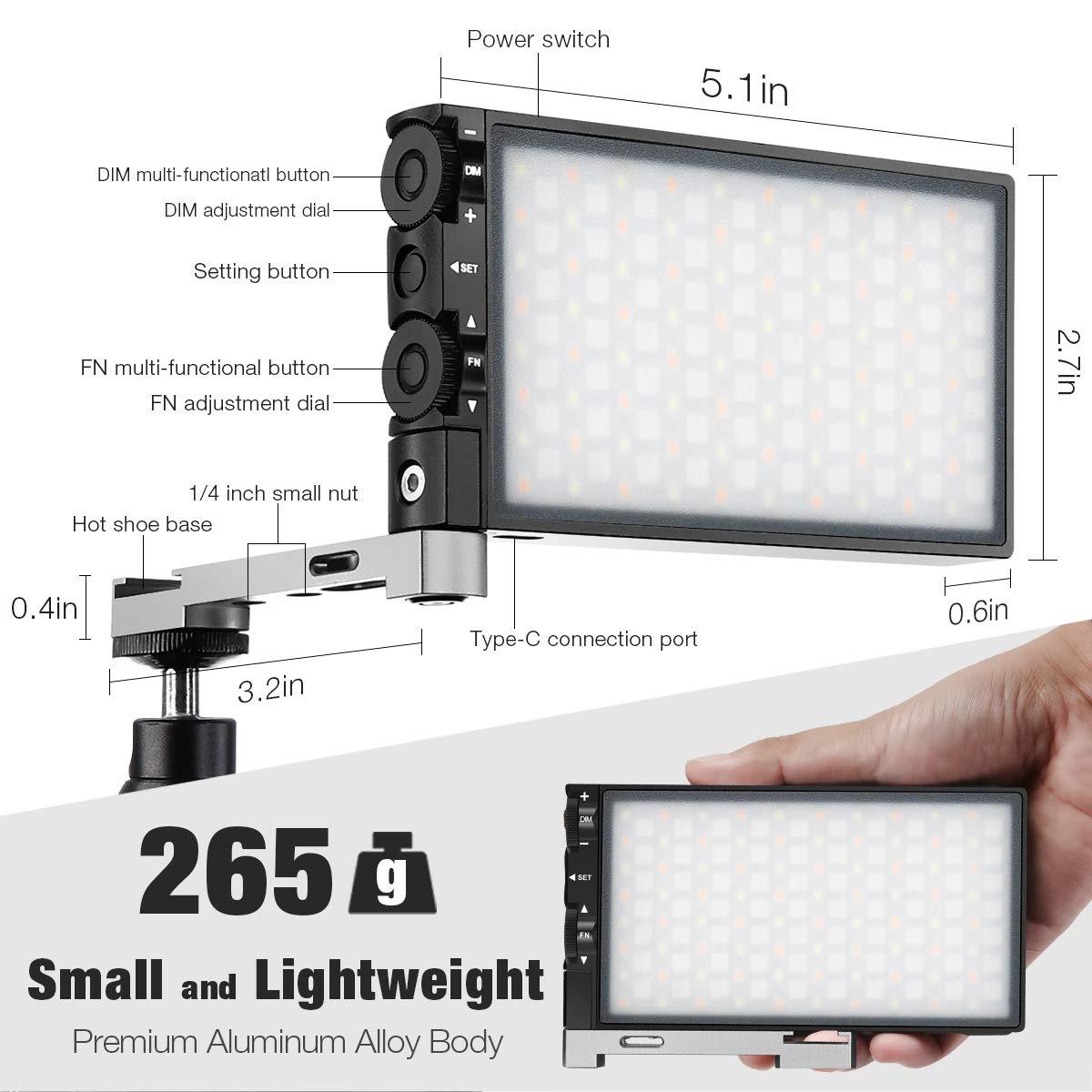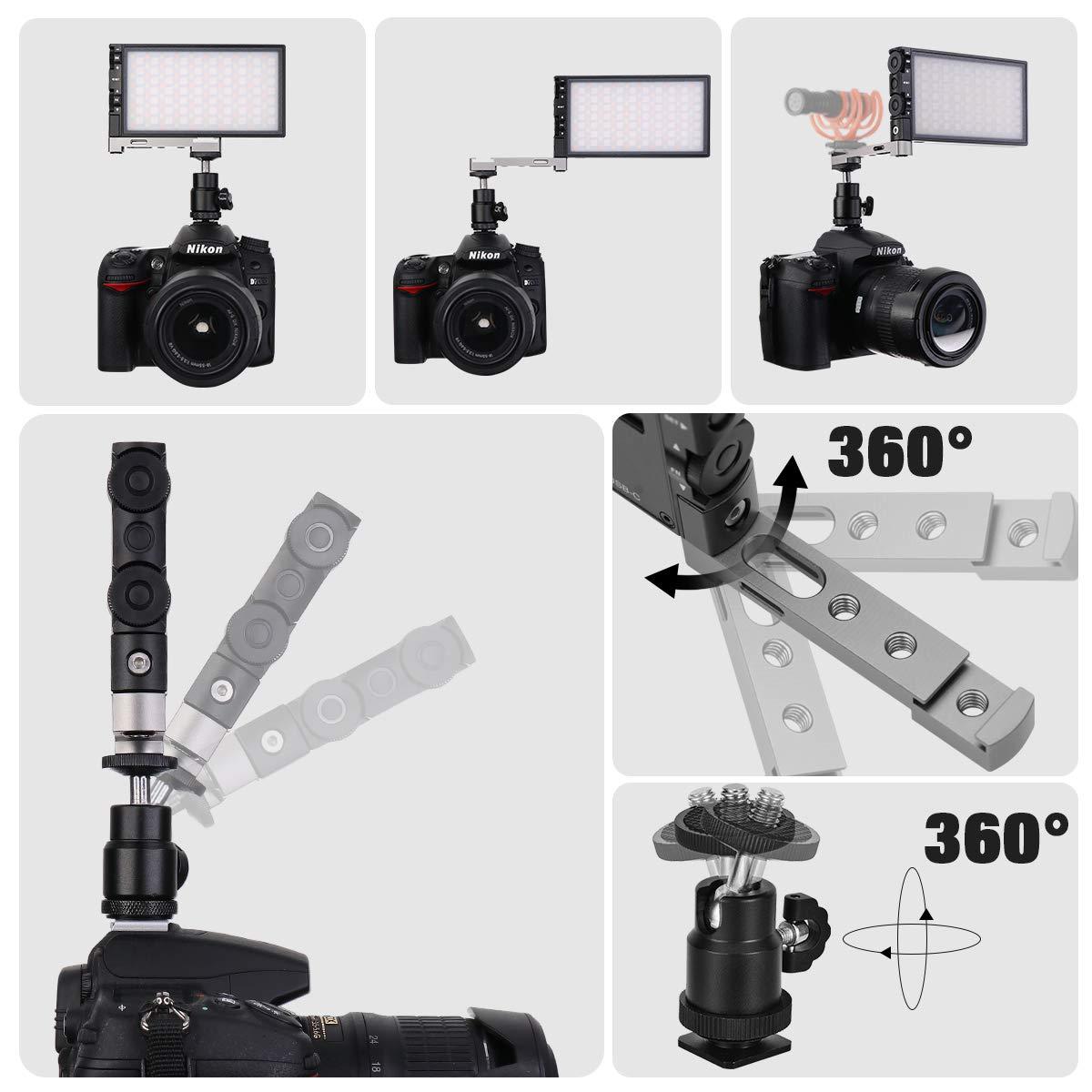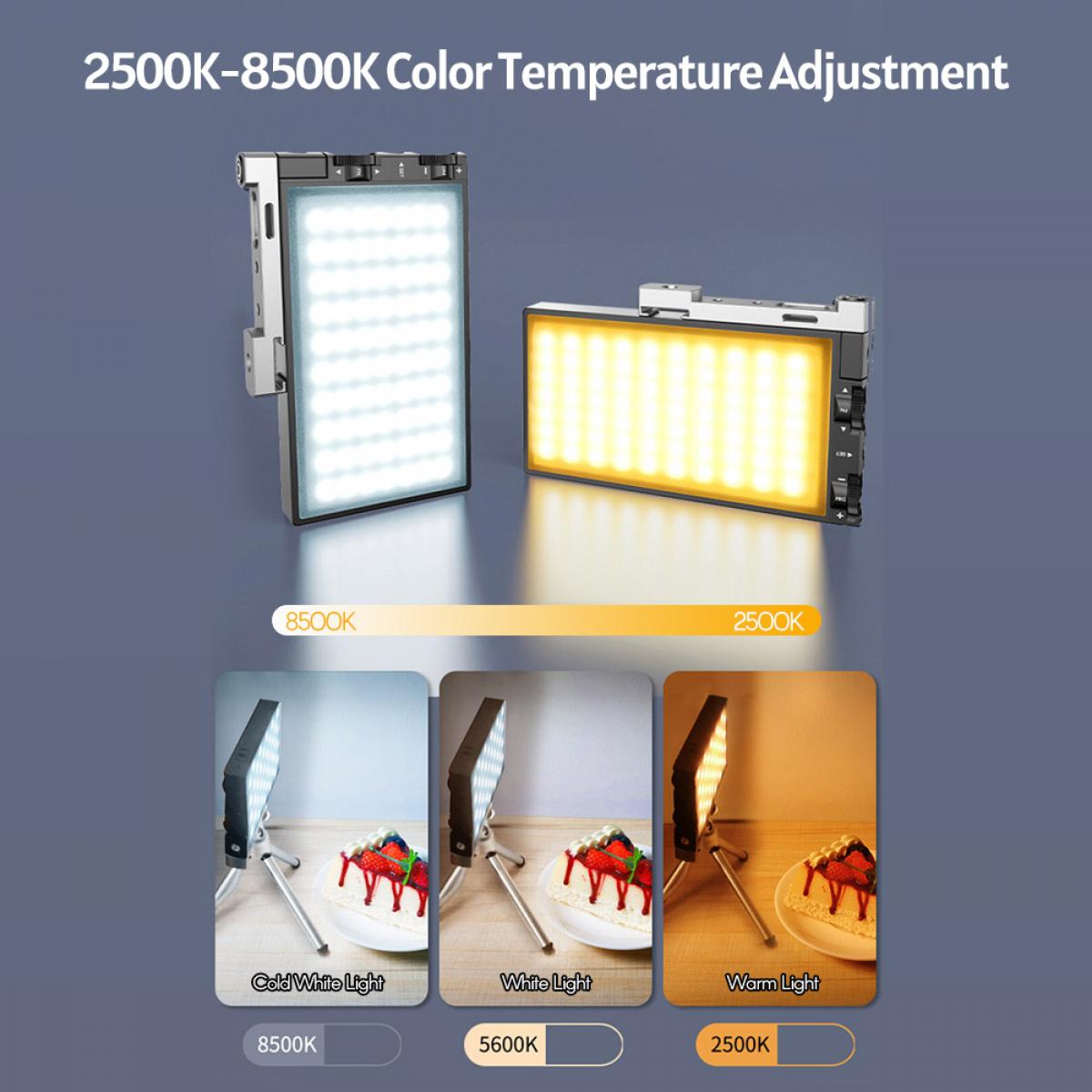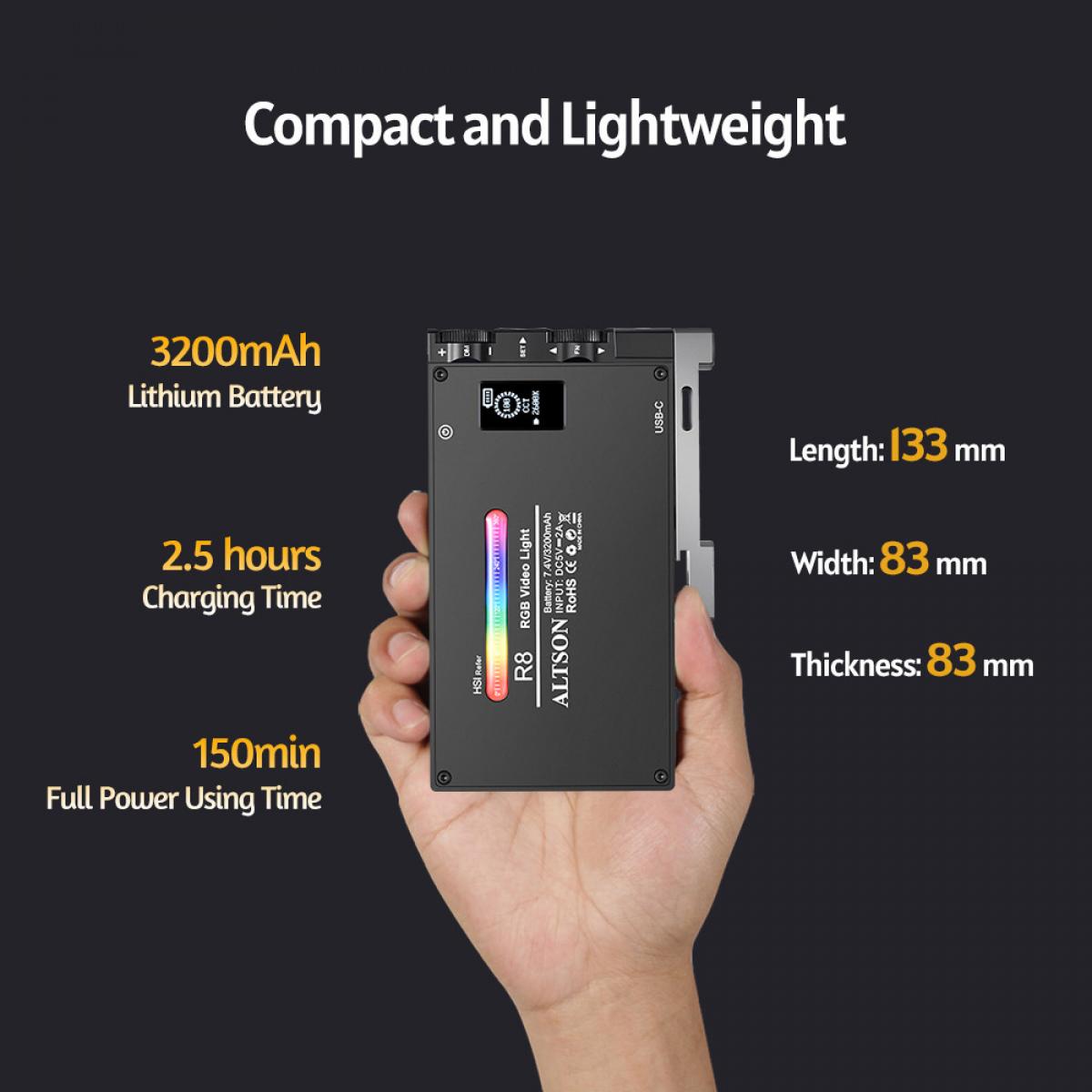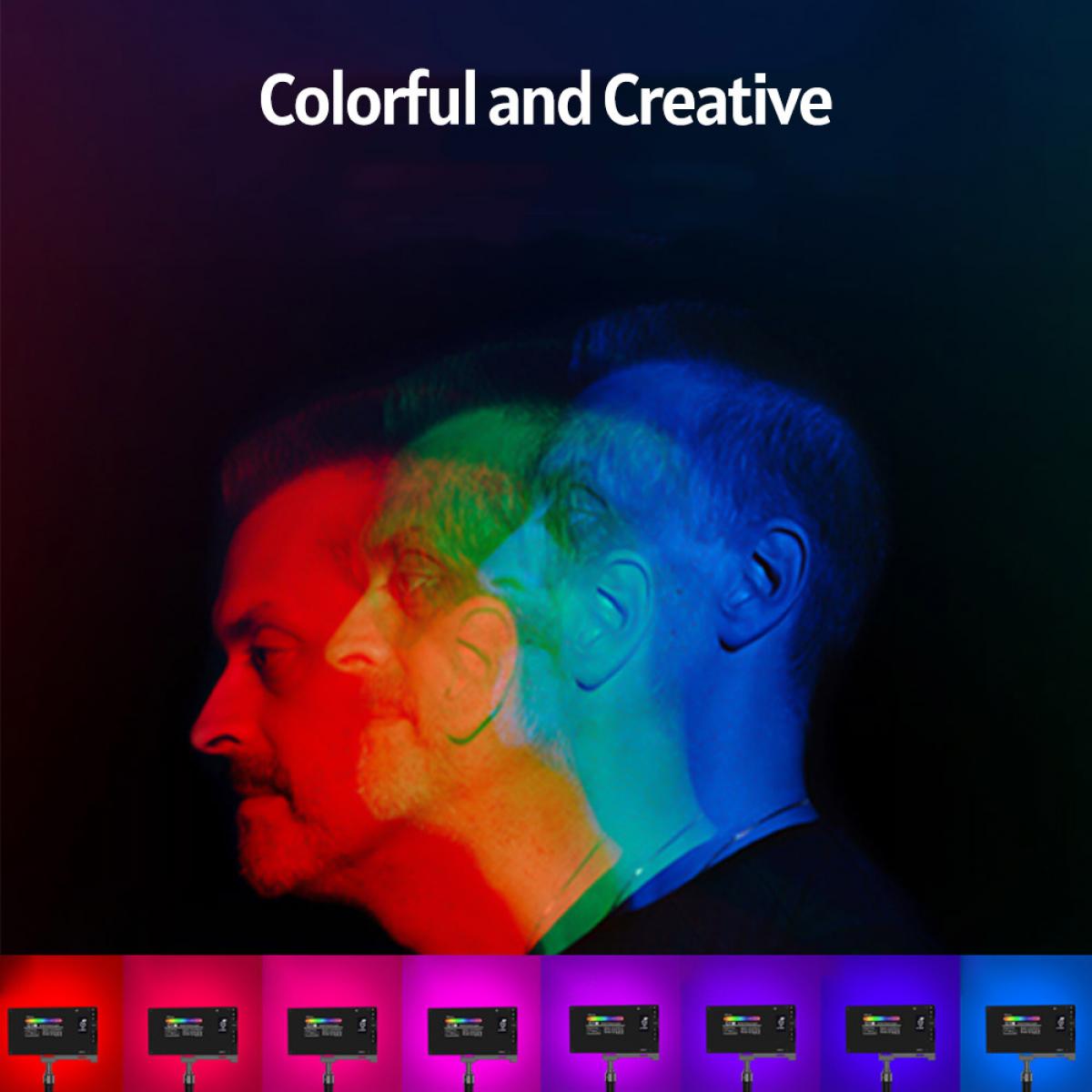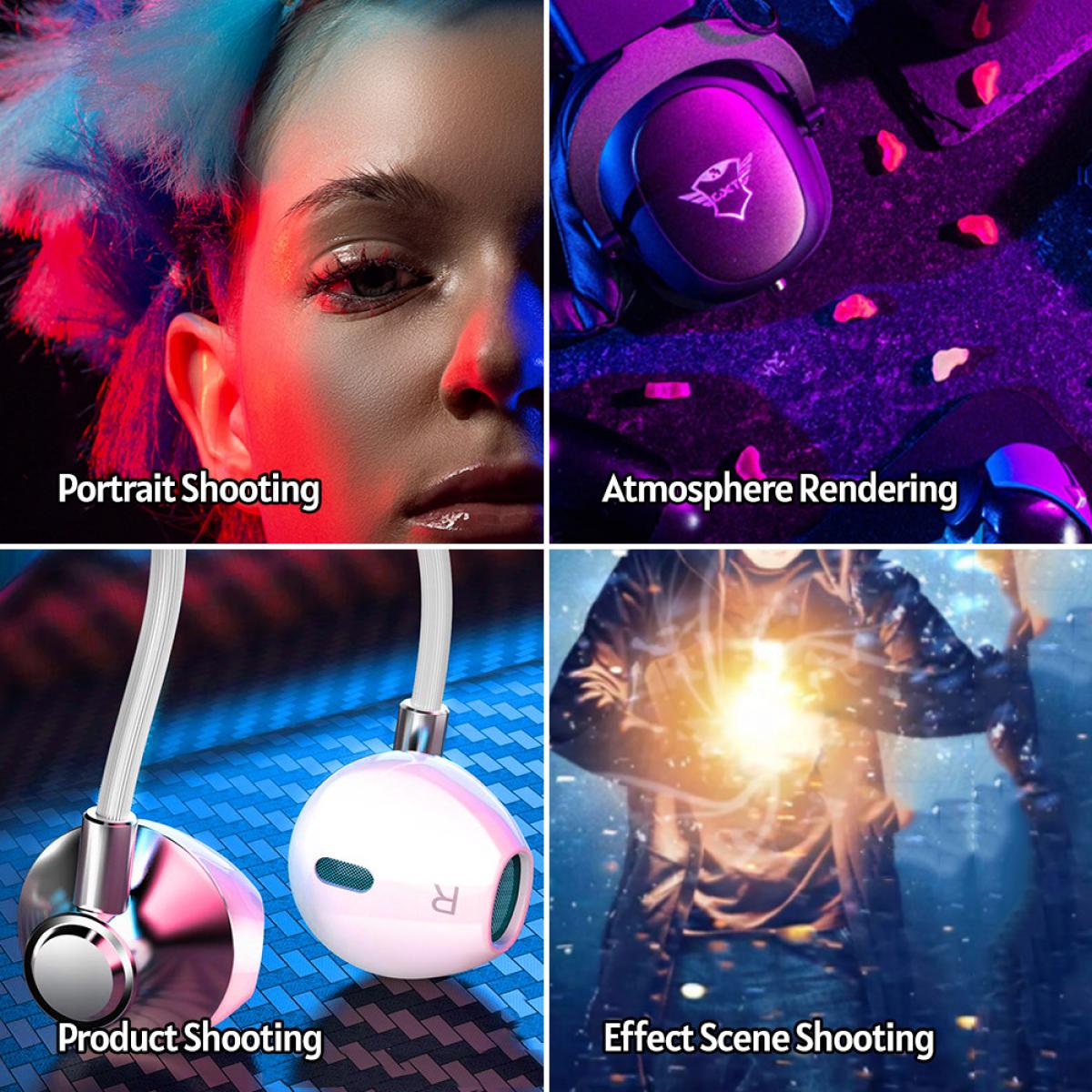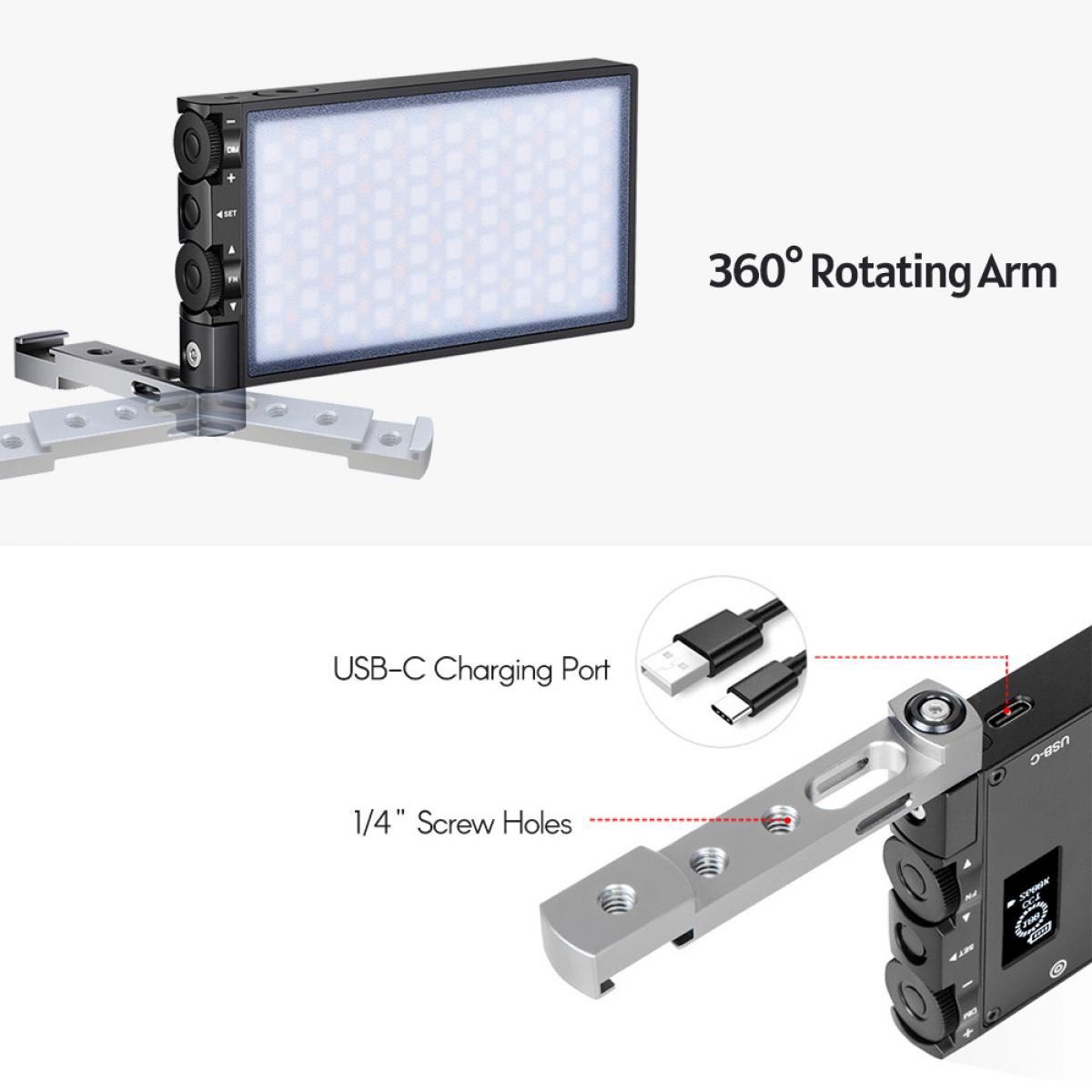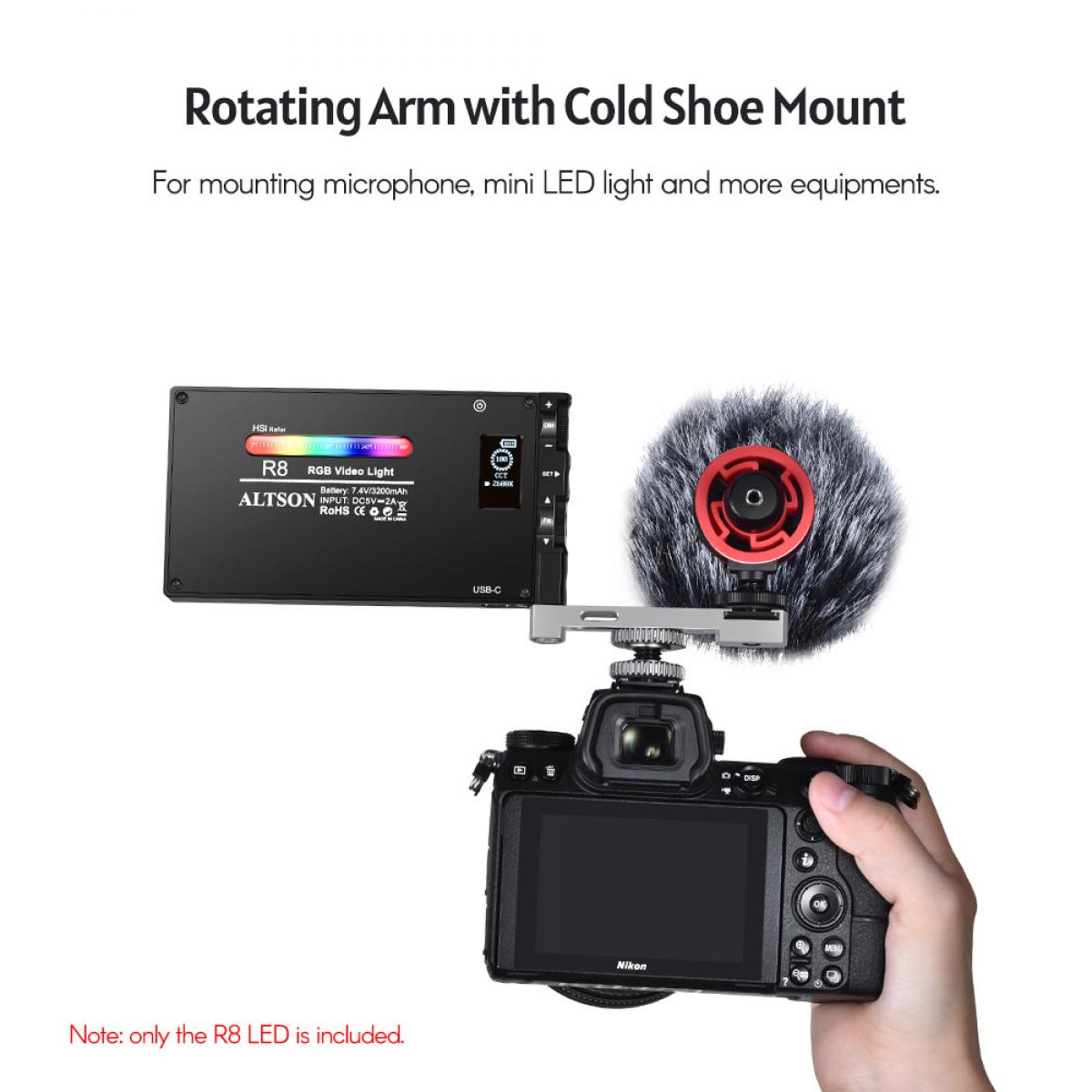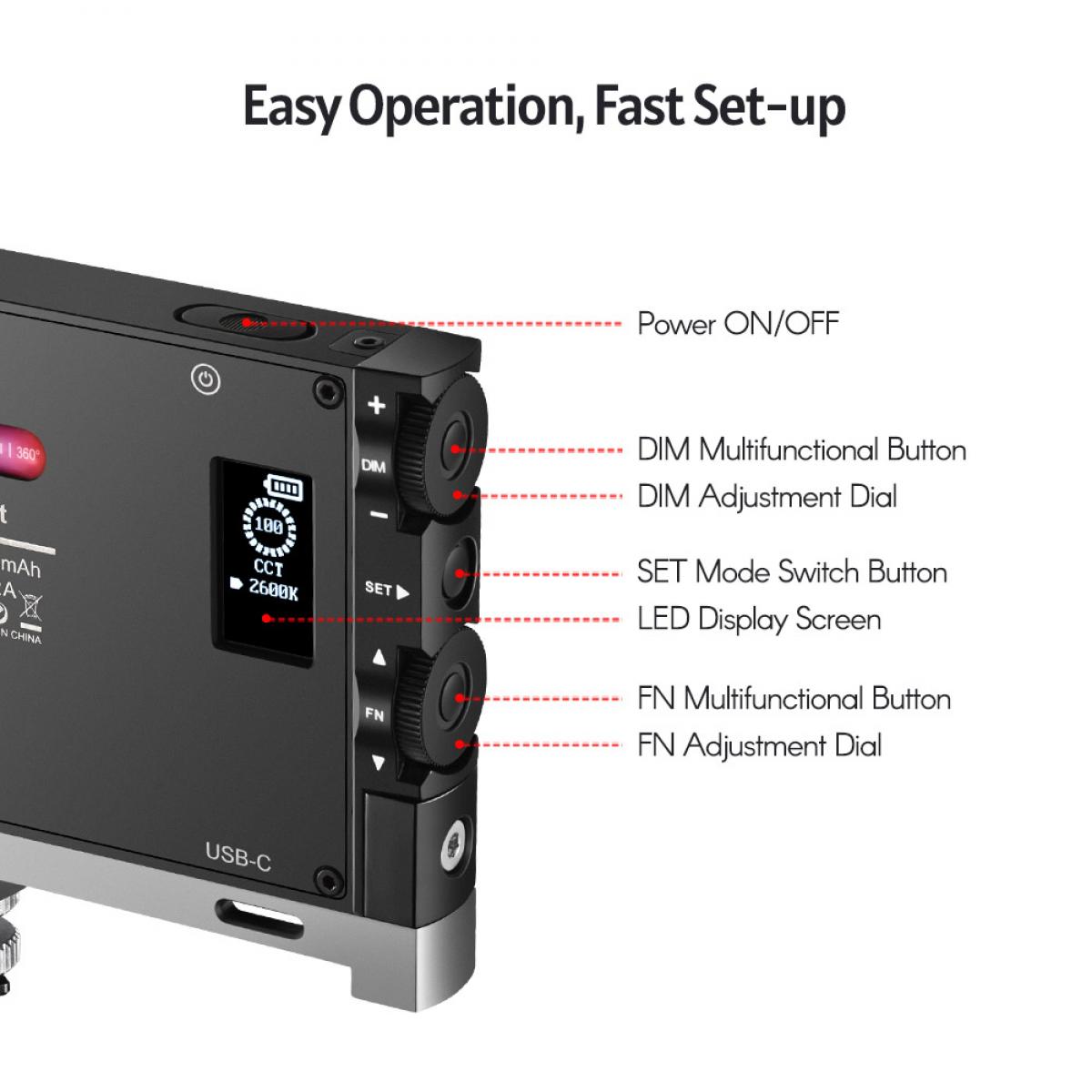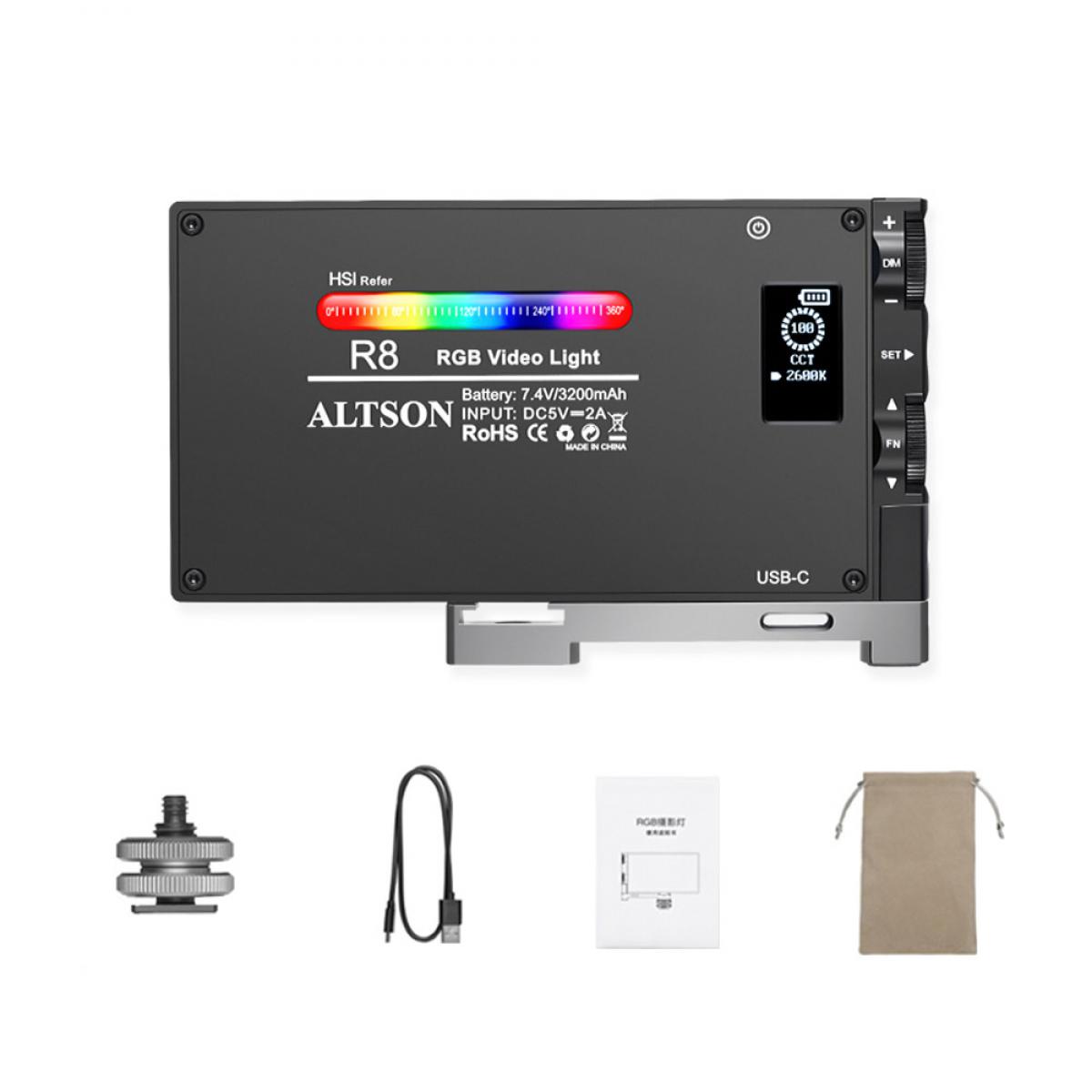 All Reviews
Image

All Star

5 Star

4 Star

3 Star

2 Star

1 Star
Good value and useful
This is a great light for the money. Good adjustment of intenity and colour temp. Being rechargable is a real asset. For the price, it's well worth keeping one in with your filming kit
01/11/2021
Love this Light!
I'm in love with this little light! I was amazed the moment it came out of the box. It's super powerful at full strength and the variety of colors it can do are amazing. I was so happy I bought this instead of a one or two-toned ring light for photography. It does a spectrum of warm to cool, plus you can adjust the brightness and saturation for colors. I included some amateur photoshop creations I was able to make with the lighting, it will work excellent for portraits too! It also has a color fade function if you want to use it for an additional light at a party or something. It's worked perfectly so far with no issues, and when I'm able to I'll definitely be getting another!
10/10/2021
Quality, Versatility, and Value
Like many people who were affected by the pandemic, video calls have become critical to my day-to-day. In my case, the lighting in my home office was insufficient to provide my webcam with consistent, adequate exposure. As the natural light from my windows would shift, my video feed would become too dark or too bright. When I found this LED Light for such a reasonable price, I was thrilled. When I got a chance to experience the product firsthand, I was even happier.QUALITY1. Robust aluminum enclosure2. Modern, fast USB-C charging3. Output to power consumption ratio is excellent, allowing for several hours of usage between chargesVERSATILITY1. Adjustable rotating arm + hot shoe mount means that you can place the light at any angle you can think of2. Adjustments for any light temperature or color you can imagine3. Plenty of power to light an entire room, yet dimmable enough to avoid blinding yourself in close-up4. Exceedingly portable, so you can bring your own lighting with youVALUE1. Includes everything you need to get started – LED light, USB-C charging cable, swivel hot shoe adapter, and carrying pouch2. Build quality is excellent, inspiring confidence that this light will last while also surviving accidental spills3. Warranty is top notch – 12 months by default, with another 6 months added if you register the product, for a total of 18 monthsNote:Be careful with the hot shoe adapter. The thumbscrew on the top of the adapter is plastic, which can crack if you accidentally over tighten, as I did. Swapping out the hot shoe adapter for an all metal one would be the only change to this product that I would suggest.I highly recommend this LED light for its quality, versatility, and value.
05/10/2021
Nice addition!
Versatile additive and bright. Brought just the needed fill to soften the shadows. Recommended for those situations!
30/09/2021
Solid Light
had the light for a week now and loving it. good build quality and plenty bright for my Twitch/YouTube game Stream
17/09/2021
Great video light.
An excellent product made of resistant metal easy to use at a low price.
16/09/2021
Best Camera Light
I highly recommend this item. Very bright and easy to use. Worth the money.
30/08/2021
Does what it's supposed to - provide lighting that's adjustable.
Does what I need it to do. I would have given 5 stars for every category, except the only gripe i have is the power on/off slider switch. It's not easy to move from one position to another especially if you are not looking directly at the switch. You have to use your fingernail to turn it off or on. Maybe a button, rocker switch, or a piece that sticks out a bit would make it easier. Just my $.02. Otherwise, it's a great product - so good that I bought 2 of them.
15/08/2021
What i paid for
Wayy brighter than i thought. A the features promoted worked just as they said.
15/08/2021
Amazingly Versatile LED Light
This is a great versatile LED light well worth the money. It's very easy to use and comes with a nice variety of settings. It gets very bright and you can change the saturation levels too, so there is a wide variety of colors.I use this for video production and streaming. The cold shoe mount is very adaptable and allows you to position the light how you need it. Additionally, there is a second hot shoe which allows you to be able to attach a microphone on top of your camera.The aluminum body is great and makes it feel like a very quality product. However, it is not very light weight which makes it not usuable if you are using a camera stabilizer.Battery life lasts about 3 hours of maximum brightness and takes a good amount of time to fully charge again. Additionally, the light itself does get pretty hot.All in all, I think it's a great product that is well worth the money.
30/07/2021
There are no faqs for this product.