1/4 mile long range Wildlife Camera with wireless alarm, 24MP*1080P night vision, 120° wide angle*0.2S trigger 2
Buy 99C$-15C$,199C$-35C$, 299C$-55C$, 599C$-130C$ (Prime Day)
New customer gift package
&FREE Shipping to Canada
Brand:

K&F Concept

Buy now in the K&F Concept Wildlife Camera 1080P 24MP Hunting Camera ► 30 Day No Reason Return ► 120° wide-angle*0.2S trigger ► Fast Shipping From UK Free

KF35.137V1

SKU:

KF35.137V1

121.59

https://www.kentfaith.ca/KF35.137V1_1-4-mile-long-range-wildlife-camera-with-wireless-alarm-24mp
Buy 99C$-15C$,199C$-35C$, 299C$-55C$, 599C$-130C$ (Prime Day)
Features
* [Quick Capture; 1/4 mile alarm alert] Alarm system includes tracking camera and receiver. The camera uses a sensitive trigger speed of 0.2 seconds to accurately capture every exciting moment; the receiver will receive an alarm signal 1/4 mile away (actual range will vary depending on local terrain) to alert the tracking camera of a trigger situation
* [120° angle and 65ft detection range]The tracking camera has a 120° detection angle and can detect people/objects moving within 65ft in front of it. Improved motion detection chip and detection angle to reduce false alarms from dead leaves/small animals/sunlight/wind etc. It has 3 adjustable sensitivities perfect for driveways, yards, gates, hunting areas, farms, etc.
* [HD Pixels, Glow-free Night Vision] The tracking camera features a starlight night vision lens with up to 24MP shooting pixels and 1080P HD video effect; the latest technology with 40 940nm micro-light LEDs with no bright light in the dark for clearer night vision in black and white.
* [Low power consumption endurance] tracking camera low hibernation power consumption <0.20mA, 4 AA alkaline batteries can last up to 3 months, connected to an external battery box (constant voltage DC6V, current greater than 1mA) will achieve better results (product does not include battery box).
* [Rugged protection for easy operation]With IP66 waterproof, dustproof and drop-proof plastic case, it can withstand -20℃~60℃ temperature in harsh working environment such as desert or tropical rainforest. This is an indispensable guarantee of a long service life. The product comes with a 64G high speed TF card and AA alkaline batteries and is ready to use immediately upon receipt.
Shipping
&FREE Shipping to Canada
Sale
Buy 99C$-15C$,199C$-35C$, 299C$-55C$, 599C$-130C$ (Prime Day)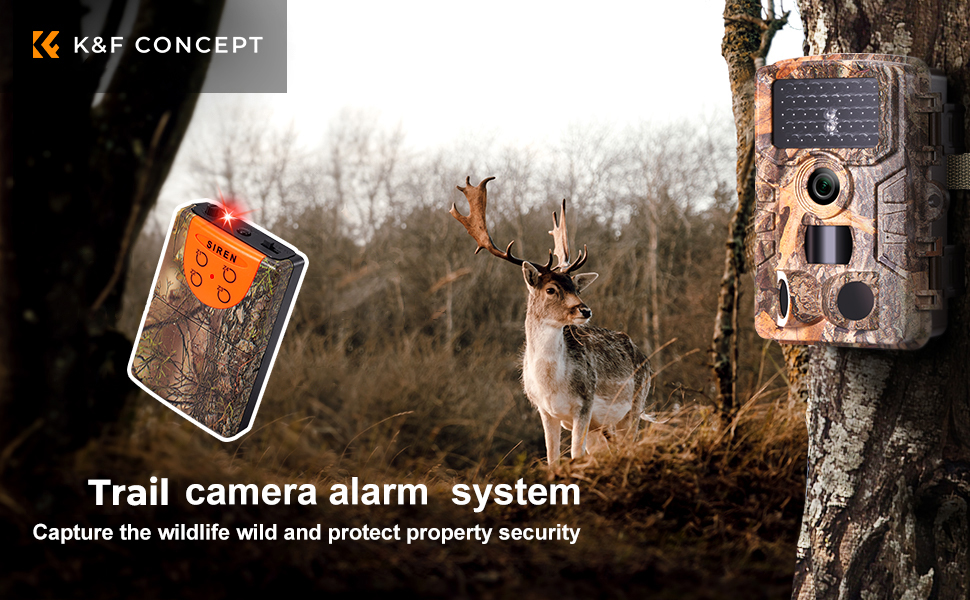 [New version] Off-road camera with wireless alarm - an affordable and convenient safety/security system for home security, farm property protection and hunting
· It not only has the basic functions of hunting camera (such as recording 1080P video and 24MP picture when triggered, sensitivity selection, 0.2s fast trigger, 2 inch color screen, etc.), but also has the upgrade function - alarm, which can send abnormal alarm signals in time.
· Sensors emit light and vibration/sound alerts when animals/vehicles/pedestrians come within 20m (65ft) of the hunting camera. Sensors and hunting cameras have a reception range of 400m (1/4 miles).
· The kit includes a hunting camera and receiver to record important photos and picture videos when triggered by people/objects, as well as receive alerts, perfect for farms, driveways, yards, gates, wild hunting, etc.
· The hunting camera is weatherproof, IP66 waterproof, and can work in all seasons with a power supply.
· Super easy setup, just install 8*AA batteries and a Micro SD card for the hunting camera, 2*AA batteries for the receiver, which can be set up in a few minutes.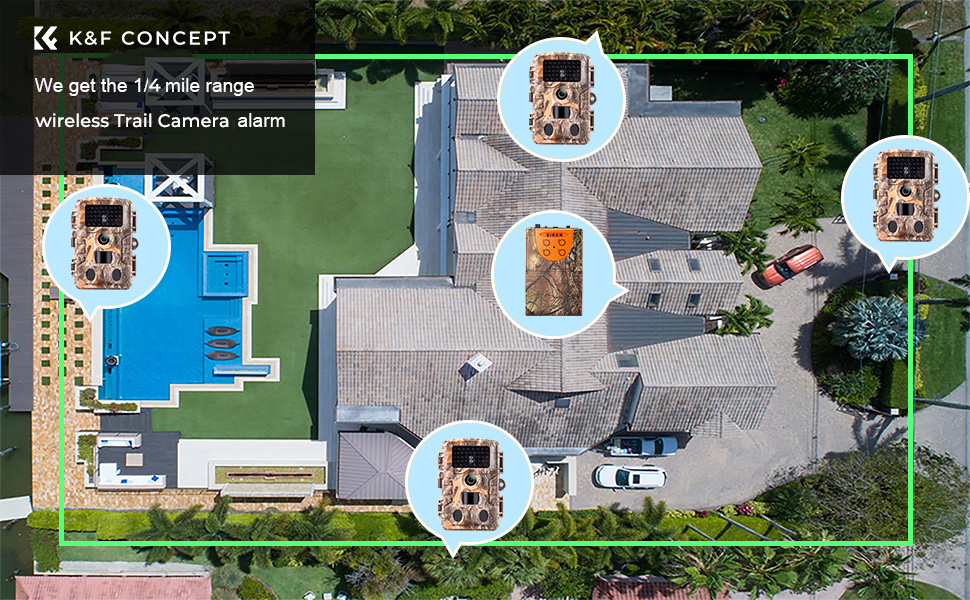 Flash and vibration/siren alarm
· A mobile alarm will notify you as soon as your hunting camera spots activity.
· Real-world tests were conducted, with the safari camera transmitting up to 1/4 mile (400 m) from the mobile alarm, with the option of flashing, vibrating and siren, or flashing and vibrating alarms.
· If the distance between the alarm and the hunting camera is too far away from the receiving range, the alarm will not issue an alarm when the hunting camera is triggered by abnormal circumstances, but the hunting camera can still operate normally and record activities.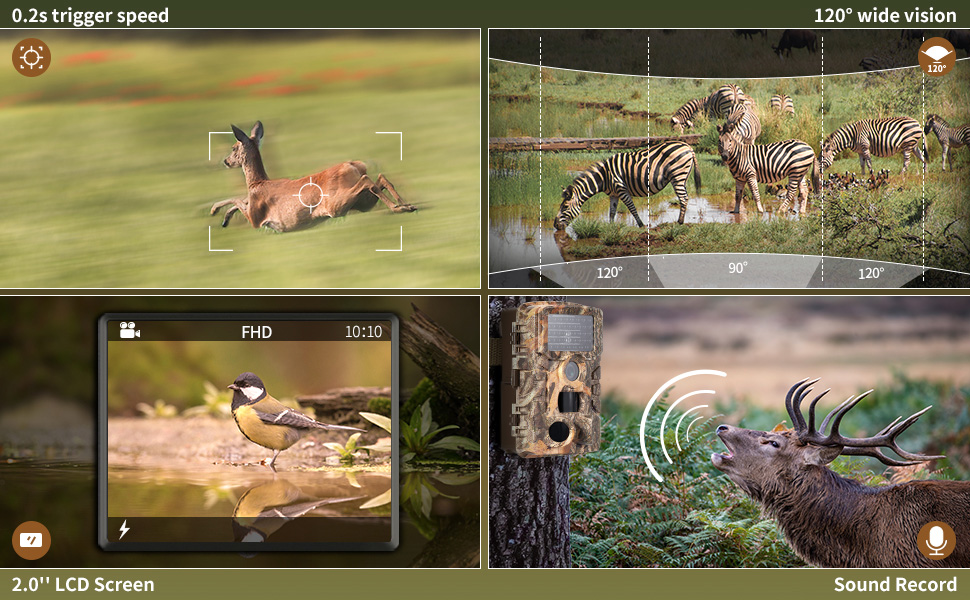 Quality wildlife camera
You will have a hunting camera with 0.2s fast trigger, 120°PIR wide Angle, which can adjust the trigger sensitivity, can record the animal passing scene in time, take audio video or take pictures; At the same time, the camera has a 2" LCD color screen, so you can always take down the camera to view the recorded animal activity.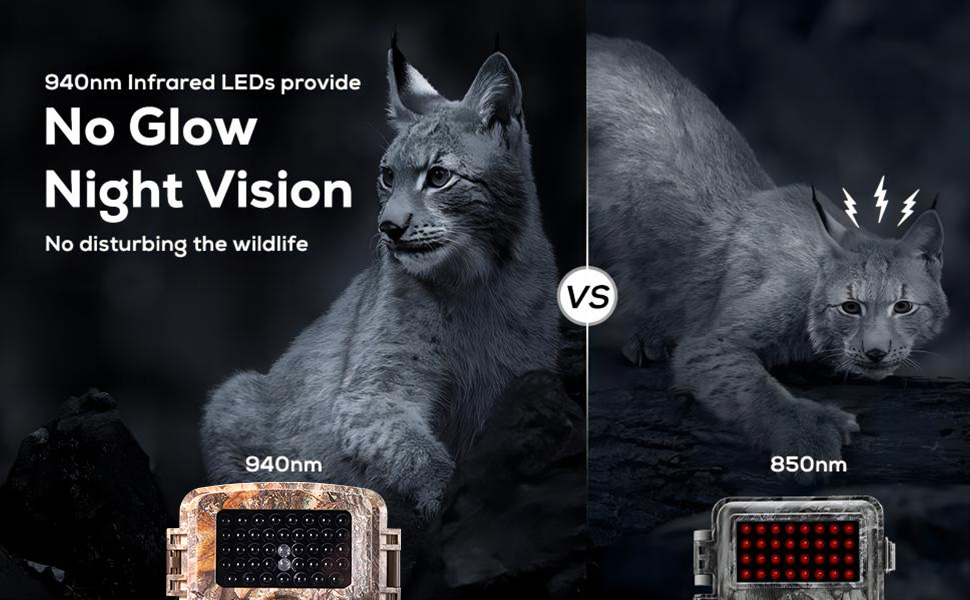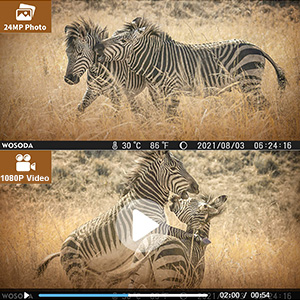 Provide clear photos and videos
The camera can record 24MP pictures and 1080P videos, not missing a single highlight, providing clear photos and video reconnaissance material.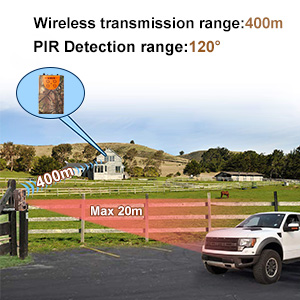 Trigger sensitive, timely alarm
The hunting camera has a signal transmission range of up to 400m(1/4 mile) between the hunting camera and the alarm. In addition, the hunting camera has a PRI trigger Angle of 120°, which can timely monitor anomalies and the alarm can quickly receive trigger alerts.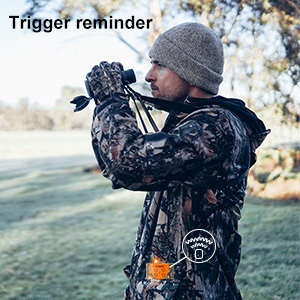 Prompt trigger alerts
When you are not far away waiting for the arrival of prey, or ready to observe wild animals, you can carry an alarm, when an animal passes in front of the hunting camera, the alarm will immediately vibrate and sound to remind you of the arrival of the target.

Off-road camera system with wireless alarm
This is the best choice for wildlife watching, home security monitoring, farm monitoring, and hunting enthusiasts.
There are no reviews for this product.
There are no faqs for this product.