Smart CO2 Detector, Indoor Air Quality Monitor, NDIR Sensor Carbon Dioxide Detector, Temperature Humidity Air Tester for CO2 Alarm, Smart Life Tuya APP Digital CO2 Meter
3-5 Days
Refilling Supplies
Within About 3-5 Days
C$106.97
C$133.71
20% OFF
New customer gift package
&FREE Shipping to Canada
Brand:

K&F Concept

Buy K&F Concept smart co2 detector, indoor air quality monitor, ndir sensor carbon dioxide detector, temperature humidity air tester for co2 alarm, smart life tuya app digital co2 meter online, C$106.97 free shipping to Canada.

GW40.0005

SKU:

GW40.0005

106.97

https://www.kentfaith.ca/GW40.0005_smart-co2-detector-indoor-air-quality-monitor-ndir-sensor-carbon-dioxide-detector-temperature-humidi
Features
* 【Compatible with Tuya Smart/Smart Life APP】Intelligently monitor your house air condition for CO2 concentration, temperature and humidity value on smart phone via Tuya Smart APP when you are not at home, no more worry about sudden accidents. And you can transfer the Temp. valve between ℃ and ℉ easily in APP or directly via the button on the detector.
* 【3 in 1 Multifunctional Carbon Dioxide Meter】The 3 in 1 CO2 monitor can detect real-time CO2 concentration, together with clear display on indoor&outdoor humidityand temperature for extremely comfortable and safe life experience. CO2 detection range is featured from 400 to 5000PPM, temperature detection range from 0 to 50℃ and 0-99%RH for humidity detection range, fits well for agricultural planting, production warehouse, raw material processing, home, school, office, and other occasions.
* 【CO2 Concentration Stage& Sound Alarm】 This CO2 detector is functional with 3 stages of CO2 concentration—normal stage (400-700 ppm), warning stage (700-1500 ppm), and dangerous stage (1500-5000 ppm) and will alarm when the detected CO2 concentration is beyond the safe value you customized to monitor house security for you timely. Besides, this air tester is designed with high quality infrared NDIR sensor and calibration function for more accurate monitor.
* 【Smart Scene Linkage for Home Automation】Add smart scenes in Smart Life APP for automating other smart home devices with the CO2 detector under CO2 concentration, temperature and humidity value, such as automatically open your window when the detected CO2 concentration is beyond the safe value, or turn on the AC when the temperature is too high.
* 【Full-Color Large Screen&Large Capacity Rechargeable Battery】 Full-color display and large screen design ensures its super easy readings with LED digital display for eye protection; built-in large capacity rechargeable battery(2400mAh, which can still be used for 12 hours with the screen on without charging), together with Type-C charged;includes full 2-year warranty and 60-day refund guarantee for complete satisfaction.
Shipping
&FREE Shipping to Canada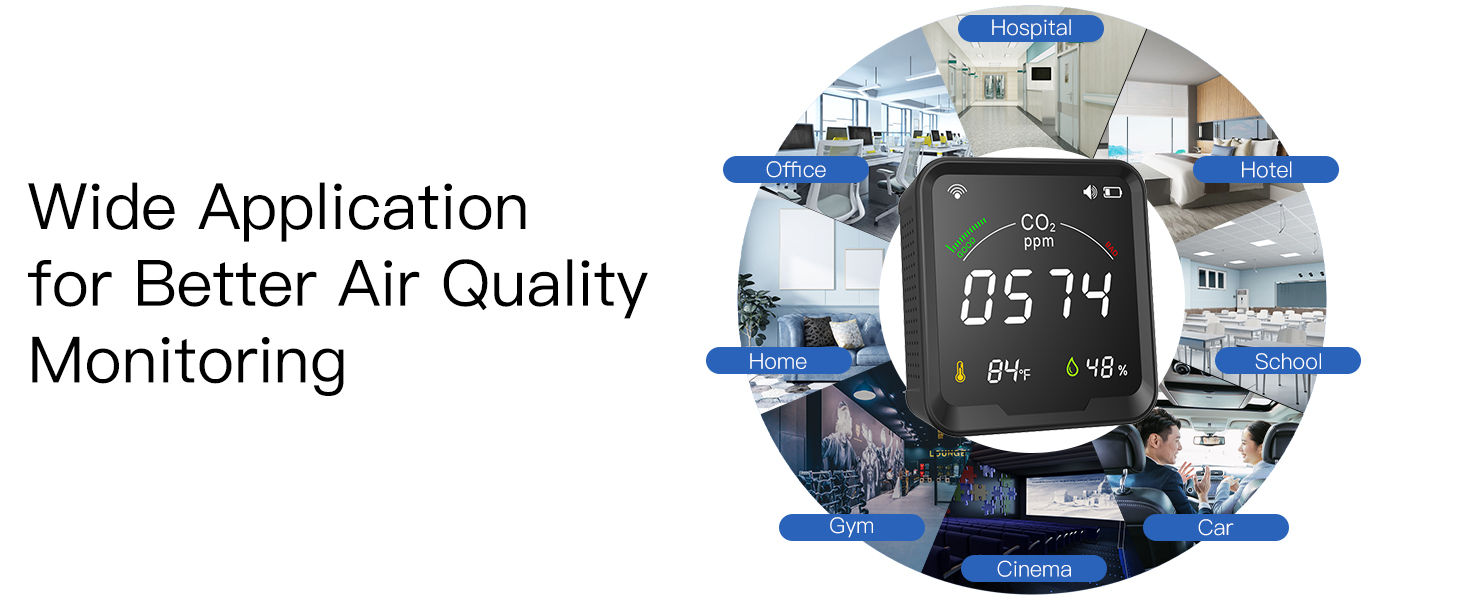 Wide Applicationfor Better Air QualityMonitoring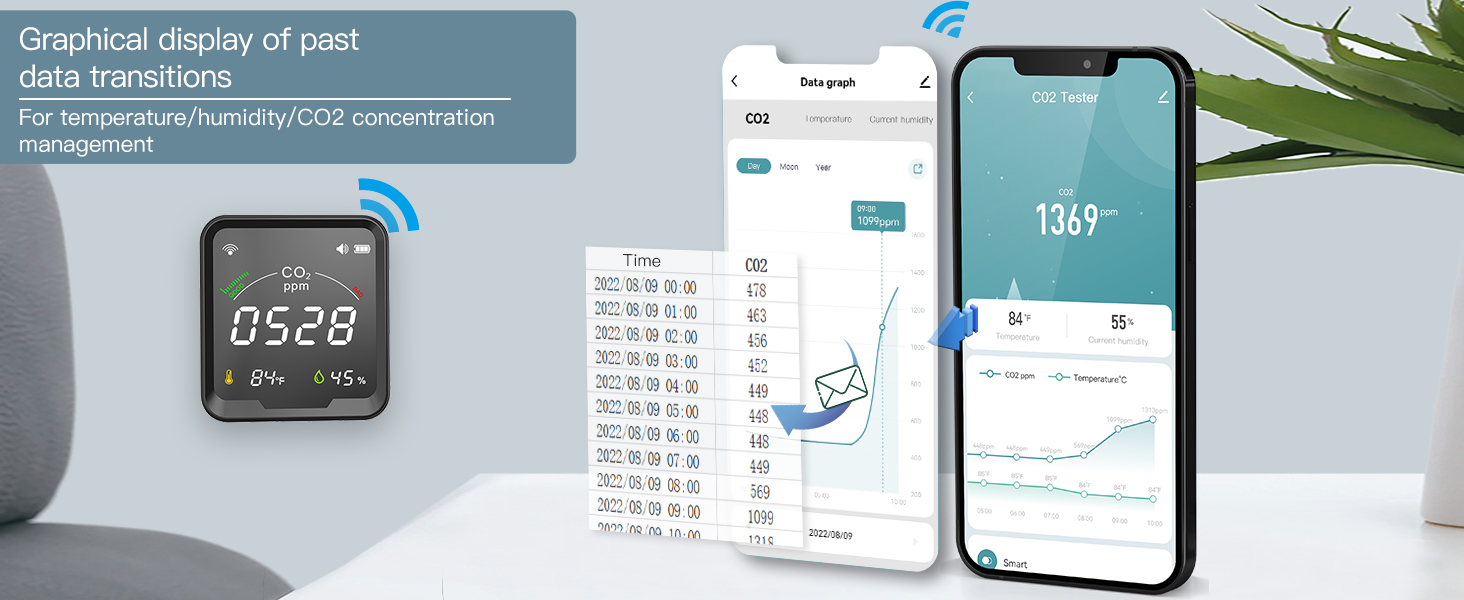 Graphical display of past data transitions.For temperature/humidity/CO2 concentration management.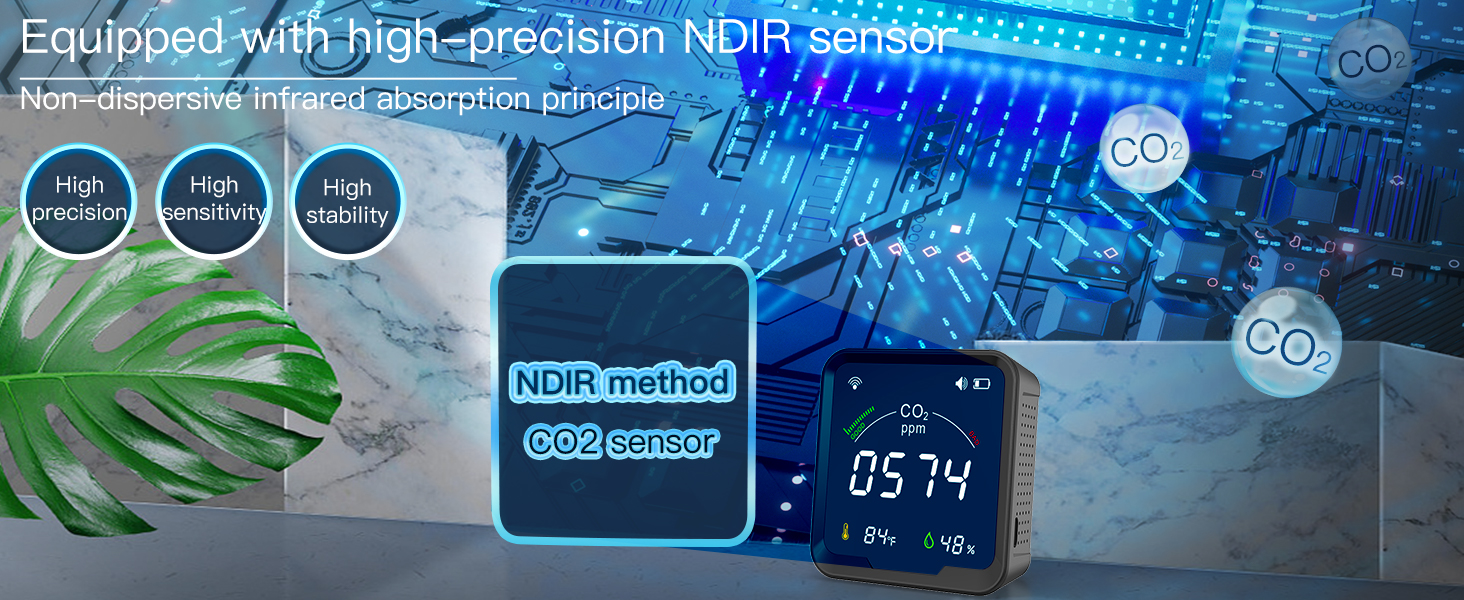 Equipped with-high-precision NDIR sensor.Non-dispersive infrared absorption principle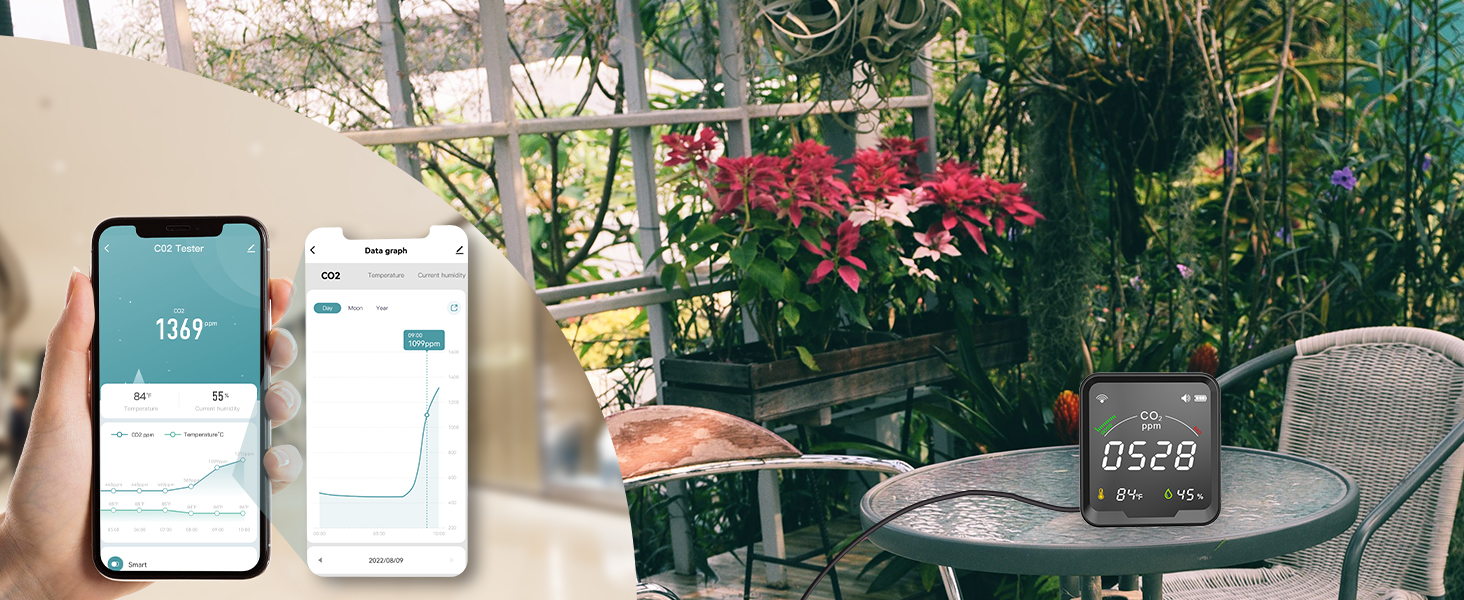 APP real-time monitoring and recording of CO2 content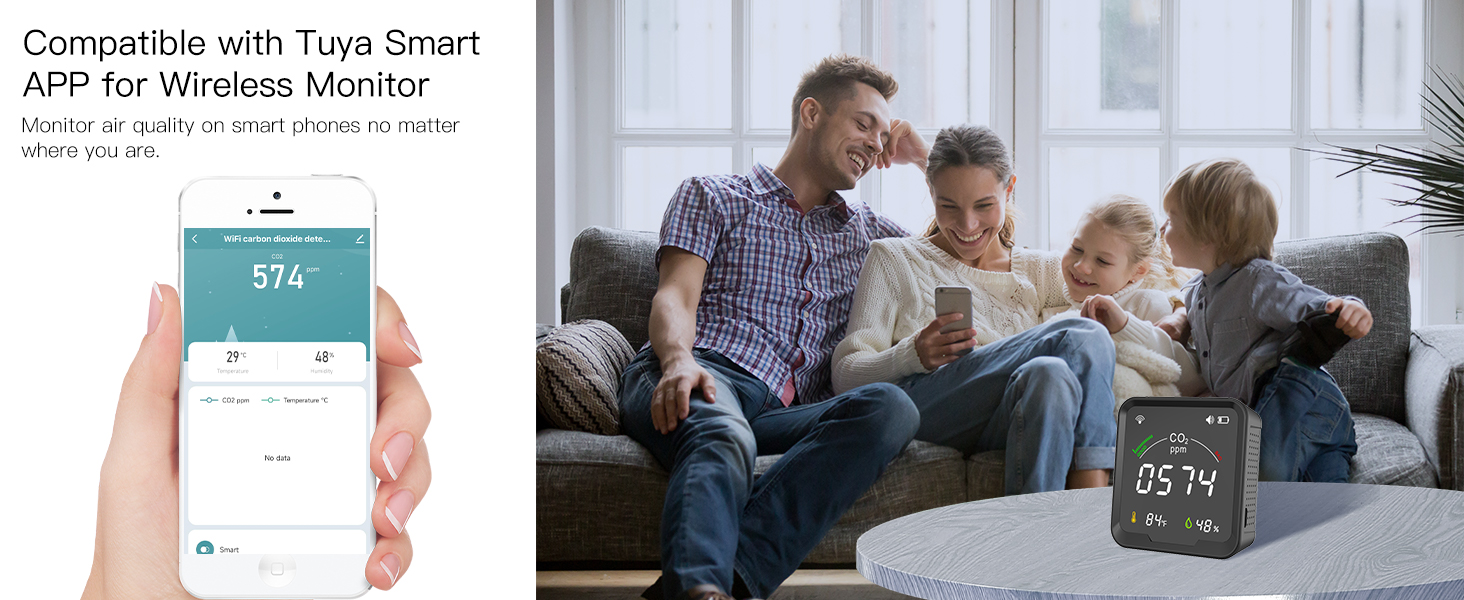 Compatible with Tuya Smart APP for Wireless Monitor.Monitor air quality on smart phones no matter where you are.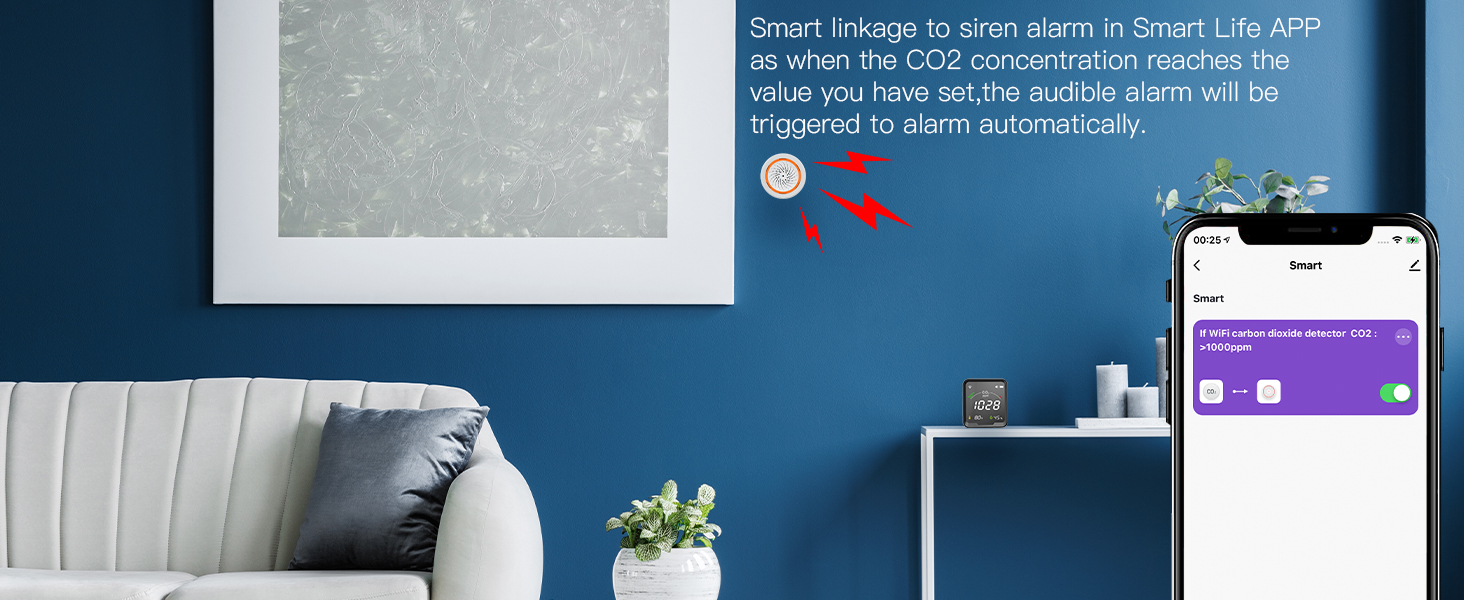 Smart linkage to siren alarm in Smart Life APP as when the CO2 concentration reaches the value you have set,the audible alarm will be triggered to alarm automatically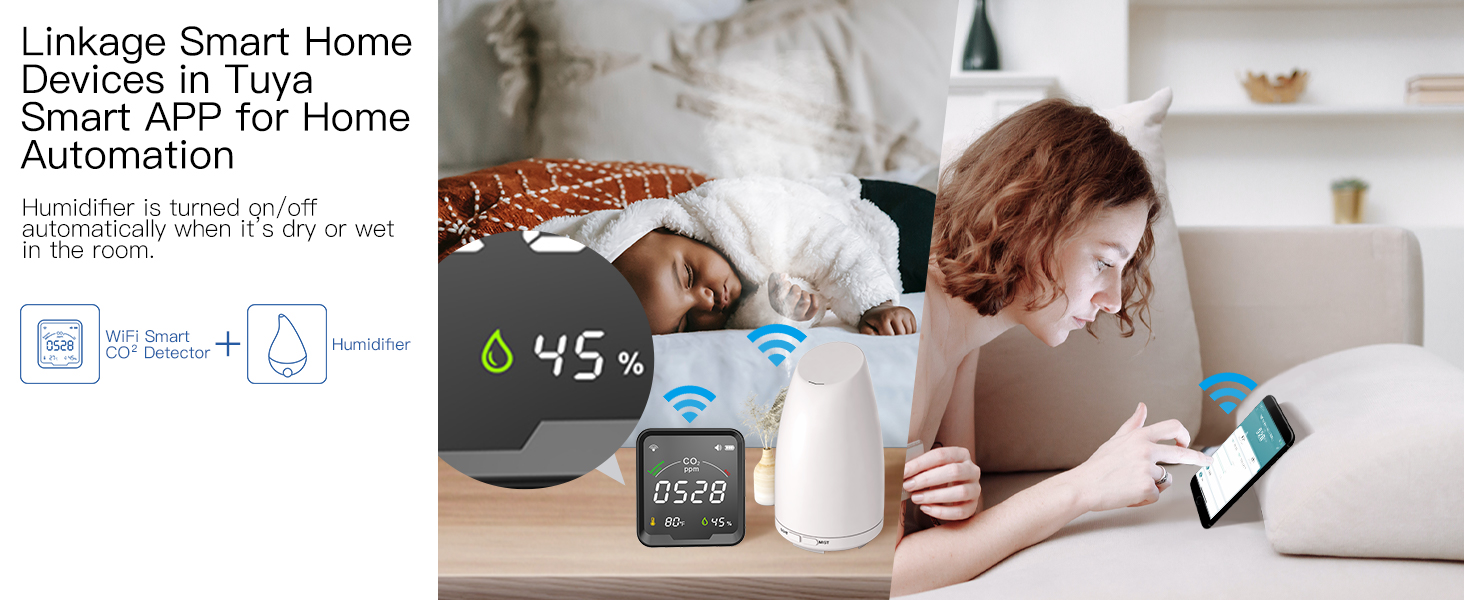 Linkage Smart Home Devices in Tuya Smart APP for Home Automation.Humidifier is turned on/off automatically when it's dry or wet in the room.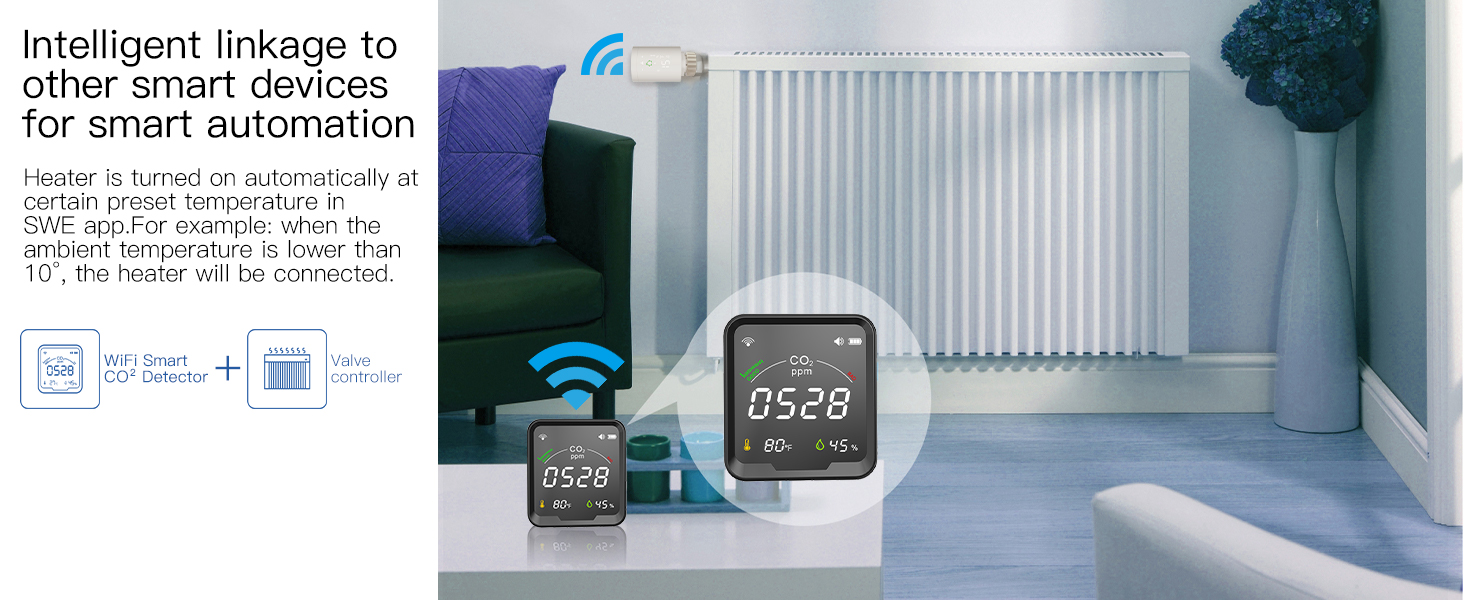 Intelligent linkage toother smart devicesfor smart automation.Heater is turned on automatically at certain preset temperature in SWE app.For example: when the ambient temperature is lower than 10°, the heater will be connected.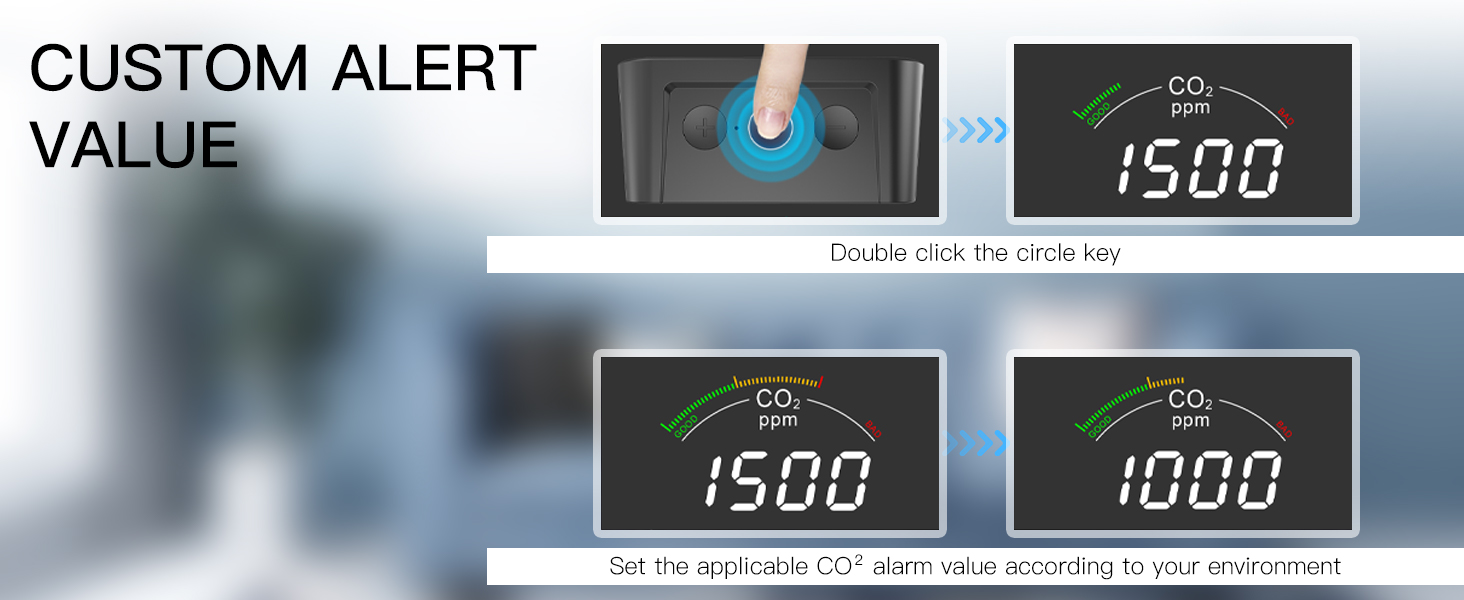 CUSTOM ALERTVALUE.
Double click the circle key.
Set the applicable CO2 alarm value according to your environment.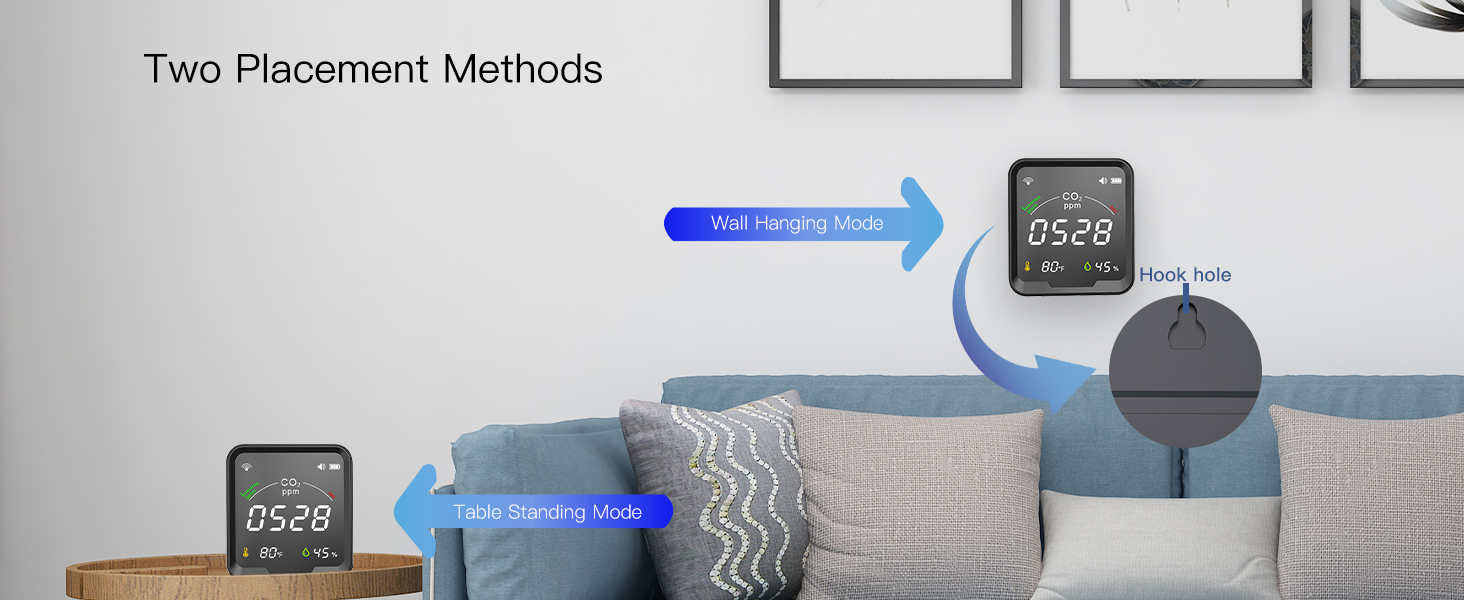 Two Placement Methods.It can be hung on the wall or placed on a table.
Specification
product model
PTH-9CW
CO2 Range
400~5000 ppm
CO2 Resolution
1ppm
CO2 Accuracy
土(50 ppm+5%)
Temperature Spec
-10°C~40℃(±1℃)
Humidity Spec
20%~80%(+5%RH)
APP
TUYA
Wi-Fi
only for 2.4GHz Wi-Fi network
Buzzer Alert
YES
Battery Spec
LIB(2400 mAh)
Charge Input
Type-C Port, 5V --= 1A
Work Temperature
-10°C~40°C
Product Size
98mm x 90mm x 40mm
All Reviews
Image

All Star

5 Star

4 Star

3 Star

2 Star

1 Star
CO2 seems accurate, Relative Humidity is way off
I took the unit outside in order calibrate it. It then read 408PPM, which is exactly what it should be, so I'm assuming the CO2 sensor is accurate.

But the relative humidity is a different story. I have three hygrometers in my mushroom grow tent. They all read within 3% of each other at 87-90% humidity. This unit consistently reads 75%, or roughly 15% low. While there is a way to calibrate the CO2 sensor, I don't see a way to calibrate the hygrometer. I'm disappointed in the inaccuracy.
21/06/2023
Very short battery life even after long charge
It works and seems accurate but there are 2 issues you need to know: you get maybe 20-24 hours out of a full charge and that also takes several (3.5+)hours to charge back up. Kind of annoying to keep a small device on a cord but if you want constant 24 hour a day monitoring that's what you'll have to do.

Second, also minorly annoying is temp setting. The default is Celsius and there is the ability to change that to Fahrenheit but it won't stay there- it reverts to Celsius. At first i though it was a memory loss thing due to the previously mentioned short battery. This wasn't the case- it reverts to Celsius after being idle a few hours.

The display is large and easy to read. It does connect very easily and has Wi-Fi so remote monitoring is just a glance at the app. Out of the box set up is quick and easy.
05/06/2023
Good product
Seems like a good product out of the box. Delivery was quick and instructions for set up are easy to follow. Will need long term use to get full idea of its capabilities

It comes with the usb charging cord, but not a cube to plug into the wall.
14/04/2023
Very easy to use.
I like the ease of set up. I also like the display as it is easy to read from across the room. We have it set up near our back door leading to the garage. I will definitely feel safer with the alarm set to warn us if levels get to high. I feel my family is safer with this device in our home
13/04/2023
Love it
It looks very nice and is small and sleek. It's pretty awesome to see all the stats in one place. Good buy.
10/04/2023
Fantastic unit
Very easy to set up
Battery life only one day this needs to be plugged in.
24/03/2023
Nice to have in house
Verdict: Buy

This is a useful addition in the house. Helps to monitor the indoor conditions.
Would recommend for families with little kids to keep a check on the room conditions.
11/03/2023
Seems accurate!
Seems accurate and looks sleek! The monitor is easy to understand and read. The presentation is also nice, and app is easy to use.
06/03/2023
Eh, still figuring it out.
You have to read the instructions, and even then, it's not obvious how to get it to work. Press and hold buttons while getting zero feedback from the device, that kind of thing.

I'll update my rating if and when I am able to use it enough to have an opinion. Till then, I'm just posting this to overwrite my hasty first impression.
06/03/2023
Clear and accurate sensor
Bought this CO2 sensor for my house and this works great. The screen is bright and very easy to understand all the readings. When the CO2 level goes up, I would turn on my air purifier and I can see the reading goes down. This is really good if you want to monitor the air quality inside your house. It also has temperature and humidity sensor. The wifi feature is really nice addon.
20/02/2023