Intelligent bird feeder camera, AI automatic bird recognition, 1080P high-definition screen, solar charging
C$226.56
C$283.20
20% OFF
New customer gift package
&FREE Shipping to Canada
Brand:

K&F Concept

Buy K&F Concept intelligent bird feeder camera, ai automatic bird recognition, 1080p high-definition screen, solar charging online, C$226.56 free shipping to Canada.

GW62.0001

SKU:

GW62.0001

226.56

https://www.kentfaith.ca/GW62.0001_intelligent-bird-feeder-camera-ai-automatic-bird-recognition-1080p-high-definition-screen-solar-char
Features
* A high-quality intelligent bird feeder camera. Simply connect to the app through WiFi and remotely view the birds in front of the camera anytime and anywhere. It has endless fun and is very suitable for scenes such as gardens, parks, and nature reserves. It is a great gift giving option. APP: Vicohome
* [Automatic identification of over 11000 bird species] Triggered by PIR, the camera will automatically capture the previous bird video and timely push messages to your phone. With powerful AI algorithms, you can automatically and accurately identify bird species and other information. Up to 11000 species can be identified, allowing you to learn rich bird knowledge (30 days free).
* [1080P high-definition screen, clear and complete shooting] 1080P FHD high-definition image quality, 145 ° super wide angle, even if there are multiple birds at the same time, it can shoot clearly and completely, seeing every detail clearly.
* [Easy to install, never power off] The product is sturdy and fast to install. It can be stably fixed on a tree in just a few minutes, without the need to connect wires, solar panels, and rechargeable batteries for power supply. It has no power outage troubles, is IP66 waterproof, and is suitable 24/7. It has passed safety certifications such as CE, FCC, RoHS, WEEE, etc.
* Sound and light alarm and full color night vision: The sound and light alarm function can automatically drive away disruptive squirrels at night, allowing for clear and colorful images, and can drive away uninvited guests in front of the camera through two-way audio.
Shipping
&FREE Shipping to Canada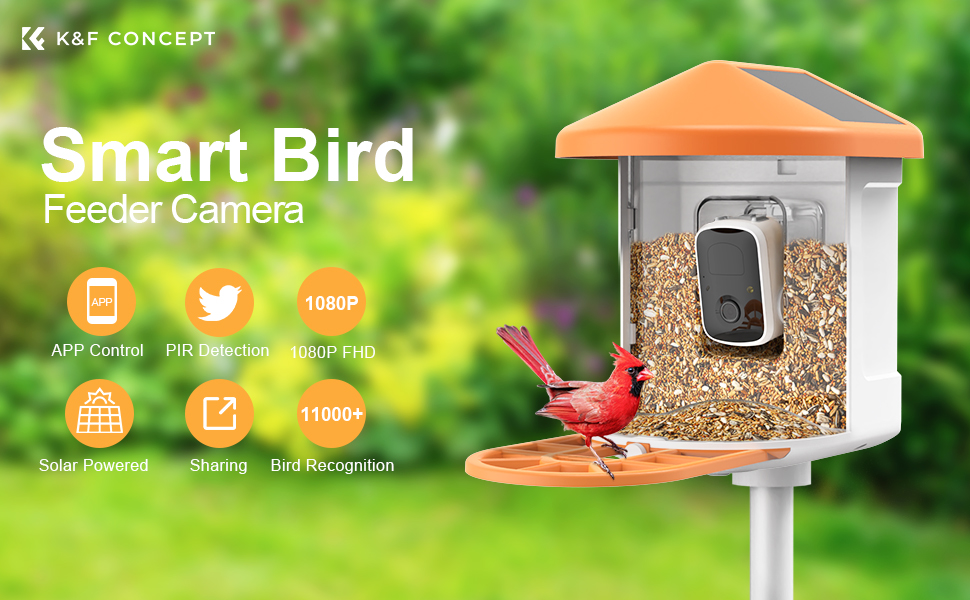 Why choose K&F's intelligent bird camera?
1. Through the app, we can remotely view the birds in front of the camera anytime, anywhere, and automatically identify up to 11000+bird species (this feature requires a service), helping us better understand birds.
2. WiFi connection is stable, with a stable connection distance of up to 30 meters from the router! It can also be connected to mobile phone hotspots, powered by solar energy and rechargeable batteries, without the need to pull wires. It is very suitable for installation in gardens, backyards, balconies, and can also be installed in farms, nature reserves, and other places.
3. Large size food box reduces the frequency of adding food, and the product is very beautiful, suitable for giving gifts to the elderly, children, and friends.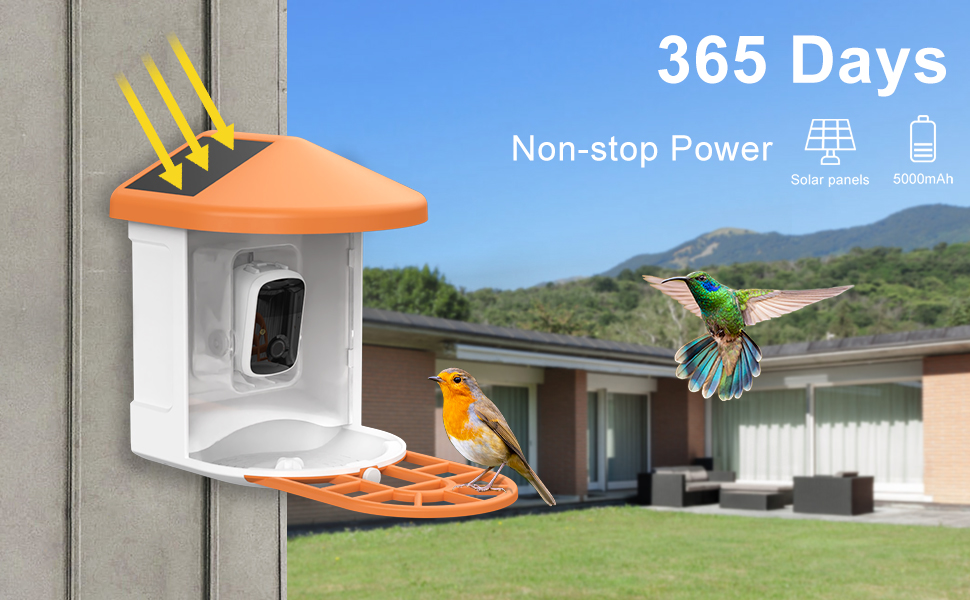 5200mAh battery and solar panel
The solar charging panel integrated on the roof can provide constant power support for smart bird cameras, without the need for wiring and saving electricity bills.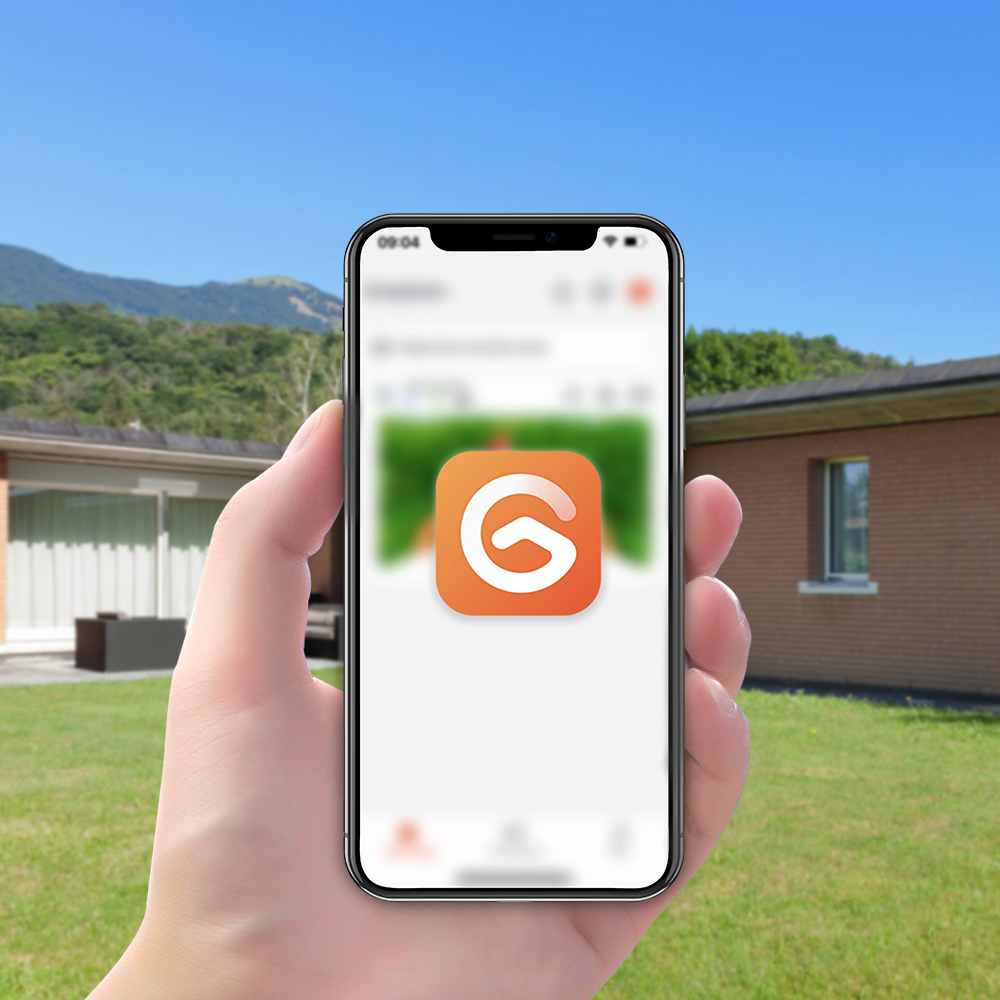 Support remote viewing of apps
APP: Vicohome is easy to install, user-friendly, and very user-friendly. You can remotely check if there are birds visiting your cabin at any time, anywhere.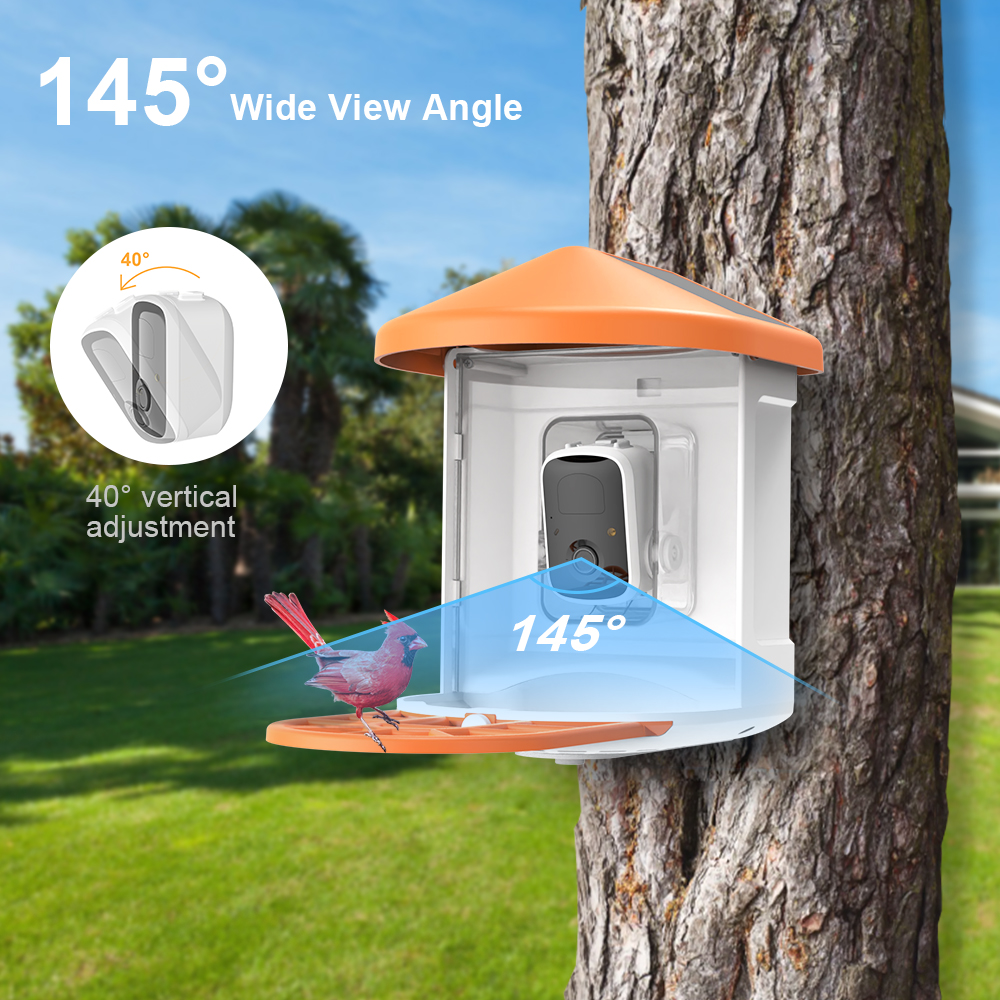 145 ° ultra wide angle shooting
The camera has a 145 ° Ultra wide angle lens. Without professional macro equipment, you can easily get an unprecedented super close-up perspective and view details in an unprecedented way. Even if multiple birds visit your house at the same time, you can capture them all and never miss any beautiful birds.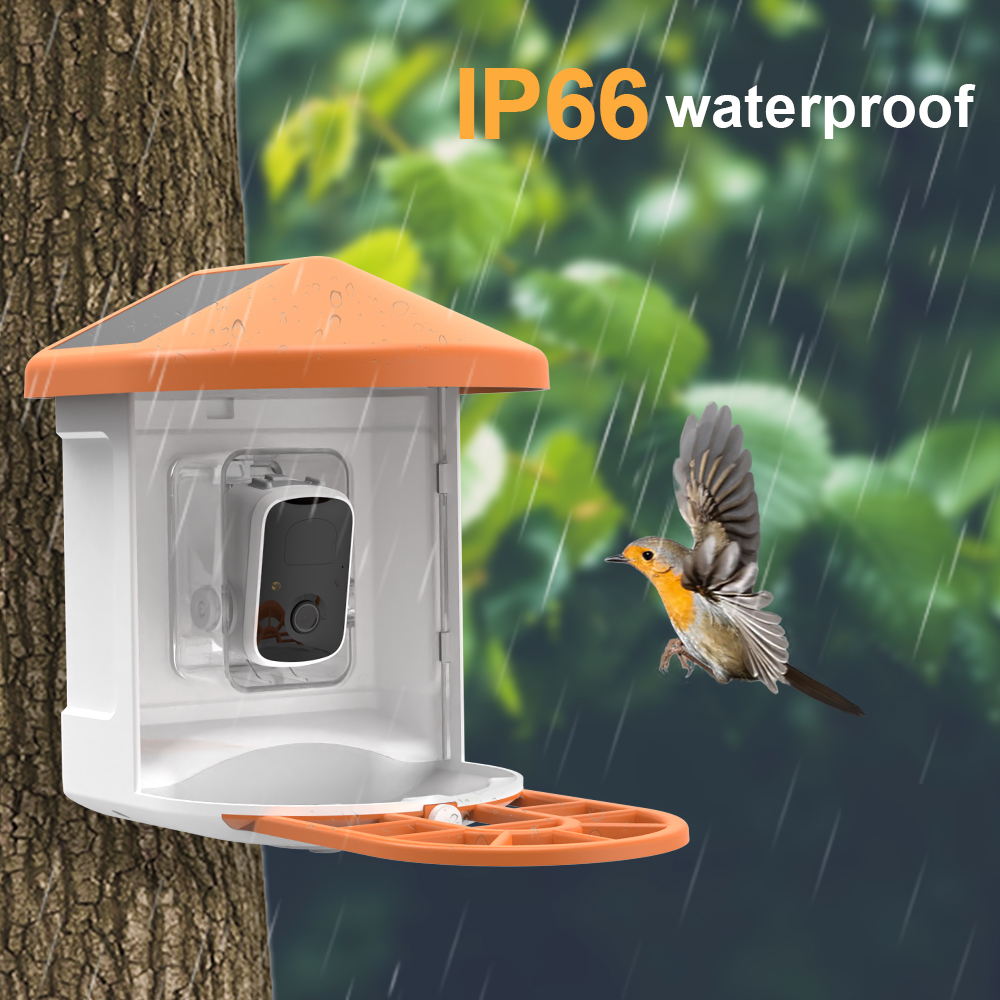 IP66 waterproof design
IP66 waterproof design, equipment can be safely installed outdoors, suitable for various weather conditions.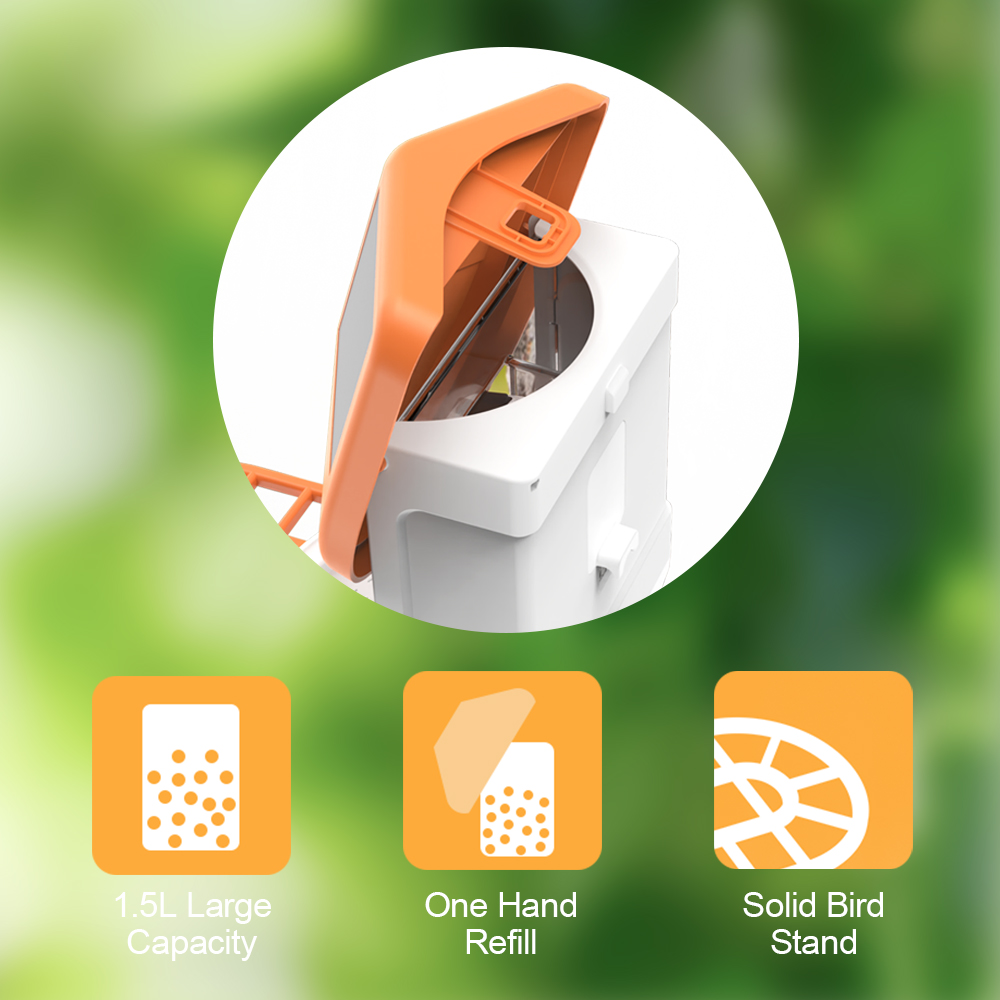 Large storage space design
The feeder has a super large capacity of 1.5L, which can store more food at once. The food tray is also easy to disassemble and easy to clean.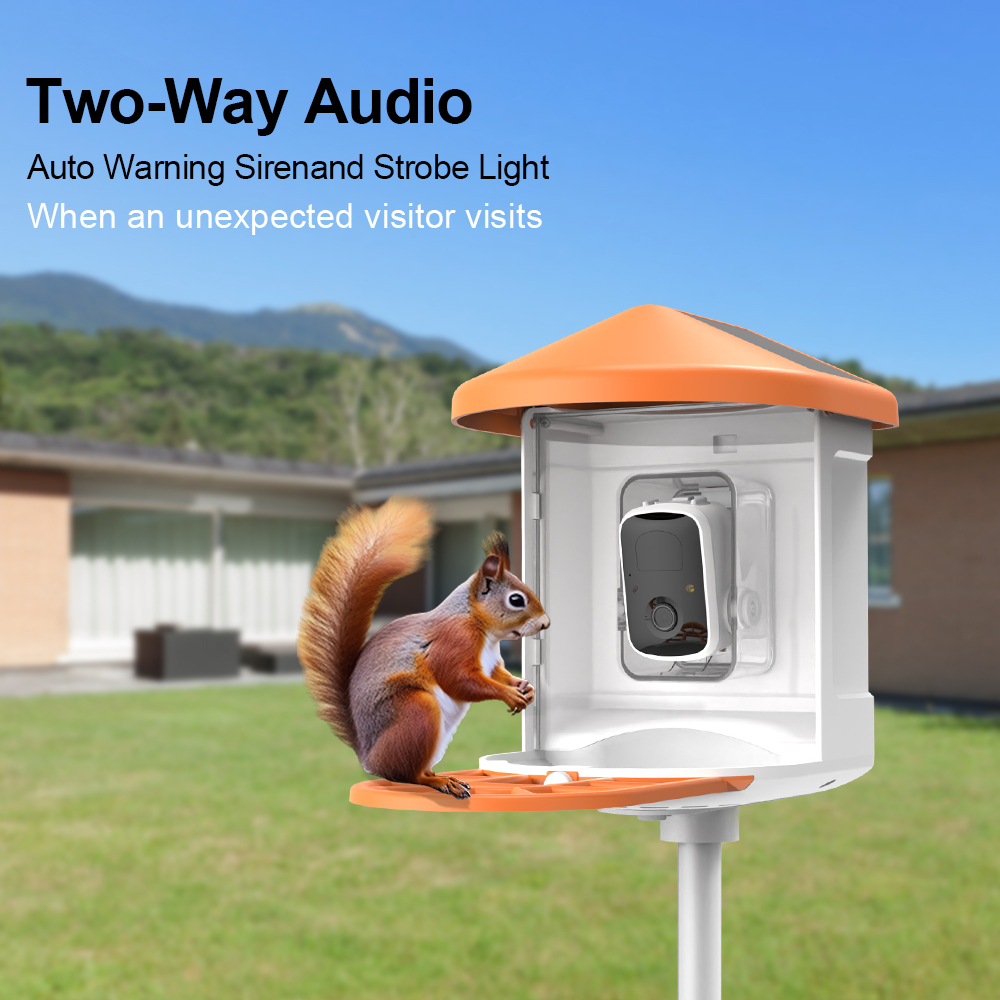 Bidirectional intercom and sound and light alarm function
The camera comes with a microphone and speaker, supporting bidirectional intercom. If a squirrel visits your feeder, it can be driven away through the intercom function. It can also turn on sound and light alarms, emit warning sounds and lights, and drive away the squirrel.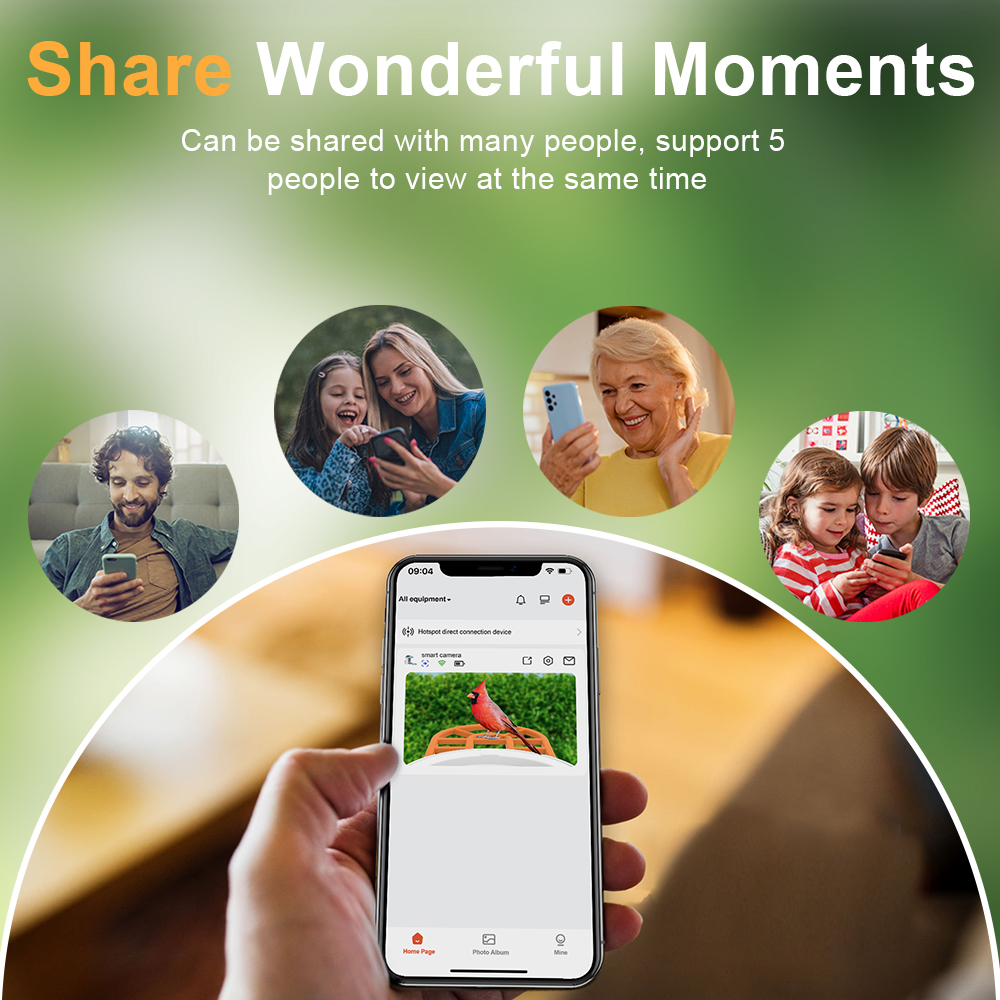 Interesting sharing features
Can share the device with multiple family and friends, supporting up to 5 people to view it simultaneously, better understanding birds, and adding family fun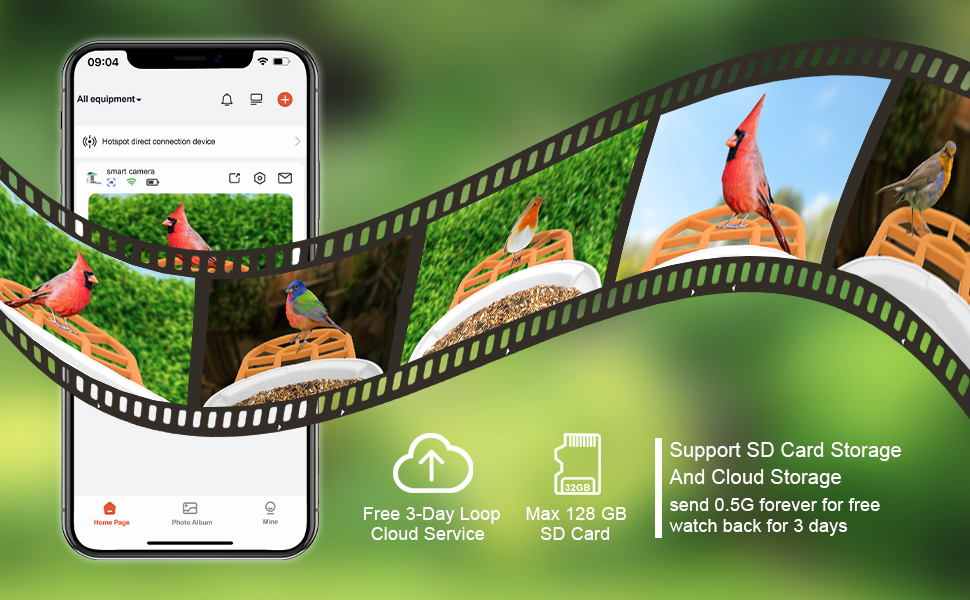 Multiple storage methods
The device supports a variety of storage methods. You can choose SD card storage and Cloud storage to store wonderful pictures. At the same time, we will permanently give 0.5G of cloud storage space for free, and three days of free cloud review function.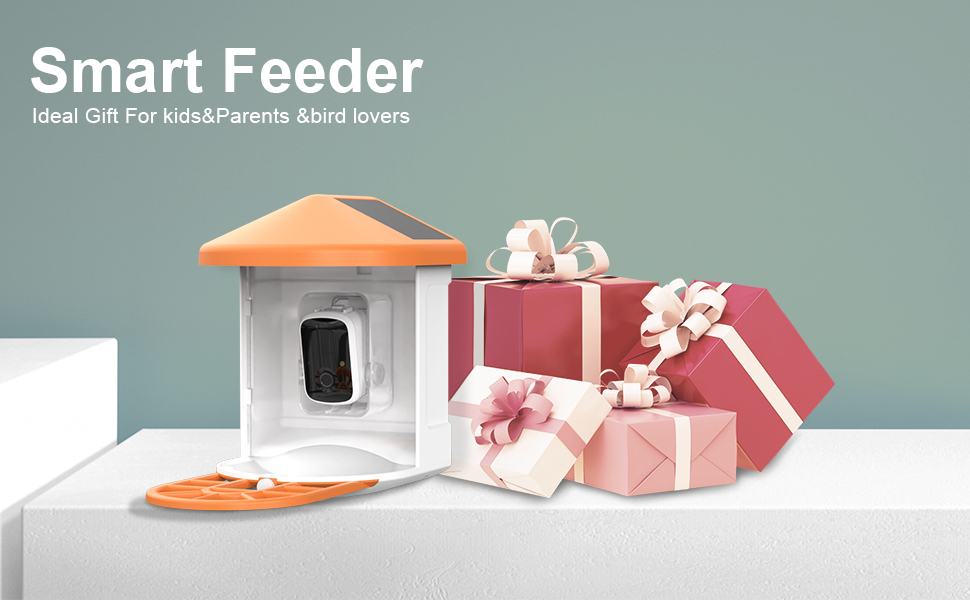 Ideal gift for everyone
If you are looking for unique and thoughtful gifts for your family or friends, a wireless outdoor K&F bird feeder with a camera is one of the best choices. When they see a bird perching on it, their faces will definitely show a smile. As a creative gift, the K&F video bird feeder will make your loved ones feel warm and caring.
Specification
SOC
ARM
sensor
1/2.9 "Color CMOS Sensor
lens
M12, f
viewing angle
H (horizontal) 95 degrees; V (vertical) 55 degrees; D (diagonal) 110 degrees
Minimum illumination
0.01Lux
Input/Output
Bidirectional voice intercom (built-in microphone and speaker)
Audio compression method
AAC
Video compression method
H. 264/H.265
Lighting frequency
50Hz, 60Hz
Image frame rate
15fps
Maximum image resolution
1920 * 1080P
Night vision light source
Optional white light fill
Wireless network
2.4G Wi Fi (IEEE802.11b/g/n) with built-in antenna
Support Protocol
TCP/IP, UDP/IP, DHCP, RTMP, MUTP
Supports IP addresses
Dynamic IP address
Intelligent functions
Human form detection, vehicle detection, pet capture, package detection
Alarm notification
Mobile app message push, device white light flashing and alarm sound warning.
Wake up method
PIR human induction wake-up, remote active wake-up
Recording method
Alarm triggered, manual recording
Video storage
Cloud storage, local Micro SD card, phone memory
LED indication
RGB three color light, indicating power/network signal/functional status
capacity
5200mAh
Detachability
Non detachable
Usage time
6 months (under the condition of recording 20 10s videos per day)
Standby time
1 year
Charging voltage
DV 5V+-5%/1.5A
Charging time
Within 10 hours
Protection method
IP65 dustproof and waterproof; Over current/over discharge/over charge/short circuit/high and low temperature charging protection
Shutdown power consumption
0.32mW (4V 80 μ A)
standby power
1.68mW (4V 0.35mA)
Daytime working power consumption
0.98W (4V 246mA)
Open distance
200 meters
source
Micro USB interface, compatible with Type C interface
SD card
Supports up to 128GB (excluding)
Keys
1 on/off button, 1 restart button
Installation method
Back and bottom 1/4 universal screw holes
Dust and waterproof
IP66
work environment
-10 °~45 ° C/0%~80% (without condensation)
Stored Environment
-20 ° C~60 °/0%~90% (without condensation)
material quality
PC+ABS,
authentication
CE, FCC, RoHS, WEEE, MSDS, UN38.3, UL62368, BattG
There are no reviews for this product.
There are no faqs for this product.