2000X Digital Microscope, 500W Pixel, HD Visual WiFi Digital Microscope, Portable Electron Microscope with 11 LED Lights, iOS and Android Windows MacOS Compatible
Buy 99C$-15C$,199C$-35C$, 299C$-55C$, 599C$-130C$ (Prime Day)
New customer gift package
&FREE Shipping to Canada
Brand:

K&F Concept

Buy K&F Concept 2000x digital microscope, 500w pixel, hd visual wifi digital microscope, portable electron microscope with 11 led lights, ios and android windows macos compatible online, C$143.99 free shipping to Canada.

GW45.0013

SKU:

GW45.0013

143.99

https://www.kentfaith.ca/GW45.0013_2000x-digital-microscope-500w-pixel-hd-visual-wifi-digital-microscope-portable-electron-microscope-with-11-led-lights-ios-and-android-windows-macos-compatible
Buy 99C$-15C$,199C$-35C$, 299C$-55C$, 599C$-130C$ (Prime Day)
Features
* Dual-lens design: Innovative dual-lens design, 500x detection lens, suitable for industrial, textile inspection, IC surface inspection. 2000x is now a lens, suitable for biological observation;
* WiFi & USB two connection methods: not only can connect to mobile phone and tablet via wifi, but also connect to computer via USB to view details, compatible with various operating systems, real-time transmission is not stuck, and the image is clearer;
* Dual LED light source, fast focusing is better: the dual light source is the top light source and the bracket light source, which can provide illumination under low light conditions, the brightness can be adjusted, the light is uniform and soft, and the focusing effect is better;
* 5 hours long battery life: built-in 1800mah large-capacity battery, can be used for more than 5 hours on a single charge; customized metal spray paint focusing cylinder feels good and smooth, and scrolling zoom in and out is more accurate. The bottom four corners are added with non-slip foot pads to make it more stable.
* 【Wide Application】This digital microscope is ideal for observing cells, microorganisms, blades, circuit board inspection, biological observation, health professionals, scientific researchers and insects. It is the best gift for children, students, other users.
Shipping
&FREE Shipping to Canada
Sale
Buy 99C$-15C$,199C$-35C$, 299C$-55C$, 599C$-130C$ (Prime Day)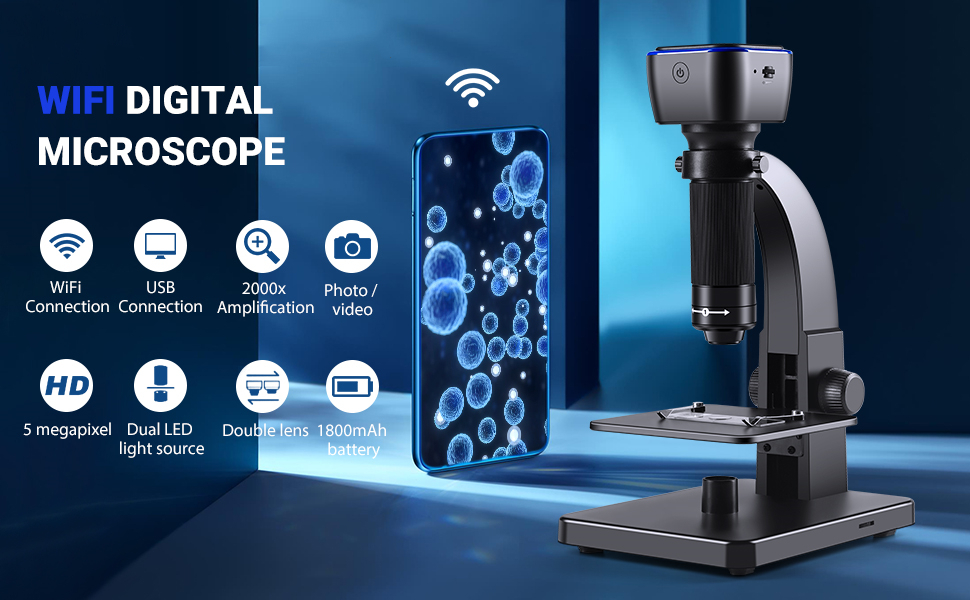 Digital Microscope--50-2000x Dual Lens for General/Microbiology
With a normal/microbial dual lens and 50-2000X continuous magnification, it is perfect for clearly viewing the smallest details of the microscopic world.
Suitable for a variety of scenarios, whether it is PCB circuit board inspection/soldering, observation of coins, or insect observation, microbial section observation is one of the best choices.
Use the WIFI wireless connection to your phone to view the screen and make quick adjustments. Also, this microscope supports photo and video recording.
A perfect gift for children, students, collectors, testers and anyone interested in exploring the microscopic world.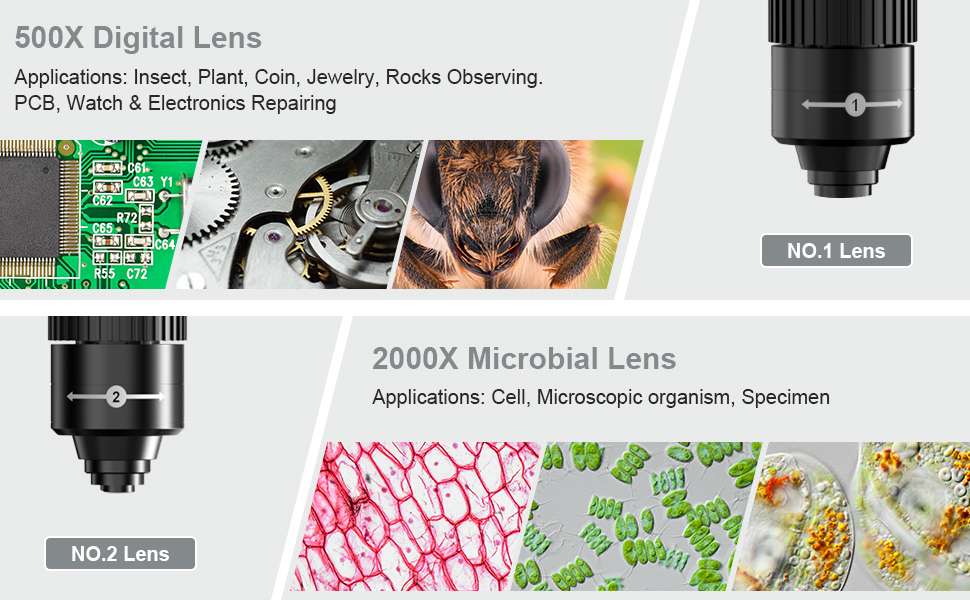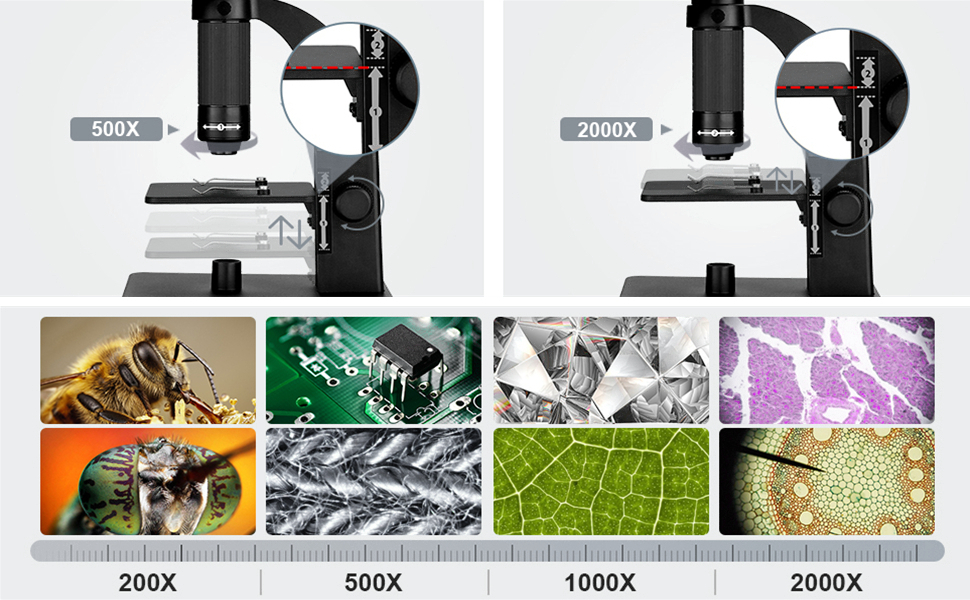 Install The Lens And Adjust The Stage
1, tighten the NO.1 digital lens, rotate the carrier stage knob to adjust the distance between the carrier stage and the lens.Note: The carrier stage should be adjusted within the following range (marked by two-way arrow 1)
2, tighten the NO.2 microbial lens, rotate the carrier table knob to adjust the distance between the carrier table and the lens.Note: The carrier table should be adjusted within the following range (marked by two-way arrow 2)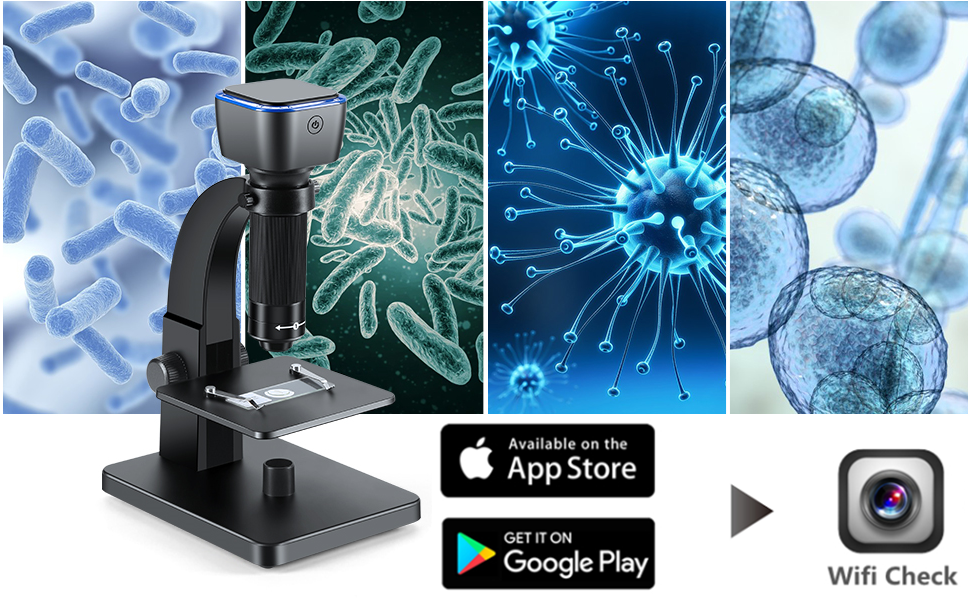 How to use with your Digital Microscope?
1. APP Download and Installation Search "Wifi Check" in App Store/Google Play to download and install.
2. Turn on the device
Press and hold the microscope on/off button for 3s, you can see the blue light flashing, when the microscope link is successful, stop flashing to the normal light state.
3. WIFI connection
Open the WIFI settings in the phone settings, find the WIFI hotspot named "inskam315w-xxxx" (no password) and click connect, after successful connection, return to the APP to use the microscope.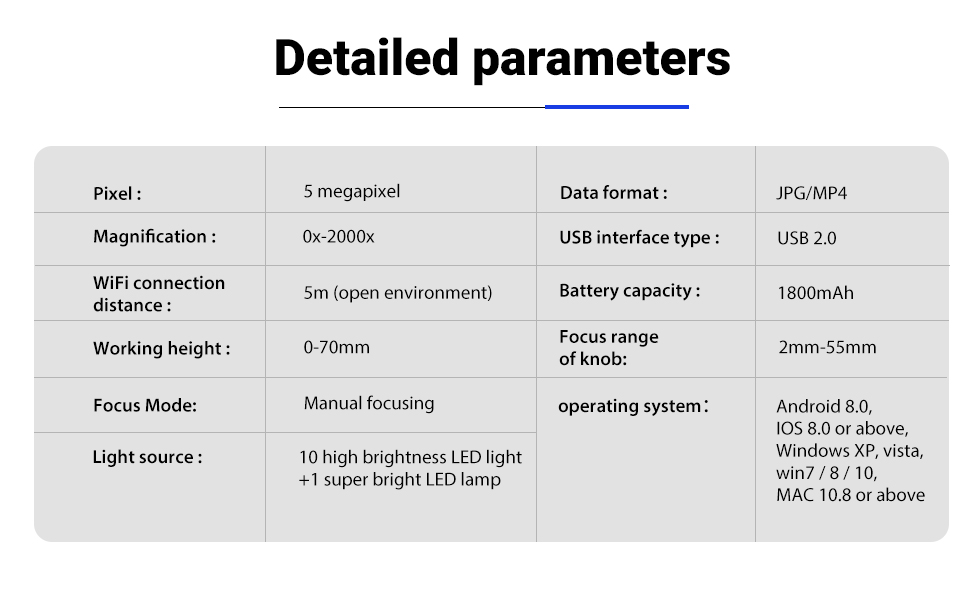 All Reviews
Image

All Star

5 Star

4 Star

3 Star

2 Star

1 Star
Portable microscope
Amazing quality and value. Easy to handle.

I collect coins so condition is an important consideration.

Pictures are of a 5p coin.
04/02/2023
Perfect for what I needed
I wanted something that would help me "see" the condition of my pen and if one was more worn than the other, this little piece is perfect for the job.
As you can see from the pictures it gives you a nice closeup and it's surprising how much dirt there is that you can't see with the naked eye.

All in all worth the price.
03/02/2023
Works perfectly! Definitely recommend
I got this for work on the circuit board... and it's great!

I've attached a few photos with the review to show how close you can get with this. One of these is a closeup of a cotton swab/swab to show the clarity of the zoom (individual fibers can be seen). at not even full zoom is impressive).
21/01/2023
Meets my requirements completely
The picture quality and resolution is very good for the price.
The microscope can magnify about 100X, which is completely OK for the price.
20/01/2023
Inexpensive and really great!
It's really great! The price is very cheap for the quality delivered. I saw this device at my vet and figured that must be a good thing.

I wanted to examine my dog's fecal samples with the microscope. That also worked perfectly. On the first try I discovered tapeworm cysts.

The screen makes it super easy to get good results.

DANGER! With the eyepiece with the highest magnification, you have to put the lens almost to the glass surface of the specimen, otherwise the image will be blurry.

I'm absolutely thrilled!
19/01/2023
Impressive !
I've always wanted to have a microscope since I was little. But unfortunately it's too complicated, if only because we only find them on feet where you need blades etc...
There it's like a big pen! You can point it anywhere you want, place it however you want, it's great! The rendered images are stunning.
I leave you a picture of my sock and beard proving that I have red hair :)
18/01/2023
Just great for the price
Well, the data etc. can already be read in other recessions, so I only want to write very briefly.
I am very satisfied with the microscope and also with the magnification, which in itself is completely sufficient to have great experiences in microscopy.
Small blood test to determine whether enough water was drunk (money roll formation) can be observed very well, as well as enough animals in the water can be observed.
You can also examine urine for crystal formations, etc.
I bought a normal student microscope years ago and was able to compare it now. Despite the higher magnification, I have to say that the K&F Concept is far better than my old microscope and can recommend it to every beginner.
This is of course my personal opinion ;-)
17/01/2023
This is how microscopy works for children too
We bought the microscope for our daughter's 9th birthday. The microscope stays at home and is for closer inspection.
The display is of course great for children. You can look at everything in peace and show yourself things without difficulty. When I think of the boring middle school microscopy lessons, where two or three people had to share a microscope and spent most of the time bored watching the others looking in or trying to find what the other person found so great and desperately tried to describe and then paint everything.....
I'm sure my daughter won't have any problems using this device and if in doubt we can help with the printing.
If I'm wrong, I'll add to the comment after the birthday.
16/01/2023
small things easy to see
The first application was to look for hay mites, which are difficult to see with the naked eye, but they can be seen quite clearly under this microscope and I'm sure most pests on plants or pets are easy to spot. The microscope has paid for itself from day one. If you keep small pets, this is VERY convenient. Was able to easily identify hay mites. While many small pets have hay mites, you need to keep an eye on numbers.

It is a great gift for children. You will learn a lot about the world around us. I imagine both adults and children will be fascinated by the things they find in the garden, it opens your eyes to a world happening on a micro scale. Showing off the sheer beauty and design of insects and plants, it brings a simple delight. It's hard not to smile when you're focused on the work at hand.

I've also discovered tons of fossils in common garden rocks sold by garden centers. In fact, many rocks contain tiny fossils that cannot be seen without a microscope.

Seems to be well made apart from the stand which only needs a few grams more weight to make it stable.

Using it by hand is nearly impossible, microscopes require a stand as the slightest movement can cause you to lose focus.

Many use it for stamps, money, and things you may need to examine along the way.

Have used small microscopes that cannot be connected to a computer. They're decent, but a strain on the eyes to the point where they're uncomfortable. If you're a certain age, you know what I mean by that.

Also very useful for soldering and examining circuits.
14/01/2023