Wireless WiFi microscope, handheld USB HD inspection camera, 50x-1000x magnification, with foldable stand, compatible with iPhone, iPad, Android, Mac, Windows computers
Buy 99C$-15C$,199C$-35C$, 299C$-55C$, 599C$-130C$ (Prime Day)
New customer gift package
&FREE Shipping to Canada
Brand:

K&F Concept

Buy K&F Concept wireless wifi microscope, handheld usb hd inspection camera, 50x-1000x magnification, with foldable stand, compatible with iphone, ipad, android, mac, windows computers online, C$89.99 free shipping to Canada.

GW45.0050

SKU:

GW45.0050

89.99

https://www.kentfaith.ca/GW45.0050_wireless-wifi-microscope-handheld-usb-hd-inspection-camera-5
Buy 99C$-15C$,199C$-35C$, 299C$-55C$, 599C$-130C$ (Prime Day)
Features
* HD display: CMOS high-sensitivity chip, 2 megapixels HD, true HD 1920*1080P video and 2 MP image display, wireless high-speed transmission, no image delay during use. 50x-1000x magnification, built-in 8 LEDs, multi-position brightness adjustment to control light and dark at will, providing incredible brightness of viewing detail in full-light view.
* One-touch photo or video: You can take photos or videos of your observations with the portable microscope with one touch via the APP and save them to your phone. Alternatively, the magnification can be adjusted directly via the APP, which is very convenient.
* New folding stand: upgraded folding stand, multi-angle adjustable, non-slip design of the body bayonet, more lightweight and portable and solid. Built-in 700mah rechargeable battery, when fully charged, it can last for about 3 hours. The microscope has a detachable base and the pocket-sized design makes it easy to carry, it is a very useful and fun tool to carry around outdoors.
* WIFI & USB connectivity: this wireless handheld digital microscope not only connects to your iPhone, iPad, Android phone and tablet via the wifi function, but also to your computer for a larger field of view via the USB data cable, which can be switched on demand for greater convenience and smartness.
* Interesting tool: this electron microscope is more like a fixed-focus magnifier, not a traditional microscope, not for the professional serious biologist! Definitely a fun tool for parents, adults, teachers, students, children, collectors, testers, electronics repairers and curious people interested in exploring the skin hair scalp trichomes and the microscopic world.
Shipping
&FREE Shipping to Canada
Sale
Buy 99C$-15C$,199C$-35C$, 299C$-55C$, 599C$-130C$ (Prime Day)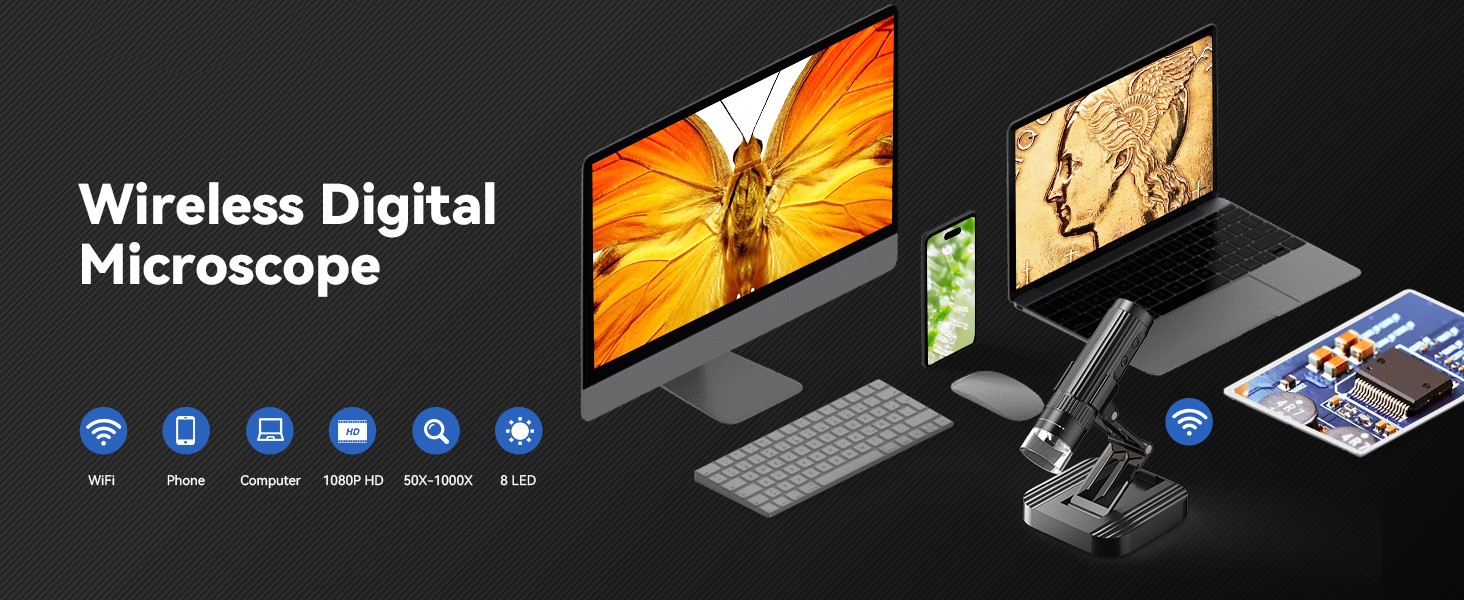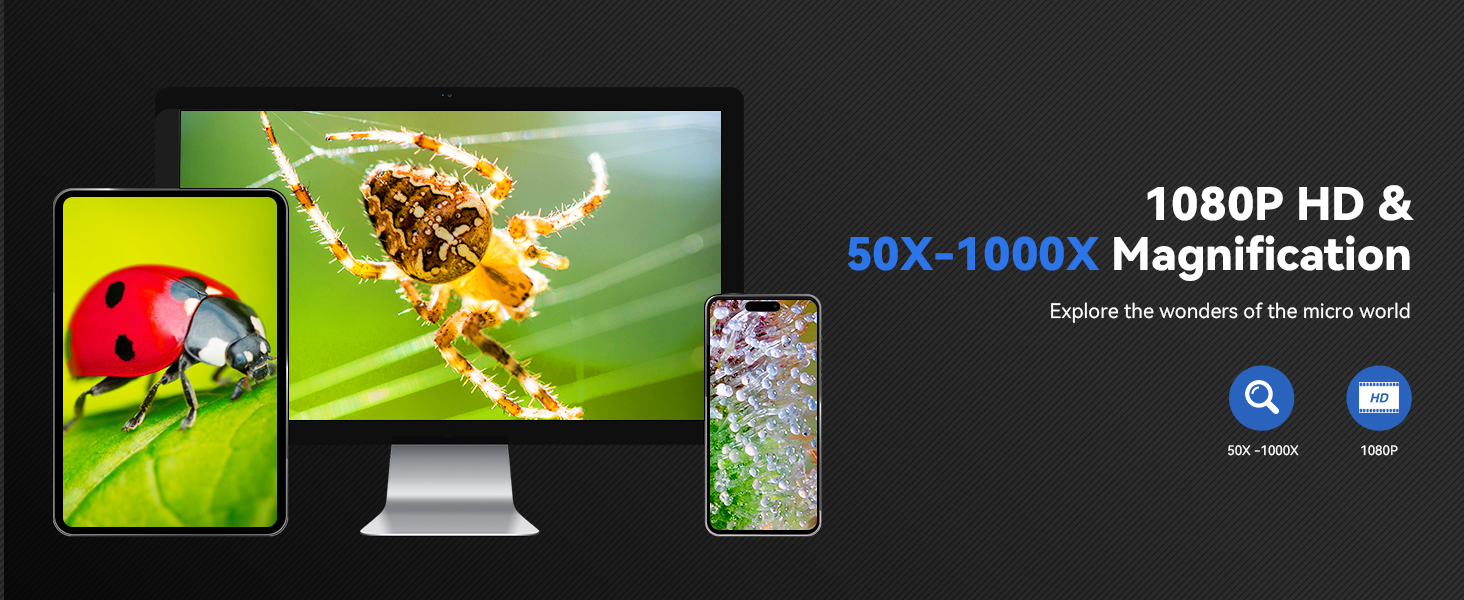 [1080P HD & 50X-1000X Magnification] - 50X-1000X magnification, built in 2 megapixel camera cooperating with 1080P HD resolution, enables this WiFi & USB digital microscope to deliver incredible details of observations, allowing you to travel in the magical and colorful micro world!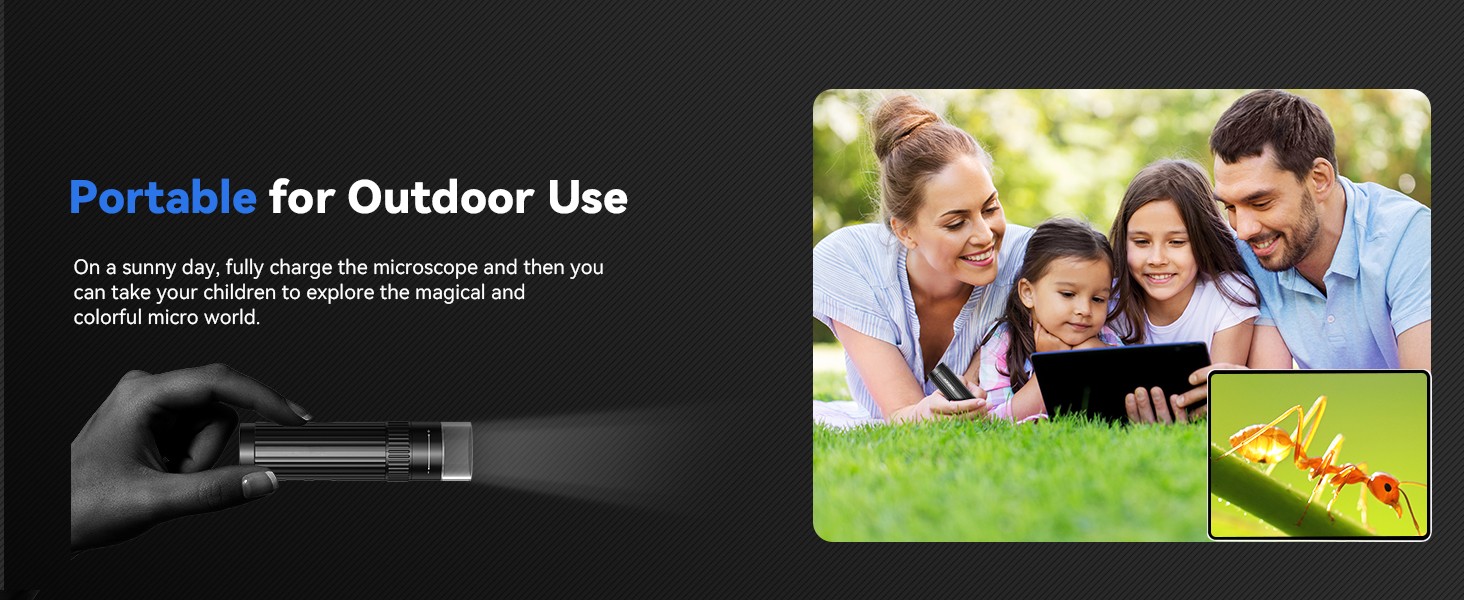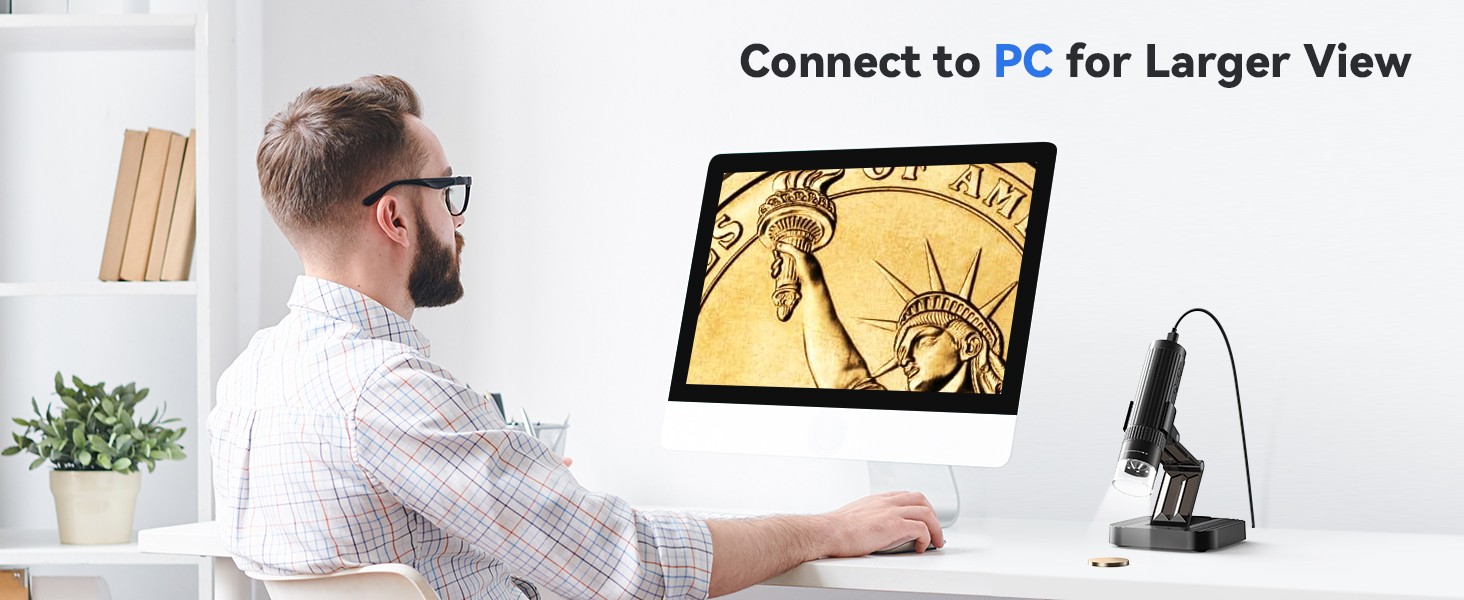 [Connect to PC for Larger View] - Just connect to your laptop/computer and your field of view will be extended on the computer screen. You will get larger and higher-quality images and videos, facilitate data sharing and analysis.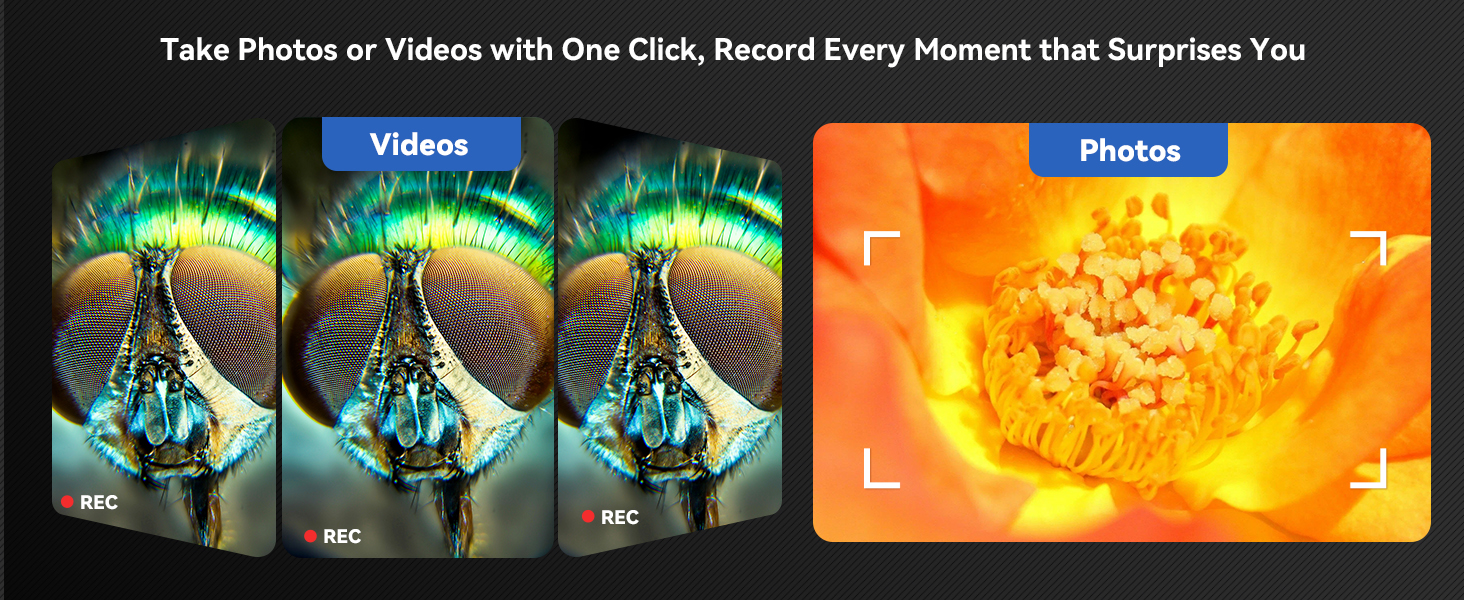 [Take Photos or Videos with One Click] - You can take photos or videos of what you are observing with the portable microscope through the APP with one click and save them to your phone. And the ability to take videos and photos is amazing.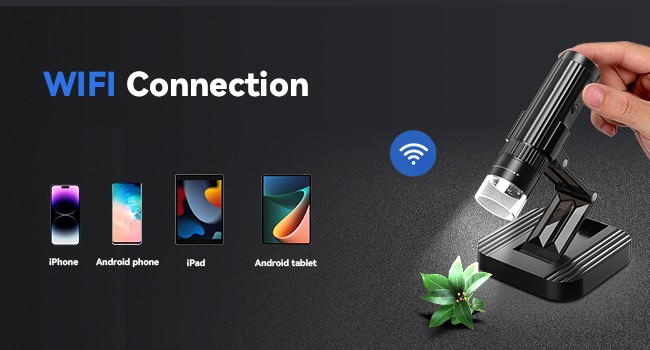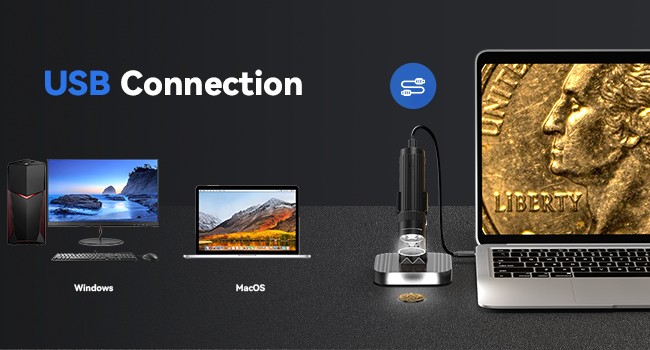 Compatible with Macbook/iMac & Windows                             Compatible with iPhone/iPad & Android Phone/Tablet
Support for MacOS 10.0+ & Windows xp/7/8/10/11                                   Support for IOS 8.0+ & Android 4.0+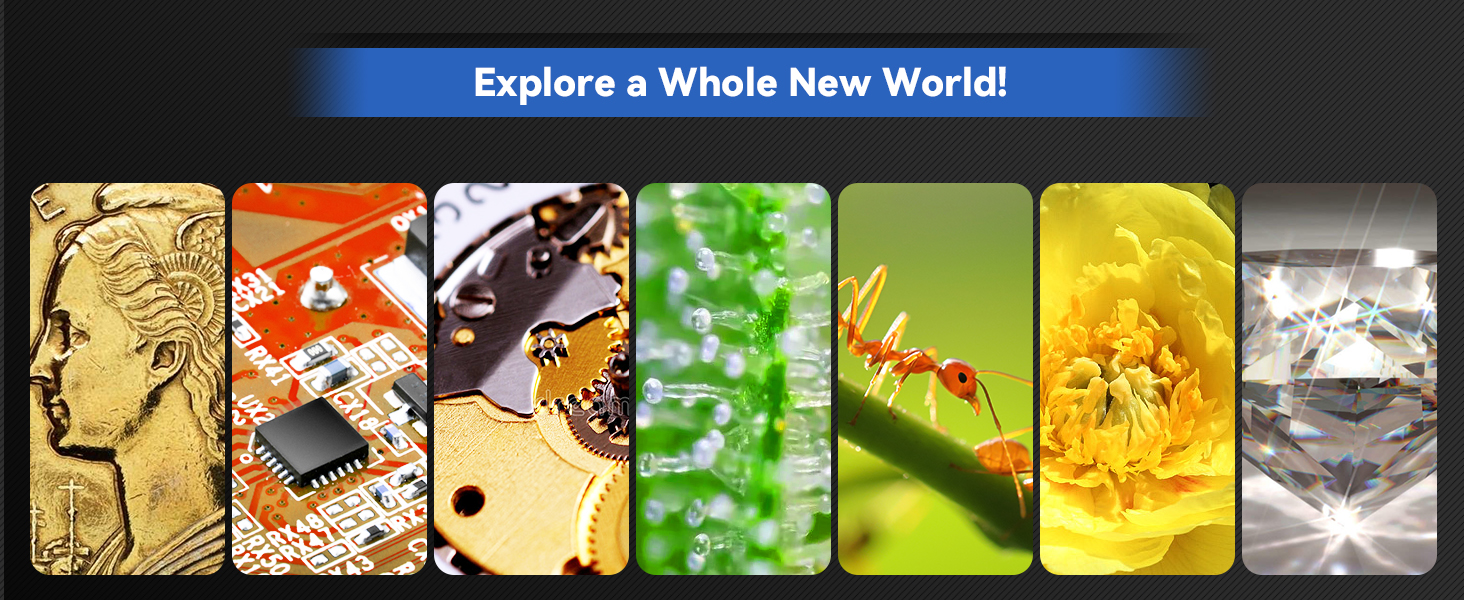 All Reviews
Image

All Star

5 Star

4 Star

3 Star

2 Star

1 Star
Great compact digital microscope - it's our new favorite thing
This was one of those things where I had high hopes but low expectations.... fortunately, I was very pleasantly surprised on both counts. The microscope comes with a stand, plus a charging cable. The microscope needs to be charged for a few hours first. The microscope itself is very lightweight, while the base has is weighted to prevent it from falling over.

That said, you won't always need to use the base; it's possible to hold the microscope like a flashlight and get some great views - it's probably easier that way for some things. The microscope broadcasts a WiFi signal that your cell phone connects to, and then you use an app to see the image on your phone.

You can also connect it directly to your computer with the USB cable, but of course, you're a little limited in terms of portability at that point.

The instructions were relatively easy to understand, but probably could be a little clearer. The app works fine and didn't crash at all (on a Samsung S20+). The images were colorful and sharp, much better than I was expecting, but I'm not sure of the magnification.

The documentation states it can magnify between 50x and 1000x, but be aware it's a digital zoom, so the image quality rapdily degrades as you zoom in. However, I found the lowest magnification to be just fine.

The images attached are of our wood dining table, a citrine crystal, a smoked almond and the print on a letter.

My 7 year old son and I had a lot of fun trying out different things - including a bee, but I'll spare you those photos LOL

I only have two minor gripes - firstly, it's not easy to see what each of the buttons on the microscope are for. It would be nice if they were marked in some way, otherwise you'll find yourself pushing the buttons randomly to get it to do what you want.

Secondly, I wish the app would give some indication of what magnification you're using.

Lastly, not a gripe, but a wish - I would love to have a small hard case for it, as this would be ideal for hiking, exploring and just travel in general. I can easily see this entertaining my son on vacation, and that alone makes it worth the money!
08/02/2023
IT'S 10:30 ON THE CLOCK AT INDEPENDENCE HALL!
The box it comes in is something you want to keep, so you can store this fun little scope away when you're finished playing with it. Now, on to the meat of it. It is a really cool device to use, for yourself or the small ones! I had a BLAST with this thing! All of my close-up shots are of a $100 bill. I installed the app on an Android Samsung S20 Ultra, and it works pretty well. The microscope uses its own Wi-Fi to connect to your phone, so make certain your phone is connected only to the microscope and its Wi-Fi. The phone closed a couple of times unexpectedly, but that's part of it I guess. Next, I used it on a Chromebook. For your PC, it uses the included cord only, it will not operate with the Wi-Fi that it uses on your phone. It plugged right into the USB port, and then I went to "camera" in the settings and there it was. No app needed on my Chromebook or Windows laptop NO APP! What a beautiful phrase! You might have to toggle your camera setting between front or rear though. The quality of the picture is really great, and you can take still pics or videos with it, and it saves them to the app on your phone. It doesn't automatically download them to your picture file. To share the photos or vids you just took, you have to open the app (if using it on your phone) and then download the pics to your phone, then share them. I was going to use a few grains of salt for a demo shot, but they were nothing special to see. So take a look at the closeups a a $100 bill, and see what you think of this awesome little gadget. The only negative I found on this is that the arm that the microscope sits in droops down. All the way down, so that it is pointing at the surface you have your material on to look at. That might be a plus, until you smash a bug with it. 13/10 for me on this neat item! Enjoy!
07/02/2023
Kind of fun, and it works!
There are times when I need to see something really up close, and my glasses just don't cut it. So, I got this digital microscope to see if it would work okay for me. As you can see in the pictures, this thing worked pretty well, and I guess that if I started with the microscope a little closer to the subject, I could have gotten even closer. The microscope goes from 1x (first picture) to 4x (second picture. The only issue that I had was the focus adjustment...you have to turn the knob by hand, and by doing so, the microscope is moving all over the place. I think that with these pictures, I started out focusing at the 4x setting, and then the 1x came out fine. So, I guess that if you are working on something very very small, and you need to see every little detail, this would probably work great for you.
06/02/2023
My Grandkids Love it!
My grandkids love this microscope! The microscope takes two hours to charge and holds the charge for about two hours! The kids downloaded the app on their phones and spent the next two hours arguing about who was going first and what they were going to look at first.

In the end, their grandfather let them look at one of his printed circuit boards! They enjoyed that!

The Uni Lab app was easy to download. The kids did everything by themselves and even though the instructions in the manual are a bit lacking, they did not experience any hiccups and everything worked perfectly the first time.

I am perfectly satisfied with the microscope because I requested it as a gift for my grandkids and they seem to enjoy it. Also, they were able to find enough things in the house and in our garden to examine using the microscope. The microscope can be used while it is charging, so they were occupied for a full four hours! And they wanted to take it home with them. We granted them visitation rights! I may let them take it home when they come down this summer!

My husband was able to use the microscope to replace the battery in his iPhone! Those little screws are microscopic so the TOMLOV arrived at the perfect moment. He also used it to solder some wires or something to a PC board, while the grandkids watched.

I was able to use it to attach beads to the DIY finger ring I was working on. We are happy with this product and we keep looking for new ways to utilize it!

We like the small footprint and lightweight!
06/02/2023
Neat little microscope
I think this microscope is pretty neat. It creates its own wifi signal to connect to your phone, so you can take it anywhere. I did not try connecting it to a PC.

The images it produces look very sharp and focusing is easy. Just turn the dial above the clear part. I attached an image of an old penny as an example of how nice the photos come out.

I feel this would be a great item to give someone who is interested in microscopes or as a tool for the classroom. I also like that it connects wireless-ly.
05/02/2023
Ever wanted your own microscope?
Okay, so this isn't "laboratory grade" by any stretch, but for personal use and curiosity / exploration it's really great! I've been using it via USB on my PC mostly. It's accessible via WiFi and their app, but I really don't want a different app on my phone for every Wifi device that wants me to control with wifi =.=

Via USB it connected right to the Windows Camera app just like any plug and play webcam. The zoom is manually controlled by turning the zoom ring on the scope. It will wobble a lot when doing this, even carefully, but the included base and arm are actually fairly decent and have always gone back to where I was focusing if I displaced it a tad while adjusting it.
While I don't personally have much need/want (right now) for the cordless/wifi option, the fact it's there would be quite handy for folks trying to look at things in nature or checking for specific stuffs (so technical, I know...). The phone app based on the Play page seems similar to the Wifi Depstech endoscope I have. Boot up the app, change the Wifi your phone's using to the one being broadcast by the scope to see a feed and take videos or photos. Might be able to adjust zoom via the app, but I don't know for sure.
Pics and Vid attached... I need to clean my desk mat I guess haha

This is 100% NOT a toy - a good thing here. I mean, I love playing with it... but I wouldn't just hand this to a younger kid and expect to get it back in working order. It is digital enhancement (FINALLY that sci-fi trope of "enhance... enhance..." comes to life!) for better or worse. Still seems like a good resolution at fully zoomed in, but will still it the same walls cameras might for zooming when digital v. lenses.

I really did expect MUCH lower quality for $40. Thankfully it's fairly decent quality construction, casing, materials, and the digital zoom is nice. It'd be kinda nice to have some indication of what zoom% you're at.
05/02/2023
Versatile microscope - using it for jewelry photos as it magnifies the facets, 925, 14k etc.
The pros is it does what it says it does. It's lightweight and has a lens cap (important to keep clean as it's easy for dust to impact the image quality).

The instructions are straightforward and after I downloaded the Uni Lab App everything worked great. When you connect to the App and the microscope's wifi address, your connection to your home or work wifi will be turned off (phones can only connect to one wifi at a time). There are screen shots on how to set all of this up in the manual - step by step.

The cons are the product arrived completely uncharged and you need a USB C power source to connect the power cord to charge the microscope. It charges for two hours and can be used for two hours before needing to be recharged. The light is quite bright on this microscope so I can see why it would not hold a charge long. You can keep it plugged in while using and the chord looks to be about three feet long.

There is a small red light on the end of the microscope to show it is charging and after two hours it never turned another color so i just started to use it. The manual says I should see red and blue lights when it is discharged. It turn flashing blue when i turned it on. Apparently this microscope will also work with the windows camera app on a PC but I have a Mac and just used my phone.

The pictures are pretty decent and it does exactly what I need - the ability to photograph gems with detail.

The picture shows how the box looks when it arrives. wish it came with a storage pouch. Do not throw out the manual - the manual is super helpful for the set up and trouble shooting. You can reset the microscope and the manual shows you how to do that.

Hope this review is helpful.
02/02/2023
There are no faqs for this product.