1080P HD WiFi Baby Monitor with Sound and Motion Detection, Indoor Home Security Camera with Motion Tracking, Temperature Monitoring and Lullaby for Baby/Pet/Elderly (TUYA APP)
Buy 99C$-15C$,199C$-35C$, 299C$-55C$, 599C$-130C$ (Prime Day)
New customer gift package
&FREE Shipping to Canada
Buy now in the K&F Concept WIFI solar security camera ► 30 Day No Reason Return ► Built-in Battery 9600mAh 2K Infrared Night Vision 8m/26ft ► Fast Shipping From CA Free ► 3W Solar 2-Way CAdio

GW50.0048US

SKU:

GW50.0048US

82.99

https://www.kentfaith.ca/GW50.0048US_1080p-hd-baby-monitor-with-sound-and-motion-detection-indoor-home-security-camera-with-motion-tracking-temperature-monitoring-and-lullaby-for-baby-pet-elderly-tuya-app
Buy 99C$-15C$,199C$-35C$, 299C$-55C$, 599C$-130C$ (Prime Day)
Features
* 360° Motion Detection Tracking: Automatically sense and track your baby's movements in 360° in all directions. Compatible with 2.4G networks, you can use Tuya APP to easily control camera pan and tilt, and rotate 355° horizontally and 90° vertically.
* 1080P HD + Super Night Vision: 1080P HD camera lens and IR LED, night vision up to 49 feet (15 meters) in dark environment. Optionally turn off the indicator light, it will not affect the baby's rest at night.
* Sound Detection, Two-Way Audio: 24/7 Live Streaming, Detects When Baby Cries and Sends Notifications to the App, Hears and Soothes Baby with Built-in Anti-Noise Microphone and Speaker
* Data Storage: Multiple security protocols keep your data and privacy safe. Supports Micro SD card (purchased separately) or cloud subscription service (registered via Tuya APP) to record motion detection and watch video playback.
* Temperature monitoring and lullabies: Check the temperature of your baby's room without getting up to ensure your baby is in a comfortable temperature environment. App selectable lullabies to play lullabies from the camera to put your baby to sleep
Shipping
&FREE Shipping to Canada
Sale
Buy 99C$-15C$,199C$-35C$, 299C$-55C$, 599C$-130C$ (Prime Day)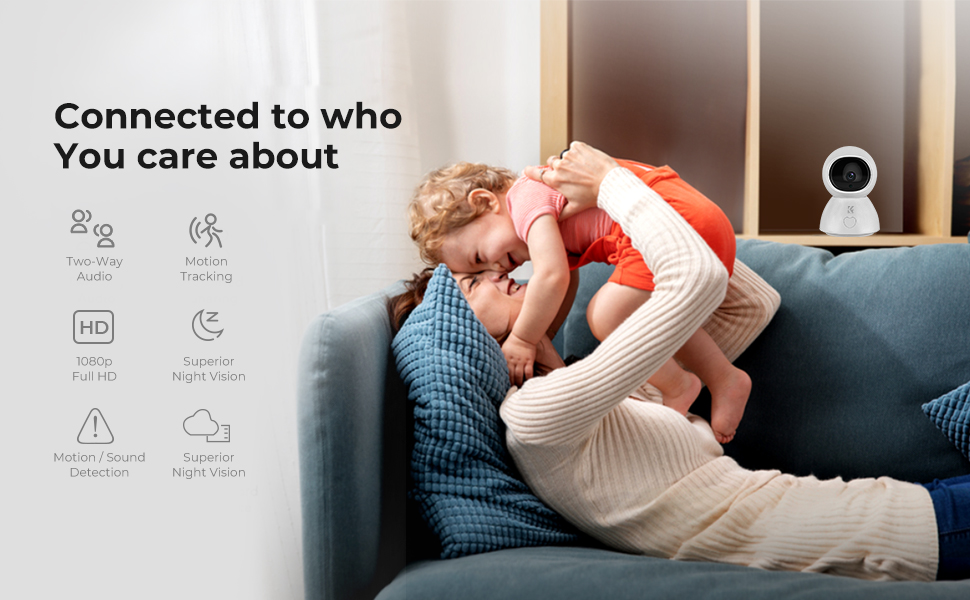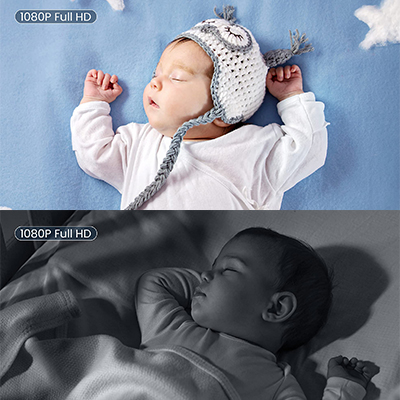 1080P HD
1080P HD resolution with dual filters and infrared switching, allowing you to see your baby's every move in day and night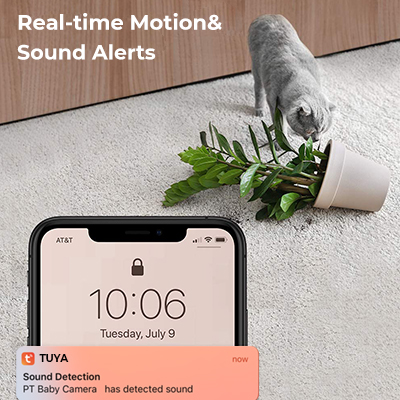 Sound alarm
When your baby needs you, through advanced sound detection technology, Tuya APP will immediately push sound alarm information to you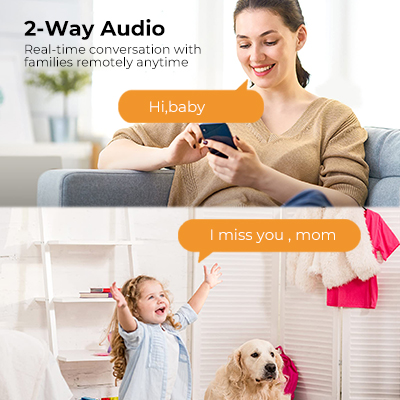 Two-Way Audio
Even when you are not at home, you can see and communicate with your baby through the app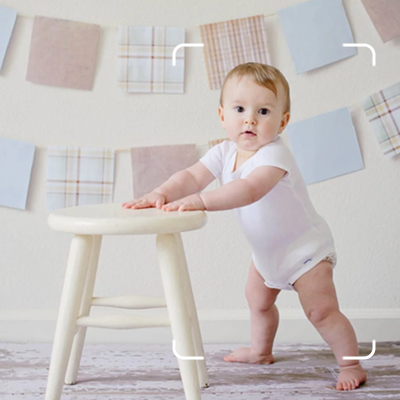 Motion Detection and Tracking
Allows the camera to track your baby's movements with advanced algorithms for horizontal and vertical rotation and movement tracking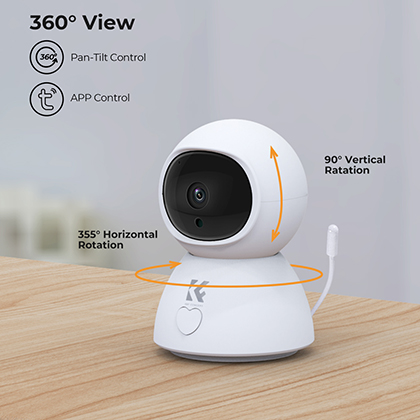 360°View
The baby camera monitoring lens can be panned 355° and tilted 90°, and the direction and rotation can be controlled through the Tuya APP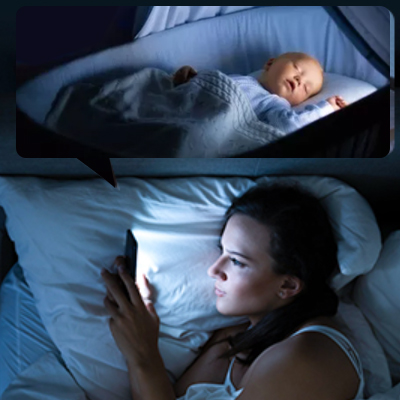 Clear night vision
Baby monitor with clear automatic night vision function, which can turn off the indicator light of the camera, so that you can see your baby sleeping sweetly in the middle of the night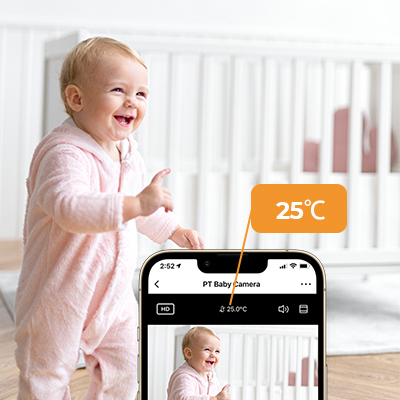 Temperature monitoring
Monitor the temperature of the baby's room in real time throughout the day. You can set it to notify you when the range value is exceeded.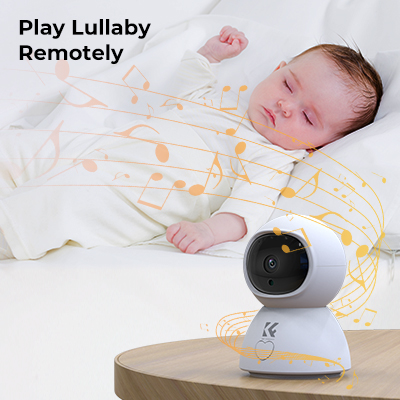 6 Soothing Lullabies
The baby monitor is equipped with 6 lullabies, which can be played through APP operation to help soothe irritable babies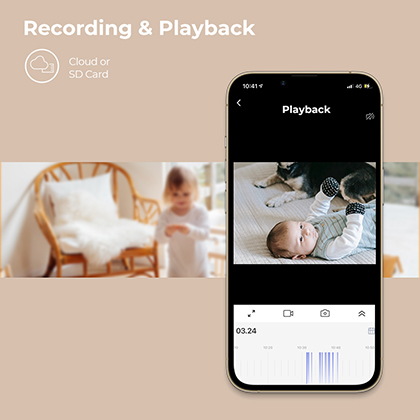 Video recording and playback
Support cloud storage and SD card storage (not included, maximum 128G), you can choose one of these methods for video recording and playback.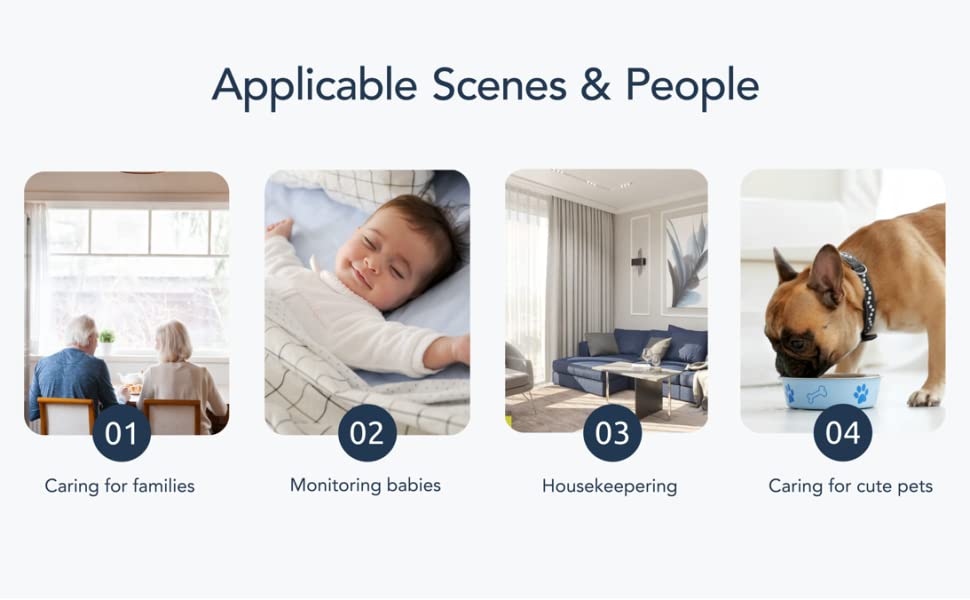 All Reviews
Image

All Star

5 Star

4 Star

3 Star

2 Star

1 Star
Great baby monitor
This is a great baby monitor. It can be controlled with your phone.Picture is good, it does have a very slight glitch when you first connect.The fact that you can move the camera angle with your phone makes it great for when baby moves in the crib or of you have more than 1 child sleeping in the area.It is a little tedious to set up, but once it is connected it is great.When I watch my granddaughter, my daughter can log in from work and have a peek :-)
08/08/2022
Easy install works good
Works good
20/03/2022
Eco-friendly Solar-Powered Surveillance
Solar power makes this security monitoring system in the event of a disaster can still maintain the monitoring function to ensure safety.
18/03/2022
Flexible Off-grid Security Solution
Discover the power of the sun with this remarkable solar security monitoring product, providing unparalleled peace of mind and energy efficiency.
18/03/2022
Intelligent Solar Security Integration
I've had this solar security monitoring system for over a year, and it has performed flawlessly. It has become an essential part of my home security setup, and I highly recommend it.
18/03/2022
"Wireless Sun Security"
I've been using this solar-powered surveillance system for nighttime security, and the infrared night vision capabilities are exceptional. The clarity and range are impressive.
18/03/2022
Versatile Off-grid Security Solution
The camera of this solar powered security surveillance product has a high speed auto focus function to ensure a clear and sharp picture.
17/03/2022
High-Definition solar-powered CCTV Technology
Elevate your security game with this solar monitoring solution that effortlessly blends sustainability and state-of-the-art surveillance capabilities.
17/03/2022
Eco-friendly Solar-Powered Alarm System
The motion detection capabilities of this solar monitoring device are spot-on. It accurately detects movement and sends instant notifications to my smartphone, keeping me informed at all times.
17/03/2022
"Solar-Powered Sentinel"
This solar security solution has a reliable backup system in case of power outages. The batteries ensure continuous operation even during extended periods without sunlight.
17/03/2022
HD WiFi Baby Monitor with Sound and Motion Detection
Baby Monitor
Screen Size
APP
Video Resolution
1920*1080
Battery
×
Pan Tilt
√
Zoom
5
Infrared Night Vision
√(visible)
Connect Up To
5
Night Light
×
Lullaby
6
Temperature Sensor
√