1080P HD WiFi Baby Monitor with Sound and Motion Detection, Indoor Home Security Camera with Motion Tracking, Temperature Monitoring and Lullaby for Baby/Pet/Elderly (TUYA APP)
Terms
Coupon Terms
Terms and Conditions:
Coupons are valid for a limited time only. Kentfaith reserves the right to modify or cancel coupons at any time.
You must purchase the qualifying items added to your Cart when the coupon is in effect for the discount to apply.
If you later modify or cancel the subscription or delivery date for the qualifying item, the discount will not apply.
The coupon applies only to qualifying items displaying the coupon offer.
If you buy more than one item from the same coupon, the maximum discount amount of the coupon will be equal to either the percentage discount off or the face value of the coupon on one eligible item. The coupon may only be used on www.kentfaith.com.
The promotion is limited to one coupon per customer.
If you return any of the items purchased with a coupon, the coupon discount or value may be subtracted from the return credit.
Buy C$99 -15/ C$199-30 /C$299-55 / C$599 -120
&FREE Shipping to Canada
Brand:

K&F Concept

Buy K&F Concept 1080p hd wifi baby monitor with sound and motion detection, indoor home security camera with motion tracking, temperature monitoring and lullaby for baby/pet/elderly (tuya app) online, C$82.99 free shipping to Canada.

GW50.0048US

SKU:

GW50.0048US

82.99

https://www.kentfaith.ca/GW50.0048US_1080p-hd-baby-monitor-with-sound-and-motion-detection-indoor-home-security-camera-with-motion-tracking-temperature-monitoring-and-lullaby-for-baby-pet-elderly-tuya-app
Buy C$99 -15/ C$199-30 /C$299-55 / C$599 -120
Features
* 360° Motion Detection Tracking: Automatically sense and track your baby's movements in 360° in all directions. Compatible with 2.4G networks, you can use Tuya APP to easily control camera pan and tilt, and rotate 355° horizontally and 90° vertically.
* 1080P HD + Super Night Vision: 1080P HD camera lens and IR LED, night vision up to 49 feet (15 meters) in dark environment. Optionally turn off the indicator light, it will not affect the baby's rest at night.
* Sound Detection, Two-Way Audio: 24/7 Live Streaming, Detects When Baby Cries and Sends Notifications to the App, Hears and Soothes Baby with Built-in Anti-Noise Microphone and Speaker
* Data Storage: Multiple security protocols keep your data and privacy safe. Supports Micro SD card (purchased separately) or cloud subscription service (registered via Tuya APP) to record motion detection and watch video playback.
* Temperature monitoring and lullabies: Check the temperature of your baby's room without getting up to ensure your baby is in a comfortable temperature environment. App selectable lullabies to play lullabies from the camera to put your baby to sleep
Shipping
&FREE Shipping to Canada
Sale
Buy C$99 -15/ C$199-30 /C$299-55 / C$599 -120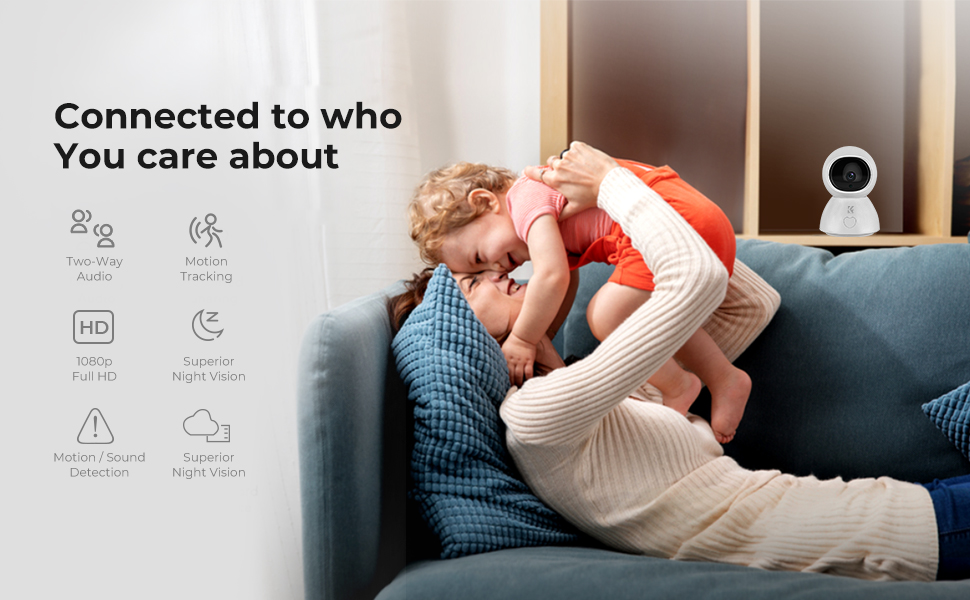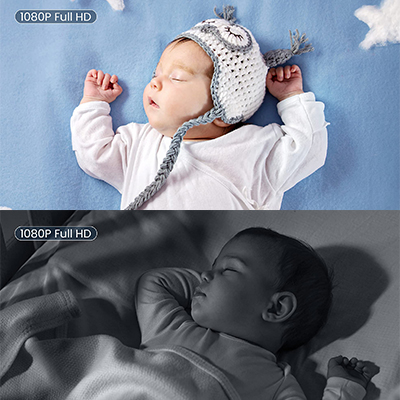 1080P HD
1080P HD resolution with dual filters and infrared switching, allowing you to see your baby's every move in day and night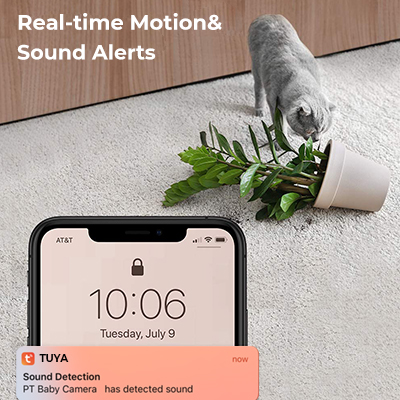 Sound alarm
When your baby needs you, through advanced sound detection technology, Tuya APP will immediately push sound alarm information to you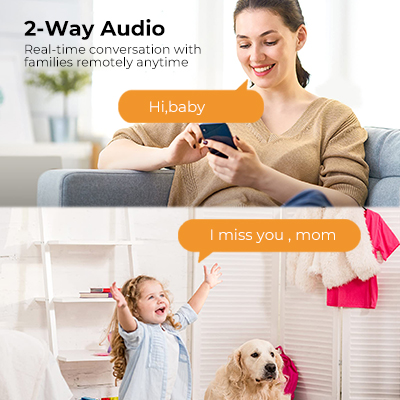 Two-Way Audio
Even when you are not at home, you can see and communicate with your baby through the app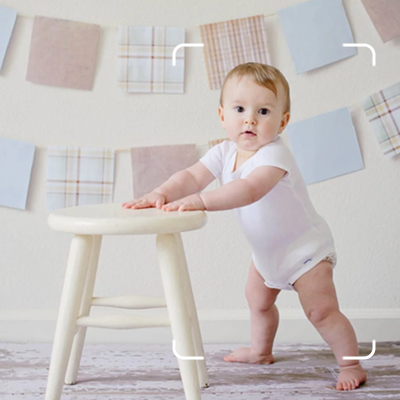 Motion Detection and Tracking
Allows the camera to track your baby's movements with advanced algorithms for horizontal and vertical rotation and movement tracking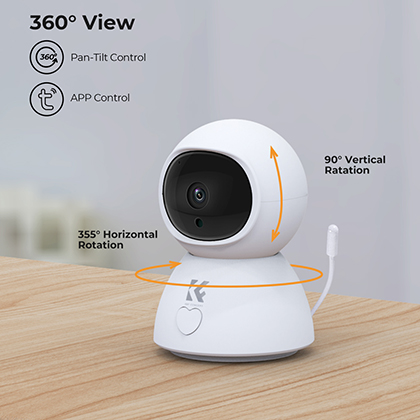 360°View
The baby camera monitoring lens can be panned 355° and tilted 90°, and the direction and rotation can be controlled through the Tuya APP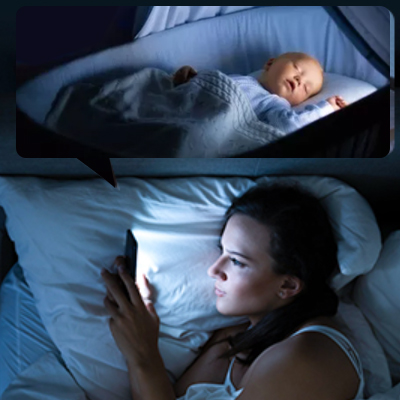 Clear night vision
Baby monitor with clear automatic night vision function, which can turn off the indicator light of the camera, so that you can see your baby sleeping sweetly in the middle of the night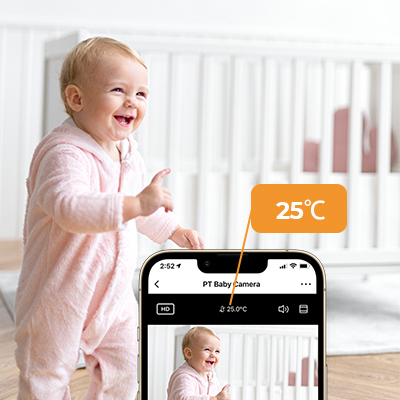 Temperature monitoring
Monitor the temperature of the baby's room in real time throughout the day. You can set it to notify you when the range value is exceeded.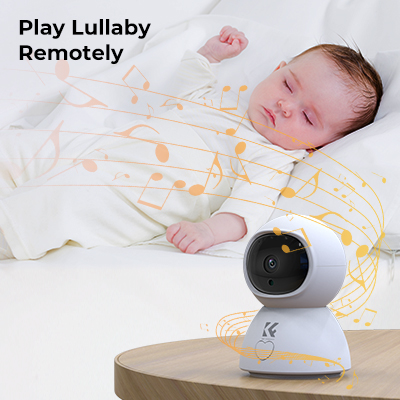 6 Soothing Lullabies
The baby monitor is equipped with 6 lullabies, which can be played through APP operation to help soothe irritable babies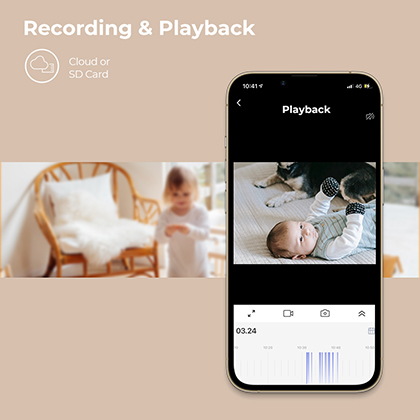 Video recording and playback
Support cloud storage and SD card storage (not included, maximum 128G), you can choose one of these methods for video recording and playback.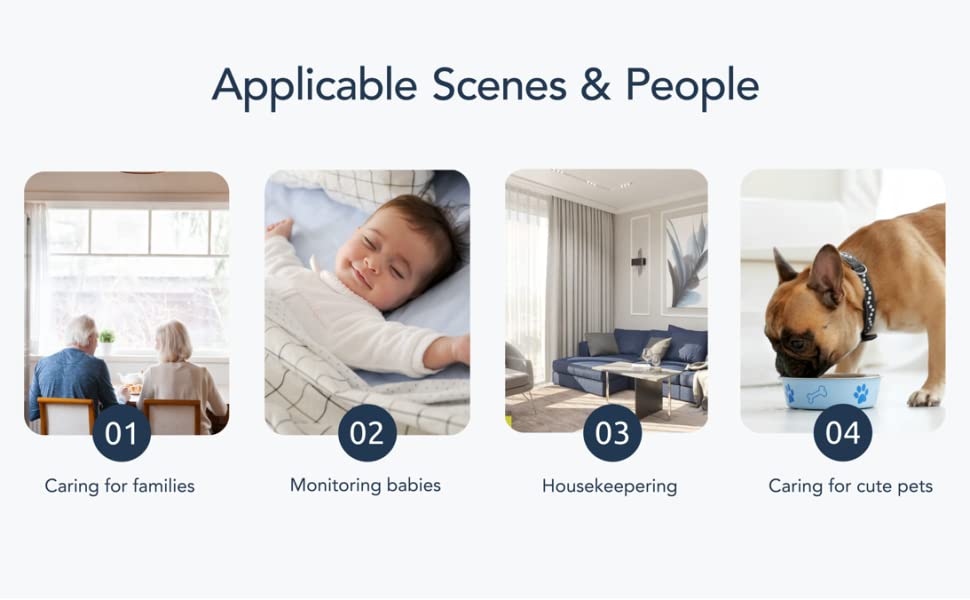 All Reviews
Image

All Star

5 Star

4 Star

3 Star

2 Star

1 Star
Great baby monitor
This is a great baby monitor. It can be controlled with your phone.Picture is good, it does have a very slight glitch when you first connect.The fact that you can move the camera angle with your phone makes it great for when baby moves in the crib or of you have more than 1 child sleeping in the area.It is a little tedious to set up, but once it is connected it is great.When I watch my granddaughter, my daughter can log in from work and have a peek :-)
08/08/2022
Great value, lots of features
Picture quality is surprisingly clear for the price, and the audio quality is good enough for a baby monitor. We never looked into reviewing footage, so I can't comment on that. I can say that the app runs reliably through the night, and being able to manually pan it around the room is great. One minor complaint is that it doesn't angle down as far as we had hoped, so positioning it in the room for full coverage of the crib can be tricky. Overall, would definitely recommend.
21/10/2021
Solid product, good price.
This thing is the cats meow! Great value, for what you get. We were using a vetch monitor and the picture was so grainy, night vision was even worse. We bought this one when our son would wake up super early and play in his room, the camera pans 360 and it's so helpful it has given us a huge peace of mind. The picture quality is outstanding, the night vision is incredible. I highly recommend!!! Run don't walk!
31/05/2021
RUN DONT WALK
This camera was hacked and they were sending voices and moving it around. If you disable the internet access for the camera, you will not be able to access the video even if you are connected to your home network.There is no config to disable internet access.I DO NOT recommend this camera because of the security issue. Other than that, the quality is really good.
26/04/2021
Excellent product - works very well
This camera itself is amazing. The app initially was very basic and crashed a lot but recently they added a lot of improvements to the app - at least for beta app users. My favourite new feature is being able to easily navigate to a recording. Downloading videos seems only to be available for cloud subscription though. Aside from this I'm overall very impressed.
09/03/2021
Nice camera
I use it to check on my rabbits when I'm not home. I had no problem with it.
09/03/2021
Better than the $300 monitor we got for our shower
Love how it notifies you when sound and movement is detected. My mind is so much more settled after buying this monitor, it's great! The only complaint I have is the loud noise it makes when it is turned on and if the 360 degree swivel motion detection didn't make any sound. Overall money well spent and I highly recommend!
01/03/2021
Money well spend & I will highly recommend!
This is a great quality camera so far. Just set it up to test it out and it works great. Night vision is a good option as well and seems to work very well so far.
20/02/2021
Clear picture quality day and night
Love this baby camera. Amazing 360 degree camera and excellent night vision. Motion and sound detector is really good. I cannot believe the great features of this product for this price as comparable baby camera products in market cost at least $200. I also love that we can share the cam with other phones.
03/02/2021
Excellent baby cam
The cable it comes with is a little too short to mount it exactly where we'd want to - easy fix, though. The picture quality is great and the app is user friendly; simple but perfect for its' purpose.
02/02/2021
HD WiFi Baby Monitor with Sound and Motion Detection
Baby Monitor
Screen Size
APP
Video Resolution
1920*1080
Battery
×
Pan Tilt
√
Zoom
5
Infrared Night Vision
√(visible)
Connect Up To
5
Night Light
×
Lullaby
6
Temperature Sensor
√