200W Portable Solar Panel for Power Station, 24V Foldable Solar Charger with Adjustable Kickstands, MC4 Connector, Water & Dustproof for Outdoor Camping RV Off Grid System
3-5 Days
Refilling Supplies
Within About 3-5 Days
Buy 99C$-15C$,199C$-35C$, 299C$-55C$, 599C$-130C$ (Prime Day)
New customer gift package
&FREE Shipping to Canada
Buy K&F Concept 200w portable solar panel for power station, 24v foldable solar charger with adjustable kickstands, mc4 connector, water & dustproof for outdoor camping rv off grid system online, C$899.99 free shipping to Canada.

GW31.0043

SKU:

GW31.0043

899.99

https://www.kentfaith.ca/GW31.0043_200w-portable-solar-panel-for-power-station-24v-foldable-solar-charger-with-adjustable-kickstands-mc
Buy 99C$-15C$,199C$-35C$, 299C$-55C$, 599C$-130C$ (Prime Day)
Features
* 【HIGH CONVERSION EFFICIENCY】The 200W solar panel adopts monocrystalline cell and multi-layered cell technology to generate energy from the sunlight and perform higher conversion efficiency that up to 23% than other conventional panels.
* 【EASY SETUP & ADJUSTABLE KICKSTAND】The 200W solar panel features 3 integrated adjustable kickstands that can be placed firmly on any surface ground. The angle between the panel and the ground can be adjusted from 45°to 80° to catch the sunlight precisely. With just a few seconds of setup, you can soak energy from the sun for your portable power station easily.
* 【PORTABLE & FOLDABLE】The 200 watt solar panel only weighs 15.4lbs with a folding dimension of 22.7*21.6*1.7(L*W*H) inches, making it easier to gain clean and free solar energy anywhere or anytime.
* 【BUILT TO LASTING】One-piece tough design with PET film and IP68 waterproof rating makes it anti-scratch and weather-resistant.
Shipping
&FREE Shipping to Canada
Sale
Buy 99C$-15C$,199C$-35C$, 299C$-55C$, 599C$-130C$ (Prime Day)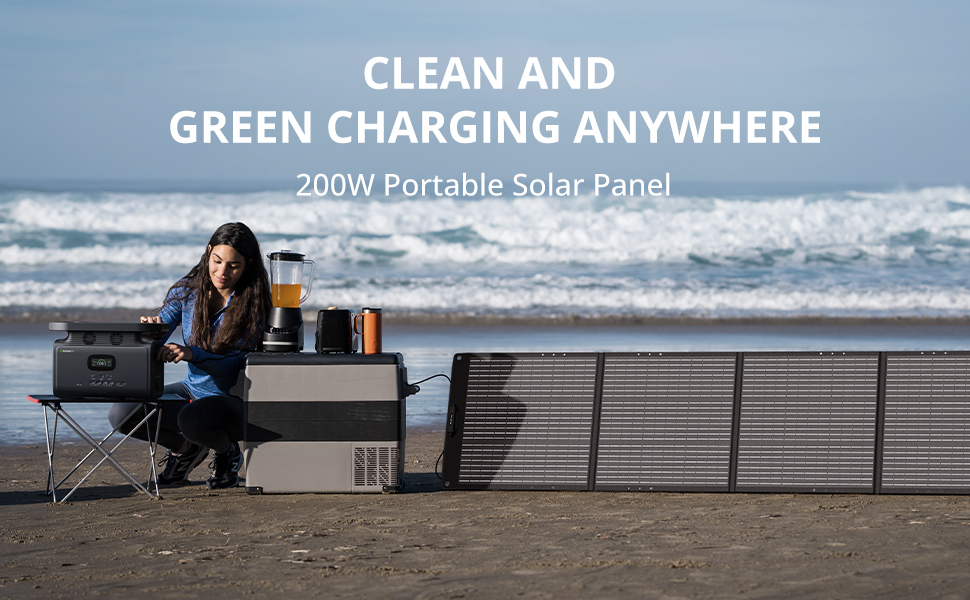 Portable Solar Panel 200W
The universal MC4 solar connector is compatible with other products on the market, and it enables you to connect multiple 200W Solar Panels together with the Portable Power Station for more efficient solar power generation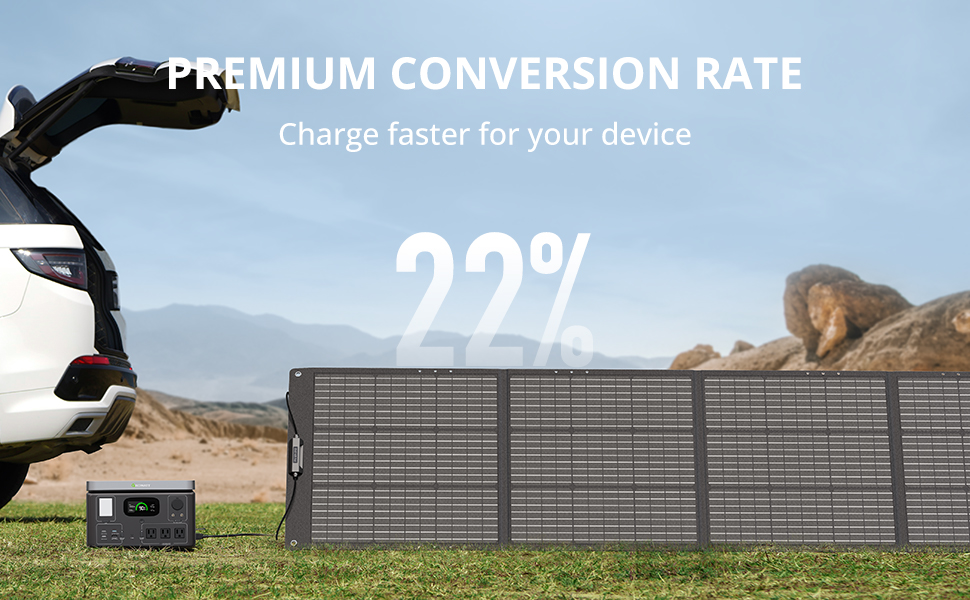 Intelligent Solar Power and High Efficiency
The solar panel has a high conversion efficiency up to 23% and power station algorithm delivers improved performance in cold and cloudy environments within the operation range.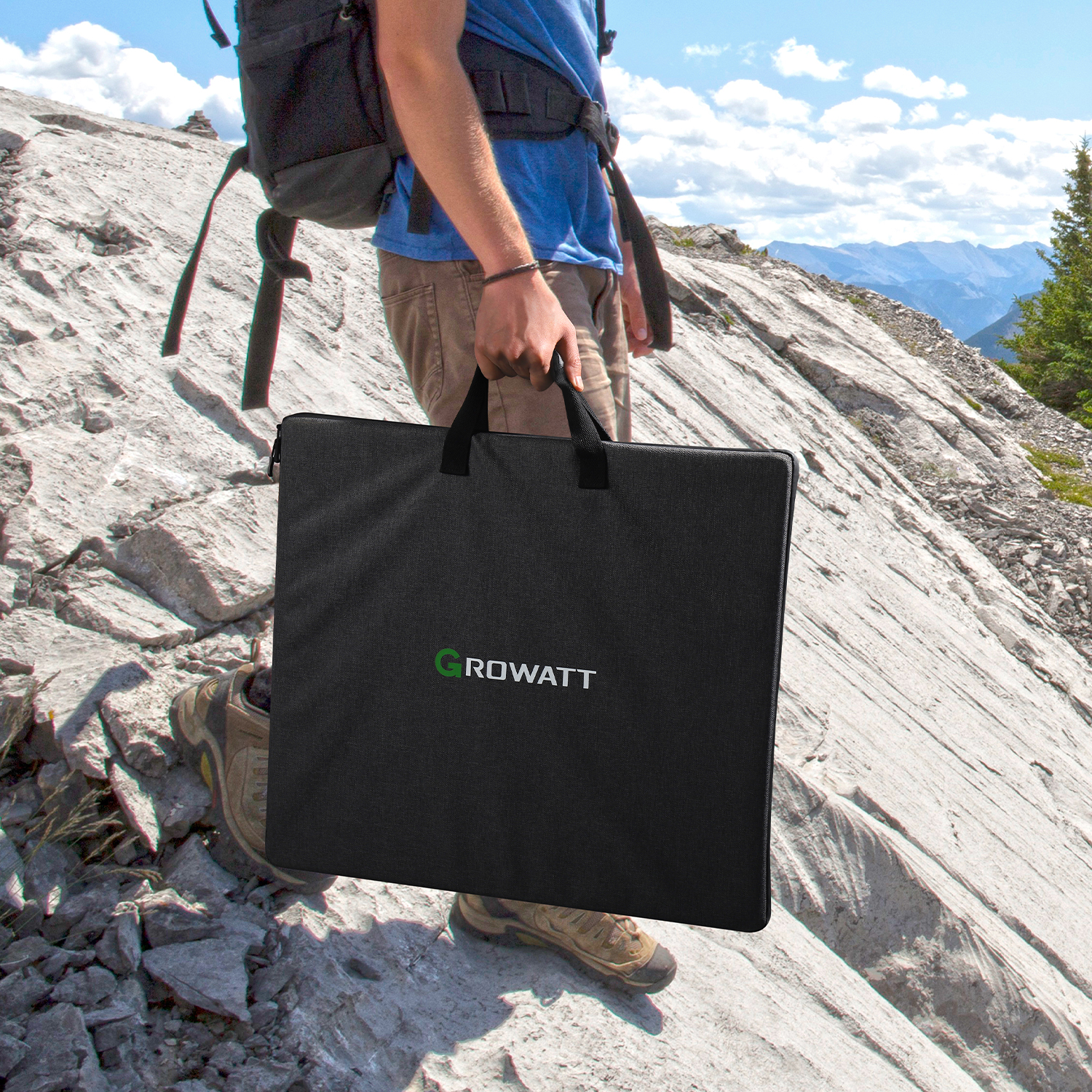 Power Wherever You Go
The 200 Watt Solar Panel is portable and foldable, making it ideal for camping, hiking, and outdoor adventures. The solar panel folds into a compact size for transportation and can be unfolded and set up easily.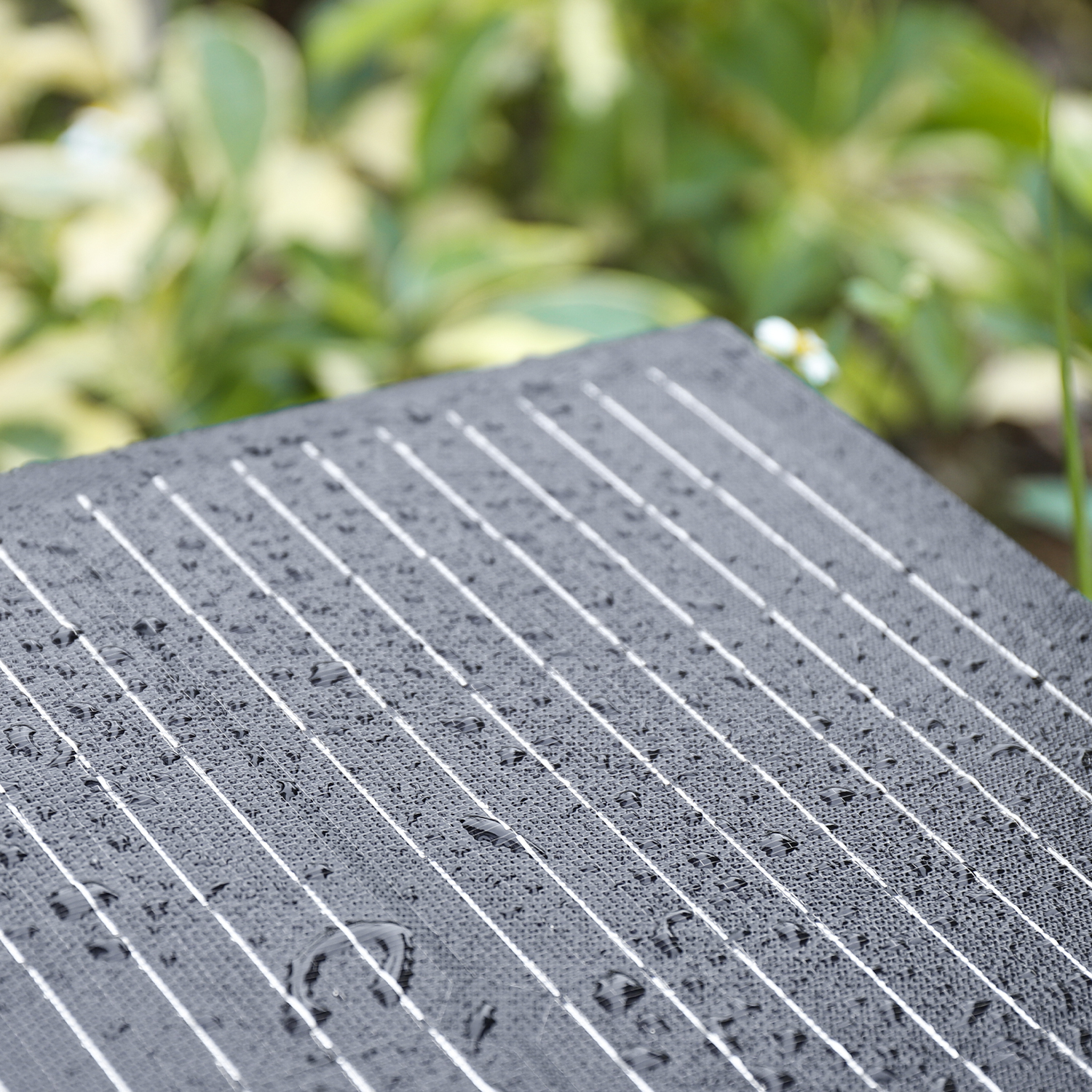 Durable Waterproof IP67
The solar panel 200W is IP67 that you can submerge the panel in water for up to 30 minutes with no detri-mental effect to the product. You can enjoy solar energy by placing the panel on the outside even in the bad weather.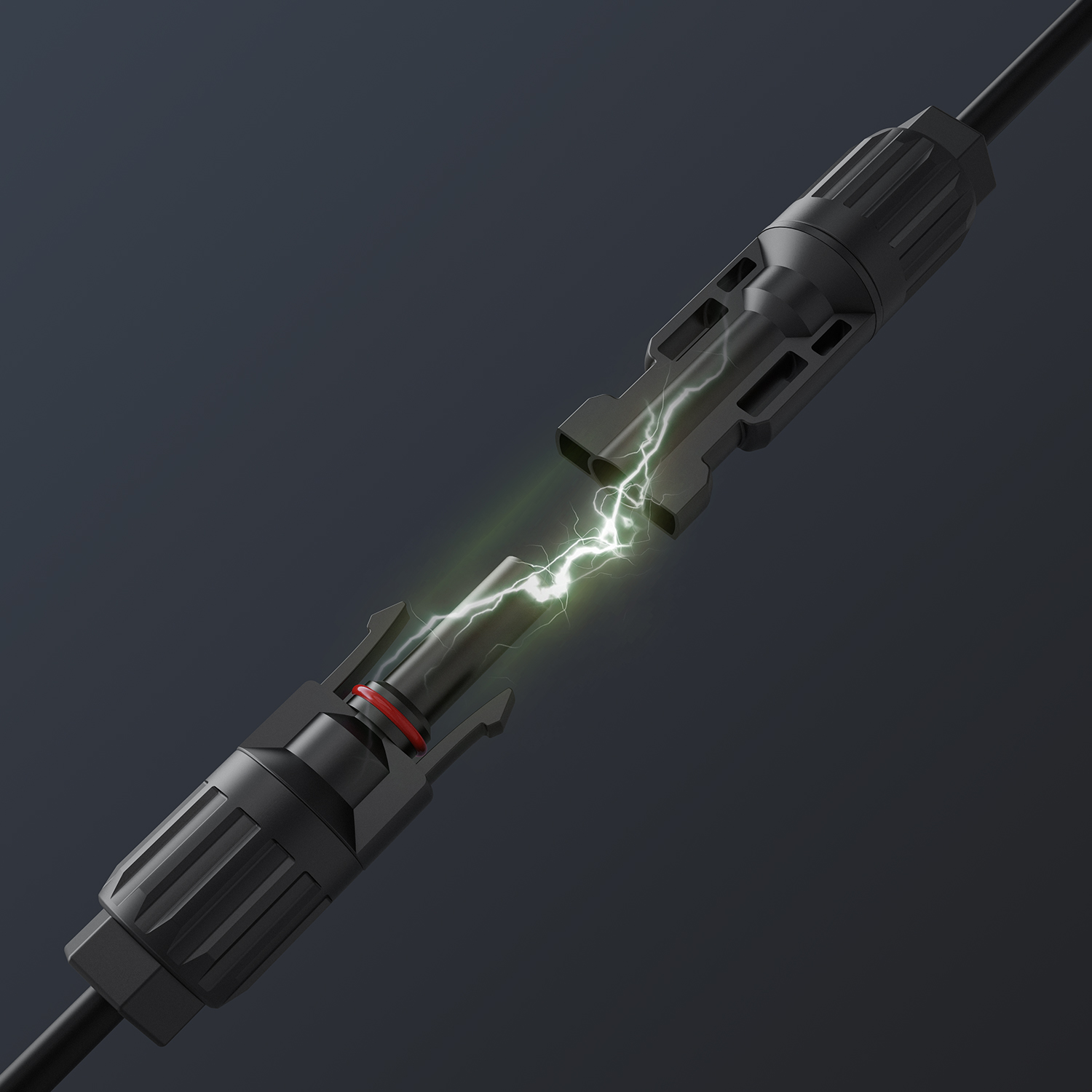 MC4 Universal Connector
With a universal MC4 connector, this 200W solar panel is not just for power station but compatible with most other Brand portable power station.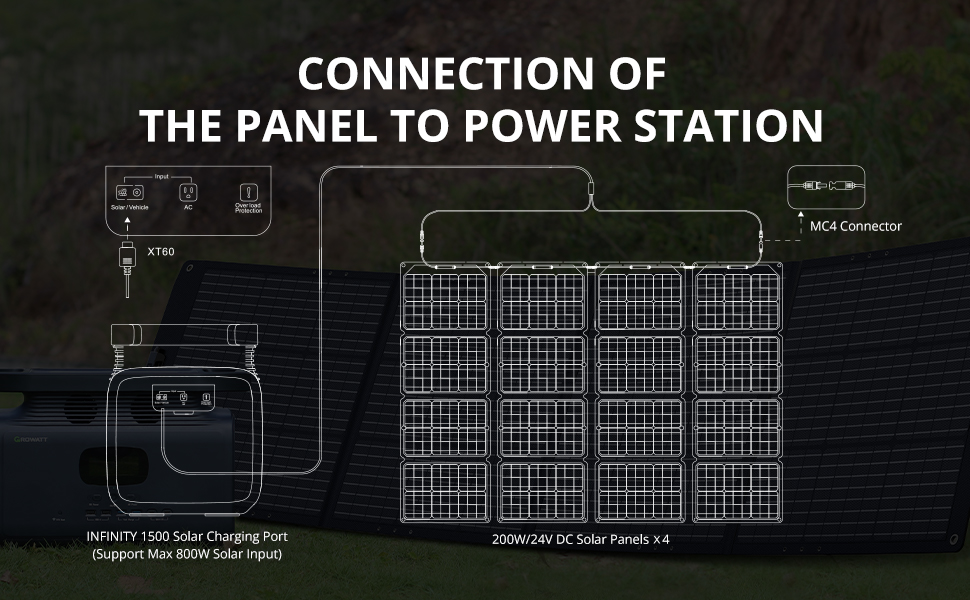 How to Connect in Series Connection
The 200W solar panels use a standard solar connector so that it can be connected end to end in series to generate more power simultaneously. You can store the solar energy by more solar panels for later use, giving you more flexibility and save your time.
Specification
Maximum Power
200W(±5%)
Dual USB Output
5V/3A,9V/2.5A,12V/2A;5V/2.4A
DC Output
15-20.5v 4in1 MC4 cable*1
Product Weight
about 7.4kg
Materials
High Conversion Efficiency Monocrystalline Chip, PET, EVA, Waterproof Cloth
Folded Dimension
577x550x45mm
Unfolded Dimension
2457x577*5mm
Accessories
DC Line, Data Line, Climbing Buckle, 8-piece Set of DC Connectors
Package Dimension
577x550x45mm
Package Weight
about 7.5kg
Lifespan
5 years
Application Range
Charging mobile phones, power banks, batteries, 5V/12V electronic products, etc.
All Reviews
Image

All Star

5 Star

4 Star

3 Star

2 Star

1 Star
Great power and durability...
This is a great panel, and I like the fact that this is one complete piece without seams and gaps in between. I have had other solar panels that had a cloth backing but unfortunately, they don't support the panels that well under the heat, and they would eventually warp and deform. Because there are no seams or gaps, it also makes cleaning the panels especially easy since it's just a quick wipe off and you are done.

As with most other high-powered panels, this outputs a non-regulated 24v voltage with drops to about 20v with a load. Power rapidly declines if the voltage drops below 18v as with most other panels, so you may want to get an MPPT solar charge controller if you wish for a more stabilized output.

You can see that the USB-A port supports most quick charge protocols, including OnePlus DASH/VOOC and QC2/3 up to 12v of voltage. The USB-C port supports similar protocols but with the addition of PD3.0 up to 12v (including PPS). Because 15v/20v support is not available, the port will not be able to charge most regular-sized laptops, but shall happily charge most phones and tablets. If your intent is to have this charge your laptop, I would recommend that you buy a DC-DC converter that allows the automatic conversion to the desired voltage. I would not recommend that you plug a laptop in with DC adapters (even if it fits) because the output voltage is on the high side (24v as opposed to 19-20v) and doing so may damage your laptop's charging circuitry.

As I mentioned in my video, if you do not read the instructions, you may have some difficulty setting up the kickstands. The four kickstands have knobs on top that has a metal retaining clip. The knob itself does not turn, but instead, you pull back on it to release the clip. The clips go into the metal holes on the top or bottom edge of the panels. If you clip it anywhere else, the clip will slip and the panel will just fall over. That being said, nothing prevents you from just setting this down on a chair (like I did) -- and the panel would remain foldable if you only install two stands on the outer left/right edges.
02/11/2023
Perfect Panel For Many Situations
I am super happy with this panel. Several features that I like:

- Comes with a storage/carry case
- Comes with a ton of adaptors (including MC4) to connect to a variety of devices
- The panel "legs" are pull and snap, I can have the panel in the storage case to fully setup in about a minute.
- The panel is high efficiency. Meaning small physical size for the watts produced

This panel would be perfect for camping and other outdoor activities, and RV, or just at home. The side of the panel has usb, usb C, and a DC output port. The DC output can plug into a variety of other plug sizes.

As you can see in my photos and video, I have it setup to charge a portable power bank. It takes me about 5 hours to charge the bank, which then gives me about 300 watt hours of use (I can use a 300 watt device for one hour, a 100 watt device for 3 hours, etc.). The nice thing about my setup is the battery bank allows me to use it while also charging. I did a full days work off my laptop and external monitor with the panel and battery combo. Now you can "work from home" in the woods! As long as you can get data service...

You don't have to use a battery pack, I just like to use it so I can store the generated power for later.

Overall, I would highly recommend!
31/10/2023
Great for Camping
We got this to use on family camping adventures.

It arrives folded in half, which makes it easy to transport and carry.
It comes with good directions that are easy to use and understand.

It seems to be well made.
It feels solid and sturdy.
The backing fabric is double stitched on the corners for added durability.
The connectors all fit snugly into the battery.
The stand seems strong and durable.

To test it out we connected it to a battery.
It was easy to set up.
We charged it in the morning sun and it finished in 4 hours.
We did two more batteries the same day.
It claims to be 23.4% efficient and when we tested it with the battery, that statement weas confirmed.
It collapsed back down easily and should be great to take camping.

We would buy this again.
28/10/2023
Excellent 100W portable solar panel
Setting up this 200W solar panel is a breeze, taking down and packing up is equally as easy. Charges my 3 battery bank on my camper to full charge by night fall. For the price, I don't think there is a better value out there.

I watched a lot of solar panel test and this one was for me. Because it folds up it will be protected in it's own suitcase after using everything fits inside and just zipper the suitcase and put it away until next use.

This portable solar panel is lightweight and smaller we also use it to charge the power stations we have at home. Very versatile and portable. We really like it. Good quality panel and support structure. Produces voltage as advertised. I would buy again.
24/10/2023
Nice solar panel
I have quite a few portable solar panels and so far this is one of the nicer ones that I have. It's rigid, fairly light, charges my batteries and devices in a decent amount of time. To me, it truly fits the "portable" category.
20/10/2023
Best in class performance
Great design and great output compared to other overpriced brands save yourself the hassle and pick this if you want the best 100w for the dollar gonna buy another or the 200w if it goes on sale again
18/10/2023
Great 200W Panel
This thing works great on the test in the yard, getting a solid 165-170w in noon sun. Comes in a nice carrying case and lots of charging options!
Cons: The connections would not be waterproof, I'm not super bothered because this will be used camping and if it's raining I'm not gonna set up the panel anyways when it's not going to produce any power. But if you need it super water tight you may look elsewhere! I do wish you didn't have to remove/clip on the legs each time and they were able to fold with the panel but that's a very small gripe when this this was about 1/4 of the price of the Bluetti 200w panel I was looking at!
16/10/2023
It's all about value for the dollar.
And $ for $ this hands downs outperforms my 200 watt panel. Choose wisely if you really want you're solar panels because of it's dollar values. And this ain't my first rodeo with this blamblastted machinery's.
16/10/2023
Update-Nice Solar Panel
I am very pleased with this solar panel! The quality of construction seems really nice. Completely covered (even where it folds) with ETFE coating.
It's a mostly cloudy afternoon but I have seen this panel pull 180 watts so far and that was just laying flat on the ground.
I read multiple, and I mean multiple reviews on probably every panel available on Amazon. It probably took me 2 days to pull the trigger on this one and really glad that I did. I was skeptical about how good it would really be at this price point, but construction quality and power produced I think are great.
I made a 2nd video of my EcoFlow mini charging off this panel. I did not realize I could not do 2 videos for the same product review. I don't normally get this excited about a product but feel this one is deserving of one.
I probably will get one more just to max out my charge rate of 300 on the EF mini. I'm hoping my review doesn't jump the price up before I do!
14/10/2023
Outstanding
Packaged nice. Connected it to Bluetti EB3a. Unit was fully charged. So I ran it down to 99% just to see how power it produced on hazy day. Input was 150w. I was quite impressed. Panels are well made and the the number of connection options endless. Phone charges directly from panel. For the price and what tuo receive, you can't beat it. Highly recommend this solar panel.
12/10/2023