LED Video Light Kit, 3 Colors Dimmable, 2500K-9000K USB LED Video Conference Lighting with Adjustable Tripod Stand, Adjustable Clips for YouTube, Live Streaming, Lighting, Meetings, Gaming, Streaming
Buy 99C$-15C$,199C$-35C$, 299C$-55C$, 599C$-130C$ (Prime Day)
New customer gift package
&FREE Shipping to Canada
Brand:

K&F Concept

Buy K&F Concept led video light kit, 3 colors dimmable, 2500k-9000k usb led video conference lighting with adjustable tripod stand, adjustable clips for youtube, live streaming, lighting, meetings, gaming, streaming online, C$38.99 free shipping to Canada.

GW51.0080

SKU:

GW51.0080

38.99

https://www.kentfaith.ca/GW51.0080_led-video-light-kit-3-colors-dimmable-2500k-9000k-usb-led-video-conference-lighting-with-adjustable-tripod-stand-adjustable-clips-for-youtube-live-streaming-lighting-meetings-gaming-streaming
Buy 99C$-15C$,199C$-35C$, 299C$-55C$, 599C$-130C$ (Prime Day)
Features
* 【Adjustable Brightness and Color Temperature】The LED video light has 3 different color modes: cool light, natural light, warm light, the color temperature is adjustable from 2500K-9000K; 11 brightness levels can be adjusted to provide the ample light you want. You can easily change it with a switch to achieve the ideal lighting, perfect for your skin and more suitable for your environment;
* [1/4" screw adjustable position] There are two positions on the back of the video light for you to install the 1/4" screw, there are two mounting accessories, a small tripod and an adjustable clip, you can install according to different Lighting, lighting, etc. are required;
* 【USB Powered】This video light is only powered by USB-C port ((5V/2A)), it does not include battery and charging adapter. You can plug it into a laptop, desktop computer, wall charger, power bank, etc. when you use it;
* [Light source] The rectangular light is designed, the light illuminates the face more evenly than the real light, no shadows, no glare, the soft light is not dazzling, and reduces visual fatigue;
* 【Wide Applicability】Equipped with two different accessories, the adjustable clip can hold the light firmly on your laptop without worrying about skewing or falling, providing you with the perfect light during meetings or live broadcasts; a small tripod can Move freely and easily fill light for daily photography. Video conference lighting kit can be widely used for remote online work, video conference, zoom call, self-cast, live broadcast, makeup, YouTube, Tiktok.
Shipping
&FREE Shipping to Canada
Sale
Buy 99C$-15C$,199C$-35C$, 299C$-55C$, 599C$-130C$ (Prime Day)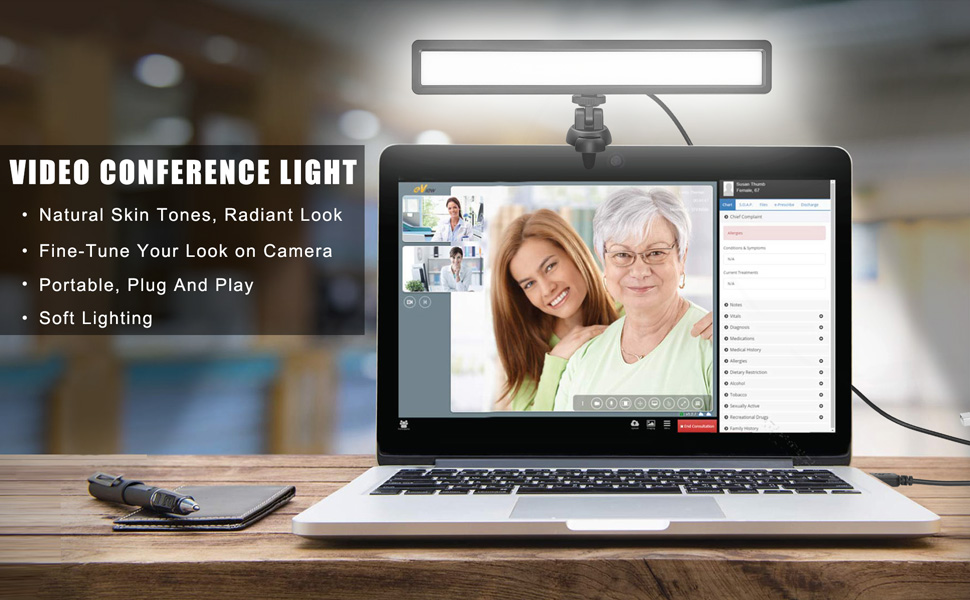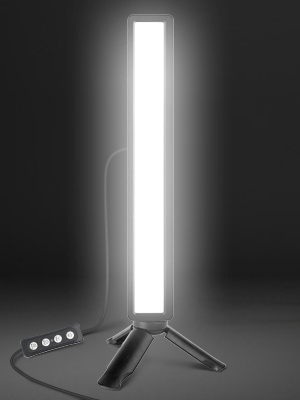 LED portable video lights kit
video conference light is mainly used to fill the light of photos and videos and get the best photo effect.
---
The LED video lightensures you always look your best in zoom calls,video conferencing,facetime,online class,streaming video,broadcast,youtube,tiktok.
---
Powered through the USB port, you can plug it in your laptop, desktop PC, wall charger, power bank, and so on. More convenient for your work.
---
Bead : 66PCS
CRI:95+
Light Angle : 120°
Luminous Flux:500LUX / 0.5m
Color Temperature:2500K/9000K
Size : 280 x 44 x 19mm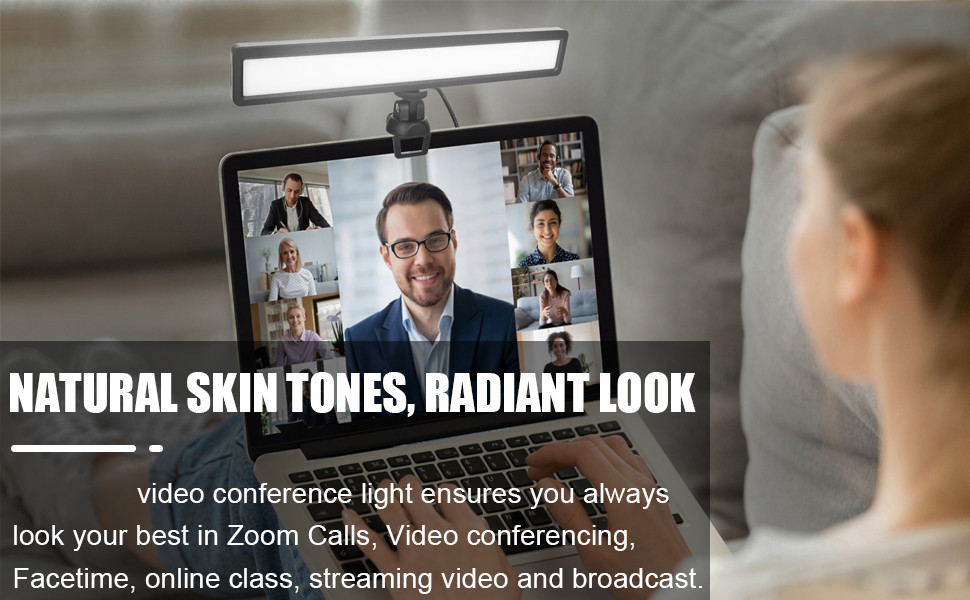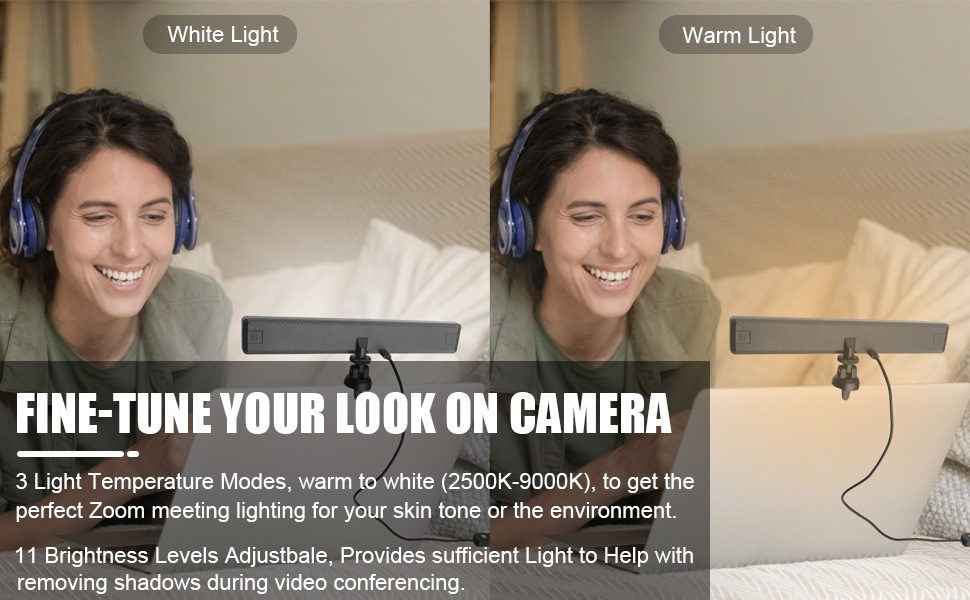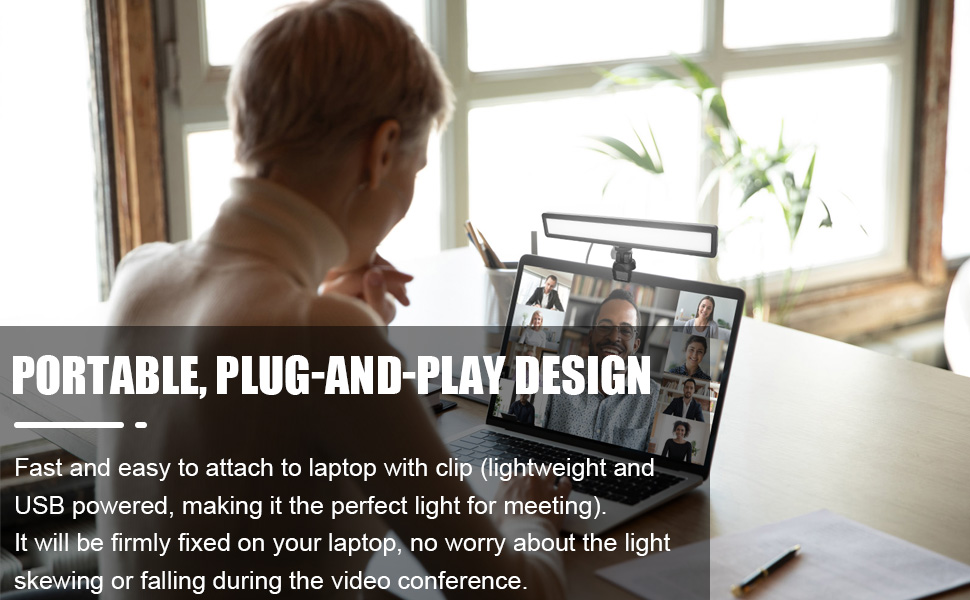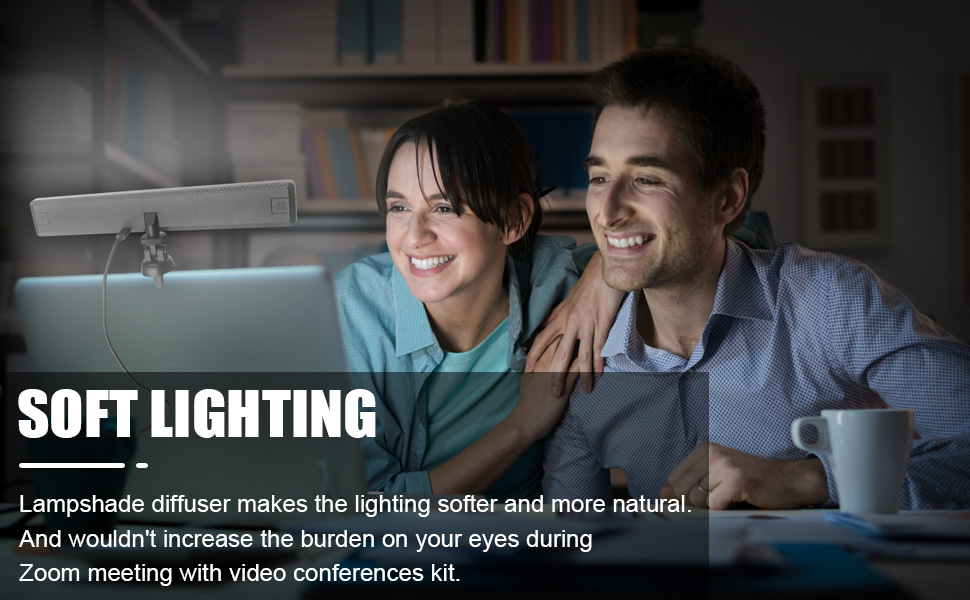 | | |
| --- | --- |
| Model | WS66 |
| Lamp beads | white 33pcs yellow 33pcs |
| CRI | ≥95 |
| Power supply mode | 5v2a usb direct input |
| Illumination | 510LUX/0.3M |
| Color temperature | 2500-9000k±200k |
| Power | 9w |
| Lighting angle | 120° |
| Packing size | 30*5*6cm |
| Packing weight | 256g |
| Packing list | led light*1, computer clip*1, tripod*1 |
All Reviews
Image

All Star

5 Star

4 Star

3 Star

2 Star

1 Star
Practical
Attachment: My monitor is a little too thick, it holds up with a bit of authoritarian persuasion. But unfortunately left small scratches (not too bad and easy to prevent if you know how). Light: The light is very pleasant, but I only ever use one setting. Operation: Operation is easy and can also be done while sitting. Optics: Looks good but I grabbed it on the right of my monitor because it was a little distracting (I'm very picky here) And even in an elevated position it doesn't dazzle, even if you can easily look into the light source
16/03/2023
LED lamp review: A must for every computer user
recently purchased this LED bulb for my home office and am very happy with my purchase
13/03/2023
LED lamp review: A must for every computer user
recently purchased this LED bulb for my home office and am very happy with my purchase
13/03/2023
LED lamp review: A must for every computer user
recently purchased this LED bulb for my home office and am very happy with my purchase
13/03/2023
Practical, but with possibilities
Acceptable quality. Plastic, but it doesn't feel that bad. The included USB cable works surprisingly well as a charging cable. Bring two adapters to try and adjust the width of your monitor. However, if your monitor's frame is thin, the lamp base may interfere a little. I had to put on a sock of about 4mm to raise the lamp so the base didn't make my monitor look like that of a Macbook Pro M1 Max with the "notch" in the middle. If your monitor has an integrated camera, you'll need a sock of around 12mm so it doesn't get in your way. It seems to me that the LEDs and the diffuser need the most improvement. The light is still very harsh and this affects the reflections on the screen. The shape of the lamp allows the light to hit you slightly from the front if you don't adjust it to point practically straight at the desk and can create more reflections on the monitor not from the objects on the desk but from the material of your screen itself. This angle looks good in the first two photos. You should not be able to see the light source from your working position. In the second photo you can see that it shines slightly from the phone camera as the intensity of the light your face receives can be important (and uncomfortable). It's worth noting that my monitor has a textured/matte screen that minimizes reflections. Even if you have bright things in front of you, they can be reflected. I'm not sure if other options available here solve this problem well, but this option can be tricky to change if you're interested in having a clear view of what's in front of you while keeping your eyes out of conventional ones protect lighting. The light sensor seems to me to work exactly the opposite way I'd like it to, although that's just my own preference. It works the same as the opposite of your phone screen. The more light there is in the room, the lower the brightness of the lamp. When the lighting is low, the lamp is adjusted to a higher power. For me it should be the other way around but I insist it's just my preference. I hope it helps you...
12/03/2023
So working in the evening is still fun
Due to increasing work in the home office, I was looking for a lamp that would make my work more pleasant in an uncomplicated way. With the LED monitor lamp from K&F Concept, I found exactly the product that met my requirements. A simple black design, simple heat and brightness control directly on the LED bar and uncomplicated installation on the monitor were particularly important to me. • The LED bar is solidly made and therefore feels valuable. The rounded corners make the design look very dynamic and pleasant. The advantage of the curve is also that you can tilt it a little forwards/backwards to adjust the light a little better. • To control heat and brightness, simply place your finger on the touch sensor until the desired setting is reached. The whole thing works reliably and easily. It is also possible to activate the automatic control - but not necessary in my case. • There are two options for installation: Either you use the extendable clamp mount or, if the monitor is too thick, use the counterweight. Both work fine - even on my curved monitor! In summary, I have nothing to complain about the product. The price-performance ratio is great and I hope to be able to use the lamp for a long time. It really saves a lot of space on the desk and shines exactly where it should: on the work surface and not in the eyes. So working in the evening is still fun and is by no means exhausting.
11/03/2023
My favorite office supplies
This was one of those articles that I've been looking at for a long time. I struggled to find good lighting in my home office, especially at my desk where I work late. I was attracted to this light because it doesn't take up any extra space and it claims not to shine any light directly into your eyes. Well I'm here to report that it's even BETTER than it claims! Pros: - illuminates the surface of your desk and does NOT shine back in your eyes. This is SO important for someone like me with eye strain - the light attaches to the top of your monitor (it's adjustable and fits pretty much any screen) so it does NOT take up any extra space on your desk - has a seamless design once installed , you can hardly tell it's there - offers a wide range of lights, including bright or warm and many different brightness levels - comes with a built-in light sensor that automatically adjusts the light based on the room's surroundings Cons - it took me a while to put the light in the holder because I was afraid of breaking it, but it clicked in no problem when my friend did it.
10/03/2023
Very good LED light for the monitor
Good Led bar with different settings: brightness, type of light. Good radiation range, so that sufficient brightness is generated. Easy on the eyes (at least mine). Easy construction.
09/03/2023
Also suitable for laptops
Super lamp, does not dazzle. Plugged into 15 inch laptop. It's a bit too bright on the keyboard, but it replaces the desk lamp. Workdesk is nicely illuminated. Until super satisfied
05/03/2023
High expectations
had pretty high expectations but I was still surprised at how good it was. I happened to see this or a similar product on a Youtube video and thought to myself "that seems really handy compared to my current desk lamp setup". Reading the positive reviews for basically all of these products got me very excited. However, this did not prepare me for how great this product was. The light on my desk, the customization options, the mount configuration - everything is great, or at least very close to perfect! I've spent thousands of dollars on my pandemic workplace this year, but this has been by far the biggest improvement! So it's worth it! Will 100% recommend. The only downside was that the instructions were pretty bad. There is a "cludge" on the screen mount that prevented me from mounting the lamp on my screen. You also get other size options for this cludge, but it's unclear how to remove it. You just drag it straight up from the mount. You can put a smaller cludge on top if you like, or use none.
03/03/2023
There are no faqs for this product.