64''/2.4lbs Aluminum Camera Video Tripod, Compact with 360 Panorama Ball Head Quick Release Plate - B234A1+BH-28 (TM2324)
Buy 99C$-15C$,199C$-35C$, 299C$-55C$, 599C$-130C$ (Prime Day)
New customer gift package
&FREE Shipping to Canada
Free Shipping Worldwide. 30 Day No Reason Return. K&F TM2324 Lightweight Travel Tripod for Canon Nikon DSLR Camera 62" suit for outdoor travel photography.

KF09.007

SKU:

KF09.007

149.99

https://www.kentfaith.ca/KF09.007_tm2324-lightweight-travel-tripod-for-canon-nikon-dslr-camera-62inch-aluminum
Buy 99C$-15C$,199C$-35C$, 299C$-55C$, 599C$-130C$ (Prime Day)
Features
* 【Strong Stability】 K&F Concept camera tripod has a 23mm large diameter aluminum alloy tube, the load capacity can reach 22.04lbs (10kg), provide security and stability support for your DSLR camera.
* 【28mm Large Ball Head】 Large ball head ensures the stability of the cloud platform; The non-oil damping new design allows the camera to rotate smoothly and accurately; With a 360-degree scale at the bottom of cloud platform, it's easier to take panoramic photos and give more stunning effects than the ultra wide-angle lenses.
* 【Compact & Portable】 The compact camera tripod is made of quality military magnesium-aluminum alloy, featuring corrosion resistance. The tripod with ball head weighs only 2.79 lbs, it can be 180°reflexed and folded to 16.5'', easy to put in a backpack or the provided suitcase when travel.
* 【360° Shooting Angle】- The camera tripod is designed with a metal ball head and a transverse center column so it enables 360° shooting angle and realizes panorama shooting and macro photography.
* 【Wide Height Ranges】- 4 sections leg can adjust the height from 18.1'' to 63.8'', making standing shooting easier and meet various shooting environment and photographic needs.
Shipping
&FREE Shipping to Canada
Sale
Buy 99C$-15C$,199C$-35C$, 299C$-55C$, 599C$-130C$ (Prime Day)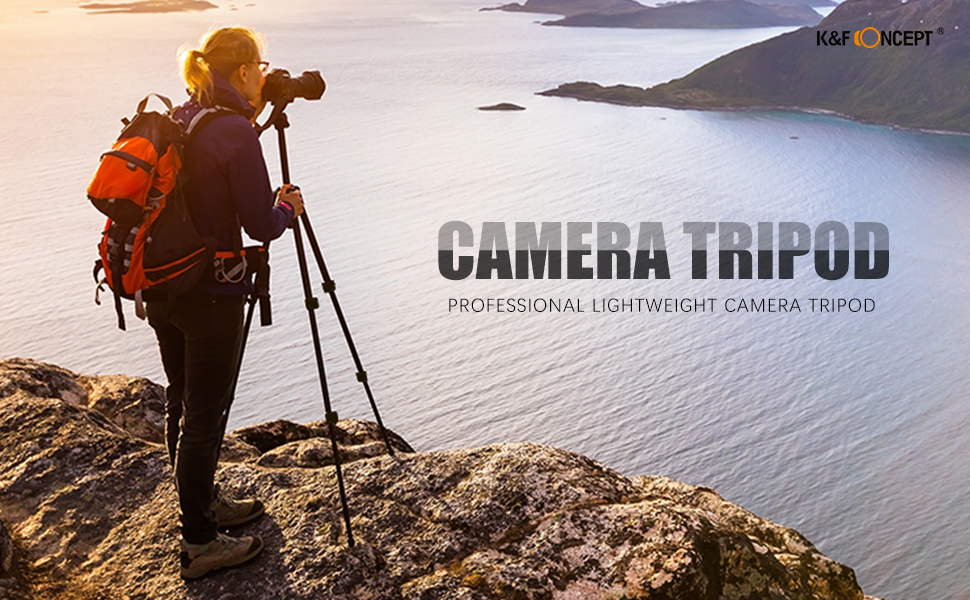 Highlight Features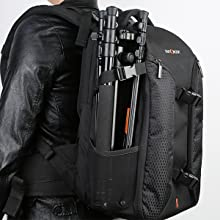 Compact Tripod
The tube is made of quality magnesium alloy, light and stable, can be reversed 180 degrees, easy for outdoor carrying.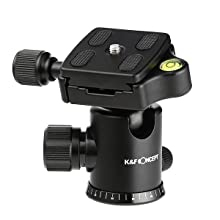 360 degrees ball head
The ball head can be rotated 360 degrees, then helps to improve camera activity range when panoramic shooting.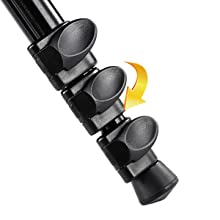 Quick Flip Leg Lock
Pull button tube lock, to achieve rapid release lock, simple operation reducing set the time of the tripod to meet the needs of outdoor photography in a variety of scenes.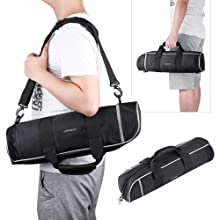 Portable tripod bag
This high-quality tripod bag offers protection against dust, dirt, moisture, and the bumps and knocks encountered when moving your gear.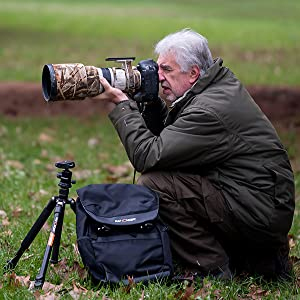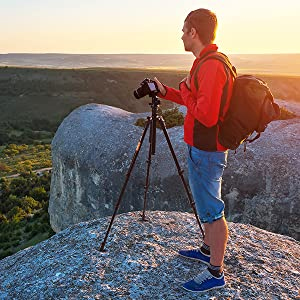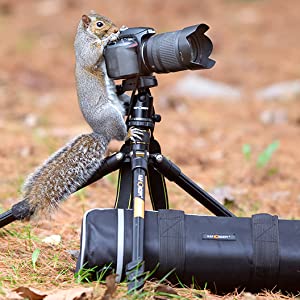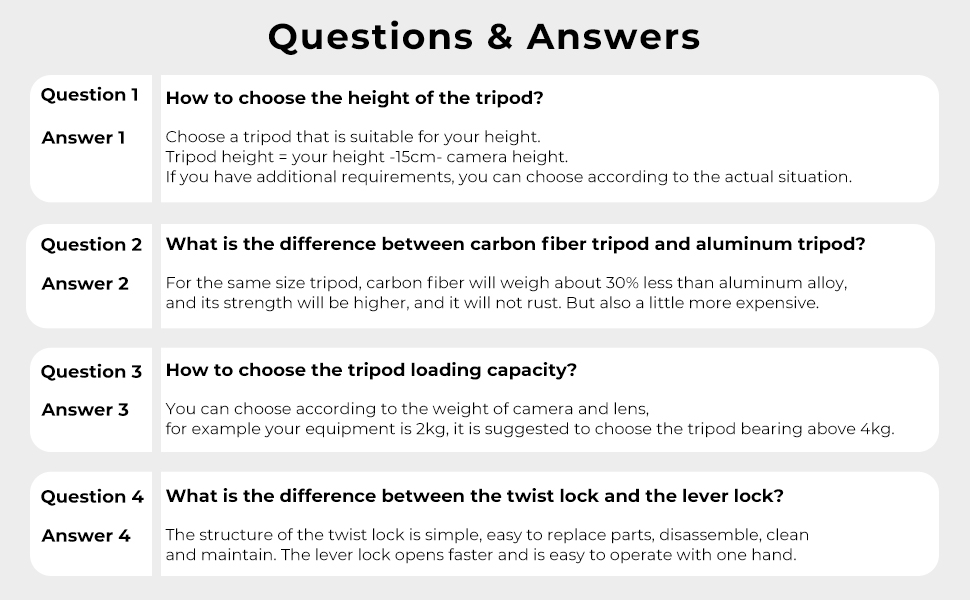 Rating

566 reviews.

222 reviews.

37 reviews.

68 reviews.

53 reviews.
Price
C$149.99

C$439.99

C$109.99

C$583.99

C$145.99

C$679.99

C$169.99

C$129.99

C$90.99

Model
KF09.007
KF09.087
KF09.109
KF09.103
KF09.084

Load Capacity

10kg/22.05lbs
10kg/22.05lbs
10kg/22.05lbs
15kg/33lbs
10kg/22.05lbs

Maximum Working Height

1620mm/63.8"
2000mm/78.7"
1600mm/63"
1560mm/61.4"
1580mm/62.20"

Minimum Working Height

550mm/21.7"
580mm/22.83"
535mm/21.06"
480mm/18.9"
510mm/20.08"

Folded Length

470mm/18.5"
480mm/18.90"
410mm/16.14"
490mm/19.3"
410mm/16.14"

Weight

1270g/2.8lbs
1440g/3.17lbs
1346g/2.97lbs
1323g/2.9lbs
1547g/3.41lbs

Materials

Magnesium aluminum alloy
Magnesium aluminum alloy
Carbon Fiber
Carbon Fiber
Magnesium aluminum alloy

Leg Lock Type

Flip Lock
Flip Lock
Flip Lock
Twist Lock
Flip Lock

Leg Diameter

14-23mm/0.55-0.91"
14-23mm/0.55-0.91"
16-25mm/0.63-0.98"
13-25mm/0.5-0.98"
16-25mm/0.63-0.98"
All Reviews
Image

All Star

5 Star

4 Star

3 Star

2 Star

1 Star
Good One
Got it for the office, well packed, was in the rush and this one did do the job. Steady, would recommend it
18/05/2023
Professional quality!
Unexpected quality...for the price this tripod was marked up for i was expecting a basic piece of equipment that would be good enough for my amount of use however was met with a rather large surprise.The build quality of this is second to none and even the box feels like you have a quality product in hand. It comes with it's own comfortable carry case that has a basic handle and an added shoulder strap concealed inside.The tripod itself...the screw mount fits both my dslr camera and the attachment for the Gopro and has a quick release so you can take the camera in hand without spinning it round on the screw to get it off for smart continual filming. Since my gopro gets the most use i have attached photos showing this connected. It is simple to use, the mount has a spirit level to work with the ball adjustment to get your images perfectly straight or on whatever angle you're looking for. The main stem can be flipped so to mount the camera "upside down" lower down and between the legs of the tripod. The legs themselves...solid...what more can i say, the build quality here still feels excellent with three varying angles and are easy to adjust. One of the legs has a comfortable grip for moving the tripod about while the camera is attached which is a nice feature and as well as the varying angles have multiple varying heights. In order to change the height the legs have clip locks rather than the twist locks which i prefer and work well with no give or concerns of them slipping.It is lightweight for the size of the tripod and folds small enough to use in the handy carry case or to fasten to the side of your camera bag whichever most convienent. It works well and is a solid build and would be good enough for amateurs and professionals a like with no worries about it's durability, in my opinion it is built for purpose and built to last and my review still does not do it enough justice.
13/05/2023
Extremely stable, extremely versatile tripod at an unbeatable price
Couldn't wait to receive this tripod. It is very stable even when the legs are fully extended on its lowest setting, which by the way is extremely low. This was the main draw for me when researching for a versatile tripod for use with landscape and portrait photography. The heights this tripod covers will enable you to achieve almost all compositions you could ever want. Just see how I've set the tripod up in the attached photo whilst testing its ultra low angle capabilities where it performed very well indeed. The ball head of the tripod is good however the bubble level is hidden when your camera is attached and needs to be levelled before attaching the camera unless you have a separate spirit level attachment for your camera. This bubble is also of no use when the central column is inverted for extremely low angle compositions, or in "macro" setup, as shown in my attached photo, as you simply can't see it. Panning is smooth and tension on the ball is controlled using the securing screw and all works perfectly well. It also has a protective bag for the ball head which is a nice touch. It is very lightweight and easy to carry with it's foam grip on one of the legs, and it folds down extremely small and compact thanks to the legs folding back 180° on themselves. The only thing i would have liked included is a seperate short axial column as included in the TM2515 and some of K&F's other higher spec tripods as this would allow for an even lower upright position for your camera without having to invert the central column. This would make ultra low angle shots easier as once inverted your camera is upside down, which makes using the controls on the top of your camera a little awkward. Though with practice this would become much easier and using a shutter release cable would also make it easier. Seeing the lcd screen on your camera is also a bit of a pain at such low angles but getting low down is just one of them things you have to do sometimes to get the composition that you need and is well worth it for a composition that stands out. Overall for a very stable, extremely versatile tripod, which comes with a good ball head and which offers such ultra low angle compositions. Is very portable and for just under £54. This comes highly recommended and I believe it is unmatched in terms of value for money and quality at this price range. The only reason I haven't given 5 stars is the lack of a short axial column and the spirit level on the ball head being hidden by the camera. I wish I'd bought it bundled with the K&F bag as K&F Concept obviously produce products of very high quality.
04/05/2023
Good tripod
The quality seems very good but time will tell if it'll hold up.
Legs are aluminum and the rest is plastic, though not the cheap kind. For this price I wish the top mount would be metal.
27/04/2023
Really foldable
This is by far the best tripod I own, and let me tell you I own quite a few. It is really light and has a very durable design that helps keep your camera in balance even during strong winds. Such an easy tripod to travel with since its easy to adjust and extremely foldable. It has really strong joints and it doesn't shake. One simple thing I love about it is the little tip that helps you screw the adapter in your camera. The best I've seen. Really can't fault this tripod and couldn't recommend it enough.
20/04/2023
Everyone is now included in the photo
Been using this tripod for more than 6 months and I am very happy with it. It is not super lightweight but it is pretty acceptable. Setting it up is also easy when you get used to it. Of course, every body can now join the group photo rather than taking turns or asking a stranger.
20/04/2023
Very good
In short: Very stable, does not wobble, not even when the telescopic tube is extended (due to double attachment), both tripod and monopod (!), very good: ball joint with recess for 180° upward shots, legs can be easily extended and attached, horizontal ones Rotation smooth and very stable. I am very pleased.
10/04/2023
No other tripod anymore
I've been a hobby photographer for a little over a year now. I started with a very cheap tripod and have now ended up with K&F Concept. The range of uses this tripod offers me is simply unbelievable. I will continue to only bring K&F products into my home
06/04/2023
very good universal travel tripod
Another positive is: 1. The pack size is really small. 2. The tripod includes a monopod, making it really versatile. 3. The working height is pleasantly high despite the small pack size. The second stabilizing clamp for the center column is very good and mechanically well thought out. Bravo!! 4. The tripod can be weighed down with a hook and a weight. 5. Scaling makes it easier to take panoramic or multiple shots. 6. The tripod is light and thus also allows longer mountain tours. 7. The head allows for very smooth panning. All in all, I think the price for the range of services offered is still very good. The tripod is lightweight, yet stable and versatile. It is an ideal travel tripod.
05/04/2023
Good all-round tripod
don't review much, but since I really like the tripod, I dare to write a review ;-) As usual and as usual, delivered super fast and packaged well and what you rarely see in reviews, great driver! Attentive and polite! TOP! On the subject of weight, well, I find it light, and to be honest, an aluminum tripod is much lighter than carbon. So thumbs up. Quality. I was amazed, I thought ok, you shouldn't expect a Bentley with the Hunni, but I was more than just pleasantly surprised here, everything that can be operated runs buttery smooth and is built in well. You can blindly trust the function. I also find the tripod to be very stable, even fully extended I would still say sufficiently stable (ok in a hurricane or a spring tide... But you don't stand in the middle to take pictures ;-) and there is hardly anything stable anyway enough) Otherwise I would say all the stars were skimmed off! Top K&F! Can only recommend the tripod :-)
03/04/2023
These images belong to K&F Concept end users.
A
To hold telephoto lens, it is recommended to use a tripod mount ring additionally for better balance. Meanwhile, it is better to hang some heavy thing to the hook to lower the center of gravity on this tripod to make it more sturdy and less prone to vibrations.
Show more
Best-selling K&F Concept® Tripods Comparison TM2324 Vs TM2534T
Trípode PROFESIONAL K&F Concept. SOBRESALIENTE calidad.
Tripod General
Load Capacity
10kg/22.05lbs
Maximum Working Height
1620mm/63.8"
Max Height without Center Column
1330mm/52.36"
Minimum Working Height
550mm/21.7"
Folded Length
470mm/18.5"
Weight
1270g/2.8lbs
Materials
Magnesium aluminum alloy
Ball Head
Ball Head
Color
Gold/Black
Bubble Level
Tripod Legs
Leg Lock Type
Flip Lock
Leg Positions
3
Independent Leg Spread
Leg Sections
4
Leg Diameter
14-23mm/0.55-0.91"
Feet Features
Can be reversed 180° and folded
Tripod Center Column
Center Column Features
Center Column Inversion
Center Column Sections
1