60"/2.2lbs Carbon Fiber Camera Video Tripod 360° Panoramic Shooting - C225C0+BH-25 (old model BA225)
Buy 99C$-15C$,199C$-35C$, 299C$-55C$, 599C$-130C$ (Prime Day)
New customer gift package
&FREE Shipping to Canada
K&F Carbon Fiber Tripod BEST SELLER. Free Shipping Worldwide. 30 Day No Reason Return. K&F Concept Carbon Fiber Camera Tripod features an ultra-light carbon fiber tube design. Portable and easy to carry.

KF09.077V2

SKU:

KF09.077V2

199.99

https://www.kentfaith.ca/KF09.077V1_kf-ba225-carbon-fiber-tripod-detachable-monopod-60inch-152cm-height
Buy 99C$-15C$,199C$-35C$, 299C$-55C$, 599C$-130C$ (Prime Day)
Features
* 【Lightweight & Portable】K&F Concept C225C0+BH-25 (old model BA225) Carbon Fiber Tripod tube made of quality carbon fiber weighs only 2.20lbs, measures 14" long when folded, super lightweight, and compact with a loading capacity of up to 17.63lbs / 8kg, making it ideal for indoor and outdoor photography.
* 【Convenient & Flexible】22mm tube diameter, 5-section legs with spiral type locking knob allows you to adjust the working height from 18.1" to 60.2" in seconds; Tripod legs can be adjusted in three levels of opening angle to stabilize on varying grounds and incline levels.
* 【Detachable Monopod】This carbon fiber lightweight tripod can be quickly disassembled with the central axis screw and transformed into a monopod, providing an alternative way of shooting with ease.
* 【360°Panorama Ball Head】The specially designed 25mm ball-head can rotate 360° and get free angles, allowing you to get the perfect shot and amazing panorama every time.
* 【High Compatibility】The quick release 1/4" screw of C225C0+BH-25 Carbon Fiber Tripod is suitable for most cameras, DSLR cameras, projectors, telescopes, etc; Your phone can be connected via an extra phone mount as well.
Shipping
&FREE Shipping to Canada
Sale
Buy 99C$-15C$,199C$-35C$, 299C$-55C$, 599C$-130C$ (Prime Day)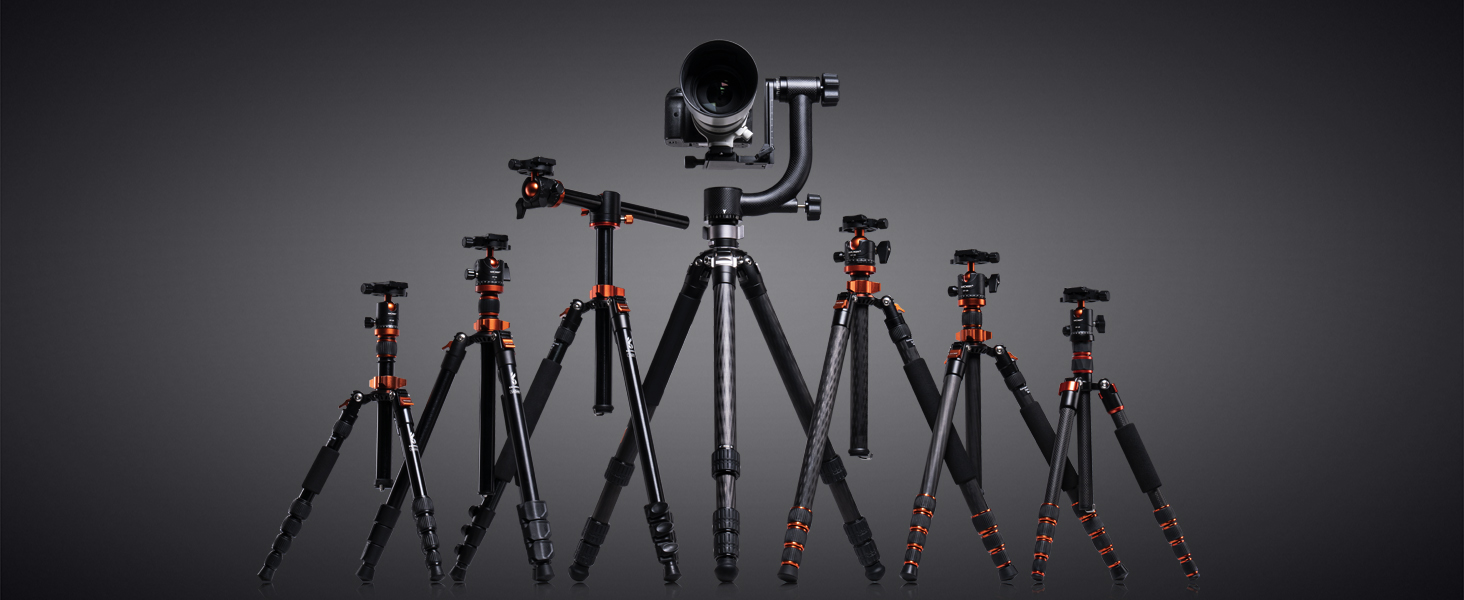 Rating

108 reviews.

37 reviews.
Price
C$199.99

C$583.99

C$145.99

Model
KF09.077V2
KF09.109

Load Capacity

8kg/17.6lbs
10kg/22.05lbs

Maximum Working Height

1520mm/59.84"
1600mm/63"

Minimum Working Height

460mm/18.11"
535mm/21.06"

Folded Length

350mm/13.78"
410mm/16.14"

Weight

1013g/2.20lbs
1346g/2.97lbs

Materials

Carbon Fiber
Carbon Fiber

Leg Lock Type

Twist Lock
Flip Lock

Leg Diameter

10-22mm/0.39-0.87"
16-25mm/0.63-0.98"
All Reviews
Image

All Star

5 Star

4 Star

3 Star

2 Star

1 Star
Excellent travel tripod at a very reasonable price
I just received this tripod two days ago and through my initial tests, it appears to be a very well made tripod for the money.

Pros:
- From the initial unboxing, the tripod carry case felt very well made. I likely won't use this case because I have my own camera bag but for those who need the carry case, it's nice to see K&F include a good quality carry case with the tripod.
- The tripod includes some useful accessories such as protective cover for the ball head and a smaller center column for low shots. As a landscape photographer, the smaller center column is a nice inclusion as I often like to take shots from a lower perspective and most tripods don't go very low which makes it hard to get the perfect shot. I compared many other tripods and it was nice to see K&F be one of the few tripods to have the lowest minimum height.
- Fairly lightweight tripod for travel as the carbon fiber helps keep the weight down.
- Tried a couple of long exposure shots with the tripod and the tripod was very sturdy.
- Big ball head and thicker legs help with the stability and sturdiness of the tripod. I tried a couple of other tripods in the local camera stores however this tripod definitely felt more sturdy in comparison despite being cheaper in price. This is likely due to the thicker legs and heavy ball head which makes this tripod a bit heavier in comparison to the carbon fiber tripods from other companies. But the weight is very manageable and the additional weight makes me feel more comfortable about this tripod in windy situations.
- The leg twist locks and the legs work very smoothly. I prefer the twist locks to the lever locks as you can wrap your hand around the locks and give them a quarter twist to unlock all sections of the leg. This made it very easy to set up the tripod.
- The ball head and the pan feature works very smoothly.
- The screw on the mounting plate has a little hook on the bottom which makes it easy to screw the plate into the camera without needing to carry a coin or some sort of tool to tighten the plate to the camera. This is such a simple feature but it's surprising that some of the tripod companies still don't include this. The plate also locks in place on the tripod as the safety locks prevent the plate from sliding through the front or back of the tripod. This is a good feature because it will prevent your precious camera gear from falling if you forget to properly lock the plate to the tripod.
- This tripod reaches a great height despite being reasonably small in size. I'm 5'9 and I can slightly lower my head to see through the viewfinder on my camera when the center column is not extended to its full height. This is a bonus as I prefer not to extend the center columns of my tripod to make it extra sturdy. Even with the center column extended this tripod is very sturdy and it can reach a comfortable working height for someone much taller than me.

Cons:
- There's not much to dislike about the tripod. However, I wish that the tripod also included a level on the legs in addition to the level on the ball head. I noticed that once I set up the camera on the tripod, the level would get covered by the camera. This is not a deal breaker by any means as you can set up the tripod and see whether it is leveled properly before putting the camera on the tripod. However, having another level on the legs would have easily solved this problem. This may also not be a problem for people with cameras that have built-in levels.

Overall, based on my initial tests I am very satisfied with the tripod. It has all of the features of the more expensive carbon fiber tripods at a very reasonable price. I would recommend this tripod to anybody looking to buy a carbon fiber travel tripod.
03/11/2023
Overall a nice sturdy tripod
Bought this to replace my aging travel tripod that has a damaged leg. This is pretty heavy compared to my other tripods and probably isn't something I will be carrying on long hiking trips. The legs are pretty solid as well as the head. It folds like 2 of my other tripods so it's not something that I'm not used to. I like the detachable monopod leg and should be great to take on bird photography trips. It has the same feature as my travel tripod that I can flip it over and get my camera very close to the ground for ocean and sunset pics on the beach. The tripod along with a Canon 90D with battery pack and my 70x200 L lens plus a 1.4 extender is pretty heavy together but it will work fine for most of my photos. Expect long 10k plus hikes like I mentioned earlier. Gave it 4 stars because of the weight.
28/10/2023
Excellent quality and functionality .
Excellent quality for the price. The weight is great and the quality of machining and finishes are excellent.
24/10/2023
Super light! Great for mirrorless / APS-C bodies
So far so good. This is super light weight. No more "lugging". It folds down to nothing, especially if you remove the ball head. The legs expand out quickly. The legs do seem a bit flimsy and the tripod isn't as solid feeling as ones I've had in the past. But. If you just have a mirrorless with lenses under 300mm or so, no problem. I have a Sony A6500 and it holds this no prob. Use a 5 second delay or remote trigger and that should kill any vibration before the shot.The only thing I've found that kills tripods is SAND. It gets into the twist locks and that's the death sentence. This one hasn't been to the beach yet but I'll update this if things change from five stars.
19/10/2023
Really stable and strong - I've been using this both as a tripod and an easel
Loving this tripod - it's lightweight enough to add to my travel kit for both art and photography but is also amazingly stable. It's really easy to set up quickly, with handy little clips that pull out and fasten easily, which you can do with one hand. The legs are still stable and non-wobbly even when fully extended.I also make animations using this tripod. The spinning function has been super useful for smooth panning and once I worked out how to do the upside-down shooting thing, that's been great for timelapse animation at floor level.All in all this has been an amazing addition to my arsenal for art and shooting, and with its top quality, I'm going to be using it for years to come.
17/10/2023
Amazingly light, compact and stable.
Even though I read the reviews, I was still surprised by the compact size and weight of this tripod. The components are all quality, it's well made. I'm 6'1" (185cm) tall and use a Pentax K1 with battery grip and 24-70mm f2.8 lens. It's a tall, heavy camera setup. My immediate concern was that the tripod will be too short and if I flip the camera vertically the tripod might fall over. To my surprise, fully extended, the camera viewfinder is almost too high for me. This places the lens over the heads of most people if you're in a crowd and most DSLR cameras have a tiltable LCD screen for viewing anyway. Its also quite stable for its weight. Horizontal or vertical, the camera was in no danger of falling. I wouldn't risk it on a windy day though.On the ballhead there are 3 separate knobs to lock rotation, ball tilt and camera base plate. All very solid. The baseplate also has a really nice bubble level and a compass that will help you align the tripod to North for astrophotography.If you're a hiker or traveler, I highly recommend this for the price / performance ratio.
11/10/2023
This tripod took a bit of time to get used to because it stores with the legs up over the ball-head but now that I have done it a few times it is easy!The max height is great for getting above railings on the dock or other similar barriers to get the sh
Lightweight, durable, highly adjustable!
04/10/2023
Superb and Lightweight Tripod
This is a superbly lightweight and awesomely built tripod, I tried mine as soon as it arrived, k&f really do make some of the best quality items for the money, ideal for travelling due to its mere size, but extends to a height that's perfect for me, I decided to upgrade my tripods for my photography and videography and found that k&f suit my needs, i own a few k&f tripods now and they are perfect for the job, I would recommend these.
15/09/2023
Light-weight, sturdy, carbon tripod
Having spend a fair amount hiking and exploring, I was looking in the market for a lighter weight tripod (i had full-size alloy one ). I find this carbon fiber tripod affordable to buy within my budget. It is Very Light (1005 grams - Verified) so definitely helps for long hiking trips.
All three legs are carbon material which can be adjusted into multiple heights using 4 circular locks on each leg. Each circular lock tightens a leg in clockwise rotation for a particular height and releases the legs to expand in anti-clock rotation. The camera mounts on a plastic made base along with bubble level to align the camera straight. So far I have used this tripod on hiking trip only once and my camera sits without any wiggle on the plastic mount with kit lens, prime lens and telephoto zoom lens.
Each leg has 2 indexing positions which works well for me. My previous tripod had 3 index positions and to be honest, I never really used the middle one so it's not a huge loss for me. The legs extend with a twist-lock mechanism and slides and locks very smoothly, noticeably more smooth than my previous one. I do have a 70-200mm lens and feel I have to be a bit more careful when getting my shots set up because this tripod has a narrower stance than my previous one and with my lens mounted at full extension is a little less stable than I'd like. BUT, given my intended use and how compact and light weight this tripod is, I am very, very satisfied with it.
10/09/2023
light weight and compact... perfect
Perfect for holidays and doesn't upset the wife! Really great for my small fuji cameras with small to medium sized lenses, struggles with my 70-300mm with 1.4x extender... but still works if you use a good base grip.
05/09/2023
K&F Concept Camera Backpack KF13.096 + Tripod KF09.077V1 | @Fernando pedro salgado
How to install tripods' Center Column?
How to install the foot tube locking piece?
Tripod General
Load Capacity
8kg/17.6lbs
Maximum Working Height
1520mm/59.84"
Max Height without Center Column
1195mm/47.05"
Minimum Working Height
460mm/18.11"
Folded Length
350mm/13.78"
Weight
1013g/2.20lbs
Materials
Carbon Fiber
Ball Head
Ball Head
Color
Orange/Black
Bubble Level
Tripod Legs
Leg Lock Type
Twist Lock
Leg Positions
5
Leg Diameter
10-22mm/0.39-0.87"
Feet Features
Can be reversed 180° and folded
Tripod Center Column
Center Column Features
Center Column Inversion
Center Column Sections
2