61"/2.9lbs Professional Carbon Fiber Video Tripod with Monopod & 360° Ball Head 33lbs Max Load - A255C2+BH-36L
C$169.99
C$679.99
75% OFF
New customer gift package
&FREE Shipping to Canada
Buy now in the K&F Concept Camera tripods ► 30 Day No Reason Return ► Carbon Fiber Tripod ► Fast Shipping From UK Free ► 15kg/33lbs Load

KF09.103

SKU:

KF09.103

169.99

https://www.kentfaith.ca/KF09.103_professional-carbon-fiber-tripod-15kg-33lbs-max-load-156cm-61-4-quot-max-height-compact-portable-with-360-ball-head-detachable-ball-head-a255c2-bh-35l
Features
* 【High-End Carbon Fiber Material】The aerospace manufacturing-grade carbon fiber material is used, making each leg tube of the tripod more rigid, strong and stable, at the same time, corrosion resistance and abrasion resistance have also been greatly improved. The upgraded materials make this tripod weigh only 1.3kg/2.9lbs, it can easily follow photographers to more unique environments such as mountains, deserts and fields and more.
* 【Easy to Adjust-Portable】Control the 5-section legs through the metal knob lock system, it can make the working height of the tripod from 48cm/18.8'' to 156cm/62'' in a few seconds, which can meet about 90% of the photographic height requirements; through the 180° reflex design, the folded length is only 49cm/19.2'',
* 【Easy to Adjust-Portable】Control the 5-section legs through the metal knob lock system, it can make the working height of the tripod from 48cm/18.8'' to 156cm/62'' in a few seconds, which can meet about 90% of the photographic height requirements. When the legs are closed, the length is 49cm/19.2"; When the legs are open in stage 3, close to 90º, and the central column touching the ground the tripod height is 35cm/13.7".
* 【Detachable Monopod】If you are a journalist or broadcaster and need to track various large-scale live events, sports events or concerts; or if your subject is always in constant motion, such as shooting wild animals or indoor pet photography: At this time, you can quickly remove the monopod and install the ball head, then you can capture all kinds of photos or videos with high flexibility. The working height of the monopod can be switched between 47cm/18.5''-140cm/55'', which is flexible and portable, helping you to break through the obstacles of crowds and the limitations of space scenes. Sometimes, it can also be used as a trekking pole.
* 【Low-Angle Photography】The quick-release central axis design allows you to complete the upside-down installation of it in seconds. Through the inversion of the central axis, the height of the tripod can be lowered closer to the ground, and the overall center of gravity becomes lower, thereby effectively reducing shaking, which is helpful for shooting excellent macro effects of plants, flowers, animals, insects, etc., or satisfying other more creative photography ideas.
Shipping
&FREE Shipping to Canada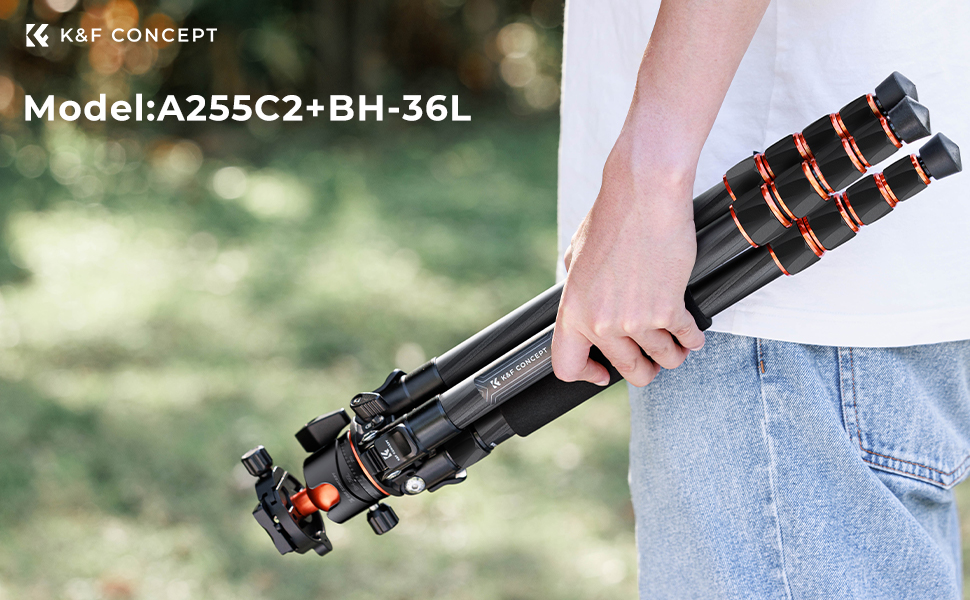 K&F Concept Professional Carbon Fiber Tripod A255C2+BH-36L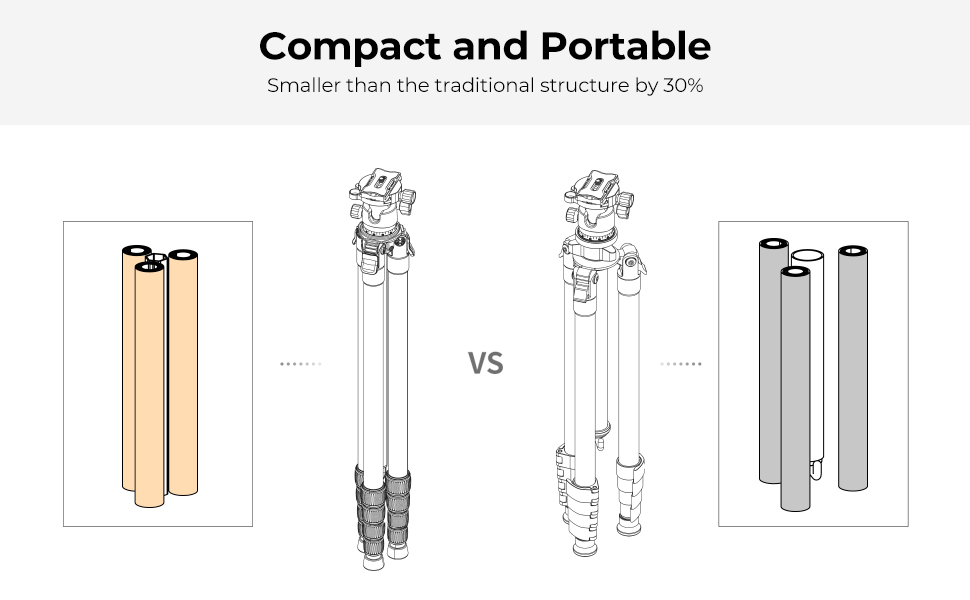 Compared to traditional camera tripods, K&F Concept A255C2+BH-36L tripod features a special center column which decreases the volume of the tripod by 30%. Easy to carry with one hand.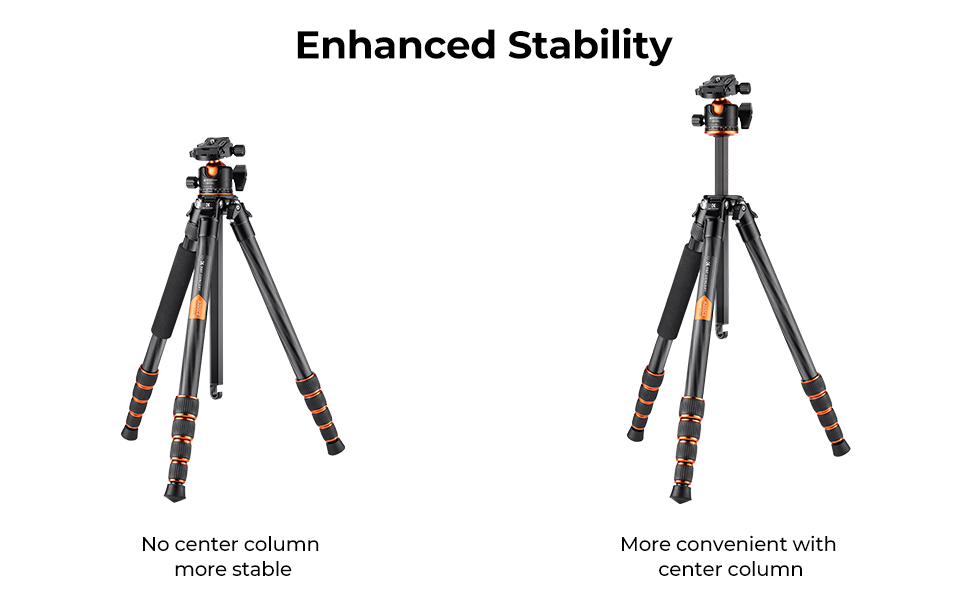 This tripod has two forms, with and without the center column. With the center column, the tripod is more convenient. Without the center column, the tripod is more stable.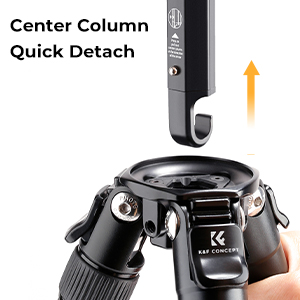 To help catch the perfect scene, the center column can be detached quickly through the locking knob.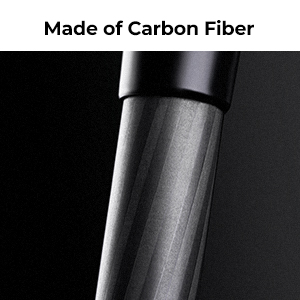 Cabon Fiber material makes the tripod lighter and stronger than aluminum tripod. The tripod with ball head weighs only 1.3kg/2.9lbs.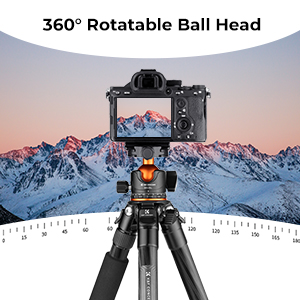 360° rotatable ball head helps to shoot grand landscape easier. A max load capacity of 15kg/33lbs, meets most photographers' need.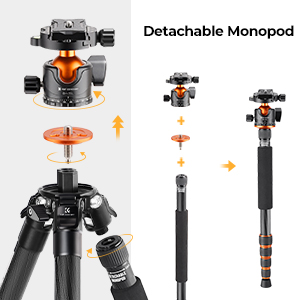 The tripod can be easily turned into a monopod or walking stick alone to make your photography more diverse.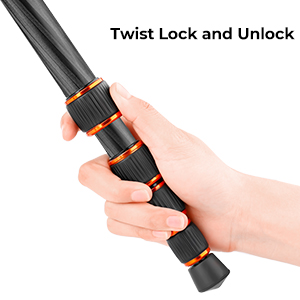 The tripod can be adjusted easily and quickly by one hand through the smooth yet secured twist locks of the three legs.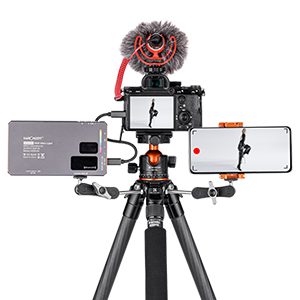 The tripod has 1/4" two extra interfaces, which allow magic arm, phone clip, etc. to be mounted.
Rating

68 reviews.

37 reviews.

65 reviews.
Price

C$679.99

C$169.99

C$583.99

C$145.99

C$1,159.99

C$289.99

Model
KF09.103
KF09.109
KF09.098

Load Capacity

15kg/33lbs
10kg/22.05lbs
15kg/33.07lbs

Maximum Working Height

1560mm/61.4"
1600mm/63"
1750mm/68.90"

Minimum Working Height

480mm/18.9"
535mm/21.06"
540mm/21.26"

Folded Length

490mm/19.3"
410mm/16.14"
585mm/23.03"

Weight

1323g/2.9lbs
1346g/2.97lbs
1395g/3.08lbs

Materials

Carbon Fiber
Carbon Fiber
Carbon Fiber

Leg Lock Type

Twist Lock
Flip Lock
Twist Lock

Leg Diameter

13-25mm/0.5-0.98"
16-25mm/0.63-0.98"
16-25mm/0.63-0.98"
All Reviews
Image

All Star

5 Star

4 Star

3 Star

2 Star

1 Star
Interference between QR Plate and Handle
The tripod is two pounds lighter than the one I had been using and much shorter when collapsed. I really like that! However, when I tilt the camera head towards the locking nut, there can be interference with the base of the quick release plate. I've discovered that you can pull out the spring loaded handle to reset its location but there are two issues with doing that. 1. Its tedious and with my big hands, hard to get in there, and; 2. I'm right handed and it seems like the handle was placed on the wrong side. I have to work it with my left hand. Turning the camera around to swing the handle to the right puts it ahead of the camera where it's difficult to see, not to mention that the ball slot (used to clear the ball stem and tilt the camera forward) is now at the back of the camera. Pretty much useless there unless you take photos of the sky. I considered swapping out the Manfrotto ball head from my other tripod as it has the tightening handle at the rear, easily accessible but I felt like I would lose the weight advantage. So, I probably wouldn't have bought this if I had know how inconveniently placed all the control/tightening handles were, but again, I do like the weight savings.

WEEKS LATER: After using this tripod for awhile I'm getting used to avoiding the design issues that caused the interference. However as a product designer myself I recognize that "workaround" should not be in a design engineers vocabulary. K&F contacted me and told me they have discussed the design issues with the team. As a result I've added a star to the rating.
19/01/2023
Very stable for the size
Bought this tripod as a travel tripod because of its light weight and small pack size. I've tested a Canon 70D and an EOS RP, each with a 100mm lens, on this tripod, and I'm surprised at how stable it is. Now I put away my little Manfrotto travel tripod and just use the K& F, because it folds smaller and is more stable with almost the same weight.
15/12/2022
Outstanding.
This is a great bargain. Very sturdy. Very nicely made very Precisely made and fun to use. If you're doing video or photography. This is the one you want.
06/12/2022
Favorite Tripod
This is my favorite. I have several tripods. I didn't think it mattered the weight, but this makes all the difference. It's not super heavy but very stable. It feels more professional.
05/12/2022
A solid price-performance tripod!
The tripod came with a carrying case and was very easy to set up. As a beginner photographer/videographer I am very happy with the quality of the product but also with the flexibility and design of the product. It folds into a compact form and has a number of other uses like tilting, rotating and setting up that I have yet to explore.

I am very happy with the tripod and especially appreciate the attention to detail of rubber bumpers to protect the camera and grip the tripod legs!
16/11/2022
A really impressive tripod. Strong, stable and many professional-level features.
A surprisingly good tripod for the price. It has many features you'd typically only find on more expensive tripods, like a weight hook and an easy-to-rotate base under the ball head to make panoramic photos easier and more level. The tripod has a good weight but is t too heavy. It's perfect for an amateur photographer, especially since it comes with a really high-quality case. Even the suitcase has a few different carrying options. There is a two piece handle that can be clipped together to keep the bag closed and
16/11/2022
Tripod As I Expected
I'm glad that I have chosen kf concept.
First of all, the legs are carbon fiber, which is more expensive than aluminum. The parts and components are well-machined, and I don't see any defects in the manufacturing process. Everything fits together well, moves smoothly, and is rock solid when tightened.
When you need a tripod in this height and size range, you can count on this one to do the job for you, take a beating, and last a long time. A nice cinch bag is included.
04/11/2022
Sturdy, well-built tripod for Photography/Video
This is a seriously excellent piece of gear. All functions are quick and easy to use and it's rock solid.
02/11/2022
A solid budget carbon fiber tripod
Unlike most carbon fiber tripod in this price range, this tripod comes with an actual video head and not the usual ball head photography head.

Everything comes in a really nice case. It is a soft padded bag that is certainly better than other tripods in this price range.

To sum up I guess I would say there is nothing here that will blow you away. Everything is solid and seems to have avoided the pitfalls of other tripods in this price range. Just a good tripod with a video head that should last you at least a few years depending on how rough you are with your tripods.
01/11/2022
Dang!!! This is so adaptive
This tripod just blows my mind on how this one works and the quality on how its made.
first it's made from carbon fiber that makes it really light. The carbon fiber also makes it stronger than my other one, The shape of the legs are round and if you know round pipes they are strong.
18/09/2022
Tripod General
Load Capacity
15kg/33lbs
Maximum Working Height
1560mm/61.4"
Max Height without Center Column
1325mm/52.2"
Minimum Working Height
480mm/18.9"
Folded Length
490mm/19.3"
Weight
1323g/2.9lbs
Materials
Carbon Fiber
Ball Head
Ball Head
Color
Orange, Black
Bubble Level
√
Tripod Legs
Leg Lock Type
Twist Lock
Leg Positions
Independent Leg Spread
√
Leg Sections
5
Leg Diameter
13-25mm/0.5-0.98"
Feet Features
/
Tripod Center Column
Center Column Features
No-center-column form for enhanced stability
Center Column Sections
1