WIFI Solar Security Camera System PIR human sensor + 2-Way Audio Built-in Battery 9600mAh AI Human Detection 2K Infrared Night Vision 8m/26ft (White)
Out Of Stock
Product Unavailable
No Cancellation Fee
Buy 99C$-15C$,199C$-35C$, 299C$-55C$, 599C$-130C$ (Prime Day)
New customer gift package
&FREE Shipping to Canada
Buy now in the K&F Concept WIFI solar security camera ► 30 Day No Reason Return ► Built-in Battery 9600mAh 2K Infrared Night Vision 8m/26ft ► Fast Shipping From CA Free ► 3W Solar 2-Way CAdio

KF50.0010

SKU:

KF50.0010

189.99

https://www.kentfaith.ca/KF50.0010_k&f-concept-wifi-outdoor-security-camera-dome-3w-solar-high-capacity-battery-pir-human-sensor-ai-human-detection-sound-&-light-alarm-with-3m-extension-cable
Buy 99C$-15C$,199C$-35C$, 299C$-55C$, 599C$-130C$ (Prime Day)
Features
* 【100% Wire-Free & Non-stop Power】: K&F Concept Solar Powered security camera can only run on 2.4 GHz WiFi (
* 【Full HD 2K & Color Night Vision】: Capture everything that's happening around your home in crisp 2K resolution. The floodlight of the outdoor camera wireless will light up when humanoid motion detection is triggered at night to scare off intruders.
* 【PTZ Camera & PIR Motion Detection】: This outdoor security camera can be remotely controlled the pan tilt zoom functions through the mobile app "K&F Cam". You will receive instant app push notifications, email alerts, and sound alarms (siren) when motion events are detected. With the 130-degree viewing wide-angle and 4X digital zoom, this home security camera guarantees panoramic shots of every corner of your property.
* 【Two-Way Audio & Multiple Users Remotely Access】: You can remotely speak to the person in front of the wireless outdoor camera in real-time through the phone app, ward off would-be burglars when off-site. Easily share the security cameras with your families or friends just with a QR scan. This surveillance cameras for home outdoor is not only a monitor for your house, it can also be used to scare off intruders or thieves.
* 【2 Optional Storage Way & Privacy Protection】: The camera surveillance exterieur sans fil can automatically record video to a micro SD card (up to 128G, not included) or cloud storage (7 days free) when motion is detected. Encrypted cloud service ensures your privacy safely. Recorded videos can be replayed via the "K&F Cam" app and client, without any additional subscription fees.
Shipping
&FREE Shipping to Canada
Sale
Buy 99C$-15C$,199C$-35C$, 299C$-55C$, 599C$-130C$ (Prime Day)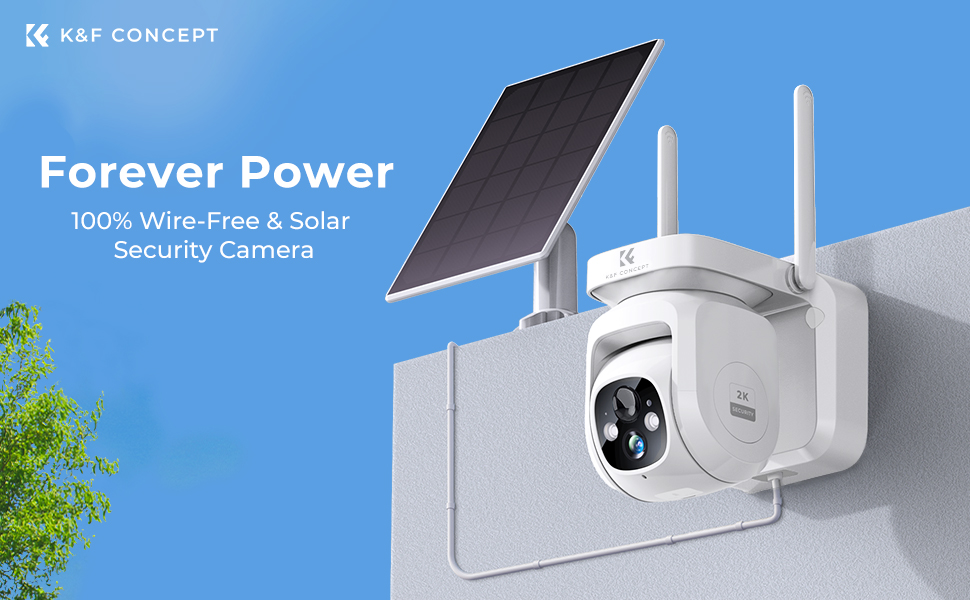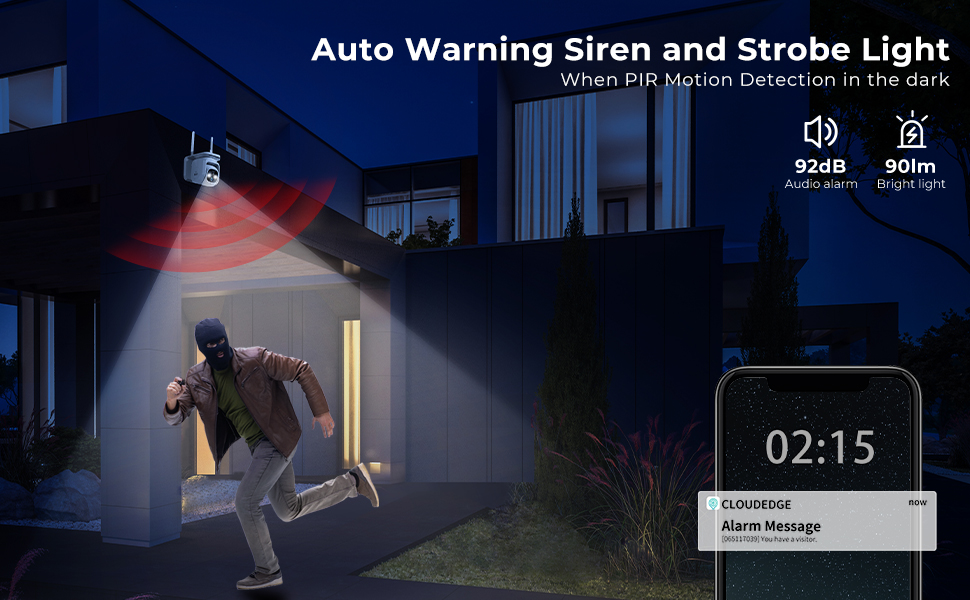 PIR motion detection and instant alerts
Outdoor wireless solar camera can detect moving targets in time. When the PIR sensor detects human motion in the dark, the product's spotlight lights up and a quick push alert notification is sent to the app. you'll know exactly what's going on around your home even when you're not there. You can also set audio warnings and alarm zones to scare away burglars who approach your home.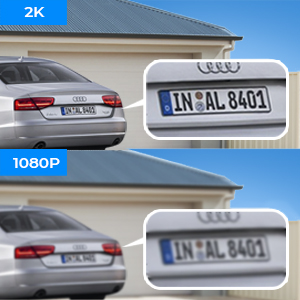 2K HD
The 3MP 1/2.8" CMOS color sensor and 4mm lens give you an all-day, high-resolution 2K image experience that's sharper than 1080p.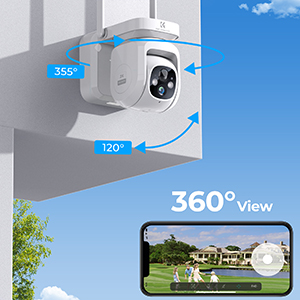 360° all-round protection
Outdoor wireless solar camera allows you to remotely control its left/right/up/down rotation through the gimbal function on the app, which provides 120° vertical and 355° horizontal rotation range, 360 degrees all-round protection for your home.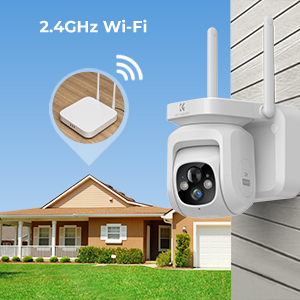 Supports 2.4GHz WiFi
Outdoor wireless solar camera is equipped with upgraded 4dBi dual WiFi antennas to provide more stable network connectivity and wider range, significantly reducing poor connectivity issues. Supports 2.4GHz WiFi, does not support 5GHz WiFi.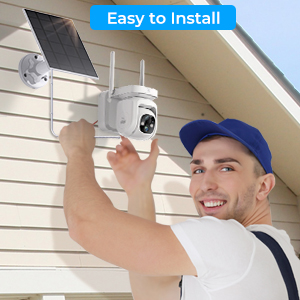 100% wireless, no plugs required
No need to run wires, you can quickly install the product in more places outdoors, solar power and batteries will continuously power the product. The best choice for saving time!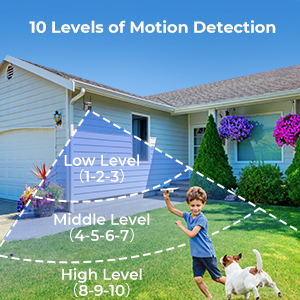 PIR motion detection
Equipped with advanced PIR sensor, it can accurately capture human motion and push messages in time, with 1-10 levels of adjustable sensitivity, if you want to detect cars or animals, please turn off the "motion detection" button.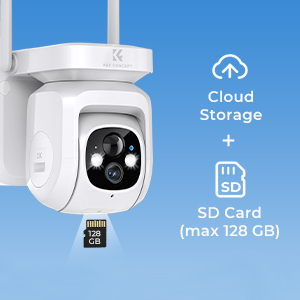 Local Storage and Cloud Storage
Local storage with support for up to 128GB Micro SD cards (not included). Requires FAT32 format with Class 10 read/write speeds.
Encrypted cloud service ensures your mobile trigger records are stored securely, and the product offers 7 days free cloud storage service.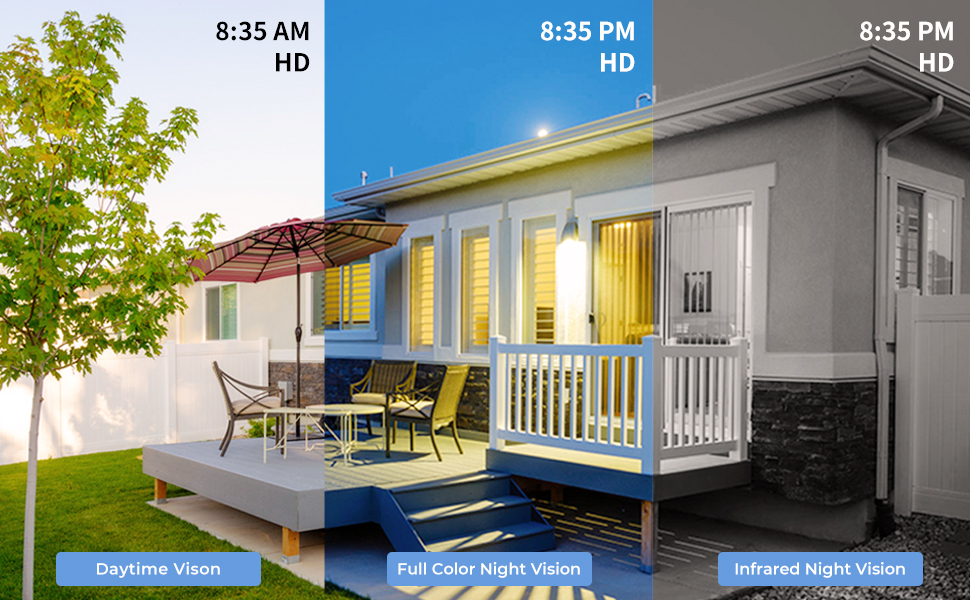 Three types of video screen
More night vision modes for you to choose from: full color, black and white.
With 2 white LEDs and 2 infrared LEDs built in, the k&f concept solar-powered wireless camera has night vision up to 33 feet, so you can see through everything even in the dark.
| | | | | | |
| --- | --- | --- | --- | --- | --- |
| | | | | | |
| | | | | | |
| | | | | | |
| Rating | 539 reviews. | 430 reviews. | 597 reviews. | 471 reviews. | 479 reviews. |
| Price | C$189.99 | C$399.99 | C$85.99 | C$367.99 | C$138.99 |
| Model | KF50.0010 | KF50.0031 | KF50.0006AUS | KF50.0035US | KF50.0013A |
| Video Resolution | 2K | 2K | 2K | 2K | 2K |
| Power Supply | Solar + Battery | Solar power | constant electricity | Constant Current | Solar / Built-in Battery |
| Built-in Battery Capacity | 9600mAh | 28800mAh | / | 5200mAh(single) | 9000mAh |
| Storage | Cloud storage/micro SD (maximum 128G) | Cloud storage/micro SD (maximum 128G) | 7 Days Free Cloud and Micro SD card (up to 128G/cl | micro SD (maximum 2TB HDD) | Micro SD card(up to 128G/NVR/Cloud) |
| Pan & Tilt | Horizontal 355°/Vertical 120° | Horizontal 355°/Vertical 100° | Horizontal 355°/Vertical 120° | / | Horizontal 180° |
| Motion Detection | PIR | PIR | PIR | PIR | PIR |
| Motion Detection Range | 10m/33ft | 12m39.4ft | 20m/65.6ft | 7m/22,96ft | 25m/82ft |
| Waterproof IP Rating | IP66 | IP66 | IP66 | IP65 | IP66 |
| Night Vision | Full Color Night Vision/Infrared Night Vision | Infrared Night Vision, Color Night Vision | Infrared Night Vision, Color Night Vision | Infrared night vision | Infrared Night Vision, Color Night Vision |
| Night Vision Range | 10m/33ft | 20m/65,61ft | 20m/65.6ft | 8m/26.24ft | 25m/82ft |
| Alarm Method | Audible alarm | Sound alarm | √ | Information push | √ |
| Two-way Talk | √ | √ | √ | √ | √ |
| Connection Method | 2.4 GHz wifi | 2.4GHz WIFI | 2.4GHz wifi | 2.4GHz WIFI | 2.4GHz wifi |
| Application | CloudEdge/KF CAM | UBox | | UBox | |
All Reviews
Image

All Star

5 Star

4 Star

3 Star

2 Star

1 Star
Very good Kanera with a great app and no cloud costs
already own several solar cameras and this is my second model from this brand. When selecting the cameras, I make sure that they run with the CloudEdge app. Then all cameras can be easily added and operated intuitively with the successful app. The K&F Concept camera is well made and there are hardly any differences to the cameras from other brands that I own. German instructions and the necessary assembly material are included. Adding the camera via the Cloud Edge app and setting it up is easy. Once the app is set up, all you have to do is hold the QR code generated by the app in front of the camera and wait for the confirmation, done. A cloud subscription is not necessary. But I recommend inserting a micro SD card. The Cloudedge app then offers all the settings you need, such as motion alarms, a chronicle of alarms in a clear timeline, live image, alarm settings, etc. You can view every movement, which by the way is recorded with an image, in the timeline again and again and if you have a micro Inserted SD card, there is also a small video about it. The camera also records sound with films and you can use the camera as an intercom. But the sound quality is only mediocre... There is also a light and an alarm. Of course, every video and every picture has a time/date stamp. You can choose between SD and a higher resolution. The picture quality in general and the night vision are good and absolutely sufficient. You can also pan and rotate the camera via the app, which also works well. The notification of movements on the cell phone works reliably, but an alarm has sometimes not been triggered. In general, this works well and the sensitivity is also adjustable. From my experience with other cameras that I have been using for a longer period of time, I can report that the solar panel is almost sufficient to supply the camera with electricity all year round. So far I've only had to supply two cameras with additional power once in a year. A good place for the solar panel is important. The built-in battery could become a shortcoming at some point, so if it should give up the ghost, you can throw the camera away. But as I said, my other cameras have lasted for over a year... Conclusion: Here too you get a very good solar camera with useful functions, many setting options and a really good app. The resolution and night vision are good, the sound quality is mediocre and the motion detection is good. The solar panel should be enough to supply the camera with enough power for most of the year. Iran saves laying the annoying cable here, but you have to place the solar panel on a good sunny spot, then you might have to help with electricity 1-2 times a year, otherwise the solar panel is sufficient.
12/06/2023
Camera top, app good
What I liked right away when unpacking is that a drilling template and suitable fastening material for the camera and solar panel are included in the scope of delivery. The camera is first activated near the router and connected to the app. The app then checks whether the WLAN signal strength at the desired installation location is sufficient to maintain the data rate for video transmission. If the space is suitable, assembly can begin. The connection to the solar panel can be extended with a micro USB cable, otherwise a distance of 2 m can be expected if the cable is properly laid. If the solar radiation is not sufficient for continuous operation, the camera can also be recharged with a power pack. The image quality is very good in the highest resolution, the night vision is also good and can also be displayed in color with the built-in lights. The camera can be freely panned and rotated via the app and with a micro SD card, the camera can store videos directly in the device in the event of a motion alarm and, if necessary, also play them via the app. Unfortunately, this does not always work the first time. If required, a paid cloud service is also possible, here the costs range from $2.99 per month/$30 per year for a 3-day backup (after three days the old data is deleted) for the 7-day backup the prices range from $4.99 per month to $50 per year. The alarm is reliable, a certain alarm range can be set and a sensitivity level can also be set, but here it is not clear which movements are hidden and what causes the change. It would also be great if an image was displayed directly with the notification without switching to the app. In my opinion, the app is not yet as mature as the camera, but it serves its purpose.
11/06/2023
Good connectivity and flexibility thanks to the solar panel and integrated battery - picture could be better
The camera actually has some functions and properties that made me feel positive. The first thing to mention is the connectivity with the Cloud Edge app, which I have already used several times and is also one of the most used. Setup is super easy, select the camera, scan the QR code while you are in the correct 2.4Ghz network and you're done. Second, of course, is the enormous flexibility, since it can function completely independently. Does it have an integrated battery at the top that is charged via a small solar panel. If there is not enough sun, the battery will last for several weeks (depending on the number of alarms and recordings recognized, of course). Another nice feature is the 360 degree option, where you can simply rotate the camera around its own axis in the app and get the complete all-round view. Unfortunately, the 5MP is only available in the live view, although I wouldn't even declare the image as 4K. In daylight it is quite good and recognizable, but I would have actually wished for a little more image quality. A lot of details can be seen in the night vision and you also get a wide view that easily covers 7 meters, which covers my needs. Access to the memory card is - unfortunately as with most cameras - super sluggish, buffers forever and sometimes hangs, so that it then simply displays the live image instead of the recording. Somehow no manufacturer has been able to do this well so far, although the reading speeds of the memory cards and the Internet lines are more than sufficient in most cases to realize this. The workmanship is very good, the quality is also right, the picture could be a bit better and the access to the recordings too, but overall it's a good camera that we can gladly recommend.
10/06/2023
Good camera, night vision ok, price reasonable, solar ok, app works, cloud for a fee
1. Delivery: The package arrived quickly and undamaged. Well packed in the box: + camera + solar panel + charging cable (in case the sun is not enough) + brackets (solar panel and camera) + fastening material + drilling templates (solar panel and camera) + sticker (deterrent) + very easy to read installation instructions (German , English, French, Italian, Spanish) and quick start guide (only in English) 2. The camera: The camera makes a high-quality impression and the solar panel is also well made. All plug contacts fit perfectly and the installation is simple. The drilling templates are a good idea and work great. You have to set up the camera the first time you start it. As usual with most, this only works in the 2.4 GHz network. To do this, download the "CloudEdge" app, register an account and add the camera to the app. If it is recognized, you have several setting options for the alarm, sensitivity, volume, etc. You can store recordings and photos on the micro SD (not included). Access is easily possible with the app via WLAN and also on the go. The camera can still be moved in the app, so almost no angle remains unobserved. I think it's good that you're not forced to use the cloud (for a fee), but you can try it out for 7 days. With the intercom, the postman is no longer "left alone" and you can talk to each other. The camera takes good pictures and videos from the recordings (see attachments). I'm not sure how long the battery will last. The manufacturer has indicated to keep the state of charge (as usual for batteries) between 20 and 80%, but it would be much better to be able to control this function in the app, not everyone is constantly checking how full the battery is at the moment, especially as this changes greatly depending on the weather. 3. Conclusion: A good camera for a fair price. It remains to be seen how well the battery lasts, especially now in the dark, cold season. Otherwise everything you need to look after the right thing. Thank you for reading, I hope the description was useful.
09/06/2023
Good quality but too classic!
The processing of the camera is very good and from the first touch you get the feeling that the product is of good quality. All the accessories needed for implementation are included, except for the SD card, which must be purchased separately in addition to the notifications on the phone to benefit from the "Replay". Setup is quick and the application that lets you connect it to your Wi-Fi network and use it on a daily basis is overall effective and quite educational to use. As for the features, I'll give you the details since everything is in the product description: it's pretty standard but you don't expect more from this type of device and in fact it's more than enough to monitor your home. Image quality is good both day and night, although the camera sometimes seems to need time to adjust to rapid changes (e.g. the sun re-emerging after a cloud has moved ahead). As for the WiFi reception, it's pretty good because I placed it under a porch about 7 meters from the box: thanks to two partitions and a supporting wall, I have a very good signal and I have no losses to report. The camera reacts directly and fluidly. In summary, it is a good model that comes with all the features that can be expected from a security camera and that also has the advantage of being content format and easy to use. While I think the price is a bit high, it's still possible if you don't want a model full of unnecessary options (as is often the case).
09/06/2023
Pivoting unit, solar charging capability, multiple communications, wireless, with SD card option.
The swiveling camera system is ideally suited for a wide range of applications. It has an app control that works over the Internet. For campers or off-roaders without an internet connection, there is no possibility of using it directly via Bluetooth, for example. This would be particularly interesting for campers. Otherwise, the camera can be controlled remotely and communication can also be carried out remotely. So it is no problem to call up the current views from vacation or a business trip via a bookable cloud system, but also to receive movement reports. Motion alerts work well. If the camera z. B. used inside the house, office, warehouse, etc., so every movement is registered, recorded (in cloud operation) and sent to the smartphone or tablet as movement information. With SD card operation, you can then decide for yourself when to call up the recording. A loud signal can be added. The same procedure can be used for outdoor use, but it makes no sense to switch on the siren, as this can be triggered by a cat walking by. The built-in speaker and microphone in the camera are also very beneficial. In the entrance area, not only monitoring can take place via motion detection, but also communication, and that from vacation or business trip via smartphone. The camera can also be used to monitor the children's room. Due to the high resolution, it can also be used to monitor and read values and statuses from meters and machines. The night vision function expands the field of application considerably, but you have to know that the illumination does not go very far. You may still be able to see an entrance or door area, but a larger area, such as an entire house front, is not possible without the use of additional infrared LEDs. For this you need an additional infrared spotlight, i.e. invisible light, then you can see larger areas perfectly. The camera delivers a good and sharp picture. It also copes well with backlight. Motion detection works very well. You can also readjust the sensitivity. Connecting the camera to the internet is relatively easy. The camera and the smartphone must be registered with a router, switch, access point or repeater via WLAN. Nothing works without registration. As soon as this is synchronized and the registration via app has taken place, the camera can be accessed. In the documentation everything is described very well in words and pictures. A good internet connection is required. The connection to the supplied solar panel is absolutely professional and useful. The solar panel can be optimally aligned to the sun regardless of the camera location. It is equipped with a long cable. This is a perfect solution that we use all the time. When used outdoors, the camera should either be protected from the rain or get an additional rain and snow cover. The installation of the camera and the solar panel is easily possible with the help of the supplied screws and dowels. Conclusion: This is a very good wireless and panning camera system with optional solar power supply, as it should be. The motion notifications and images can be received via the app anywhere in the world where the Internet is available with the addition of cloud services. Storing the data on a microSD card is also very important and essential. Installation and operation are kept simple, all you have to do is follow the instructions in the good documentation. The processing and the quality are very good. The field of application is very extensive and varied due to the swiveling and the good recordings with the addition of the solar panel.
08/06/2023
It looks super sharp day and night.
It looks great day and night. I recommend it for quality and price.
08/06/2023
Excellent video and audio quality even with night vision
If I had to put a catch to it, I'd say it sounds a bit ugly when you press the alarm button, but otherwise everything is positive
07/06/2023
Very good surveillance camera with a long service life
Monitoring and controlling the camera works wonderfully with the associated app. The camera can be connected to the app quickly and without any problems. Once charged by cable, the camera lasts a really long time before it needs to be recharged. Thanks to the solar panel, there is no need to lay a power cable. The images can be seen very well and are stored on an SD card (not included). The camera can be called up and controlled at any time via the app. You can hear sounds and speak through speakers. Great value for money. Clear recommendation
06/06/2023
K&F CONCEPT 2K Wireless Solar Security Cameras
K&F Concept WIFI Solar Security Camera System Operating Video
K&F Concept WIFI Solar Security Camera System Operating Video
Surveillance Cameras
Video Resolution
2K
Power Supply
Solar + Battery
Built-in Battery Capacity
9600mAh
Storage
Cloud storage/micro SD (maximum 128G)
Pan & Tilt
Horizontal 355°/Vertical 120°
Motion Detection
PIR
Motion Detection Range
10m/33ft
Waterproof IP Rating
IP66
Night Vision
Full Color Night Vision/Infrared Night Vision
Night Vision Range
10m/33ft
Alarm Method
Audible alarm
Two-way Talk
√
Connection Method
2.4 GHz wifi
Application
CloudEdge/KF CAM