8x21 Kids Binoculars, High Resolution, Shock Resistant Compact Kids Binoculars for Bird Watching, Hiking, Camping, Travel, Learning, Spy Games and Exploring Green
Buy 99C$-15C$,199C$-35C$, 299C$-55C$, 599C$-130C$ (Prime Day)
New customer gift package
&FREE Shipping to Canada
Brand:

K&F Concept

Buy K&F Concept 8x21 kids binoculars, high resolution, shock resistant compact kids binoculars for bird watching, hiking, camping, travel, learning, spy games and exploring green online, C$37.72 free shipping to Canada.

KF33.047

SKU:

KF33.047

37.72

https://www.kentfaith.ca/KF33.047_8x21-kids-binoculars-high-resolution-shock-resistant-compact-kids-binoculars-for-bird-watching-hiking-camping-travel-learning-spy-games-and-exploring-green
Buy 99C$-15C$,199C$-35C$, 299C$-55C$, 599C$-130C$ (Prime Day)
Features
* High-quality optics with 8x magnification and roof prism system deliver bright, sharp, crystal-clear images. Best for bird watching, real children's binoculars for boys and girls;
* Made of soft Q-elastic ABS soft rubber material, it can prevent children from hurting their eyes when they use it. The textured rubber on the outside helps to grasp, light, anti-fall, healthy and odorless, and protects children's health;
* BAK4 prisms, FMC multi-coated lenses, can control optical reflections to create clear and colorful images. Multi-layer broadband coating technology makes the scene you see more realistic;
* Offering individual diopter and focus adjustments, the binoculars are adjustable in size so they can be used for different eye distances. More importantly, its compact size and equipped storage bag are convenient for children to store and carry;
* Equipped with an adjustable lanyard, it is easy for kids to carry it around. This binoculars is an ideal gift for little adventurers and explorers over 3 years old, perfect for bird watching, hunting, hiking, traveling and enjoying the wilderness;
Shipping
&FREE Shipping to Canada
Sale
Buy 99C$-15C$,199C$-35C$, 299C$-55C$, 599C$-130C$ (Prime Day)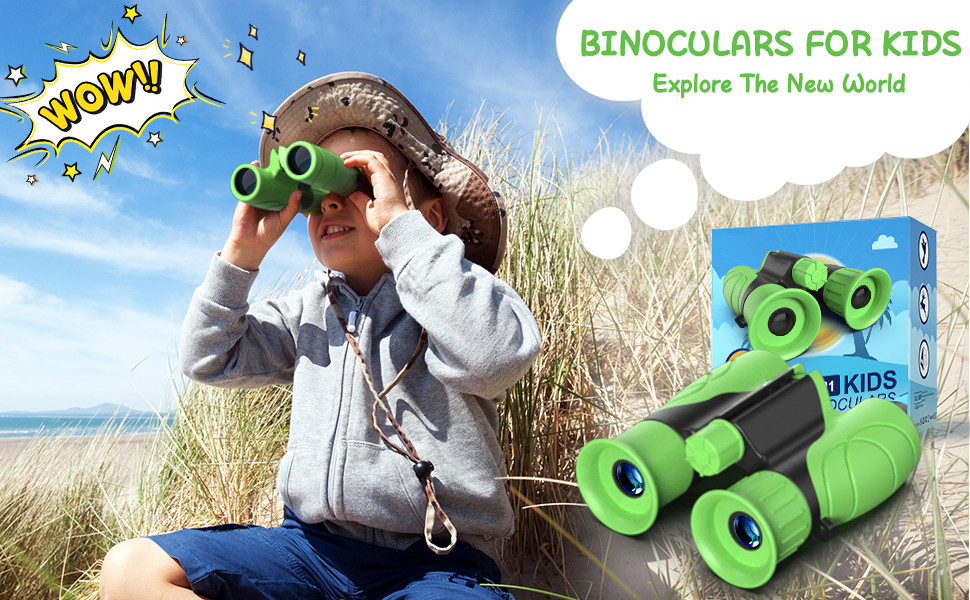 TOP Gift Binoculars Toy for boys and girls
The best gift for toddlers and teenagers for Christmas, Halloween, New Year, Birthday etc. It is a professional compact binoculars, it is in no way a toy binoculars! Small, light and professional, perfect for boys and girls to explore the world.
HOW TO USE
Step 1:Hold the binoculars: Hold the eyepiece until you can see the enlarged objects.
Step 2:Adjust the clarity of the left eye: Adjust the central focus gear until the view is clear and sharp.
Step 3:Adjust the sharpness of the right eye: Turn the diopter wheel until the vision is clear again.
Step 4:Adjust the pupil distance for both eyes: Bend the binoculars to a single circular view.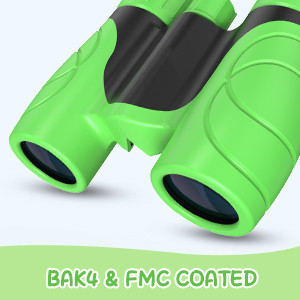 BAK4 & FMC-BESCHICHTET
The multi-layer broadband coating with BAK4 FMC prism green can control optical reflection to produce clear and colorful images. It is also ideal for stargazing in low light.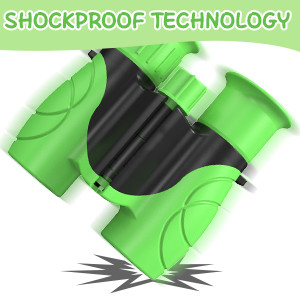 Shock-resistant technology
The anti-shock technology can extend the life of the telescope, which is suitable for children of all ages without having to worry about damaging it.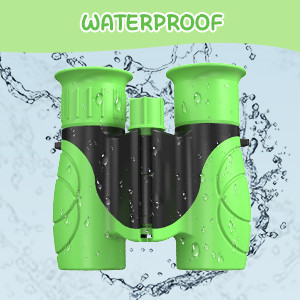 Waterproof
Thanks to its waterproof performance, your child can use it in any weather and explore new worlds.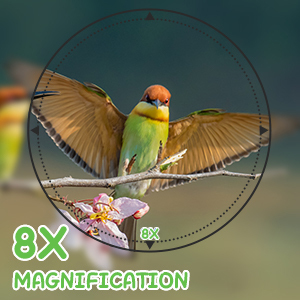 8X ENLARGEMENT
8x magnification lets the world's most beautiful landscape shine in amazing size before your eyes.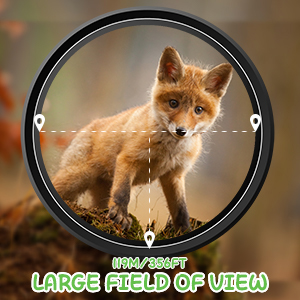 THE GREAT VIEW
Telescope's field of view: 122M to 1000M , Provide high quality and stable visibility.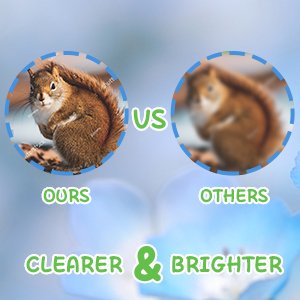 Clear and brighter
Compared to other telescopes, we use higher quality and clearer lenses, so our magnification is larger and the image clearer.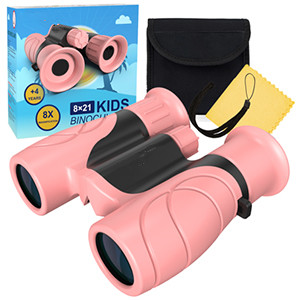 Small but powerful, reusable
Small, lightweight design, the child can throw them into the backpack without hesitation.
Easy to focus, the leaves of a tree became sharp at a distance of 1000 meters.
Foldable eyepiece design, it can be adjusted by turning the middle button to easily adjust the eye distance gap for each child.
Ideal for bird watching, hunting, hiking, exploring, viewing, traveling, opera, football games, stargazing, outdoor fun etc.
Ideal for studying, stargazing with night vision in low light conditions, sports competitions, theater, boating, traveling, concerts, enjoying the wilderness, etc.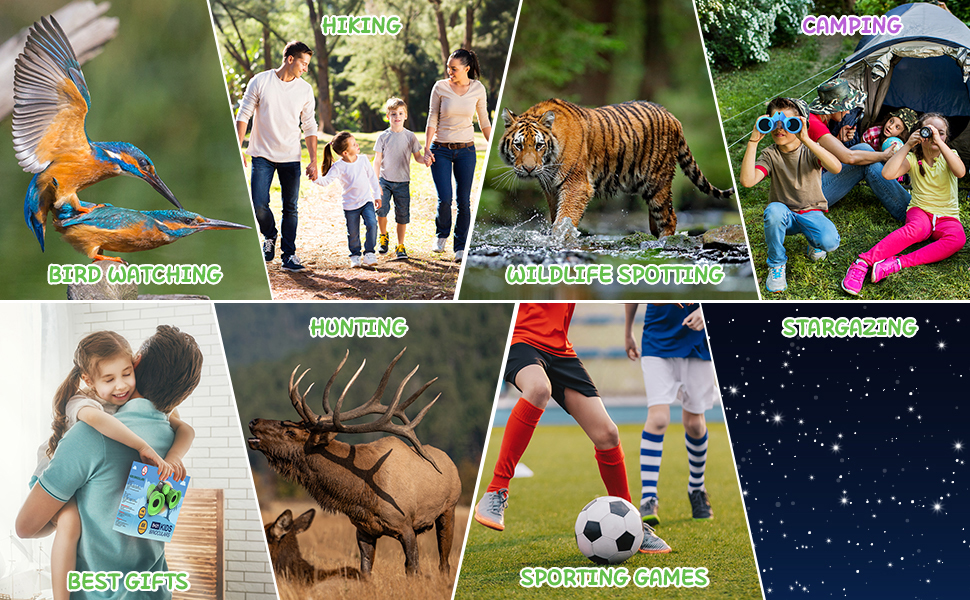 | | |
| --- | --- |
| Size | 8x21 |
| Magnification | 8 times |
| Objective lens diameter | 21mm |
| Eyepiece diameter | 12mm |
| Prism | BAK4 |
| Exit pupil diameter | 2.6mm |
| Exit pupil distance | 10.5mm |
| Product size | 9.5*4*10cm |
| Material | plastic+rubber+optical glass |
| Packing list | binoculars*1, lanyard*1, storage bag*1, mirror cleaning cloth*1, instruction manual*1 |
| Packing weight | 239g |
| Packing size | 12.5*6*12.5cm |
All Reviews
Image

All Star

5 Star

4 Star

3 Star

2 Star

1 Star
Perfect child's gift!
These binoculars have become a popular birthday gift in our large family. So far I've bought 4 of these for ages 4-8 so far. The colors are vivid. The quality and durability is top notch. The kids take them everywhere. Such a great gift for little explorers! Would highly recommend!
17/05/2022
Excellent Product! Excellent Buy!
I purchased these binoculars in pink and green for my 8 yr old granddaughter and 5 yr old grandson for Easter. I was pleasantly surprised at the quality of these binoculars. They are not a cheap pair! They have a good weight to them and the material they are made from seems very durable and makes them easy for young children to hold on to. My granddaughter figured them out really quickly. We showed my grandson one time how to adjust them and he did great. They had a lot of fun looking different things through them. I will definitely be looking for more items from this company for them.
16/05/2022
UPDATED REVIEW
They look nice and seem like they'd handle being dropped and tossed around. However, they will not focus to be able to get a clear image. My son will not use them because he can't see through them. One eye piece will appear clear but then the other is not. Also in order to get a full picture image you have to have them unfolded all the way.

UPDATE: the company reached out to me and sent us a new pair that works properly at no extra charge. Very helpful, very fast and very friendly. Thank you very much! My son absolutely loves them to bird watch!
15/05/2022
Perfect and Pink
I was amazed at the quality of these little binoculars. They're built well and work well, even for a pesky little 3 year old who loves looking closely at a multitude of things. They were really for a Christmas gift but I couldn't wait to give them to her so she could go exploring. We both love these binoculars!
14/05/2022
They Really Work
The 3 yr old loved this gift and it doesn't matter that she uses them forwards or backwards because she thinks she's really doing something with them. I can't send a picture because she was using them to investigate her new achievement being potty trained, it was hysterical and it wasn't number one!
13/05/2022
Great little buy!
These are great! My kids will not put them down. I gave this to them before a surprise trip to the zoo and they were so excited! Well worth it. We got the green and the pink and they did not disappoint!
12/05/2022
Kids binoculars that actually work!
We have purchased binoculars for our kids in the past, and they were complete junk. These binoculars act like actual binoculars but are sized and designed for kids. My kids love them because they work! HIGHLY recommend purchasing these if your kids like observing things outdoors.
10/05/2022
Buying a second pair…
Originally purchased these for my three-year-old son who is obsessed with my mother's binoculars. I was pleasantly surprised when they arrived and seemed extremely durable. Upon using them we realized that they are actually very good quality. We love the grippy exterior for little fingers. I also love that they are on a break away lanyard, so it will keep my three year old safe. All in all we loved them enough to buy a second pair for our daughter. Now we don't have to fight over one pair.
08/05/2022
Great gift for children
Really pleased with this product. Gave it to my 6 year old grandson and he loves it! Already dropped it twice! No problems I feel it will hold up well under his 6 year old treatment. Great product!
07/05/2022
Great binocs for kids
I purchased these binocs for my 5 year old granddaughter who was using a toy pair. She loves them and can see the birds she has been looking for! These are not heavy, easy to hold and focusing is not difficult. Thanks!
06/05/2022
There are no faqs for this product.