4K adult night vision binoculars, 3-inch display, 7-stop infrared night vision adjustment, 5x digital zoom, support video recording and photo shooting
Buy 99C$-15C$,199C$-35C$, 299C$-55C$, 599C$-130C$ (Prime Day)
New customer gift package
&FREE Shipping to Canada
Buy K&F Concept 4k adult night vision binoculars, 3-inch display, 7-stop infrared night vision adjustment, 5x digital zoom, support video recording and photo shooting online, C$134.99 free shipping to Canada.

KF33.061

SKU:

KF33.061

134.99

https://www.kentfaith.ca/KF33.061_4k-adult-night-vision-binoculars-3-inch-display-7-stop-infrared-night-vision-adjustment-5x-digital-zoom-support-video-recording-and-photo-shooting-suitable-for-day-and-night-hunting-camping-surveillance
Buy 99C$-15C$,199C$-35C$, 299C$-55C$, 599C$-130C$ (Prime Day)
Features
* 3-inch large high-definition display: Equipped with a 3-inch LCD screen, the digital screen is directly displayed, the picture is stable, and the display effect is clear and intuitive, allowing you to obtain a more comfortable and broader visual experience. 5x digital zoom, which can magnify distant objects in the dark, it can help you capture and record the most exciting moments of the day or night;
* Full HD 4K video and 36MP pictures: Night vision binoculars can achieve 4K full HD video and 36-megapixel photo shooting. The captured video and photos can be exported to a computer for viewing using a data cable, or stored in a memory card. Support 32GB expansion memory, so you can review the wonderful moments at any time. (Note: memory card not included).
* Motion Detection Stabilization: This day and night night vision binoculars capture clear photos and videos in 100% darkness. When shooting videos of running animals, you can turn on the motion detection function, and there is also an anti-shake function when shooting photos;
* 7-speed infrared lighting night vision function: 7-speed infrared night vision adjustment, you can choose the suitable gear according to the ambient light, see farther and clearer;
* A variety of power supply methods: built-in 4000mah rechargeable battery power supply, mobile power supply or DC power supply. Don't worry about changing batteries all the time, saving and environmentally friendly. It can be your good helper for hunting, camping, fishing, outdoor adventure, search and rescue, wildlife observation, bird watching, and taking landscape photos.
Shipping
&FREE Shipping to Canada
Sale
Buy 99C$-15C$,199C$-35C$, 299C$-55C$, 599C$-130C$ (Prime Day)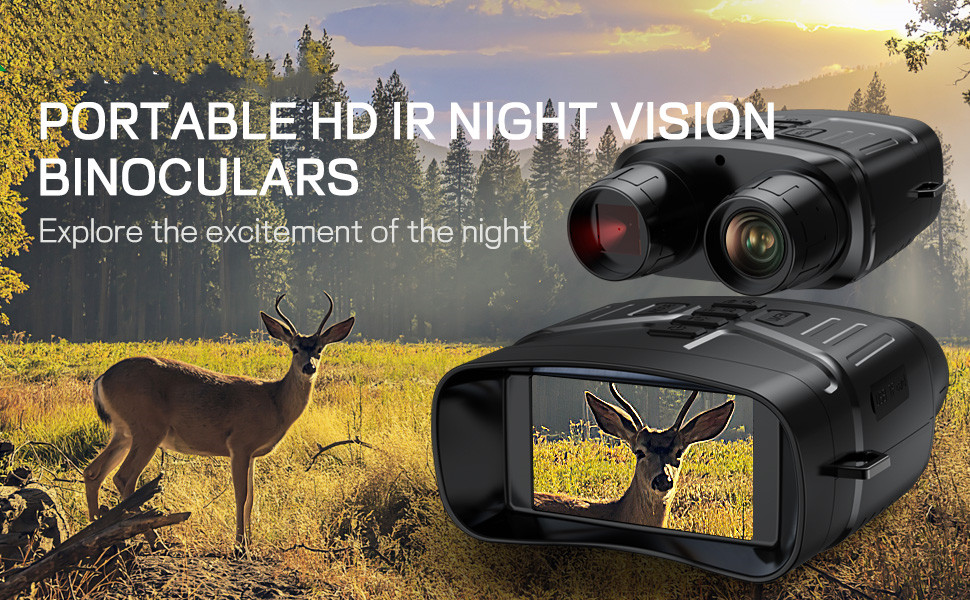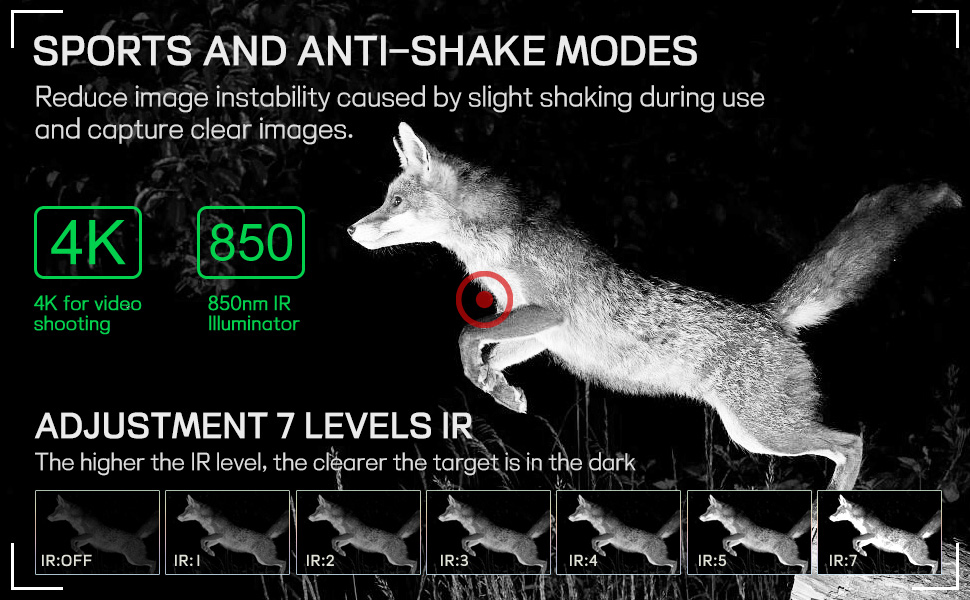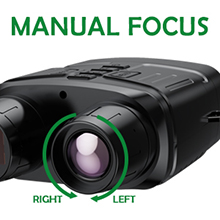 Manual Focus
Take a easy rotate to adjust the best focal length according to the actual observation distance till target is clear.
If the observation distance is far, please rotate the lens to left. If the distance is near, rotate the lens to right.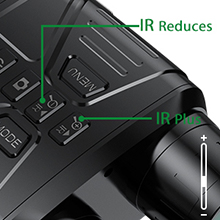 7 Levels IR Illumination
Short press IR+ button to turn on. Short press the IR+ or IR- button to adjust the infrared intensity level.
Note: If the battery voltage is not enough, the IR LED level will down automatically. IR level can up to 7 levels when the battery power is full.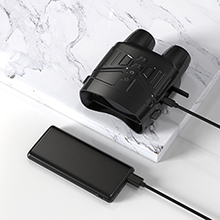 4000mAh Rechargeable Battery
Support mobile power or car charger charging, no longer worry about the problem of battery power.
Use the MODE button to easily switch between photo and video modes. Can download to computer to save and share your best moments.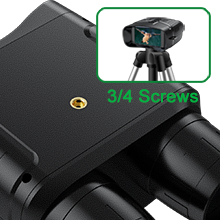 Screw Thread for a Tripod Hole
The base of the night vision device has a standard tripod slot so as to fix the night vision device on the tripod.
These night goggles work great on a tripod or when laying still, observing wildlife.

All Reviews
Image

All Star

5 Star

4 Star

3 Star

2 Star

1 Star
It's worth every penny
I bought it to watch owls at my girlfriend's house at night. There were quite a few of them last year, but we rarely saw one. My new night vision goggle is perfect for this and virtually any other wildlife spotting you would expect. Featherweight, light and easy to use, the IR is impressive up to a distance of at least 150 meters. Sharp images, stealth reconnaissance, with very little light, even the default view is pretty impressive. Definitely my favorite purchase for several years. I can't say anything about the water resistance/tolerance, but everything else gets a
15/05/2023
Great binocular set
bought this product for my son-in-law who is an avid deer hunter. He said it's the perfect size, compact, lightweight and easy to use. He can't wait to take it with him on his hunting trips next fall.
14/05/2023
Great buy.
I got these for my husband's birthday and he loves them. They are excellent for spotting wildlife in the backyard and can reach quite a long distance. He's really happy with it and the sharpness is great.
13/05/2023
Good product! I would buy it again
actually bought it as a present for my father-in-law. He lives in the country so he wanted it to see the animals in the forest. He loves it and uses it all the time
01/05/2023
So much fun... mostly
This is so much fun. They work great. The only downside is that they won't always be up and running unless you keep them plugged in all the time. If you don't use them for a week or so, they will lose their charge.
30/04/2023
Useful and entertaining!
Bought these for my husband for his birthday. We live on a small 5 hectare farm surrounded by woods. He's not really tech savvy but found them quite easy to use. He can check on our animals at night and see what our dogs are barking at. The images are very clear and you can see quite far distances with them. They are a little different to use than traditional binoculars, but once you learn how to use them, they're easy to use. Our grandchildren are fascinated by them and constantly want to "look" after the chickens and goats. One of the kids wants a couple for their birthday!
29/04/2023
Very clear night vision goggles
I bought these night vision goggles for my husband for his birthday and he absolutely loves them. They are an excellent choice for hunting, exploring, or other outdoor activities. The picture quality is really good, they are very clear and easy to use. I was amazed at how much more and how clearly you can see at night. You can also record and take photos. This is a great product and I would highly recommend it to anyone who needs night vision goggles.
29/04/2023
Exactly as advertised!
The quality of this item was much better than I initially expected. It comes in a great bag with a charging cable. The device is very easy to use and comes with an instruction manual. Thank you for the article. In the evenings we really enjoy looking across our field at our horses or to see what else there might be.
23/04/2023
Simply the best
I've had the night vision binoculars for a few weeks now and it's a great deal. It's easy to use and offers a much better view than regular binoculars because you don't have to hold it to your face to view the landscape. It took me a little getting used to the screen as it's almost like watching a video on a cell phone and I'm in the habit of holding binoculars to my eyes. But once I felt it, it was wonderful. Be sure to read the instructions beforehand so you know how to use the record and delete buttons. But even if you don't, I found the intuitive operation easy. My only wish would be that it had a better zoom, but for the price I paid it compares to others that cost more! I don't think the experience can't be beat for the price.
22/04/2023
Great buy.
got these for my husband's birthday and he loves them. They are excellent for spotting wildlife in the backyard and can reach quite a long distance. He's really happy with it and the sharpness is great.
22/04/2023