49mm Circular Polarizer Filter Ultra-Slim, Multi Coated
Buy 99C$-15C$,199C$-35C$, 299C$-55C$, 599C$-130C$
New customer gift package
&FREE Shipping to Canada
Buy KENTFAITH 49mm circular polarizer glass filter ultra-slim, multi coated online, worldwide free shipping and 30 days return guarantee.

KF01.1310

SKU:

KF01.1310

15.99

https://www.kentfaith.ca/KF01.1310_49mm-circular-polarizer-glass-filter-ultra-slim-multi-coated
Buy 99C$-15C$,199C$-35C$, 299C$-55C$, 599C$-130C$
Features
* 【Enhance Color & Contrast】CPL filter can enhance the color and contrast, and remove non-metallic reflections such as water, and glass to show the true color, especially used in white cloud and blue sky photography.
* 【Waterproof 18 Multi-Layer Coated】18 multi-layer coating reduces reflection, and glare and improves color saturation and contrast.
* 【Imported AGC Glass Avoids Glares】Made by Japanese imported AGC glass, no effect on the image color, restores the natural color.
* 【Ultra-Slim Frame Avoid Vignetting】Only 5.3mm thickness frame, there is no vignetting even on wide-angle and telephoto lenses, and the CNC-non slip frame helps install and remove the filter easily.
* 【NOTE】This filter is compatible with all 49mm lenses. Please verify your camera's lens thread size before ordering. This number is always preceded by a "ø" (diameter) symbol. New and old packages are sent randomly.
Shipping
&FREE Shipping to Canada
Sale
Buy 99C$-15C$,199C$-35C$, 299C$-55C$, 599C$-130C$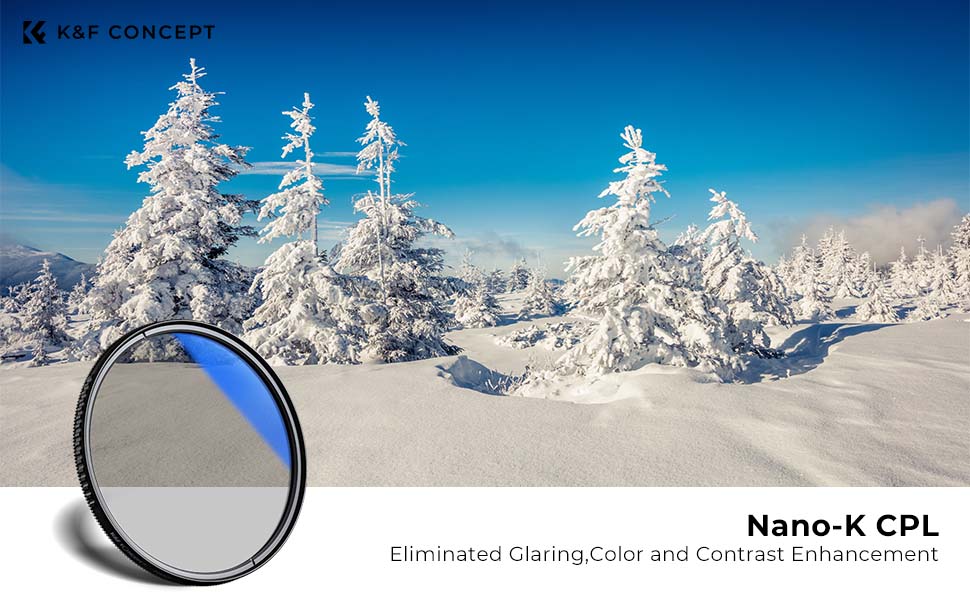 K&F Concept Polarizers Filter
Polarizers provide color and contrast enhancement. Reflected light often shows up as a whitish glare that washes out color in an image. A Polarizer corrects this problem by producing deep, dramatically blue skies. It also removes glare from non-metallic surfaces, such as windows and water. Color saturation in general, especially outdoors, can be improved significantly. Think of it as sunglasses for your camera.
---
Area of sky most effectively polarized with a Circular Polarizer: Point your index finger at the sun. With your thumb extended at a right angle (90°), rotate it around the axis of the index finger. It will point out the band of deepest blue from horizon to horizon.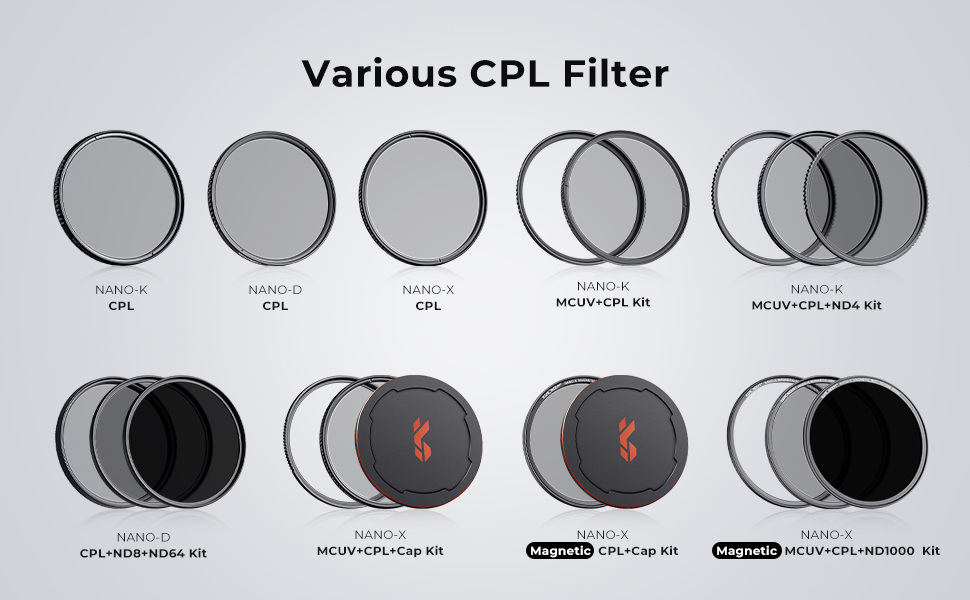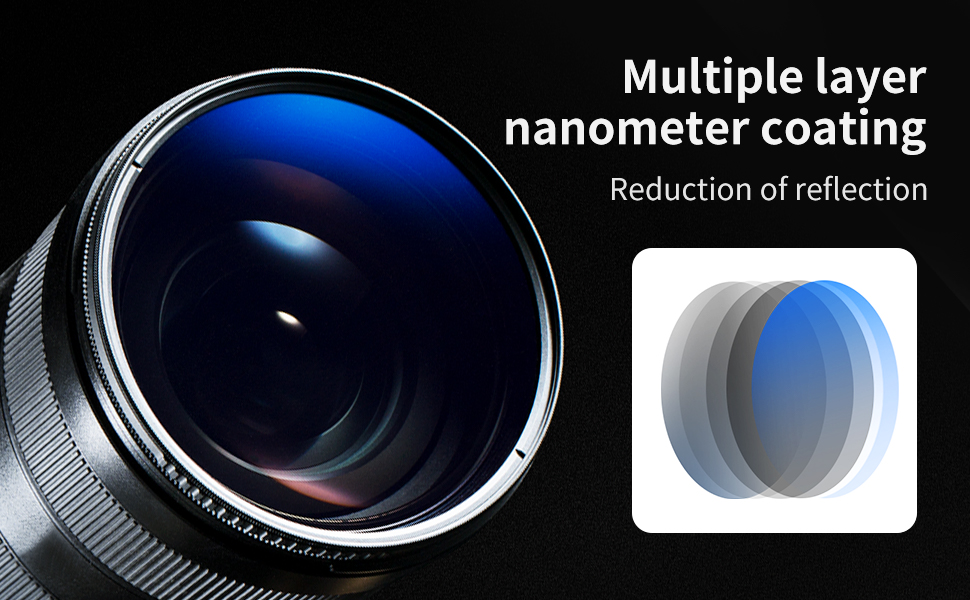 • The K&F Polarizers Filter Multi Resistance Coating (MRC) helps repel water, dust & grease, while also preventing ghosting.
• Ultra-thin filter frames to help avoid vignetting on super wide-angle lenses are also designed to hold a lens cap.
• These filters are equipped with a straight knurling edge for non-slip, easy attachment, and removal.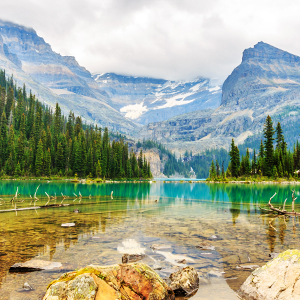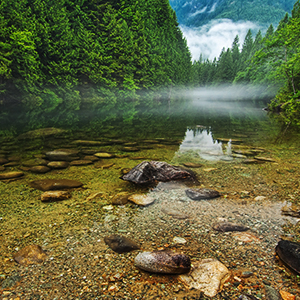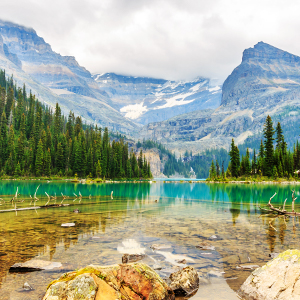 | | | | | | |
| --- | --- | --- | --- | --- | --- |
| | | | | | |
| | | | | | |
| | | | | | |
| Rating | 40 reviews. | 44 reviews. | 85 reviews. | 63 reviews. | 15 reviews. |
| Price | C$15.99 | C$44.99 | C$81.99 | C$30.99 | C$37.99 |
| Model | KF01.1310 | SKU.1700 | SKU.1619 | KF01.992 | KF01.1785 |
| Resolution | Remove Glare/Enhance Color & Contrast | 1 Second Switch/Eliminate stray light/Improve colo | 1s Switch/Protect Lens/Enhance Color & Contras | Eliminate stray light/ Color contrast enhancement | |
| zoom range | Landscape Photograhy | Landscape Photograhy | All Scenes | Landscape photography | |
| Screen | Nano-K series | Nano-X series | Nano-X series | Nano-X series | |
| Filter Material | Japanese AGC Glass | Japanese AGC Glass | Japanese AGC Glass | Japanese AGC Glass | Optical glass |
| Multi-Coating | 18 | 28 | 28 | 28 | √ |
| waterproof | / | √ | √ | √ | √ |
| scratch-resistant | / | √ | √ | √ | |
| HD | / | √ | √ | √ | √ |
All Reviews
Image

All Star

5 Star

4 Star

3 Star

2 Star

1 Star
not bad for the price
Works best shooting in daylight. Did some night shooting in the city and found a lot of blue halos in my photos. I have a k&f polarizing filter for my 23 mm lens that is far better for reducing this
29/03/2023
Good value
It came packaged very well, it's a great light filter for daylight pictures. A little tough to removed but that's a plus knowing it won't fall off.
12/02/2023
Superb quality and works great for sunny days
Very solid quality and great for outdoor shooting. I often shoot outdoors and realized that at my highest shutter speed I was still getting too
Much light. This can
Help darken your image especially in bright days.
05/02/2023
Decent cpl for the money
Ive had no issues with this cpl. It provides the polarization im looking for, does not distort, and I havent noticed any color cast. O shoit in Raw anyway and adjust colors to my liking.
25/01/2023
Exactly what I was looking for
As advertised
23/01/2023
great results for the low price.
great results for the low price.
22/01/2023
Nice polarizer.
Polarizer fits well and effectively neutralizes glare like it should. I have noticed that it can be difficult to remove by hand especially if I put it on in my air conditioned office then take pictures out in the hot sun for a few hours. I couldn't get it to budge by hand so I bought a wrench. When the wrench arrived in a few days and the lens had been in its climate controlled environment for a while, I tried it again by hand and it magically unscrewed with ease. So I use the wrench if I'm in a hurry now or wait for things to cool down.
21/01/2023
Great value, prompt delivery and quality product.
Super product it fits like a glove, screws on with ease. Reduces glare.
18/01/2023
A well made filter that does the job.
I bought this filter to reduce reflections and it works beautifully. The filter seems well made. The thread on the filter allows me to attach it to my kit camera lens - it's a good fit and I have not had any trouble with the fit; the thread is smooth when attaching. I like that the filter comes in a protective plastic case, which I thought made added to the quality of the product.
06/01/2023
Great CPL filter. Surprised and impressed!
I'm a professional photographer by trade and I recently bought a Fuji X-T3 as a walkaround camera. I wanted a polariser to put on the 35mm f/1.4 but didn't want to spend as much as my regular B&W filters, so went for this, keeping my expectations really low.
I needn't have worried. There's little colour cast, the rotation ring is smooth and well damped and the results are just as good as the B&W and Tiffen filters I normally use for my top end work. Obviously, they're not as slim as the aforementioned brands, and there's definitely a slight colour shift, but it's absolutely minimal and easily corrected in post. Not forgetting that this is a tiny fraction of the cost though, so for the money especially, it's more than acceptable. Impressed and more than happy to recommend these filters.
31/12/2022
These images belong to K&F Concept end users.
K&F Circular Polarizer Glass Filter Ultra-Slim, Multi Coated
Do you know what process your filters have gone through? let's take a look
How to check your lens size?
Gimbal Stabilizers
Product
0.6%
Filter
size
49mm
Resolution
Remove Glare/Enhance Color & Contrast
zoom range
Landscape Photograhy
Screen
Nano-K series
Filter Material
Japanese AGC Glass
Multi-Coating
18
waterproof
/
scratch-resistant
/
HD
/
Transmittance
∕
Antireflection
Pattern
√
Filter Thickness
5.5mm
Shape
Circle
Ring Material
Aviation aluminum alloy