67"/3.3lbs Aluminum Camera Video Tripod 22lbs Load with Detachable Monopod - K255A4+BH-28L (old model TM2515M1)
Buy 99C$-15C$,199C$-35C$, 299C$-55C$, 599C$-130C$ (Prime Day)
New customer gift package
&FREE Shipping to Canada
Free Shipping. 30 Day No Reason Return. K&F Concept tripod features stable & construction, wide height ranges, compact&portable design.

KF09.083V1

SKU:

KF09.083V1

139.99

https://www.kentfaith.ca/KF09.083V1_kf-lightweight-compact-aluminum-tripod-67-inch-tm2515m1-for-canon-nikon-dslr-camera---kf-concept
Buy 99C$-15C$,199C$-35C$, 299C$-55C$, 599C$-130C$ (Prime Day)
Features
* 【Compact & Portable】 Quality military magnesium aluminum alloy,corrosion resistance; tripod with ball head weighs only 3.30 lbs, it can be 180°reflexed and folded to 16.5'', easy to put it in a backpack or suitcase when travel.
* 【360° PANORAMA】The weight of tripod is 1.5kg. The 28mm large metal ball head provide 10kg load capacity, it can be rotated 360 degrees, helping to expand dslr camera activity range when panoramic shooting.
* 【Detachable Monopod】 It can be turned into a lightweight monopod or walking stick alone to make your photography more diverse.
* 【EASY SET UP】 5 sections tube leg and the max diameter is 25mm; Spiral type locking knob allows you to adjust the working height in seconds; The height without column reaches 51'' and the height with 2 sections center column is 68'', making standing shooting easier.
* 【Multi-Angle Shooting】Spring self-locking foot tube angle adjustment button, just press and release to quickly adjust the opening and closing angle of the three legs; can help you achieve lowest angle shooting, macro shooting, and other special photography through inverted central axis.
Shipping
&FREE Shipping to Canada
Sale
Buy 99C$-15C$,199C$-35C$, 299C$-55C$, 599C$-130C$ (Prime Day)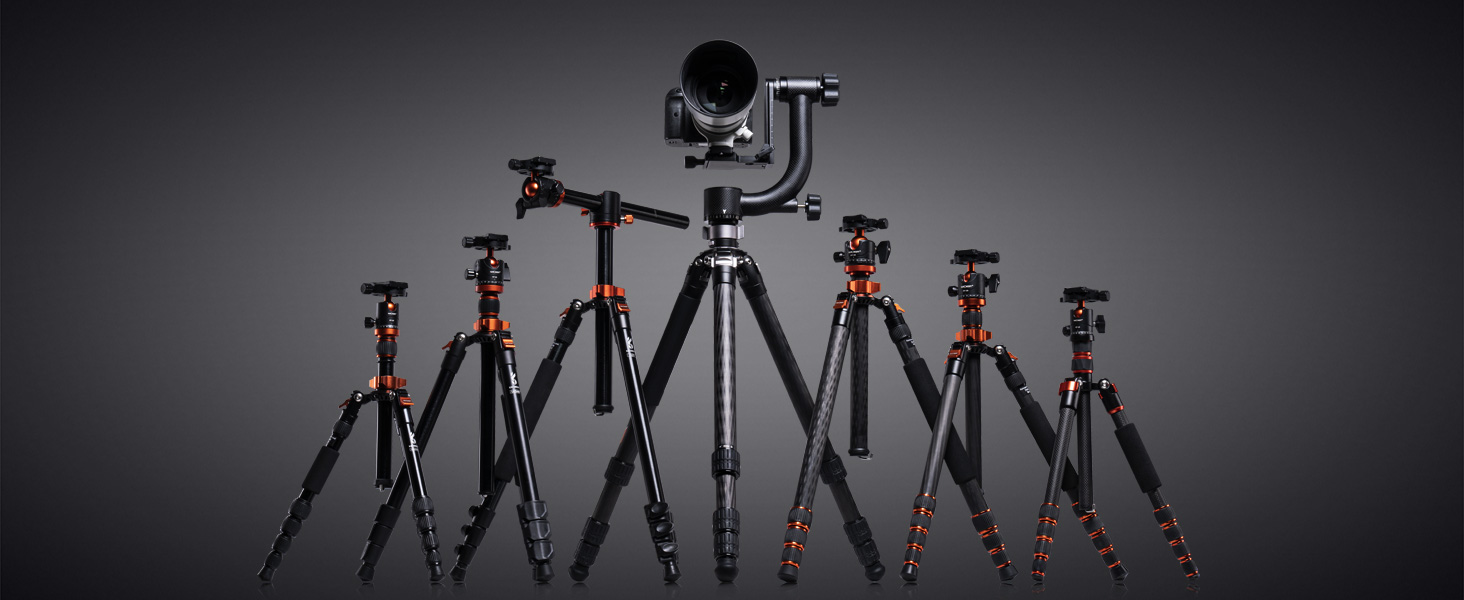 Aluminum Alloy Material
16.9'' Folded Length
10KG Load Capacity
68.9'' Working Height
Detachable Monopod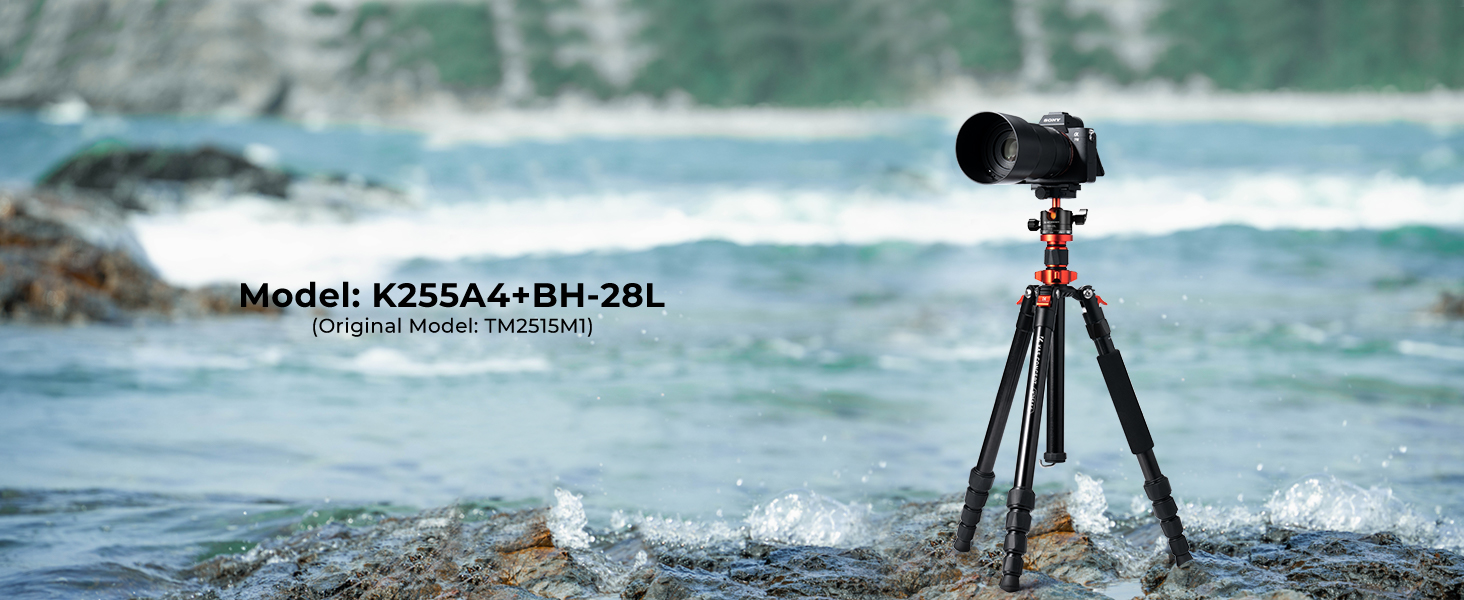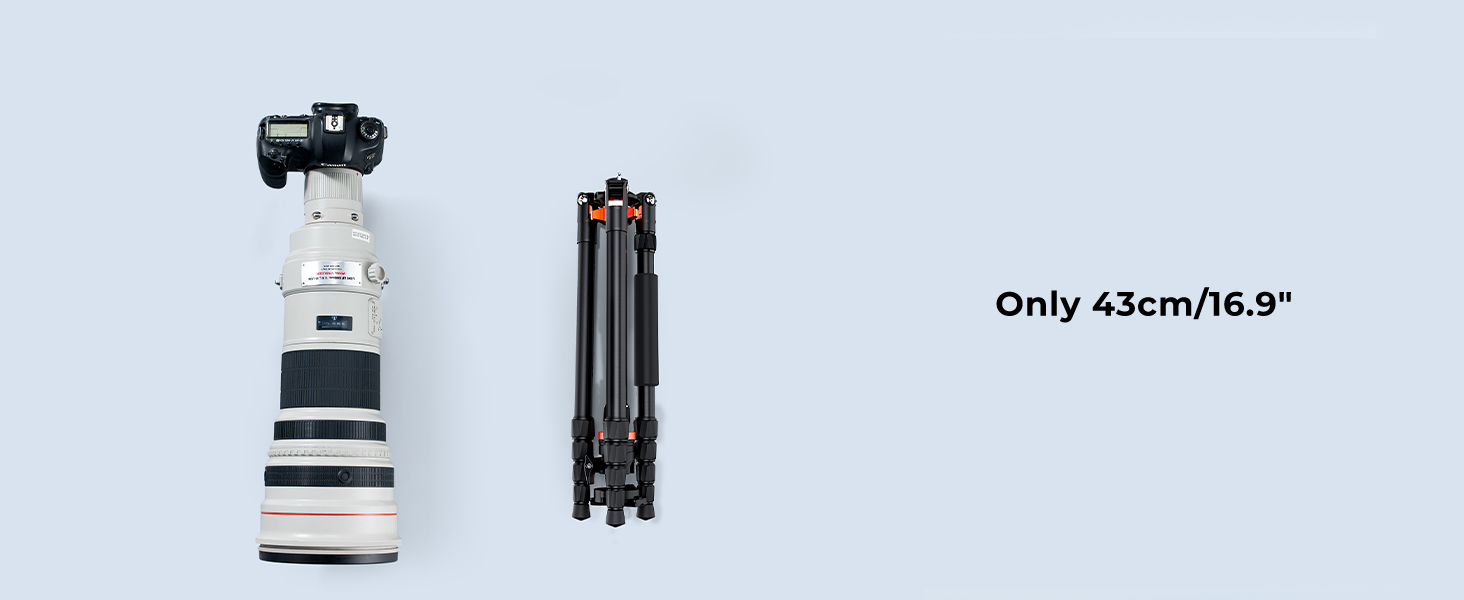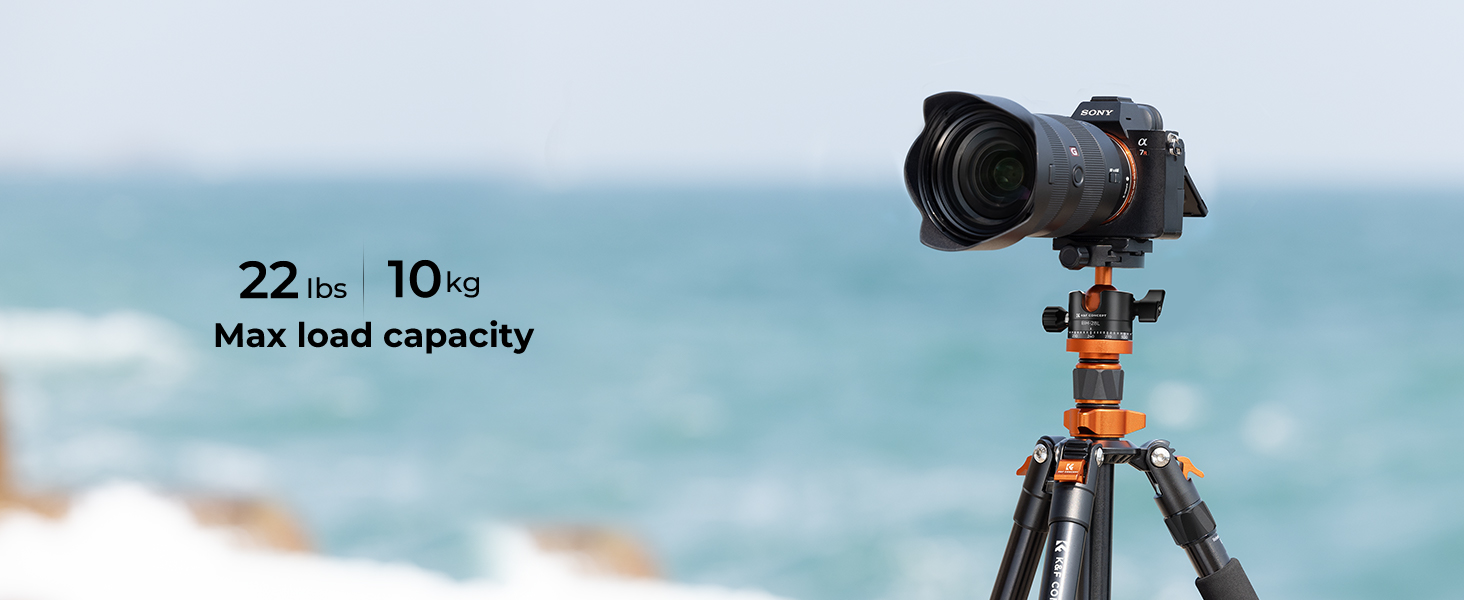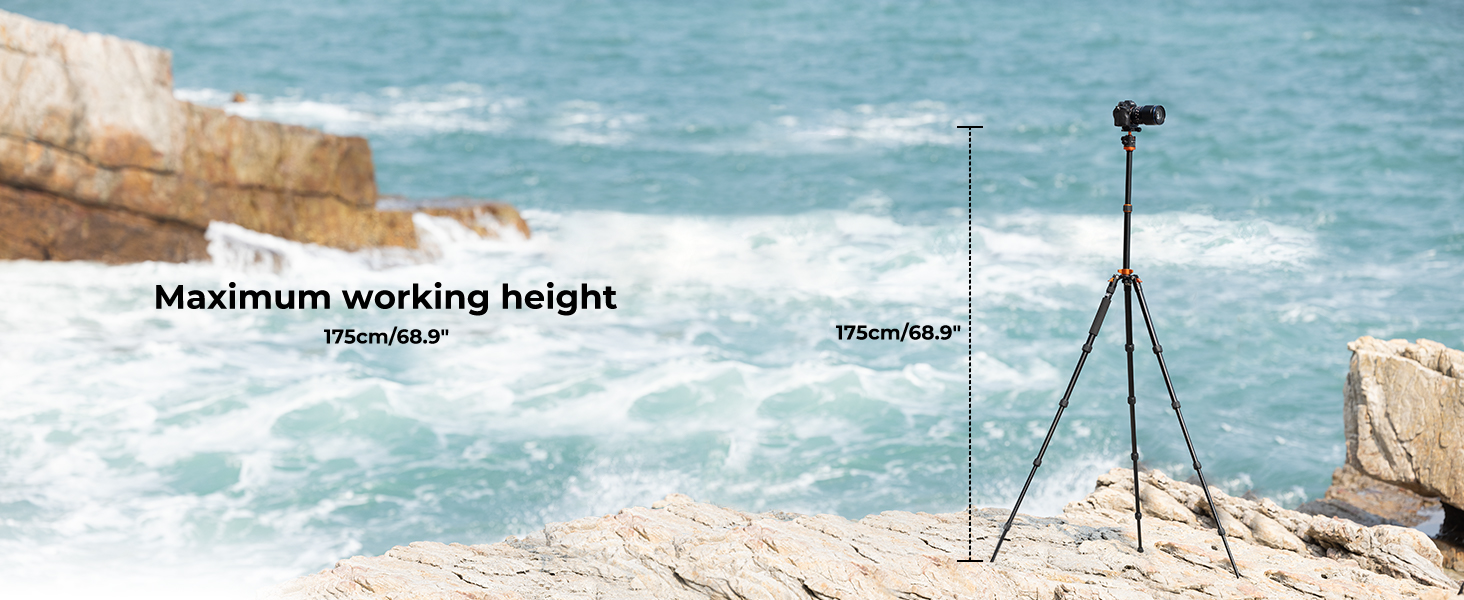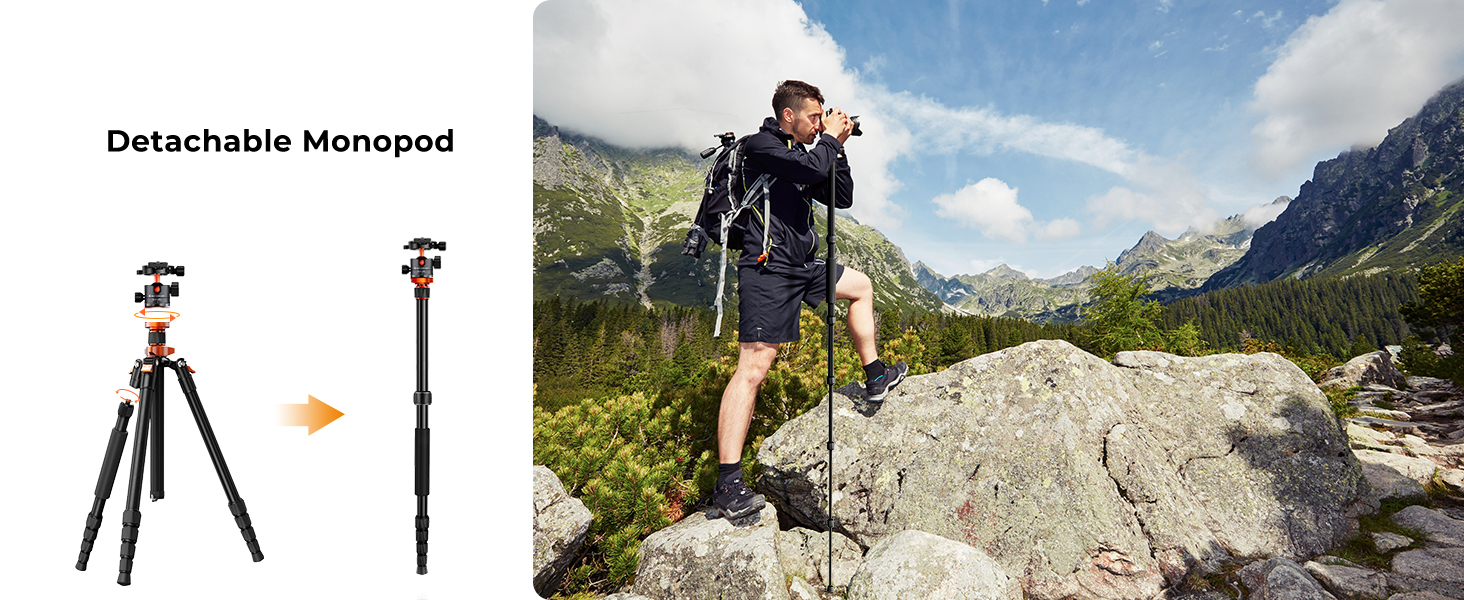 Previous
Next
Rating

38 reviews.

222 reviews.

53 reviews.
Price
C$139.99

C$439.99

C$109.99

C$129.99

C$90.99

Model
KF09.083V1
KF09.087
KF09.084

Load Capacity

10kg/22.05"
10kg/22.05lbs
10kg/22.05lbs

Maximum Working Height

1710mm/67.32"
2000mm/78.7"
1580mm/62.20"

Minimum Working Height

520mm/20.5"
580mm/22.83"
510mm/20.08"

Folded Length

420mm/16.54"
480mm/18.90"
410mm/16.14"

Weight

1500g/3.3lbs
1440g/3.17lbs
1547g/3.41lbs

Materials

Magnesium aluminum alloy
Magnesium aluminum alloy
Magnesium aluminum alloy

Leg Lock Type

Twist Lock
Flip Lock
Flip Lock

Leg Diameter

13-25mm/0.51-0.98"
14-23mm/0.55-0.91"
16-25mm/0.63-0.98"
All Reviews
Image

All Star

5 Star

4 Star

3 Star

2 Star

1 Star
Very good tripod/monopod
upgraded my old tripod to this new design and am quite happy with it. I bought a K&C Concept tripod two years ago, it was more of a traditional design that has worked very well for me for the past two years. However, that was a little bulky even when folded and in his pocket, making it more difficult to take with him when travelling. I was looking for a newer tripod design and saw this one so I gave it a try and it was way better than its predecessor. When folded and stored in its carrying case, this tripod is only about 20 inches long. The tote bag is also well padded making it easier for me to carry it on my shoulders. The tripod itself also weighs a lot lighter and offers much better portability. I like the new ball head design, it's easier and faster to securely attach/remove my Canon DSLR on it and it's easier to rotate it 360 degrees during the photo shoot. It can also be quickly converted into a monopod by pulling up the center pole. The three legs look smaller but are more stable and lock/unlock faster. The orange metal parts on the tripod also make it look much nicer and more attractive than the standard single color tripods out there. Overall it was a real upgrade for me.
08/04/2023
Total confiabilidad
Excellent product, original, reliable, versatile and very wearable. fast delivery, recommended
06/04/2023
Es gibt kein besseres Stativ für weniger als 100 £. Zeitraum.
tri-pod in it's simplest form is a three-legged stand for supporting a camera or other apparatus. I've used several tripods throughout the years, and each one excels at one thing or another. Some are light, some are super sturdy, and some are miniature making them easy to pack away or carry on a day trip. For my general photography use (product photography, long exposures) I've found that finding the right set of compromises leads to the best tripod for my needs. That's where I've found the K&F to excel at meeting my specific set of needs. Here's what I like: The tripod is light. It's not feather weight, or forget it's there light, but it's light enough to be able to carry around all day strapped to a comfortable camera bag. Weighing in at just 3.3 lbs, it's about as light of a travel tripod built of aluminum I could expect. Completely folded, this tripod is about 17 inches long. Plenty of "collapsability" to be able to pack it on the side of your bag without it sticking up in the air. This tripod feels really well built for being a sub £100 travel tripod. When you hold it, it feels and looks substantial. Not heavy, just very tight tolerances, and generally aesthetically pleasing. The anodizing on the aluminum lock-outs and ball head are a really nice touch. It is rated to hold 22lbs/10kg. I'm certain it will hold that easily, if not more. The rubber grips are all implemented nicely with zero movement between the rubber grip and the lock out it turns. So, the absolute most important factor for me in a tripod, is obviously the stability. While this tripod will extend to almost 69 inches/175 cm, it's most stable when the center support is at the mid to low setting, and only the top three leg extensions are out. It's absolutely rock solid at it's med high, to mid level settings. When everything is extended to full height, a strong wind would absolutely introduce some movement. Leg lock outs are as expected. They lock out firmly and confidently when unfolding. When extending the legs, the rubber twist locks are easily tightened and I have zero doubt about their ability to stay put. The 28mm ball head is surrounded by what looks like a teflon sleeve offering smooth camera movements. The head also pans buttery smooth like a geared or fluid head would. The Arca-Swiss mount is a great option and seems to be the new standard in quick mounts. The Arca base also has a spirit level which is handy if your camera doesn't have in-camera level indication. One leg is designed to be used as a monopod. I don't use that feature, but it's nice to have and easy to transition. Under center post is a bag or weight hook. This can be removed revealing a 3/8 female mount. Great for mounting a second ball head for quick camera position swaps. My only gripe would be that the feet are not replaceable. They are shallow spiked rubber feet that are not interchangeable. They work fine for light duty use. All in all, I am very happy with this tripod purchase. At £90, I'm not sure you could get a better photo tri-pod for general use photography. It's lightweight, stable, and looks great. Just buy this tripod already, you won't be disappointed.
31/03/2023
A nice looking travel tripod to replace my entry level tripod.
Years ago, not knowing what I was looking for, I bought the Albott 70 inch tripod. It was a good entry-level tripod that's fairly traditional with its pan/tilt head and quick release. As I started setting up my video and photo gear (I'm still a total beginner) I realized I needed a more compact and stable tripod. This K&F Concept TM2515M1 tripod is certainly not professional level, but it is a good travel tripod. With a ball joint and screw cap plate, I found it to be more versatile than the Albot tripod. It also looks a lot better with the orange highlights. I've attached a couple of pictures comparing the two tripods. As you can see, with the K&F tripod, I don't compromise on the characteristics of the other tripod while getting a more compact and stable frame. The build quality of the K&F is great. All parts are metal and the tripod legs are tightly bolted, giving it a very secure feel. From the pictures, you can see that compared to the traditional tripod, the head is smaller and easier to store without the long handle getting in the way. The maximum height is comparable to my old tripod, but the K&F is much smaller when packed. The carrying case is also more robust. It's heavy nylon and the zipper is a nice size. What I lose compared to the traditional tripod is the height of the monopod, but I'm not a tall guy so I would never use the mono fully extended anyway. The K&F has the upside-down function that is usual for tripods of this type. It makes it possible to record videos and images from a much lower angle without compromising camera safety. I can imagine a ground level time lapse on the bank of a river looking at boats on the river. Form really follows function here. The orange accents accentuate all the connection points and the wraparound design gives this tripod an overall sleek look. I am very happy with my purchase and the price under $100 was exactly what I was looking for.
27/03/2023
On par with other travel tripods
This is the first tripod I've bought in a loooooooong time. Most of my shots these days comes from a smartphone that's being handheld so I was really looking forward to buying this for my XT4. All and all this is an amazing tripod for the price and there isn't a whole lot more you could reasonably ask for it. Pros - This thing is feature rich. It has a gear hook, monopod, and the ball head assembly is entirely removable which really helps distribute the weight of the thing when it's hanging off the side of a bag. - Smooth actuation. Sometimes the locks get in the way of breaking it down but I'm actually listing this as a pro. If you actuate the legs to their furthest position at each stop then try to push them any further the locks will really get in the way. This means that if your leg is going to give way on terrain it's going to stop pretty easy. - Plenty tall when you extend the center column. I'm 6' and I can bring my camera to eye level easily. Cons - This thing is not light. It's on par for other aluminum tripods but if you're really looking to drop your weight look into carbon fiber. - The monopod leg is SLIGHTLY shorter than the rest of the other legs. This isn't too big of a problem if you take some time to balance the other two legs. It's also not a problem if you're shooting landscape and wildlife and you're already going to have an uneven distribution between the legs. Missing/Neutral - No threads to put feet or screws on the bottom of the mount. Not a problem for me but do be advised that if you're shooting on sand or water and you want feet it could be an issue. Not sure why you'd buy this tripod for that purpose at this price point anyway.
26/03/2023
Balance between lightness and stability at a very competitive price
Pleasantly surprised with the characteristics of this tripod, a great balance between lightness and robustness, without sacrificing versatility and at a tremendously competitive price.

This aluminum tripod, which weighs around one and a half kilos, nevertheless offers great stability. It is very comfortable to transport, both in the folded and unfolded position and the pack includes a bag made of thick and resistant material to carry the tripod.

The legs have 3 removable sections, all of which are quite thick, secured with the clip system. even with the tripod fully extended they offer great stability. The tweezers are very comfortable to open and close and allow the legs to be removed and picked up very quickly.

The opening angle of the legs has 4 adjustable positions from the lever on each leg:
1-In folded mode, the legs are upside down, open 180°.
2-In normal mode, from the folded mode we stretch the legs and they automatically lock in an opening range of approximately 0 to 30°.
3-With the mentioned tabs we can open the legs more, around 45° or 60°.
4- The tabs allow us to place the legs parallel to the ground, open at 90°.

Versatility is another of its strengths. The central bar is extendable and also mobile and reversible, to achieve shots at ground level. This center bar includes a hook to hang weight and increase stability. With the tripod fully extended, we can raise and extend the center bar, at the cost of sacrificing some stability, reaching a similar height to my vision standing up.

Another quirky feature is that one of its legs can be unscrewed and screwed onto the center pole to turn it into a monopod.

In short, I especially appreciate that it does not have the two problems that my old travel tripod from a famous tripod brand had: the camera is well supported and stable (load up to 10kg), and the final sections of the legs are not as thin as to cause lack of stability by bending.

It will certainly be my new travel tripod and also for daily interior photography, we will see how it holds up with continued use, but the feeling is very good.
14/08/2022
Great tripod
I am very happy with the product, it is sturdy and easy to use. The only thing missing is the quick release button, but other than that it is worth the money.
04/08/2022
Gifted
I bought this as a gift for a friend of mine who is very keen on photography.
I recently bought an overhead tripod from the same company and thought it was great.
This one is smaller and lighter.

My friend is really happy with the tripod. He said he loves how many different ways it can be used to support his camera and that he can't wait to try them all out soon. I will give an update once he as tried it more but so far he says he cannot find any issues with it whatsoever.

UPDATE: So he took it to the woods for a test run and absolutely enjoyed the experience. He raved about the foam support for easy carrying on the monopod leg. Never did it feel like he was lugging gear around.
The only tiny little niggle he had was with getting used to using screw turn release for the legs rather than latches.

Either way it's still 5 stars from a very appreciative gift recipient.
03/07/2022
Love this tripod!
Easy to set up, stable and fairly light. Smooth adjustments.
01/07/2022
Beaucoup plus stable que mon précédent
Lunette d'approche.
17/06/2022
Tripod General
Load Capacity
10kg/22.05"
Maximum Working Height
1710mm/67.32"
Max Height without Center Column
1300mm/51.18"
Minimum Working Height
520mm/20.5"
Folded Length
420mm/16.54"
Weight
1500g/3.3lbs
Materials
Magnesium aluminum alloy
Ball Head
Ball Head
Color
Orange/Black
Bubble Level
Tripod Legs
Leg Lock Type
Twist Lock
Leg Positions
3
Independent Leg Spread
Leg Sections
5
Leg Diameter
13-25mm/0.51-0.98"
Feet Features
Can be reversed 180° and folded
Tripod Center Column
Center Column Features
Center Column Sections