Aluminum Camera Tripod Travel Tripod 22lbs/10kg Load Max Height 68"/175cm with Detachable Monopod & 1/4" Quick Release Plate for DSLR (TM2515M1)
New customer gift package
&FREE Shipping to Canada
Free Shipping. 30 Day No Reason Return. K&F Concept tripod features stable & construction, wide height ranges, compact&portable design.

KF09.083V1

SKU:

KF09.083V1

119.99

https://www.kentfaith.ca/KF09.083V1_kf-lightweight-compact-aluminum-tripod-67-inch-tm2515m1-for-canon-nikon-dslr-camera---kf-concept
Features
* 【Compact & Portable】 Quality military magnesium aluminum alloy,corrosion resistance; tripod with ball head weighs only 3.30 lbs, it can be 180°reflexed and folded to 16.5'', easy to put it in a backpack or suitcase when travel.
* 【360° PANORAMA】The weight of tripod is 1.5kg. The 28mm large metal ball head provide 10kg load capacity, it can be rotated 360 degrees, helping to expand dslr camera activity range when panoramic shooting.
* 【Detachable Monopod】 It can be turned into a lightweight monopod or walking stick alone to make your photography more diverse.
* 【EASY SET UP】 5 sections tube leg and the max diameter is 25mm; Spiral type locking knob allows you to adjust the working height in seconds; The height without column reaches 51'' and the height with 2 sections center column is 68'', making standing shooting easier.
* 【Multi-Angle Shooting】Spring self-locking foot tube angle adjustment button, just press and release to quickly adjust the opening and closing angle of the three legs; can help you achieve lowest angle shooting, macro shooting, and other special photography through inverted central axis.
Shipping
&FREE Shipping to Canada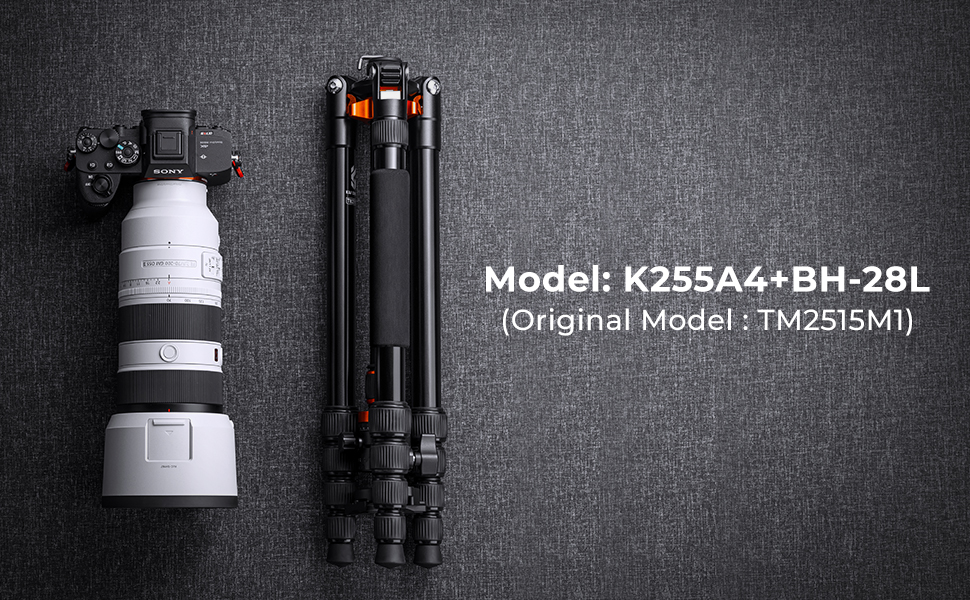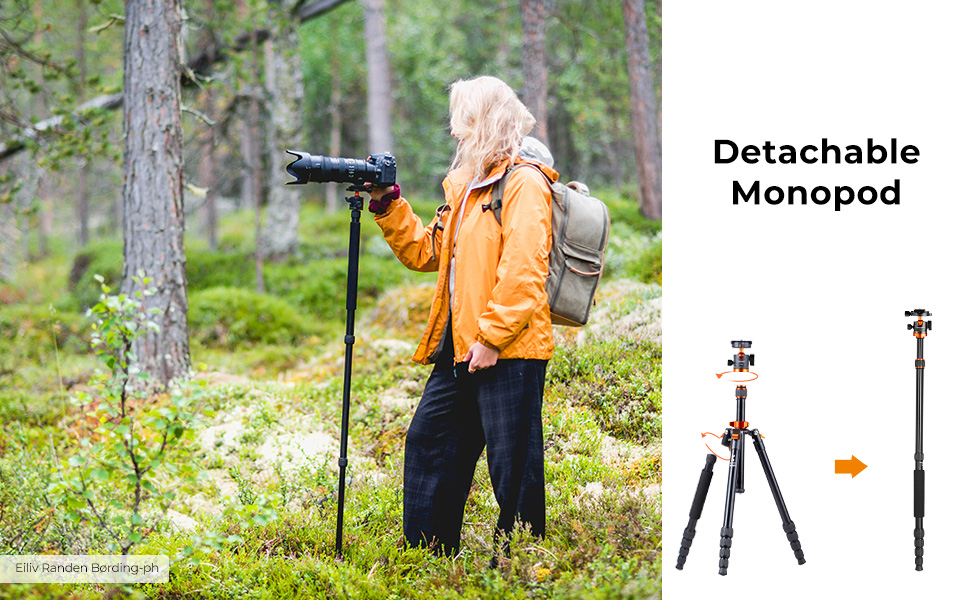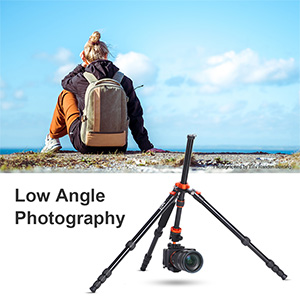 Lowest Angle Shooting
Lowest angle shooting, macro shooting, and special photography can be achieved through inverted central axis.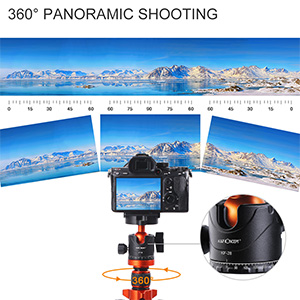 KF-28 Metal Ball Head
The low center of gravity ball head has strong strong locking force and can be rotated 360 degrees to improve camera activity range.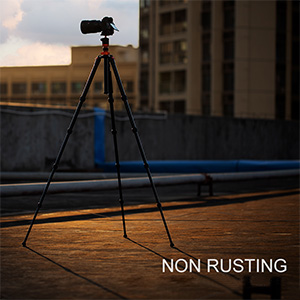 Take It Anywhere
Tube made of magnesium aluminum alloy, can be folded 180 degrees reversely.New angle locks rapidly select between 5 different angles for even more shooting possibilities.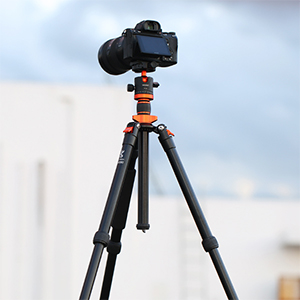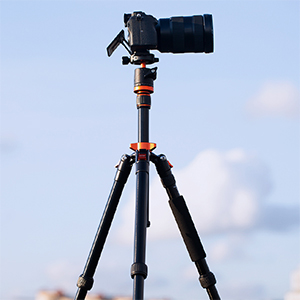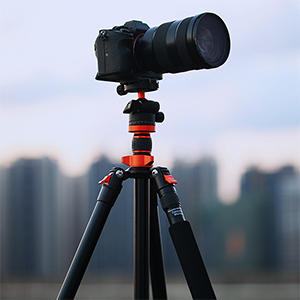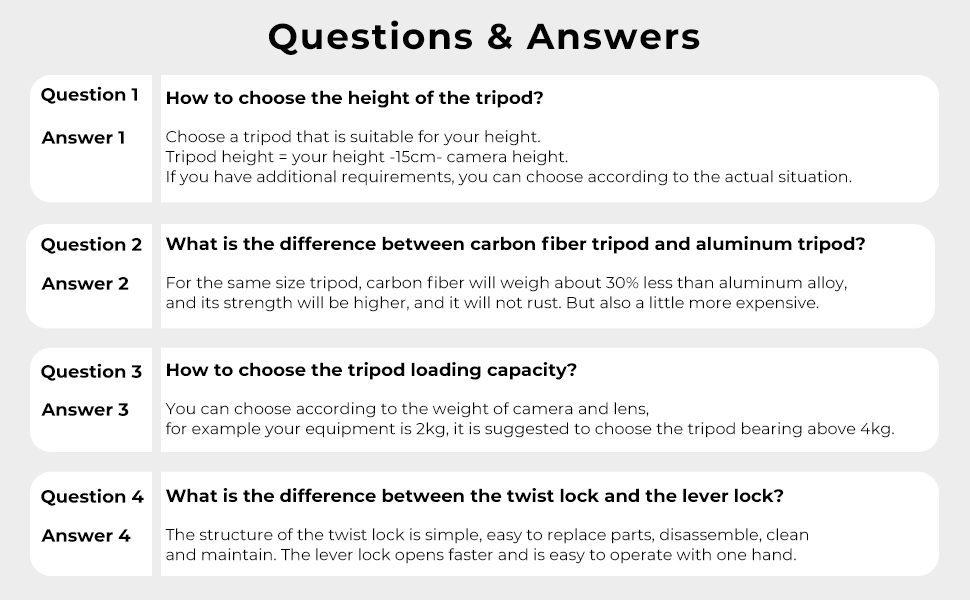 Rating

33 reviews.

98 reviews.
Price

C$129.99

C$119.99

C$129.99

C$119.99

Model
KF09.083V1
KF09.087

Load Capacity

10kg/22.05"
10kg/22.05lbs

Maximum Working Height

1710mm/67.32"
1990mm/78.3"

Max Height without Center Column

1300mm/51.18"
1400mm/55.12"

Minimum Working Height

520mm/20.5"
580mm/22.83"

Folded Length

420mm/16.54"
480mm/18.90"

Weight

1500g/3.3lbs
1440g/3.17lbs

Materials

Magnesium aluminum alloy
Magnalium Alloy

Ball Head

Ball Head
Ball Head

Color

Orange/Black
Orange/Black

Bubble Level

Leg Lock Type

Twist Lock
Quick Flip Lock

Leg Positions

3

Independent Leg Spread

Leg Sections

5
4

Leg Diameter

13-25mm/0.51-0.98"
14-23mm/0.55-0.91"

Feet Features

Can be reversed 180° and folded
Can be reversed 180° and folded

Center Column Features

Center Column Sections
All Reviews
Image

All Star

5 Star

4 Star

3 Star

2 Star

1 Star
Balance between lightness and stability at a very competitive price
Pleasantly surprised with the characteristics of this tripod, a great balance between lightness and robustness, without sacrificing versatility and at a tremendously competitive price.

This aluminum tripod, which weighs around one and a half kilos, nevertheless offers great stability. It is very comfortable to transport, both in the folded and unfolded position and the pack includes a bag made of thick and resistant material to carry the tripod.

The legs have 3 removable sections, all of which are quite thick, secured with the clip system. even with the tripod fully extended they offer great stability. The tweezers are very comfortable to open and close and allow the legs to be removed and picked up very quickly.

The opening angle of the legs has 4 adjustable positions from the lever on each leg:
1-In folded mode, the legs are upside down, open 180°.
2-In normal mode, from the folded mode we stretch the legs and they automatically lock in an opening range of approximately 0 to 30°.
3-With the mentioned tabs we can open the legs more, around 45° or 60°.
4- The tabs allow us to place the legs parallel to the ground, open at 90°.

Versatility is another of its strengths. The central bar is extendable and also mobile and reversible, to achieve shots at ground level. This center bar includes a hook to hang weight and increase stability. With the tripod fully extended, we can raise and extend the center bar, at the cost of sacrificing some stability, reaching a similar height to my vision standing up.

Another quirky feature is that one of its legs can be unscrewed and screwed onto the center pole to turn it into a monopod.

In short, I especially appreciate that it does not have the two problems that my old travel tripod from a famous tripod brand had: the camera is well supported and stable (load up to 10kg), and the final sections of the legs are not as thin as to cause lack of stability by bending.

It will certainly be my new travel tripod and also for daily interior photography, we will see how it holds up with continued use, but the feeling is very good.
14/08/2022
Great tripod
I am very happy with the product, it is sturdy and easy to use. The only thing missing is the quick release button, but other than that it is worth the money.
04/08/2022
Gifted
I bought this as a gift for a friend of mine who is very keen on photography.
I recently bought an overhead tripod from the same company and thought it was great.
This one is smaller and lighter.

My friend is really happy with the tripod. He said he loves how many different ways it can be used to support his camera and that he can't wait to try them all out soon. I will give an update once he as tried it more but so far he says he cannot find any issues with it whatsoever.

UPDATE: So he took it to the woods for a test run and absolutely enjoyed the experience. He raved about the foam support for easy carrying on the monopod leg. Never did it feel like he was lugging gear around.
The only tiny little niggle he had was with getting used to using screw turn release for the legs rather than latches.

Either way it's still 5 stars from a very appreciative gift recipient.
03/07/2022
Love this tripod!
Easy to set up, stable and fairly light. Smooth adjustments.
01/07/2022
Beaucoup plus stable que mon précédent
Lunette d'approche.
17/06/2022
Good travel tripod
I've been wanting a lightweight tripod for a long time that I wouldn't be too lazy to carry around all day when I'm out on the road. I have finally decided on this one from K & F and, for now, I couldn't be more satisfied with the purchase.

The first surprise, the cover. Compact, comfortable and very useful. Folded, the tripod is really small. It fits easily in any travel bag or is stored later without taking up much space.

Once opened, the 4 extensions give more than enough height, in addition to being able to climb the central column.

The lightness also has the collateral effect that stability does not seem guaranteed in heavy equipment (obviously it cannot be compared with a more robust and heavier tripod). However, the lower part of the central bar has a hook on which the backpack can be hooked and, by adding weight to the whole, prevent undesirable movements.

The ball joint is simple but functional, with an arca-swiss shoe.

In short, a good travel tripod, light and not too lazy to always carry with you, but with its own limitations.
26/05/2022
Great value. Good quality
I'm not a professional photographer, I purchased this for a laser level I wanted something very sturdy. It is very nice looking and it is sturdy. I would buy it again for sure it is really high-quality
01/04/2022
Good functional well made Tripod and Mono Pod
I received this as a Fathers Day present and what a present, this Tripod is far and away better than any other I have used through the years, it is very well made, strong and sturdy exactly what I need as I mostly shoot Macro, it also comes with a very useful Mono Pod that lives inside the centre of the Tripod till its needed I found it to be of the same good build quality and sturdiness as the main Tripod it more then easily held my camera and a long lens I would suggest to the manfacturer that if possible to put the brand name and model on the Mono Pod enabling others to see how good it is. The tripods quick release comes with 2 plates and is very strong and I was confident about it holding an expensive camera. To sum up I can highly reccomend this Tripod for the price paid I am sure it will give many years of quality use.
12/03/2022
hi quality on an accesible price
Amazing quality its more like a very expensive tripod. very sturdy and light, 1 detachable leg witch u can use as a monopod, smooth ball head with bubble level, legs with clips for fast extending, hook to hang your bag.perfect size for travel, al in 1 im very inprest about it and this price
02/03/2022
Amazing tripod
I got this tripod for a variety of uses; landscapes to macro, portraits to travel. It is very versatile, and nice to have carry case to make it easy to bring with me.
09/02/2022
Tripod General
Load Capacity
10kg/22.05"
Maximum Working Height
1710mm/67.32"
Max Height without Center Column
1300mm/51.18"
Minimum Working Height
520mm/20.5"
Folded Length
420mm/16.54"
Weight
1500g/3.3lbs
Materials
Magnesium aluminum alloy
Ball Head
Ball Head
Color
Orange/Black
Bubble Level
Tripod Legs
Leg Lock Type
Twist Lock
Leg Positions
3
Independent Leg Spread
Leg Sections
5
Leg Diameter
13-25mm/0.51-0.98"
Feet Features
Can be reversed 180° and folded
Tripod Center Column
Center Column Features
Center Column Sections