4G low power LTE hunting camera, solar and battery powered, 2.7K HD 0.2s fast trigger US version,SIM card without contract
3-5 Days
Refilling Supplies
Within About 3-5 Days
Buy 99C$-15C$,199C$-35C$, 299C$-55C$, 599C$-130C$ (Prime Day)
New customer gift package
&FREE Shipping to Canada
Buy K&F Concept 4g low power lte hunting camera, solar and battery powered, 2.7k hd 0.2s fast trigger us version,sim card without contract online, C$249.99 free shipping to Canada.

KF35.138us

SKU:

KF35.138us

249.99

https://www.kentfaith.ca/KF35.138US_4g-low-power-lte-hunting-camera-solar-and-battery-powered-2.7k-hd-0.2s-fast-trigger-us-version-sim-card-without-contract
Buy 99C$-15C$,199C$-35C$, 299C$-55C$, 599C$-130C$ (Prime Day)
Features
* 【4G cellular network, view your camera anywhere, anytime】The camera uses 4G/LTE cellular network, so you can remotely control your camera anywhere, anytime, the camera product comes with a 4G international traffic card, get the camera and insert it to use:. 4G network: LTE FDD/LTE TDD/WCDMA/TD-SCDMA.US sim 4G card support carriers: Verizon, AT&T, T-Mobile
* 【Low power consumption endurance】Tracking camera low sleep under low power consumption, 3 high performance lithium batteries with 4W solar panel, can be wireless endurance, do not worry about your camera miss every wonderful moment.
* 【HD pixels and fast trigger】Tracking camera up to 4MP shooting pixels, 2.7K HD video effect, using the latest 3.6mm HD lens technology; tracking camera with sensitive trigger speed of 0.2 seconds, accurately capture every exciting moment, using a lightweight and compact unique design, easy to carry and apply to any place.
* 【High sensitivity passive infrared sensor】Tracking camera captures every exciting moment with a detection range of up to 90 degrees and a range of 50 feet/15 meters; Equipped with 2pcs 940nm micro LEDs allows you to record incredible video and photos so as not to disturb or scare your hunting target.
* 【Rugged protection for easy handling】With IP66 waterproof, dustproof and drop-proof plastic housing, it can withstand harsh working environments such as desert or tropical rainforest at temperatures from -10°C to 50°C. This is an indispensable guarantee of a long service life, simply insert an SD card (up to 256GB, 32GB~64GB recommended) and you are ready to go. You can then set your personal requirements in the menu and finally use the fixing straps to complete the installation.
Shipping
&FREE Shipping to Canada
Sale
Buy 99C$-15C$,199C$-35C$, 299C$-55C$, 599C$-130C$ (Prime Day)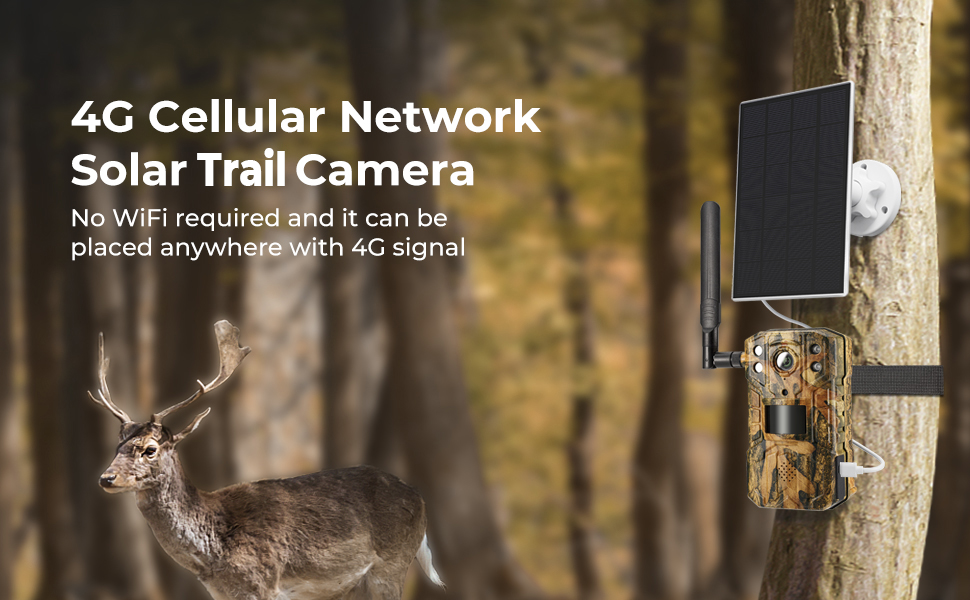 K&F CONCEPT 4G Cellular Network Solar Trail Camera
• Never buy batteries again: the combination of the 3-cell lithium battery pack inside the camera and the included 4W solar panel sets a new standard for battery life and saves customers millions of dollars a week over the life of the product Buy batteries to use.
• Cellular network with SIM card: The camera uses 4G/LTE cellular network, allowing you to remotely control your camera anytime, anywhere. It is equipped with a 4G international traffic card (SIM card), which can be used after you get the camera.
• Easy to use: You only need to insert the SD card (need to be purchased separately) and the SIM card, download the UCon application, adjust the camera monitoring position, and start using it.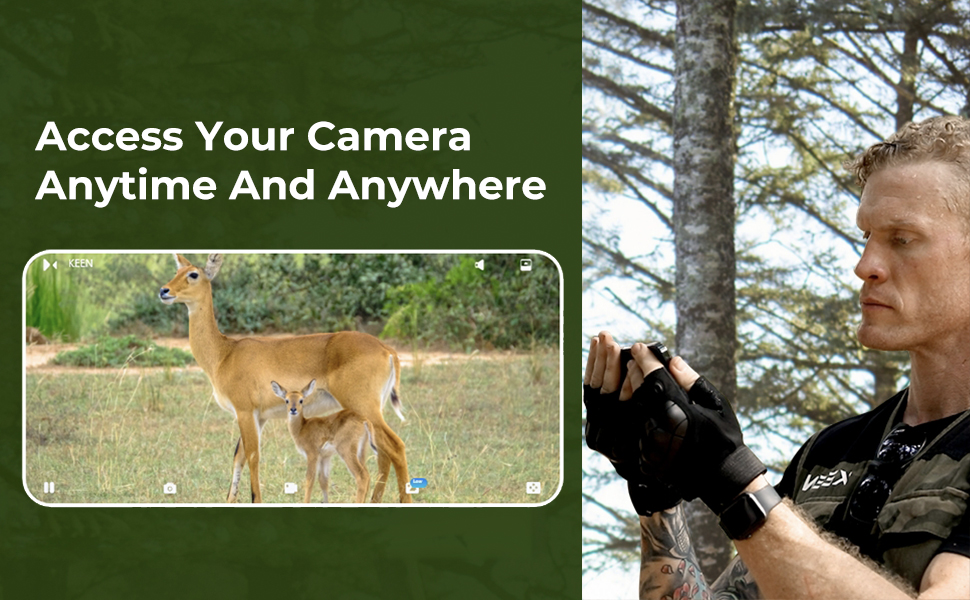 The camera uses 4G cellular network, allowing you to view real-time images and video recordings at any time.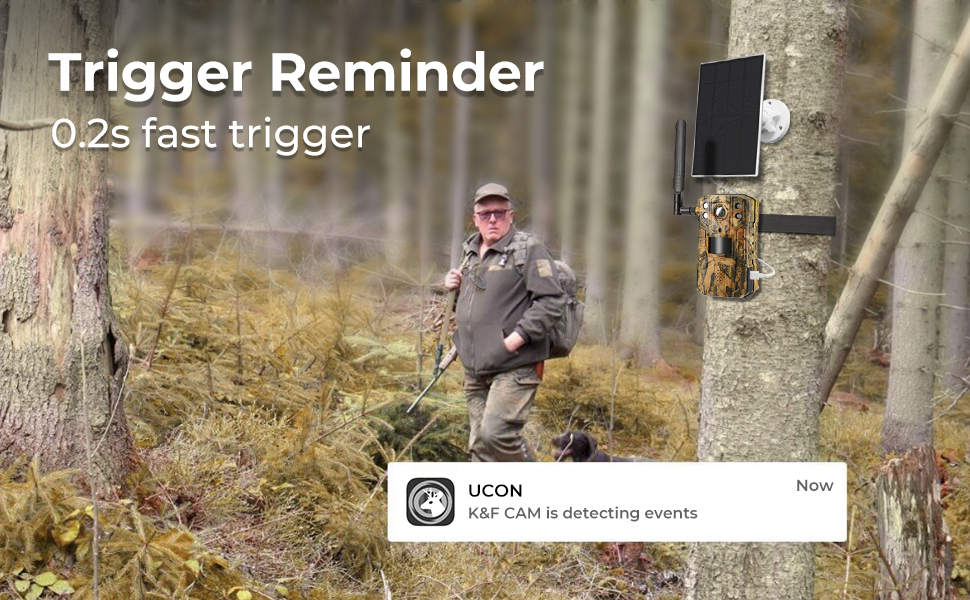 Animals or people can trigger the camera to shoot, and send event reminders to your mobile phone.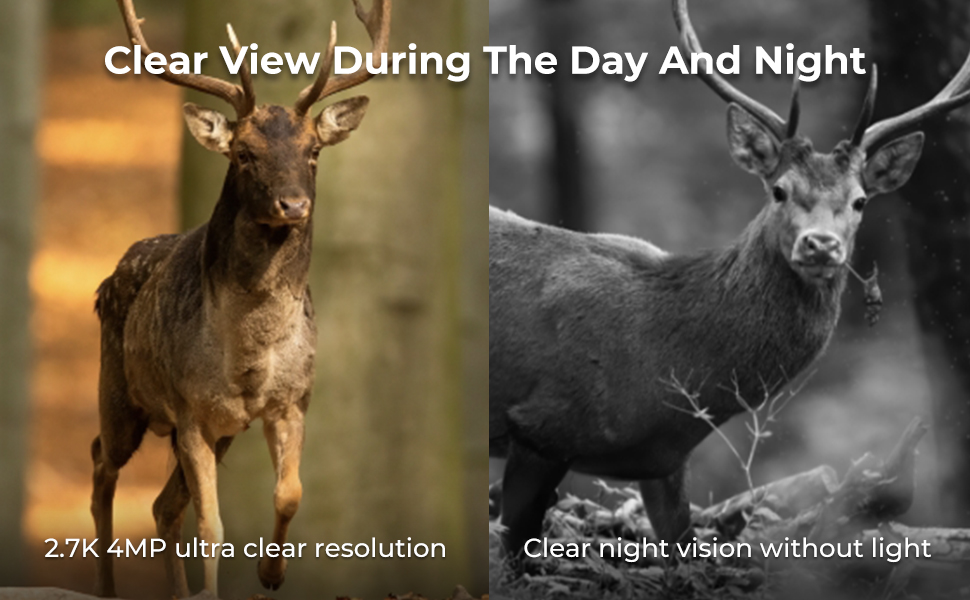 360° Real 2K 4MP Live View
The camera with 4MP native resolution can pan 355° and tilt 140° to help you track animals and see sharp details. In crisp true 2K UHD 360° live view and recording, every pixel is real. Interpolating pixels wastes no extra data or storage space.
Clear night vision with non-glow infrared LEDs
Watch and track animals in crisp 2K video, even at night. The camera can capture animals clearly in the dark without startling or scaring them. Its non-emitting infrared LEDs illuminate the surrounding environment without revealing its presence.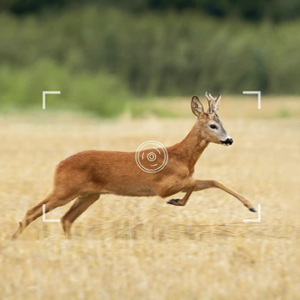 Faster trigger speed - only 0.2 seconds
The camera adopts a sensitive trigger speed, which can accurately capture every exciting moment in 0.2 seconds.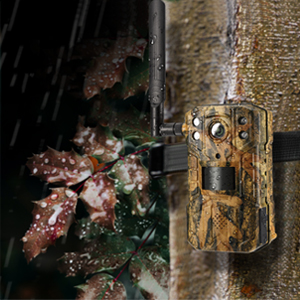 IP66 waterproof
Excellent waterproof effect, suitable for outdoor use.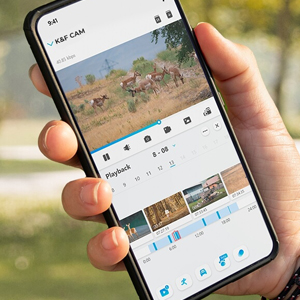 Micro SD card storage and cloud storage
One of the storage methods can be selected to view and trigger record playback at any time.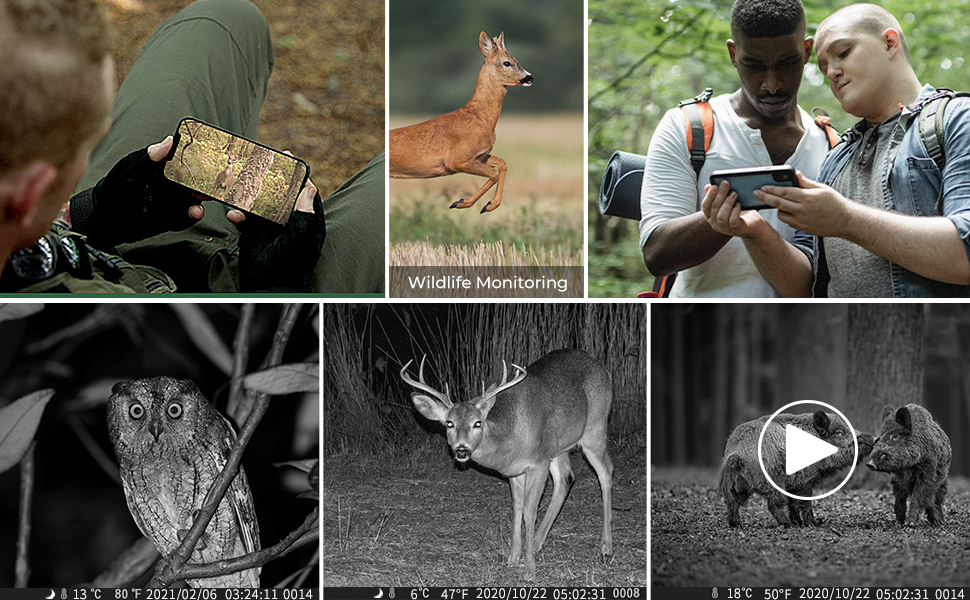 All Reviews
Image

All Star

5 Star

4 Star

3 Star

2 Star

1 Star
Tree Cyclop! This technical wonder keeps an eye on our mountain retreat when we are not there.
We enjoy seeing the wildlife passing over our mountain ground. Most activity is at night and we have a clear definitive pictue on most shots.
12/12/2022
Easy to set up, works great
This was easy to set up and works perfectly. While deciding where to put it, I phoned tech support and they were very helpful--I walked around the yard and the rep could tell me how the signal strength changed in different areas and helped me find the best cell signal location. This camera gives us peace of mind if our wifi is out--with it, we can still see who comes to the house when we're not there. I've found the HD 50 photo package is worth it as photos are much sharper.
12/12/2022
Works surprisingly well
So far so good. The unit works as advertised and the cell transfer is better than I expected.
02/12/2022
If you want the shot Go for this camera
The system set up easily and was utilized same day.It has been performing well and is in sync with verizon
02/12/2022
Great solar charging performance
Solar charging performance has been exceptional so far….main reason I bought the camera due to excessive battery replacement of my last Micro SPYPOINT LTE…time will determine if I buy 3-4 more of these for my property management.
01/12/2022
Amazing Trail Camera
Very easy to set up. Just make sure to use a new formatted 32 gig memory card. The phone card is already installed. A quick scan and it's added to your account.
01/12/2022
Game cam
Easy to use and love the solar power
30/11/2022
Absolutely worth it …. Stellar surveillance device
Absolutely worth it …. Stellar surveillance device
28/11/2022
One of the best hunting cameras in this category and price range
Wow!! I have had other trail cameras without a wireless connection in the past, this is the first one. I am really impressed from the quality to the transmission, everything is perfect. The camera was delivered quickly and was well packaged. Unlike other buyers, I had no trouble adjusting the camera. It took about 10 minutes to set up the camera using the mobile app. I deliberately turned down the quality in night mode so as not to use up too much battery and data volume, during the day I set the highest image quality and I'm really satisfied. In summary, I think it is one of the best cameras in the field of 4G game cameras with direct transmission, because the price and performance are definitely right. Great
16/11/2022
Best on market for the money and cell service
Camera work great battery life is good and pic quality is get and cell service and app is awesome
15/11/2022
4G LTE solar cellular Wildlife Camera
Trail Camera
Max. Storage
512GB
Image Resolution
4MP
Screen Size
No Screen
Video Resolution
2.7K/30fps
WIFI+Bluetooth
4G
Amount of infrared lamps
2pcs (940nm)
Amount of PIR SENSORS
1pcs
Detection Range of PIR sensors
90°
Trigger Distance
20m/65ft (night) 24m/80ft (day)
Trigger Speed
0.2s
Waterproof IP Rating
IP66
File Format
JPG/MP4
Operating Temperature
-20°C to 60°C/-4°F to 140°F