Square Filter Holder System Pro Kit (Filter Holder + 95mm Circular Polarizer + Square ND1000 Filter + ND8 + ND64 + 4 Filter Adapter Rings) for Camera
C$290.99
C$1,163.99
75% OFF
New customer gift package
&FREE Shipping to Canada
K&F Concept Pro Square Filter System won the iF DESIGN AWARD and Red Dot Design Award. Filter holder can holder both cpl and nd1000 filters. ultra slim frame and large diameter ensures no vignetting on wide-angle lens, rear cpl design for convenient i

SKU.1877

SKU:

SKU.1877

290.99

https://www.kentfaith.ca/SKU.1877_100mm-pro-square-filters-cpl-nd8-nd64-nd1000-filter-67mm-72mm-77mm-82mm-adapter-rings-nano-x-pro-series-100mm-system
Features
* 【Winner of IF DESIGN AWARD 2021】Unique Square Filter Frame with95MM CPL, easy to take, no light leakage; The rear CPL perfectly solves the problem of filter stacking and removal. After removing the CPL, the cover can be closed to prevent light leakage.
* 【Large-diameter Square Filter Frame】the bracket thickness is 12mm; 91mm large light aperture effectively reduces the chance of vignetting when using an ultra-wide-angle lens. The square filter kit can install 2 square filters and 95mm CPL round filters at a time.
* 【Filter includes】Square Filter holder, Square ND8/ND64/ND1000, round 95mm polarizing, filter storage bag, 67, 72, 77, 82mm filter adapters.
* 【HD optical glass with multi-coating】 ND filters use imported optical glass, 28-layer nano-coating technology; double-sided polishing process, showing high-definition picture quality, waterproof, anti-scratch and anti-greasy.
* 【Filter Functions】ND enables you to control the depth of field and convey movement more easily; CPL can remove glare from non-metallic surfaces.
Shipping
&FREE Shipping to Canada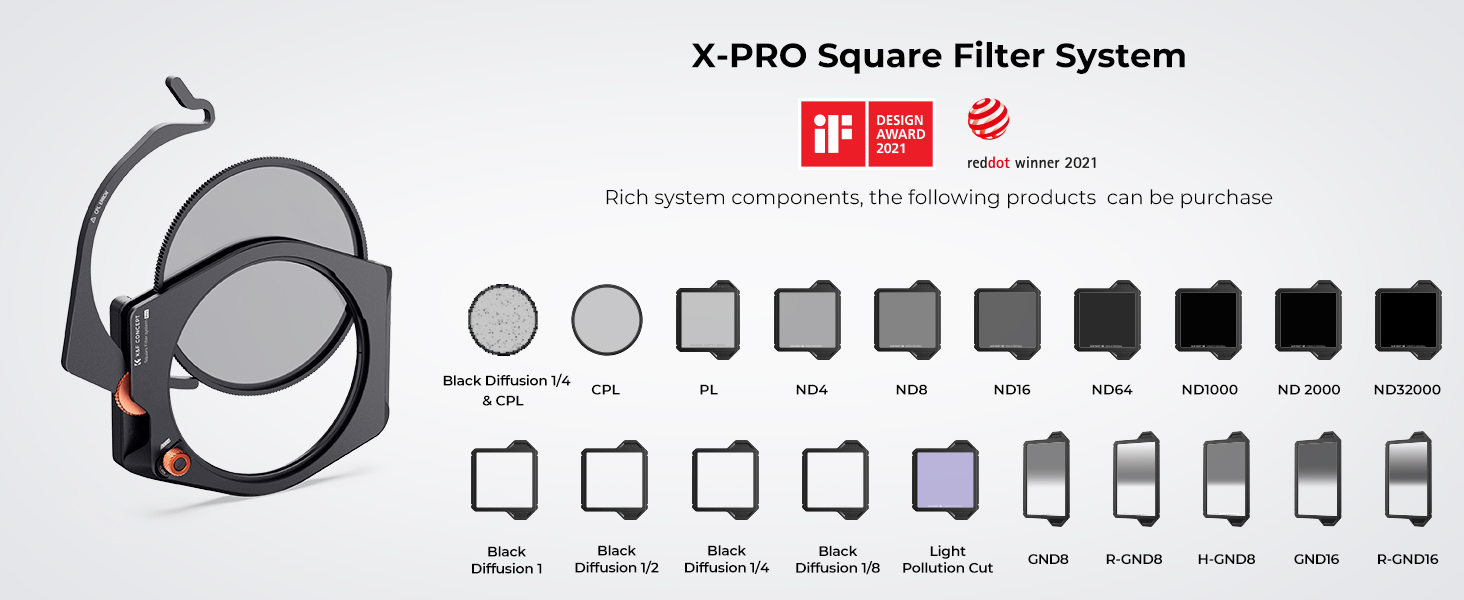 36 Layer Nanometer Coatings
Easy Cleaning
Wear-resistant Scratch-resistant
Ultra HD Image
Creativity Design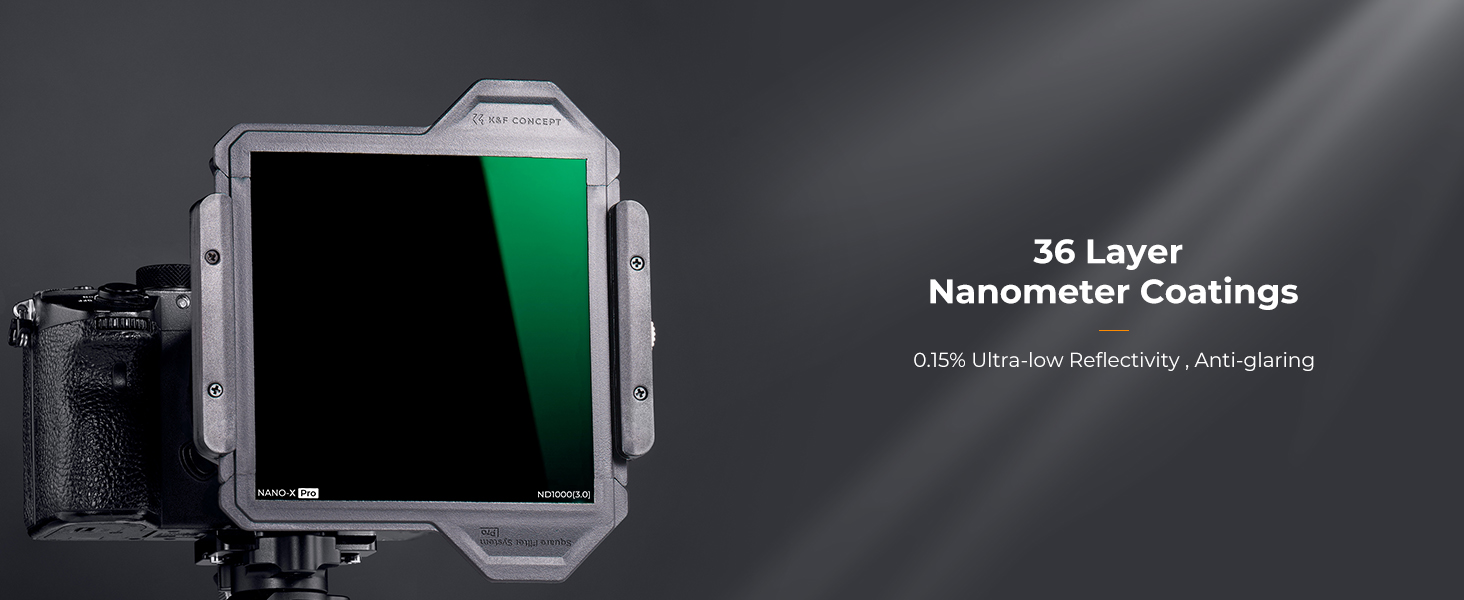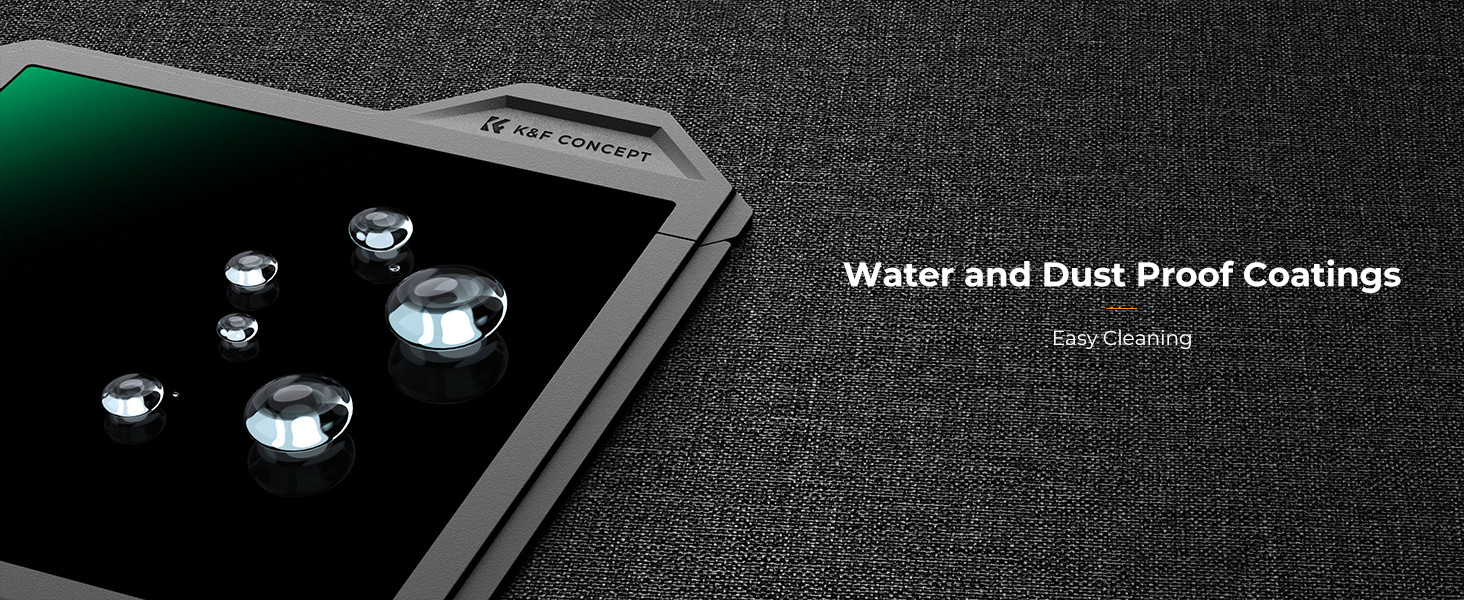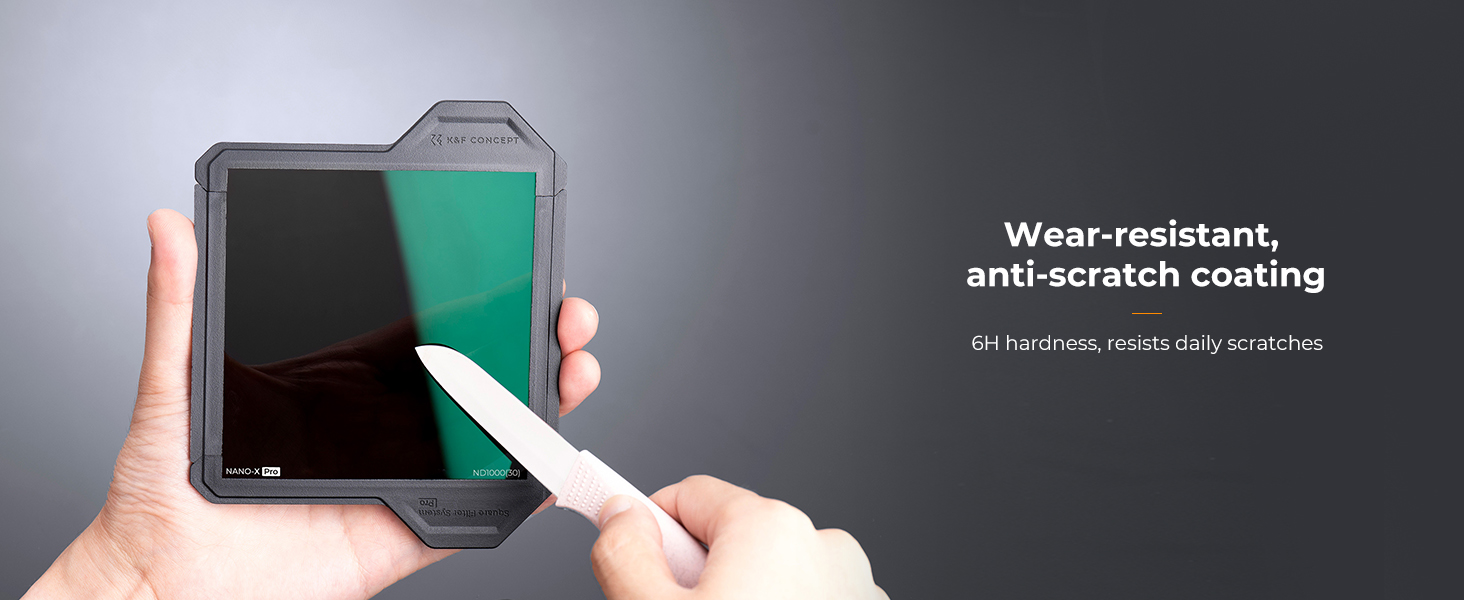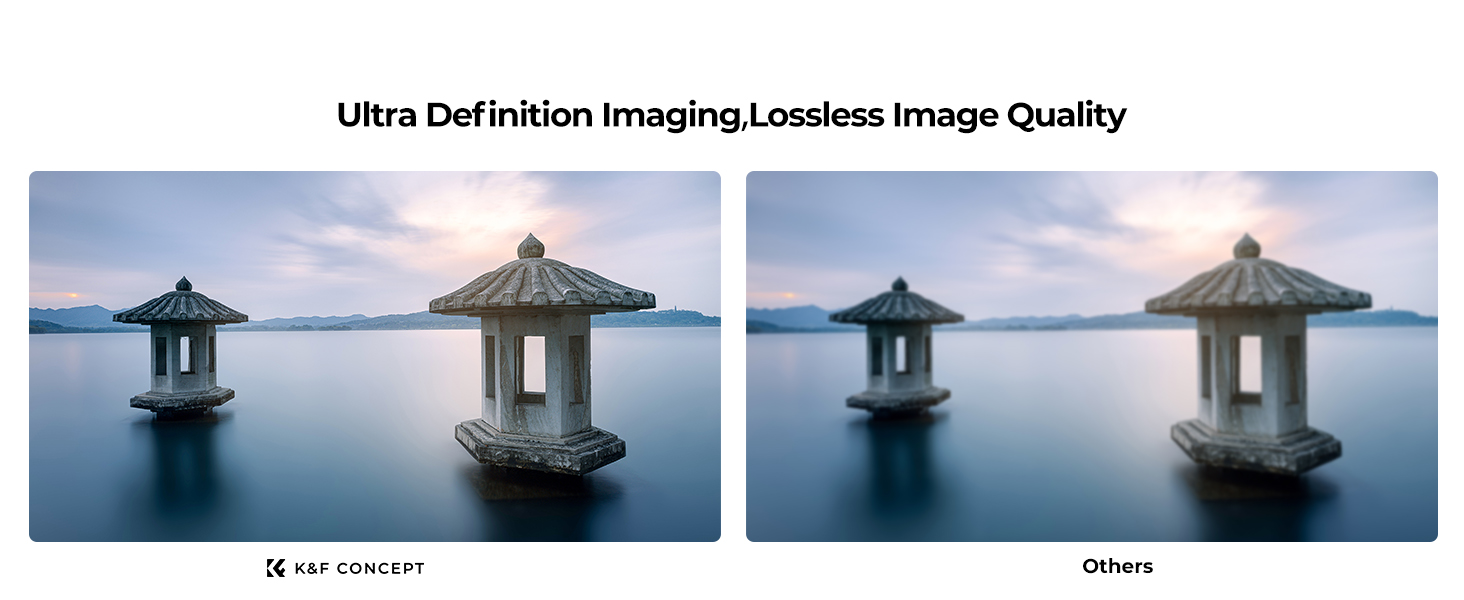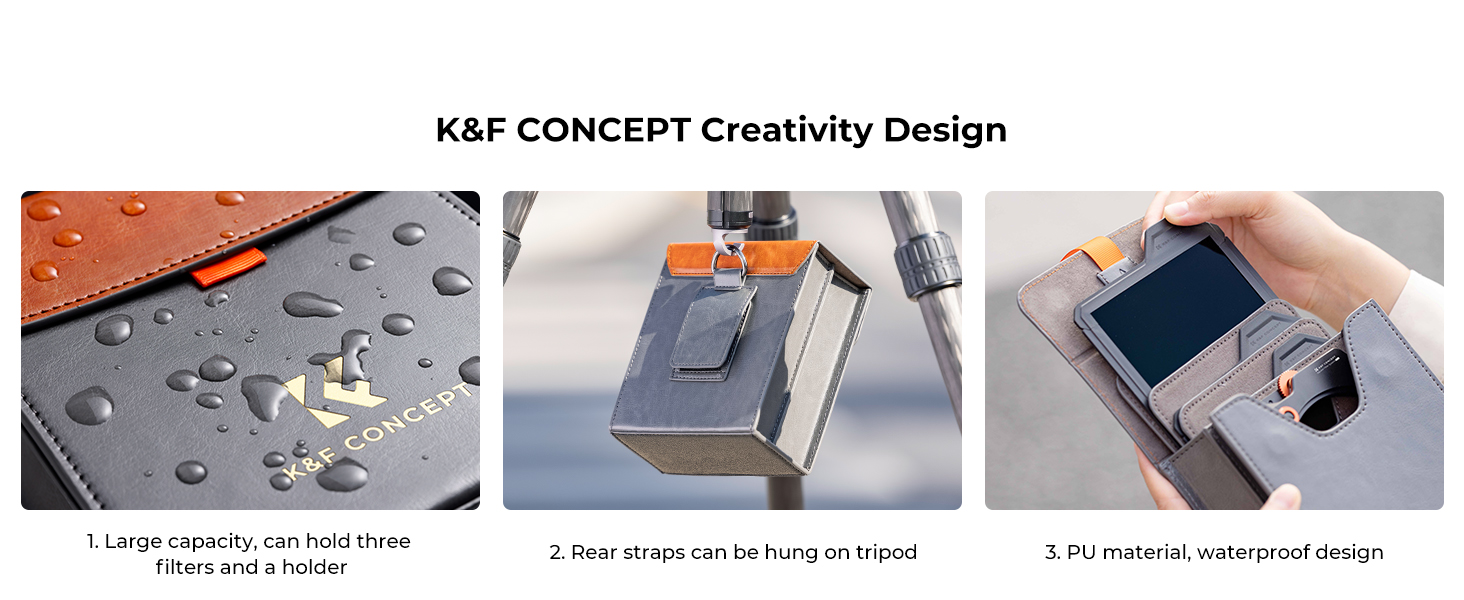 Previous
Next
Rating

81 reviews.

27 reviews.

43 reviews.

72 reviews.

26 reviews.
Price

C$1,163.99

C$290.99

C$1,155.99

C$350.99

C$194.99

C$779.99

C$194.99

C$137.99
Model
SKU.1877
SKU.1808
SKU.1878
SKU.1601
SKU.1600

size

/
/
/
100mm/150mm

Resolution

Light Reduction Effect/Remove Glare
Light Reduction Effect/Remove Glare
Light Reduction Effect/Remove Glare
Light Reduction Effect
Light Reduction Effect

zoom range

Landscape Photography
Landscape Photography
Landscape Photography
Landscape Photography
Landscape Photography

Screen

X-PRO series
X-PRO series
X-PRO series
X-series
X-series

Filter Material

Japanese AGC Glass
Japanese AGC Glass
Japanese AGC Glass
Optical glass
Japanese AGC Glass

Multi-Coating

36
36
36
28
28

waterproof

√
√
√
√
√

scratch-resistant

√
√
√
√
√

HD

√
√
√
√
√
All Reviews
Image

All Star

5 Star

4 Star

3 Star

2 Star

1 Star
Very satisfied
Very satisfied
Very easy to use system. The picture quality is really good as far as I can tell. The polarizing filter works very well. Thanks to the adapter, the filter can be used on any lens. Have never regretted the purchase.
04/11/2023
Good!!
Very high quality ND1000 K&F Concept square filter set consisting of glass filter, filter holder and lens adapters for the filter holder.

The package is divided into 3 parts:
1. a bag with metal adapter rings for lenses with different diameters.
2. a box with the filter and its leather carrying case.
3. a box with the filter holder.

The adapter rings allow us to put the filter holder on any lens, since we have a large number of different diameters. They are made of black metal and well made. With inscription on each ring of the corresponding diameter.

It is a square filter ND1000 100x100 mm and 2 mm thick. It allows us to remove 10 light levels to make long exposures in daylight perfect. In the example photo I posted, it is taken at noon at 30 ". I love the play that can be taken from this filter.

The filter comes in a leather case and is covered with tissue paper. The case is sturdy enough to protect it properly.
The glass is not easily marked by fingers and does not attract dust.

The filter holder is metallic, with the part where the filters rest being made of some kind of very hard plastic. They easily fit two 100x100 filters
01/11/2023
Very simple bracket
The buckle holder of the adapter ring is very stable. It is great!
29/10/2023
ND1000 filter + holder. OPTIMAL!!
High quality materials, reasonable prices! ! The holder and the filter are contained in two well-preserved and padded boxes. The ring and bracket are made of aluminum. Really nice box! I installed it on my Nikon 5600 with no problems. I will definitely buy more ND filters in the future
26/10/2023
The ideal choice
The rectangular filter is the ideal choice for landscape and architecture photographers.
I myself use a Nikon D4 with an AF-S 24-70 2.8 Nikon lens to test this filter extensively, unfortunately the weather is not that great at the moment but you can already tell a big difference.
Of course you can also say that a simple polarizing filter would be sufficient to be able to display the colors true to nature and without reflections, but with this filter you have even more possibilities to display the horizon more brilliantly. The CPL filter is screwed in behind the rectangular filter and can be adjusted from the lens side using an adjustment wheel with a ribbed surface.
The CPL filter can be adjusted super to increase the exposure time without getting a crossfade of the image.
The rectangular filter holds well in the frame.
With the system, the rectangular frame can be easily removed.
07/10/2023
Quality kit at a very good price
I loved the quality of the materials, all metallic. I looked at many kits but they were all plastic and this one in particular caught my attention from the comments. The truth is that it was a success because any other similar kit does not fall below 300€.The nd1000 optical filter is made of glass and gives a very good quality. The only thing I noticed is that it loses a bit of saturation and the white balance is a little bluish, but when processing the RAW it's easily remedied. You increase the color temperature and saturation and you're done!! (I use a Canon 80d + 16-35 f4's). I imagine each optic will be different. Attached some photos so you can see the difference with filter and without filter. Exposure time on the photo with the 30" filter. If you want to start in the world of filters, for this price don't even think about it. Excellent results.
24/09/2023
X-PRO Filter Set with CPL + ND 8/64/1000
I received the new X-PRO filter set today and have already tested its applicability in the apartment. I'll give you a verdict on the quality of the filter glasses and how they can be combined in one shot... The box supplied holds the holder + adapter rings + CPL + ND 8/64/1000. You can pull out the compartments on the drawstring and then remove the filters very easily. The plastic filter frames are discreetly sharp-edged, but not uncomfortable, and allow the filter to be removed and handled without having to touch the glass. Thanks to the tabs on the frame, the filters can also be pulled out of the holder very easily, especially in any order. I ordered two empty frames in 100 X 150 from the manufacturer's website, which should hold my graduated filters after receipt, that I have from another manufacturer. I'm curious how well this works. If it works, then I have a complete system for myself, with CPL, three ND filters and two graduated filters (Soft 0.9 and Reverse Soft 0.9). Sliding the filters in and out of the holder requires some force, but isn't awkward or imprecise. In this way, the graduated filter will also be easy to align. The handling of the CPL filter with the insert bracket is great, the turning mechanism is a bit rough, but precise. Screwing the adapter rings onto the lens works very well, the threads are cleanly worked, so nothing rubs. Attaching the holder to the adapter ring is also a joy and the presence of a set screw is very welcome as the holder rotates on the ring with relative ease. The handling of the system has already convinced me, I can live well with "only" two slots for my needs and I'm looking forward to the first use, in the next few days, in the great outdoors and with cold fingers. So far I've worked with round screw filters and dispensed with gradient filters, which I would like to change now. I also looked at the system from Rollei (Mark II), which cannot keep up with the handling of the X-PRO from K+F. Everything is very flat and fiddly, offers hardly any contact surface for holding and assembling the parts. Getting the polarizing filter or adapter ring out of the holder is no fun and almost impossible with cold fingers. K&F solved this much better. If you want to use gradient filters, the X-PRO Set is a good choice, if you only need gray filters,
15/09/2023
okay for the price
Once assembled, it works flawlessly For the price, more than okay, but assembly a bit fiddly
31/08/2023
Great filter set!
I bought this filter set for landscape photography.

Before that, I had been traveling with a screw set from another company. I was then able to screw that onto exactly 1 lens. (I got it for a 24-105).

Experience has shown that screw filters can only be used in part (in my opinion).
If you use an ND 8x filter, you can safely screw it onto the lens and work with it. However, as soon as it gets higher, the camera is overwhelmed. Setting a focus manually, for example, is an impossibility, with a permanently installed 1000x filter.

This set allows you to set up the camera in peace. To compose the picture, to set a focus. Adjust the polarizing filter. When everything is done so far, you can relax and add 64x or 1000x and take care of the exposure.

The whole set is incredibly easy to use. Each filter is placed in a frame, which in turn has special handles.

The set comes in a handy bag.

I don't really want to talk about space requirements. The screw set is definitely more compact, but handling is simply more important to me at this point.
This kit allows me to mount the filters without leaving grease finger marks on the filter. That's worth more to me at this point.

What I particularly like about this concept is the fact that you can now buy graduated filters and the like at a later date and adapt the set as you like it.
21/08/2023
Very good system for landscape photography
After a good six months of use, I can say that the system serves its purpose very well.

Regarding the filters:
The image quality of all filters is excellent and a color cast is minimal even when using 3 filters at the same time. The polarizing filter reliably reduces reflections and leads to a crisp contrast.

Regarding the holding system:
When the polarizing filter is screwed in and the rectangular filter is attached, there is no rubbing, the polarizing filter can be operated perfectly.
10/08/2023
A Brand New Pro filter system 7-IN-1 Suit from K&FConcept
K&F Concept 100mm square filter system instructions by David CJ
Do you know what process your filters have gone through? let's take a look
Filter
size
/
Resolution
Light Reduction Effect/Remove Glare
zoom range
Landscape Photography
Screen
X-PRO series
Filter Material
Japanese AGC Glass
Multi-Coating
36
waterproof
√
scratch-resistant
√
HD
√
Transmittance
Antireflection
Pattern
√